After recovering from injury for the last four weeks, Team HRC's Calvin Vlaanderen returned to race action at the MXGP of Lombardia in what were extremely tough, muddy conditions in Mantova. A sunny day on Saturday preceded overnight rain which continued throughout race day, turning the track into a muddy mess which caused many riders problems in both races.
Unfortunately in race one, Vlaanderen was caught up in a first turn crash that included five or six other riders and he had remount in almost dead last position. With their only being one fast line around a lot of the track, passing was very tricky but the Honda CRF250RW rider didn't give up and forced his way back into the points to finish 17th. A much better jump in race two meant he was clear of any problems and he could try and find a good rhythm on the difficult terrain. Despite having just a couple of days training in the last month, Vlaanderen kept a solid pace and was able to place inside the top 10, giving everyone confidence that he will get back to the form that saw him finish just off the podium spots in the first three rounds.
With the MXGP of Portugal next weekend, and France the week after that, there isn't too much time to get ready but Vlaanderen and Team HRC will work hard to make sure he is fully prepared and raring to go when the gate next drops.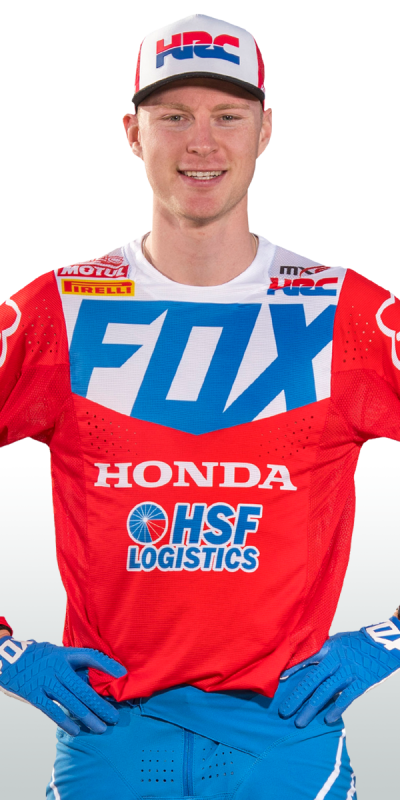 Calvin Vlaanderen 10
The day was completely different from yesterday with all the rain, and that meant the riding was a lot harder. I went down at the start of the first moto and had to pass a lot of riders to get back to 17th place. Then in race two I had a better start but made some small mistakes and ended up in 10th place. My riding wasn't great but I am happy I could come here and race and get some points and I think that's good for the next few weekends. Obviously we need to improve but with the help of my team I know that we will do everything possible to make that happen. I also know that each day my leg feel better and that will help me get back to my pre-injury form when I was challenging for podium positions.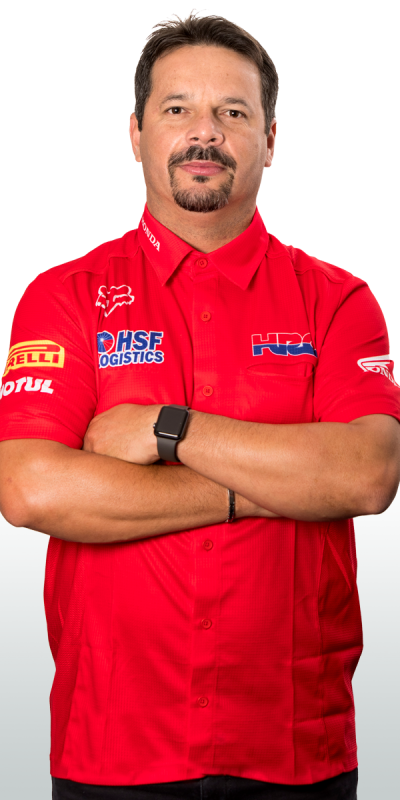 Marcus Pereira de Freitas
HRC General Manager – MXGP
It was really good to see Calvin out riding this weekend. There was some doubt a few days ago but he proved that despite the long layoff that he is still fit and fast in this MX2 class. With a few more days on the bike, we know that he can be back to feeling like he did at the beginning of the season and when that happens, we are sure that he can get the podium position that his form has deserved.
MX2 2019 Sunday, May 12th 2019RaceRound 5 MX2 of Lombardia
Race 1
RAINYAir Temp13°CTrack CondMud
| Pos. | Rider | Num | Nation | Points | Team | Constructor | Time/Gap |
| --- | --- | --- | --- | --- | --- | --- | --- |
| 1 | PRADO GARCIA Jorge | 61 | SPA | 25 | Red Bull KTM Factory Racing | KTM | 35:18.651 |
| 2 | GEERTS Jago | 193 | BEL | 22 | Kemea Yamaha Yamalube Racing Team | Yamaha | 5.836 |
| 3 | BEATON Jed | 14 | AUS | 20 | Rockstar Energy Husqvarna Factory Racing | Husqvarna | 26.496 |
| 4 | POOTJES Davy | 46 | NDL | 18 | Team Diga-Procross | Husqvarna | 40.315 |
| 5 | VAESSEN Bas | 98 | NDL | 16 | Hitachi KTM fuelled by Milwaukee | KTM | 1:05.236 |
| 6 | KJER OLSEN Thomas | 19 | DEN | 15 | Rockstar Energy Husqvarna Factory Racing | Husqvarna | 1:12.915 |
| 7 | LARRANAGA OLANO Iker | 66 | SPA | 14 | Marchetti Racing Team KTM | KTM | 1:37.577 |
| 8 | EVANS Mitchell | 43 | AUS | 13 | Honda 114 Motorsports | Honda | 1:47.716 |
| 9 | LESIARDO Morgan | 44 | ITA | 12 | Marchetti Racing Team KTM | KTM | 1:50.638 |
| 10 | SIKYNA Richard | 102 | SLK | 11 | JD Gunnex KTM Racing Team | KTM | 1:51.878 |
| 11 | JACOBI Henry | 29 | GER | 10 | F&H Racing Team | Kawasaki | 1:54.007 |
| 12 | STERRY Adam | 811 | GBR | 9 | F&H Racing Team | Kawasaki | 2:01.730 |
| 13 | WATSON Ben | 919 | GBR | 8 | Kemea Yamaha Yamalube Racing Team | Yamaha | 2:06.928 |
| 14 | STRUBHART MOREAU Brian | 225 | FRA | 7 | BUD Racing Monster Energy Kawasaki | Kawasaki | 2:24.558 |
| 15 | BOISRAME Mathys | 172 | FRA | 6 | Team Honda Red Moto Assomotor | Honda | 1 Lap |
| 16 | FURBETTA Joakin | 275 | ITA | 5 | Wildcard Rider | Husqvarna | 1 Lap |
| 17 | VLAANDEREN Calvin | 10 | NDL | 4 | Team HRC – MX2 | Honda | 1 Lap |
| 18 | ROOSIORG Hardi | 75 | EST | 3 | Sahkar KTM Racing | KTM | 1 Lap |
| 19 | WALSH Dylan | 53 | NZL | 2 | REVO Husqvarna UK | Husqvarna | 1 Lap |
| 20 | SANDNER Michael | 766 | AUT | 1 | Wildcard Rider | KTM | 1 Lap |
MX2 2019 Sunday, May 12th 2019RaceRound 5 MX2 of Lombardia
Race 2
RAINYAir Temp14°CTrack CondMud
| Pos. | Rider | Num | Nation | Points | Team | Constructor | Time/Gap |
| --- | --- | --- | --- | --- | --- | --- | --- |
| 1 | PRADO GARCIA Jorge | 61 | SPA | 25 | Red Bull KTM Factory Racing | KTM | 36:52.290 |
| 2 | KJER OLSEN Thomas | 19 | DEN | 22 | Rockstar Energy Husqvarna Factory Racing | Husqvarna | 8.779 |
| 3 | VIALLE Tom | 28 | FRA | 20 | Red Bull KTM Factory Racing | KTM | 36.069 |
| 4 | POOTJES Davy | 46 | NDL | 18 | Team Diga-Procross | Husqvarna | 52.541 |
| 5 | WALSH Dylan | 53 | NZL | 16 | REVO Husqvarna UK | Husqvarna | 58.348 |
| 6 | EVANS Mitchell | 43 | AUS | 15 | Honda 114 Motorsports | Honda | 1:01.889 |
| 7 | BOISRAME Mathys | 172 | FRA | 14 | Team Honda Red Moto Assomotor | Honda | 1:11.299 |
| 8 | RENAUX Maxime | 959 | FRA | 13 | Yamaha SM Action – M.C. Migliori | Yamaha | 1:13.390 |
| 9 | LARRANAGA OLANO Iker | 66 | SPA | 12 | Marchetti Racing Team KTM | KTM | 1:17.228 |
| 10 | VLAANDEREN Calvin | 10 | NDL | 11 | Team HRC – MX2 | Honda | 1:19.630 |
| 11 | ÖSTLUND Alvin | 161 | SWE | 10 | REVO Husqvarna UK | Husqvarna | 1:23.411 |
| 12 | HAARUP Mikkel | 11 | DEN | 9 | Rockstar Energy Husqvarna Factory Racing | Husqvarna | 1:31.710 |
| 13 | WATSON Ben | 919 | GBR | 8 | Kemea Yamaha Yamalube Racing Team | Yamaha | 1:38.207 |
| 14 | STERRY Adam | 811 | GBR | 7 | F&H Racing Team | Kawasaki | 1:45.872 |
| 15 | VAESSEN Bas | 98 | NDL | 6 | Hitachi KTM fuelled by Milwaukee | KTM | 1:51.452 |
| 16 | CERVELLIN Michele | 747 | ITA | 5 | Yamaha SM Action – M.C. Migliori | Yamaha | 2:01.620 |
| 17 | BEATON Jed | 14 | AUS | 4 | Rockstar Energy Husqvarna Factory Racing | Husqvarna | 2:05.661 |
| 18 | GEERTS Jago | 193 | BEL | 3 | Kemea Yamaha Yamalube Racing Team | Yamaha | 2:06.132 |
| 19 | SIKYNA Richard | 102 | SLK | 2 | JD Gunnex KTM Racing Team | KTM | 2:18.237 |
| 20 | ZANOTTI Andrea | 931 | RSM | 1 | Marchetti Racing Team KTM | KTM | 2:27.864 |
MX2 2019 Sunday, May 12th 2019
Rider Standings
Limited to top 30 results
| Pos. | Rider | Num | Nation | Points | Team | Constructor |
| --- | --- | --- | --- | --- | --- | --- |
| 1 | KJER OLSEN Thomas | 19 | DEN | 207 | Rockstar Energy Husqvarna Factory Racing | Husqvarna |
| 2 | PRADO GARCIA Jorge | 61 | SPA | 200 | Red Bull KTM Factory Racing | KTM |
| 3 | JACOBI Henry | 29 | GER | 157 | F&H Racing Team | Kawasaki |
| 4 | GEERTS Jago | 193 | BEL | 150 | Kemea Yamaha Yamalube Racing Team | Yamaha |
| 5 | WATSON Ben | 919 | GBR | 145 | Kemea Yamaha Yamalube Racing Team | Yamaha |
| 6 | VIALLE Tom | 28 | FRA | 141 | Red Bull KTM Factory Racing | KTM |
| 7 | VLAANDEREN Calvin | 10 | NDL | 122 | Team HRC – MX2 | Honda |
| 8 | EVANS Mitchell | 43 | AUS | 117 | Honda 114 Motorsports | Honda |
| 9 | POOTJES Davy | 46 | NDL | 112 | Team Diga-Procross | Husqvarna |
| 10 | STERRY Adam | 811 | GBR | 105 | F&H Racing Team | Kawasaki |
| 11 | VAESSEN Bas | 98 | NDL | 94 | Hitachi KTM fuelled by Milwaukee | KTM |
| 12 | CERVELLIN Michele | 747 | ITA | 78 | Yamaha SM Action – M.C. Migliori | Yamaha |
| 13 | BEATON Jed | 14 | AUS | 78 | Rockstar Energy Husqvarna Factory Racing | Husqvarna |
| 14 | BOISRAME Mathys | 172 | FRA | 62 | Team Honda Red Moto Assomotor | Honda |
| 15 | ÖSTLUND Alvin | 161 | SWE | 54 | REVO Husqvarna UK | Husqvarna |
| 16 | RENAUX Maxime | 959 | FRA | 52 | Yamaha SM Action – M.C. Migliori | Yamaha |
| 17 | WALSH Dylan | 53 | NZL | 51 | REVO Husqvarna UK | Husqvarna |
| 18 | VAN DONINCK Brent | 32 | BEL | 40 | Team Honda Red Moto Assomotor | Honda |
| 19 | MEWSE Conrad | 426 | GBR | 40 | Hitachi KTM fuelled by Milwaukee | KTM |
| 20 | LARRANAGA OLANO Iker | 66 | SPA | 39 | Marchetti Racing Team KTM | KTM |
| 21 | SIKYNA Richard | 102 | SLK | 27 | JD Gunnex KTM Racing Team | KTM |
| 22 | FORATO Alberto | 303 | ITA | 23 | Wildcard Rider | Husqvarna |
| 23 | SANAYEI Darian | 57 | USA | 20 | Bike It DRT Kawasaki | Kawasaki |
| 24 | SANDNER Michael | 766 | AUT | 17 | Wildcard Rider | KTM |
| 25 | PESSOA Gustavo | 57 | BRA | 17 | Bike It DRT Kawasaki | Kawasaki |
| 26 | LESIARDO Morgan | 44 | ITA | 12 | Marchetti Racing Team KTM | KTM |
| 27 | HAARUP Mikkel | 11 | DEN | 10 | Rockstar Energy Husqvarna Factory Racing | Husqvarna |
| 28 | STRUBHART MOREAU Brian | 225 | FRA | 9 | BUD Racing Monster Energy Kawasaki | Kawasaki |
| 29 | FURBETTA Joakin | 275 | ITA | 6 | Wildcard Rider | Husqvarna |
| 30 | ZANOTTI Andrea | 931 | RSM | 5 | Marchetti Racing Team KTM | KTM |