After a battling third place finish in moto one, Team HRC's Calvin Vlaanderen was in a good position to take another podium spot after his return from his mid-season ankle injury. Unfortunately a small mistake two thirds of the way through the second moto meant that he would slip to sixth and miss out by just one point at the MXGP of Turkey.
After two laps of race one, even a top five finish would have been impressive as the CRF250RW rider was down in ninth place. However, as he has proved time and again this year, he keep battling and fighting for every position and slowly but surely he moved up through the field. With just five laps remaining he was still in sixth place but then three passes in two laps saw him cross the finish line in a thoroughly deserved third spot.
Things were much the same in race two as Vlaanderen rounded the first lap in seventh place after getting pushed out of the top five around the first couple of turns. Once again he put his head down and within a few laps was up to fifth place, needing just one more pass to get his second podium in a row. With passing at a premium on the hard-pack Afyonkarahisar track, Vlaanderen made an error when looking for that pass and instead he dropped a position. As he regrouped, he posted the second fastest laptime of the race but he couldn't find anywhere to make the necessary moves and instead had to settle for three-six finishes for sixth overall.
He'll be hoping for a bit more luck next week in Shanghai, China in what is the final round of the 2019 MX2 world championship, at a brand new venue for the series.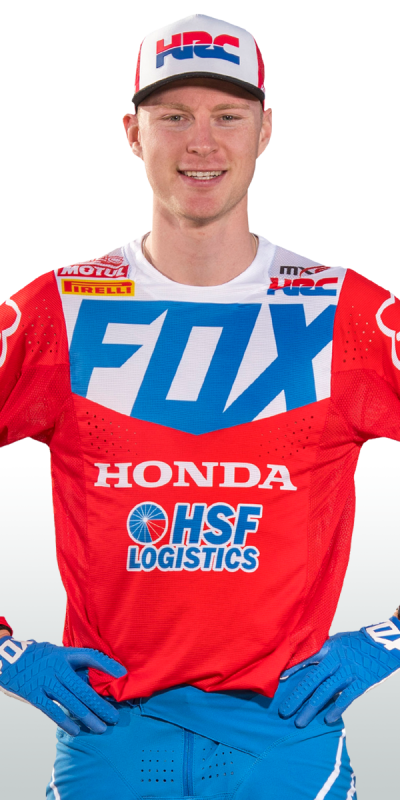 Calvin Vlaanderen 10
It feels like the start of the year, when I was close to getting on the podium at the first three rounds of the season. To miss out by such a small margin is very disappointing but sometimes that is how it goes. My speed was good all weekend and I showed that with a clear track that I was one of the fastest guys, I just couldn't make the passes when I needed to and that is what cost me my podium shot. Now I head to China determined not to let this happen again, and looking to round out the season on a good note.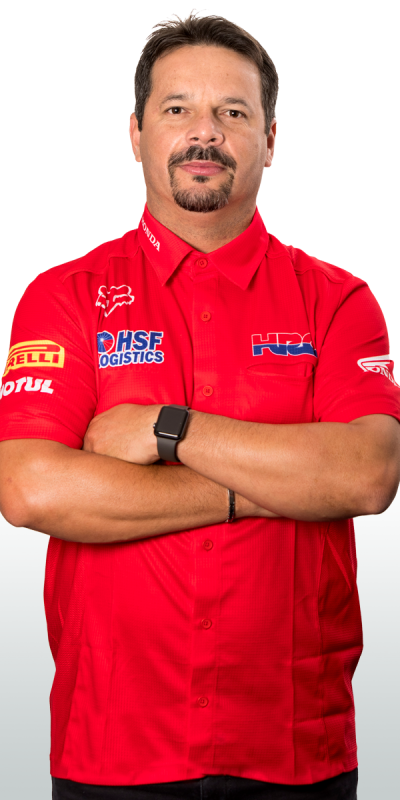 Marcus Pereira de Freitas
HRC General Manager – MXGP
With four riders separated by just two points, the MX2 class proved once again how competitive it is, but it was a real shame to see Calvin miss out. His first moto performance was really positive, coming through the field well and making the passes when he needed too. Unfortunately he couldn't do the same thing in the second race when the track was a bit more one-lined and that meant he finished sixth. Still, he doesn't have long to bounce back and we are sure that he'll do well at the last round in China.
MX2 2019 Sunday, September 8th 2019
RaceRound 17 MX2 of Turkey
Race 1
SUNNYAir Temp30°CTrack CondHard Pack
| Pos. | Rider | Num | Nation | Points | Team | Constructor | Time/Gap |
| --- | --- | --- | --- | --- | --- | --- | --- |
| 1 | PRADO GARCIA Jorge | 61 | SPA | 25 | Red Bull KTM Factory Racing | KTM | 34:20.136 |
| 2 | GEERTS Jago | 193 | BEL | 22 | Kemea Yamaha Yamalube Racing Team | Yamaha | 21.779 |
| 3 | VLAANDEREN Calvin | 10 | NDL | 20 | Team HRC – MX2 | Honda | 27.688 |
| 4 | RENAUX Maxime | 959 | FRA | 18 | Yamaha SM Action – M.C. Migliori | Yamaha | 30.059 |
| 5 | VAN DE MOOSDIJK Roan | 39 | NDL | 16 | F&H Racing Team | Kawasaki | 31.774 |
| 6 | BOISRAME Mathys | 172 | FRA | 15 | Team Honda Red Moto Assomotor | Honda | 34.932 |
| 7 | STERRY Adam | 811 | GBR | 14 | F&H Racing Team | Kawasaki | 35.481 |
| 8 | VIALLE Tom | 28 | FRA | 13 | Red Bull KTM Factory Racing | KTM | 38.662 |
| 9 | FORATO Alberto | 303 | ITA | 12 | Wildcard Rider | Husqvarna | 50.122 |
| 10 | SIKYNA Richard | 102 | SLK | 11 | JD Gunnex KTM Racing Team | KTM | 55.122 |
| 11 | GUADAGNINI Mattia | 121 | ITA | 10 | Wildcard Rider | Husqvarna | 57.781 |
| 12 | LARRANAGA OLANO Iker | 66 | SPA | 9 | Marchetti Racing Team KTM | KTM | 1:02.614 |
| 13 | HARRISON Mitchell | 35 | USA | 8 | BUD Racing Monster Energy Kawasaki | Kawasaki | 1:05.212 |
| 14 | EVANS Mitchell | 43 | AUS | 7 | Honda 114 Motorsports | Honda | 1:10.503 |
| 15 | STRUBHART MOREAU Brian | 225 | FRA | 6 | BUD Racing Monster Energy Kawasaki | Kawasaki | 1:14.472 |
| 16 | ÖSTLUND Alvin | 161 | SWE | 5 | REVO Husqvarna UK | Husqvarna | 1:15.113 |
| 17 | SANAYEI Darian | 57 | USA | 4 | Bike It DRT Kawasaki | Kawasaki | 1:15.440 |
| 18 | PICHON Zachary | 101 | FRA | 3 | Honda 114 Motorsports | Honda | 1:25.933 |
| 19 | HORGMO Kevin | 240 | NOR | 2 | Wildcard Rider | KTM | 1:28.305 |
| 20 | PANCAR Jan | 253 | SLO | 1 | Wildcard Rider | Yamaha | 1:37.757 |
MX2 2019 Sunday, September 8th 2019RaceRound 17 MX2 of Turkey
Race 2
SUNNYAir Temp30°CTrack CondHard Pack
| Pos. | Rider | Num | Nation | Points | Team | Constructor | Time/Gap |
| --- | --- | --- | --- | --- | --- | --- | --- |
| 1 | PRADO GARCIA Jorge | 61 | SPA | 25 | Red Bull KTM Factory Racing | KTM | 34:09.237 |
| 2 | VIALLE Tom | 28 | FRA | 22 | Red Bull KTM Factory Racing | KTM | 10.178 |
| 3 | VAN DE MOOSDIJK Roan | 39 | NDL | 20 | F&H Racing Team | Kawasaki | 11.960 |
| 4 | RENAUX Maxime | 959 | FRA | 18 | Yamaha SM Action – M.C. Migliori | Yamaha | 13.700 |
| 5 | GEERTS Jago | 193 | BEL | 16 | Kemea Yamaha Yamalube Racing Team | Yamaha | 16.381 |
| 6 | VLAANDEREN Calvin | 10 | NDL | 15 | Team HRC – MX2 | Honda | 22.481 |
| 7 | STERRY Adam | 811 | GBR | 14 | F&H Racing Team | Kawasaki | 30.865 |
| 8 | FORATO Alberto | 303 | ITA | 13 | Wildcard Rider | Husqvarna | 35.089 |
| 9 | EVANS Mitchell | 43 | AUS | 12 | Honda 114 Motorsports | Honda | 45.322 |
| 10 | GUADAGNINI Mattia | 121 | ITA | 11 | Wildcard Rider | Husqvarna | 58.889 |
| 11 | BOISRAME Mathys | 172 | FRA | 10 | Team Honda Red Moto Assomotor | Honda | 1:06.150 |
| 12 | PICHON Zachary | 101 | FRA | 9 | Honda 114 Motorsports | Honda | 1:06.235 |
| 13 | SIKYNA Richard | 102 | SLK | 8 | JD Gunnex KTM Racing Team | KTM | 1:11.147 |
| 14 | SANAYEI Darian | 57 | USA | 7 | Bike It DRT Kawasaki | Kawasaki | 1:11.904 |
| 15 | ÖSTLUND Alvin | 161 | SWE | 6 | REVO Husqvarna UK | Husqvarna | 1:24.125 |
| 16 | LARRANAGA OLANO Iker | 66 | SPA | 5 | Marchetti Racing Team KTM | KTM | 1:31.295 |
| 17 | PANCAR Jan | 253 | SLO | 4 | Wildcard Rider | Yamaha | 1:34.184 |
| 18 | STRUBHART MOREAU Brian | 225 | FRA | 3 | BUD Racing Monster Energy Kawasaki | Kawasaki | 1:38.514 |
| 19 | POLAK Petr | 313 | CZE | 2 | JD 191 KTM Racing Team | KTM | 1:40.343 |
| 20 | DANKERS Raivo | 410 | NDL | 1 | Wildcard Rider | Yamaha | 1:46.965 |
MX2 2019 Sunday, September 8th 2019
Rider Standings
Limited to top 30 results
| Pos. | Rider | Num | Nation | Points | Team | Constructor |
| --- | --- | --- | --- | --- | --- | --- |
| 1 | PRADO GARCIA Jorge | 61 | SPA | 787 | Red Bull KTM Factory Racing | KTM |
| 2 | KJER OLSEN Thomas | 19 | DEN | 592 | Rockstar Energy Husqvarna Factory Racing | Husqvarna |
| 3 | GEERTS Jago | 193 | BEL | 505 | Kemea Yamaha Yamalube Racing Team | Yamaha |
| 4 | VIALLE Tom | 28 | FRA | 495 | Red Bull KTM Factory Racing | KTM |
| 5 | JACOBI Henry | 29 | GER | 442 | F&H Racing Team | Kawasaki |
| 6 | STERRY Adam | 811 | GBR | 385 | F&H Racing Team | Kawasaki |
| 7 | RENAUX Maxime | 959 | FRA | 377 | Yamaha SM Action – M.C. Migliori | Yamaha |
| 8 | VLAANDEREN Calvin | 10 | NDL | 359 | Team HRC – MX2 | Honda |
| 9 | BOISRAME Mathys | 172 | FRA | 303 | Team Honda Red Moto Assomotor | Honda |
| 10 | WATSON Ben | 919 | GBR | 282 | Kemea Yamaha Yamalube Racing Team | Yamaha |
| 11 | EVANS Mitchell | 43 | AUS | 269 | Honda 114 Motorsports | Honda |
| 12 | BEATON Jed | 14 | AUS | 250 | Rockstar Energy Husqvarna Factory Racing | Husqvarna |
| 13 | VAESSEN Bas | 98 | NDL | 219 | Hitachi KTM fuelled by Milwaukee | KTM |
| 14 | LARRANAGA OLANO Iker | 66 | SPA | 194 | Marchetti Racing Team KTM | KTM |
| 15 | CERVELLIN Michele | 747 | ITA | 179 | Yamaha SM Action – M.C. Migliori | Yamaha |
| 16 | VAN DONINCK Brent | 32 | BEL | 172 | Team Honda Red Moto Assomotor | Honda |
| 17 | HARRISON Mitchell | 35 | USA | 171 | BUD Racing Monster Energy Kawasaki | Kawasaki |
| 18 | ÖSTLUND Alvin | 161 | SWE | 169 | REVO Husqvarna UK | Husqvarna |
| 19 | POOTJES Davy | 46 | NDL | 157 | Team Diga-Procross | Husqvarna |
| 20 | SANAYEI Darian | 57 | USA | 140 | Bike It DRT Kawasaki | Kawasaki |
| 21 | WALSH Dylan | 53 | NZL | 138 | REVO Husqvarna UK | Husqvarna |
| 22 | SIKYNA Richard | 102 | SLK | 131 | JD Gunnex KTM Racing Team | KTM |
| 23 | STRUBHART MOREAU Brian | 225 | FRA | 112 | BUD Racing Monster Energy Kawasaki | Kawasaki |
| 24 | LESIARDO Morgan | 44 | ITA | 91 | Marchetti Racing Team KTM | KTM |
| 25 | PICHON Zachary | 101 | FRA | 89 | Honda 114 Motorsports | Honda |
| 26 | VAN DE MOOSDIJK Roan | 39 | NDL | 59 | F&H Racing Team | Kawasaki |
| 27 | FORATO Alberto | 303 | ITA | 48 | Wildcard Rider | Husqvarna |
| 28 | PANCAR Jan | 253 | SLO | 48 | Wildcard Rider | Yamaha |
| 29 | HOFER Rene | 711 | AUT | 42 | Wildcard Rider | KTM |
| 30 | MEWSE Conrad | 426 | GBR | 40 | Hitachi KTM fuelled by Milwaukee | KTM |