Team HRC's Calvin Vlaanderen signed off his MX2 career with an impressive podium performance at the 2019 season finale, which was hosted at the brand new facility in Shanghai, China.
The track was praised by a lot of riders over the course of the weekend, providing a good surface and an interesting layout as the MXGP championship visited China for the very first time. For Vlaanderen, it was also provide some happy memories as the Honda rider finished the season and his time as an MX2 rider with a third place overall, putting in a second moto charge that gave him the finish he needed in order to beat out fourth place by two points.
In both races the CRF250RW rider got out the gate extremely well, rounding the corner inside the top three. Then in race one, a small mistake by another rider meant that Vlaanderen was in second for the entirety of the race, putting pressure on the leader but unable to get himself close enough to make the move for the win.
Race two didn't quite go as smoothly as it was his mistake on lap one that dropped him from third to seventh. As usual, he didn't get rattled and instead put his head down and fought his way back up to fourth place with just five laps remaining. This was the position he needed for the podium and as he crossed the line, it was obvious he had put everything into that ride to make sure his final MX2 race was a good one.
Although the season is now completed, Vlaanderen does potentially have one race remaining as he hopes to represent the Netherlands in what is a home Motocross of Nations for them. The Assen facility will be hosting this prestigious race on September 28-29 and Vlaanderen is one of two riders who are competing for the MX2 position in the three-man team. This gave extra importance to his ride and is further proof (after his moto win and podium in Sweden) that he would be a very strong choice for what will be a very strong Dutch team.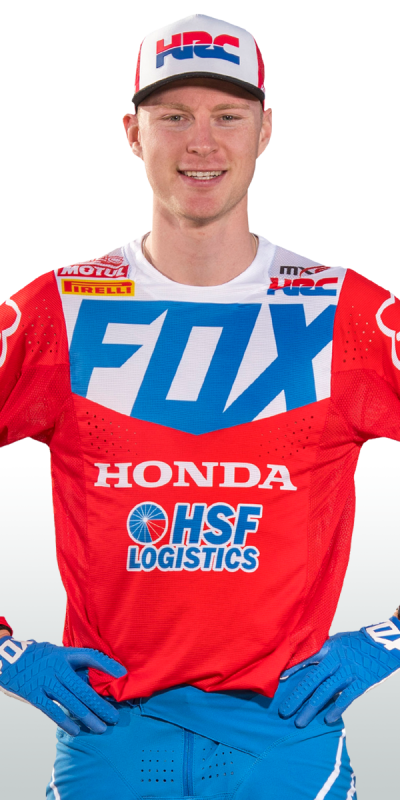 Calvin Vlaanderen 10
Today went really well and it was a great to end the season on a high note. It was also the final MX2 race of my career so to finish on the podium was a special moment and something I won't forget. I had a good first moto with a good start and was riding in third. Then the rider in second crashed so I moved up a position and from there I kept pressure on the leader right until the end, finishing second. I also had a good start in the second moto but a small mistake on the first lap cost me some crucial positions and I dropped back to seventh. I knew that I would have to pass a few guys to get on the podium so I put my head down and went to work. I found some good lines and while I had some crazy moments, I wanted to leave everything out there on the track and try everything to get the podium spot. Thankfully I managed to do it and while I would have loved to have battled up front with the guys, it was still a great weekend for me and for the team and a nice way to finish up. Obviously I don't know anything for the Motocross of Nations yet, but I think I proved with my performances that I am riding very well and I hope to be able to represent the Netherlands, and help us win in front our home fans in Assen.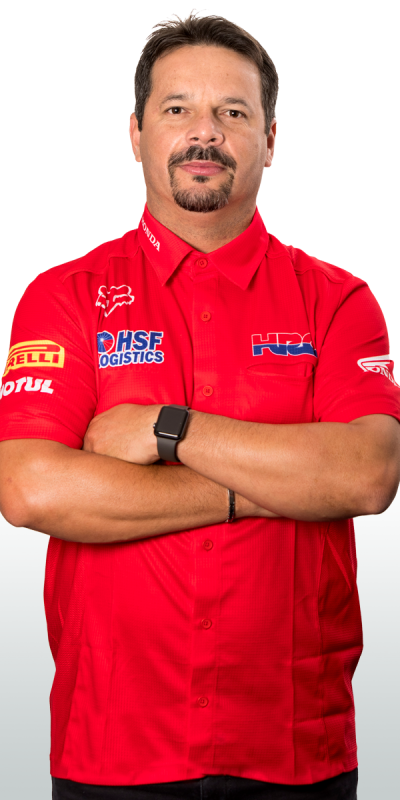 Marcus Pereira de Freitas
HRC General Manager – MXGP
Since his return from injury, Calvin has ridden really well and he proved it yet again by getting on the podium here in China. After a great first moto where he finished second, he was made to work for it in race two, but knowing he had to pass a few good riders to get on the box, he gave it everything had and achieved his goal. It was his fourth podium in eight rounds and a great way to finish his MX2 career. We are proud of all his efforts with the team this year and he has shown that the Honda CRF250RW is a world championship race winning bike, when he won the second moto in Sweden. We also hope he can ride one last time in Assen in a couple of weeks and we firmly believe that his recent performances have been of a high enough level that should see him chosen at the MX2 rider for the Netherlands.
MX2 2019 Sunday, September 15th 2019
RaceRound 18 MXGP of China
Race 1
CLOUDYAir Temp29°CTrack CondLoam
| Pos. | Rider | Num | Nation | Points | Team | Constructor | Time/Gap |
| --- | --- | --- | --- | --- | --- | --- | --- |
| 1 | PRADO GARCIA Jorge | 61 | SPA | 25 | Red Bull KTM Factory Racing | KTM | 34:18.828 |
| 2 | VLAANDEREN Calvin | 10 | NDL | 22 | Team HRC – MX2 | Honda | 1.736 |
| 3 | VIALLE Tom | 28 | FRA | 20 | Red Bull KTM Factory Racing | KTM | 4.084 |
| 4 | GEERTS Jago | 193 | BEL | 18 | Kemea Yamaha Yamalube Racing Team | Yamaha | 19.028 |
| 5 | KJER OLSEN Thomas | 19 | DEN | 16 | Rockstar Energy Husqvarna Factory Racing | Husqvarna | 23.844 |
| 6 | RENAUX Maxime | 959 | FRA | 15 | Yamaha SM Action – M.C. Migliori | Yamaha | 28.357 |
| 7 | LARRANAGA OLANO Iker | 66 | SPA | 14 | Marchetti Racing Team KTM | KTM | 48.900 |
| 8 | STERRY Adam | 811 | GBR | 13 | F&H Racing Team | Kawasaki | 51.886 |
| 9 | STRUBHART MOREAU Brian | 225 | FRA | 12 | BUD Racing Monster Energy Kawasaki | Kawasaki | 54.000 |
| 10 | GUADAGNINI Mattia | 121 | ITA | 11 | Wildcard Rider | Husqvarna | 55.032 |
| 11 | HARRISON Mitchell | 35 | USA | 10 | BUD Racing Monster Energy Kawasaki | Kawasaki | 55.874 |
| 12 | FORATO Alberto | 303 | ITA | 9 | Wildcard Rider | Husqvarna | 1:18.083 |
| 13 | SIKYNA Richard | 102 | SLK | 8 | JD Gunnex KTM Racing Team | KTM | 1:23.720 |
| 14 | PICHON Zachary | 101 | FRA | 7 | Honda 114 Motorsports | Honda | 1:59.021 |
| 15 | PAPENMEIER Larissa | 423 | GER | 6 | Wildcard Rider | Yamaha | 2 Laps |
| 16 | WANG Ke | 519 | CHI | 5 | Wildcard Rider | Yamaha | 3 Laps |
| 17 | PU Yang | 181 | CHI | 4 | Wildcard Rider | Yamaha | 3 Laps |
| 18 | PENG Yongming | 42 | CHI | 3 | Wildcard Rider | Honda | 4 Laps |
| 19 | HU Bolin | 909 | CHI | 2 | Wildcard Rider | Honda | 4 Laps |
| 20 | CHENG Hao | 535 | CHI | 1 | Wildcard Rider | Honda | 4 Laps |
MX2 2019 Sunday, September 15th 2019
RaceRound 18 MXGP of China
Race 2
CLOUDYAir Temp29°CTrack CondLoam
| Pos. | Rider | Num | Nation | Points | Team | Constructor | Time/Gap |
| --- | --- | --- | --- | --- | --- | --- | --- |
| 1 | PRADO GARCIA Jorge | 61 | SPA | 25 | Red Bull KTM Factory Racing | KTM | 34:08.720 |
| 2 | VIALLE Tom | 28 | FRA | 22 | Red Bull KTM Factory Racing | KTM | 0.650 |
| 3 | GEERTS Jago | 193 | BEL | 20 | Kemea Yamaha Yamalube Racing Team | Yamaha | 16.159 |
| 4 | VLAANDEREN Calvin | 10 | NDL | 18 | Team HRC – MX2 | Honda | 20.472 |
| 5 | KJER OLSEN Thomas | 19 | DEN | 16 | Rockstar Energy Husqvarna Factory Racing | Husqvarna | 23.718 |
| 6 | VAN DE MOOSDIJK Roan | 39 | NDL | 15 | F&H Racing Team | Kawasaki | 44.878 |
| 7 | RENAUX Maxime | 959 | FRA | 14 | Yamaha SM Action – M.C. Migliori | Yamaha | 50.508 |
| 8 | STERRY Adam | 811 | GBR | 13 | F&H Racing Team | Kawasaki | 51.687 |
| 9 | LARRANAGA OLANO Iker | 66 | SPA | 12 | Marchetti Racing Team KTM | KTM | 54.312 |
| 10 | FORATO Alberto | 303 | ITA | 11 | Wildcard Rider | Husqvarna | 54.662 |
| 11 | HARRISON Mitchell | 35 | USA | 10 | BUD Racing Monster Energy Kawasaki | Kawasaki | 57.094 |
| 12 | GUADAGNINI Mattia | 121 | ITA | 9 | Wildcard Rider | Husqvarna | 1:33.710 |
| 13 | EVANS Mitchell | 43 | AUS | 8 | Honda 114 Motorsports | Honda | 1:41.007 |
| 14 | PICHON Zachary | 101 | FRA | 7 | Honda 114 Motorsports | Honda | 1:50.256 |
| 15 | SIKYNA Richard | 102 | SLK | 6 | JD Gunnex KTM Racing Team | KTM | 1 Lap |
| 16 | PAPENMEIER Larissa | 423 | GER | 5 | Wildcard Rider | Yamaha | 2 Laps |
| 17 | WANG Ke | 519 | CHI | 4 | Wildcard Rider | Yamaha | 3 Laps |
| 18 | PU Yang | 181 | CHI | 3 | Wildcard Rider | Yamaha | 3 Laps |
| 19 | HU Bolin | 909 | CHI | 2 | Wildcard Rider | Honda | 4 Laps |
| 20 | PENG Yongming | 42 | CHI | 1 | Wildcard Rider | Honda | 4 Laps |
MX2 2019 Sunday, September 15th 2019
Rider Standings
Limited to top 30 results
| Pos. | Rider | Num | Nation | Points | Team | Constructor |
| --- | --- | --- | --- | --- | --- | --- |
| 1 | PRADO GARCIA Jorge | 61 | SPA | 837 | Red Bull KTM Factory Racing | KTM |
| 2 | KJER OLSEN Thomas | 19 | DEN | 624 | Rockstar Energy Husqvarna Factory Racing | Husqvarna |
| 3 | GEERTS Jago | 193 | BEL | 543 | Kemea Yamaha Yamalube Racing Team | Yamaha |
| 4 | VIALLE Tom | 28 | FRA | 537 | Red Bull KTM Factory Racing | KTM |
| 5 | JACOBI Henry | 29 | GER | 442 | F&H Racing Team | Kawasaki |
| 6 | STERRY Adam | 811 | GBR | 411 | F&H Racing Team | Kawasaki |
| 7 | RENAUX Maxime | 959 | FRA | 406 | Yamaha SM Action – M.C. Migliori | Yamaha |
| 8 | VLAANDEREN Calvin | 10 | NDL | 399 | Team HRC – MX2 | Honda |
| 9 | BOISRAME Mathys | 172 | FRA | 303 | Team Honda Red Moto Assomotor | Honda |
| 10 | WATSON Ben | 919 | GBR | 282 | Kemea Yamaha Yamalube Racing Team | Yamaha |
| 11 | EVANS Mitchell | 43 | AUS | 277 | Honda 114 Motorsports | Honda |
| 12 | BEATON Jed | 14 | AUS | 250 | Rockstar Energy Husqvarna Factory Racing | Husqvarna |
| 13 | LARRANAGA OLANO Iker | 66 | SPA | 220 | Marchetti Racing Team KTM | KTM |
| 14 | VAESSEN Bas | 98 | NDL | 219 | Hitachi KTM fuelled by Milwaukee | KTM |
| 15 | HARRISON Mitchell | 35 | USA | 191 | BUD Racing Monster Energy Kawasaki | Kawasaki |
| 16 | CERVELLIN Michele | 747 | ITA | 179 | Yamaha SM Action – M.C. Migliori | Yamaha |
| 17 | VAN DONINCK Brent | 32 | BEL | 172 | Team Honda Red Moto Assomotor | Honda |
| 18 | ÖSTLUND Alvin | 161 | SWE | 169 | REVO Husqvarna UK | Husqvarna |
| 19 | POOTJES Davy | 46 | NDL | 157 | Team Diga-Procross | Husqvarna |
| 20 | SIKYNA Richard | 102 | SLK | 145 | JD Gunnex KTM Racing Team | KTM |
| 21 | SANAYEI Darian | 57 | USA | 140 | Bike It DRT Kawasaki | Kawasaki |
| 22 | WALSH Dylan | 53 | NZL | 138 | REVO Husqvarna UK | Husqvarna |
| 23 | STRUBHART MOREAU Brian | 225 | FRA | 124 | BUD Racing Monster Energy Kawasaki | Kawasaki |
| 24 | PICHON Zachary | 101 | FRA | 103 | Honda 114 Motorsports | Honda |
| 25 | LESIARDO Morgan | 44 | ITA | 91 | Marchetti Racing Team KTM | KTM |
| 26 | VAN DE MOOSDIJK Roan | 39 | NDL | 74 | F&H Racing Team | Kawasaki |
| 27 | FORATO Alberto | 303 | ITA | 68 | Wildcard Rider | Husqvarna |
| 28 | PANCAR Jan | 253 | SLO | 48 | Wildcard Rider | Yamaha |
| 29 | HOFER Rene | 711 | AUT | 42 | Wildcard Rider | KTM |
| 30 | GUADAGNINI Mattia | 121 | ITA | 41 | Wildcard Rider | Husqvarna |
Courtesy Team Honda HRC