Team HRC's Calvin Vlaanderen showed good speed all weekend at the MXGP of the Czech Republic, posting times in the top two in all the practice sessions and even riding inside the top four for the majority of the two races. Unfortunately, though, he wasn't quite able to translate this speed into podium results and instead had to settle for seventh overall after nine-five race results.
Getting a good start in race one at the Loket facility, the Honda CRF250RW rider was stuck in third place for the first 11 laps, unable to find a passing spot for the rider ahead, which would then have allowed him to go for the leader. Instead, on the twelfth lap, as he looked to sweep around the outside, the two riders lines came together and both ended up on the ground. Vlaanderen was able to remount, but he'd lost seven spots in the incident and despite making one more pass, finished the race in ninth place.
It was a similar story in race two as Vlaanderen rounded the first bend in fourth place. It took him eight laps to move into third and as he once again set his sights on the top two, a small mistake cost him a few positions and he dropped to sixth. He quickly moved back to fifth but any chance of a podium had gone and instead he had to settle for seventh overall. Still, there were a lot of positives to take out from the weekend and he'll be looking to show similar speed next weekend when the series heads to the deep sand of Lommel, Belgium on August 3-4.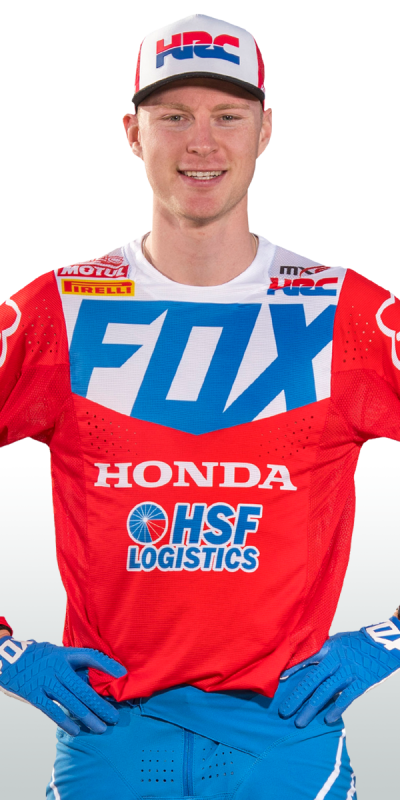 Calvin Vlaanderen 10
It wasn't a great pair of races to be honest. I'm a bit disappointed with the results, but I'm happy with my riding. I didn't feel fast, but I proved in a lot of sessions that I was one of the fastest out there, especially in the first race. I had a good start and was riding behind Tom (Vialle) and for 20 minutes I was getting roosted by him and I was trying everything to pass him but the track was so one lined and I couldn't find a way. In the end I tried and he cut me off at the last second and we came together and we both went down. This was unfortunate but I was able to pick the bike up and finish ninth. Second race I had a pretty good start again, I moved from fourth to third and I then I had a small tipover. I didn't feel great in that second moto but overall I'm happy with my speed and I'm going to keep working in order to make the most of these five remaining GPs.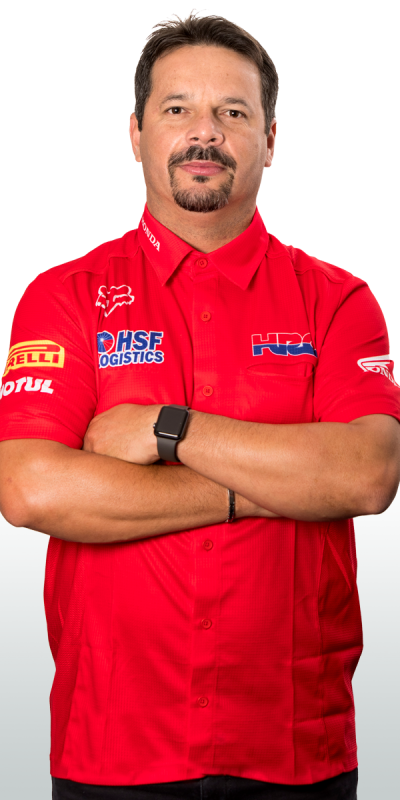 Marcus Pereira de Freitas
HRC General Manager – MXGP
It was good to see Calvin at the top of the leaderboards in a lot of the sessions this weekend, but obviously it's a little disappointing that he wasn't able to translate that into a podium points haul. It was a difficult track to race on and he ate a lot of roost in both motos because there weren't a lot of lines out there, but he definitely deserved better with the speed he was showing. Still, we move onto the next round in Lommel and I'm sure Calvin will already be focusing on doing well there.
MX2 2019 Sunday, July 28th 2019RaceRound 13 MX2 of Czech Republic
Race 1
CLOUDYAir Temp28°CTrack CondHard Pack
| Pos. | Rider | Num | Nation | Points | Team | Constructor | Time/Gap |
| --- | --- | --- | --- | --- | --- | --- | --- |
| 1 | PRADO GARCIA Jorge | 61 | SPA | 25 | Red Bull KTM Factory Racing | KTM | 33:47.804 |
| 2 | JACOBI Henry | 29 | GER | 22 | F&H Racing Team | Kawasaki | 8.007 |
| 3 | KJER OLSEN Thomas | 19 | DEN | 20 | Rockstar Energy Husqvarna Factory Racing | Husqvarna | 11.631 |
| 4 | BEATON Jed | 14 | AUS | 18 | Rockstar Energy Husqvarna Factory Racing | Husqvarna | 17.866 |
| 5 | GEERTS Jago | 193 | BEL | 16 | Kemea Yamaha Yamalube Racing Team | Yamaha | 23.742 |
| 6 | STERRY Adam | 811 | GBR | 15 | F&H Racing Team | Kawasaki | 31.285 |
| 7 | LARRANAGA OLANO Iker | 66 | SPA | 14 | Marchetti Racing Team KTM | KTM | 35.625 |
| 8 | STRUBHART MOREAU Brian | 225 | FRA | 13 | BUD Racing Monster Energy Kawasaki | Kawasaki | 38.545 |
| 9 | VLAANDEREN Calvin | 10 | NDL | 12 | Team HRC – MX2 | Honda | 38.910 |
| 10 | VAN DONINCK Brent | 32 | BEL | 11 | Team Honda Red Moto Assomotor | Honda | 42.142 |
| 11 | BOISRAME Mathys | 172 | FRA | 10 | Team Honda Red Moto Assomotor | Honda | 43.791 |
| 12 | HARRISON Mitchell | 35 | USA | 9 | BUD Racing Monster Energy Kawasaki | Kawasaki | 44.204 |
| 13 | HORGMO Kevin | 240 | NOR | 8 | Wildcard Rider | KTM | 46.345 |
| 14 | HOFER Rene | 711 | AUT | 7 | Wildcard Rider | KTM | 47.892 |
| 15 | RENAUX Maxime | 959 | FRA | 6 | Yamaha SM Action – M.C. Migliori | Yamaha | 54.432 |
| 16 | SIKYNA Richard | 102 | SLK | 5 | JD Gunnex KTM Racing Team | KTM | 55.608 |
| 17 | PANCAR Jan | 253 | SLO | 4 | Wildcard Rider | Yamaha | 56.776 |
| 18 | PICHON Zachary | 101 | FRA | 3 | Honda 114 Motorsports | Honda | 1:12.620 |
| 19 | ÖSTLUND Alvin | 161 | SWE | 2 | REVO Husqvarna UK | Husqvarna | 1:15.315 |
| 20 | ROOSIORG Hardi | 75 | EST | 1 | Sahkar KTM Racing | KTM | 1:19.154 |
MX2 2019 Sunday, July 28th 2019RaceRound 13 MX2 of Czech Republic
Race 2
CLOUDYAir Temp28°CTrack CondHard Pack
| Pos. | Rider | Num | Nation | Points | Team | Constructor | Time/Gap |
| --- | --- | --- | --- | --- | --- | --- | --- |
| 1 | PRADO GARCIA Jorge | 61 | SPA | 25 | Red Bull KTM Factory Racing | KTM | 35:33.413 |
| 2 | STERRY Adam | 811 | GBR | 22 | F&H Racing Team | Kawasaki | 10.244 |
| 3 | JACOBI Henry | 29 | GER | 20 | F&H Racing Team | Kawasaki | 17.878 |
| 4 | KJER OLSEN Thomas | 19 | DEN | 18 | Rockstar Energy Husqvarna Factory Racing | Husqvarna | 20.837 |
| 5 | VLAANDEREN Calvin | 10 | NDL | 16 | Team HRC – MX2 | Honda | 25.531 |
| 6 | GEERTS Jago | 193 | BEL | 15 | Kemea Yamaha Yamalube Racing Team | Yamaha | 32.755 |
| 7 | VIALLE Tom | 28 | FRA | 14 | Red Bull KTM Factory Racing | KTM | 40.264 |
| 8 | BOISRAME Mathys | 172 | FRA | 13 | Team Honda Red Moto Assomotor | Honda | 48.725 |
| 9 | BEATON Jed | 14 | AUS | 12 | Rockstar Energy Husqvarna Factory Racing | Husqvarna | 49.242 |
| 10 | HORGMO Kevin | 240 | NOR | 11 | Wildcard Rider | KTM | 56.925 |
| 11 | HOFER Rene | 711 | AUT | 10 | Wildcard Rider | KTM | 1:00.790 |
| 12 | RENAUX Maxime | 959 | FRA | 9 | Yamaha SM Action – M.C. Migliori | Yamaha | 1:04.005 |
| 13 | VAN DONINCK Brent | 32 | BEL | 8 | Team Honda Red Moto Assomotor | Honda | 1:04.955 |
| 14 | SIKYNA Richard | 102 | SLK | 7 | JD Gunnex KTM Racing Team | KTM | 1:07.585 |
| 15 | WALSH Dylan | 53 | NZL | 6 | REVO Husqvarna UK | Husqvarna | 1:19.654 |
| 16 | LARRANAGA OLANO Iker | 66 | SPA | 5 | Marchetti Racing Team KTM | KTM | 1:27.588 |
| 17 | STRUBHART MOREAU Brian | 225 | FRA | 4 | BUD Racing Monster Energy Kawasaki | Kawasaki | 1:31.066 |
| 18 | ÖSTLUND Alvin | 161 | SWE | 3 | REVO Husqvarna UK | Husqvarna | 1:32.505 |
| 19 | PANCAR Jan | 253 | SLO | 2 | Wildcard Rider | Yamaha | 1:46.066 |
| 20 | POLAK Petr | 313 | CZE | 1 | JD 191 KTM Racing Team | KTM | 1 Lap |
MX2 2019 Sunday, July 28th 2019
Rider Standings
Limited to top 30 results
| Pos. | Rider | Num | Nation | Points | Team | Constructor |
| --- | --- | --- | --- | --- | --- | --- |
| 1 | PRADO GARCIA Jorge | 61 | SPA | 594 | Red Bull KTM Factory Racing | KTM |
| 2 | KJER OLSEN Thomas | 19 | DEN | 504 | Rockstar Energy Husqvarna Factory Racing | Husqvarna |
| 3 | GEERTS Jago | 193 | BEL | 391 | Kemea Yamaha Yamalube Racing Team | Yamaha |
| 4 | VIALLE Tom | 28 | FRA | 380 | Red Bull KTM Factory Racing | KTM |
| 5 | JACOBI Henry | 29 | GER | 377 | F&H Racing Team | Kawasaki |
| 6 | STERRY Adam | 811 | GBR | 279 | F&H Racing Team | Kawasaki |
| 7 | BEATON Jed | 14 | AUS | 250 | Rockstar Energy Husqvarna Factory Racing | Husqvarna |
| 8 | WATSON Ben | 919 | GBR | 246 | Kemea Yamaha Yamalube Racing Team | Yamaha |
| 9 | RENAUX Maxime | 959 | FRA | 243 | Yamaha SM Action – M.C. Migliori | Yamaha |
| 10 | EVANS Mitchell | 43 | AUS | 226 | Honda 114 Motorsports | Honda |
| 11 | BOISRAME Mathys | 172 | FRA | 220 | Team Honda Red Moto Assomotor | Honda |
| 12 | VAESSEN Bas | 98 | NDL | 219 | Hitachi KTM fuelled by Milwaukee | KTM |
| 13 | VLAANDEREN Calvin | 10 | NDL | 212 | Team HRC – MX2 | Honda |
| 14 | CERVELLIN Michele | 747 | ITA | 179 | Yamaha SM Action – M.C. Migliori | Yamaha |
| 15 | VAN DONINCK Brent | 32 | BEL | 165 | Team Honda Red Moto Assomotor | Honda |
| 16 | POOTJES Davy | 46 | NDL | 157 | Team Diga-Procross | Husqvarna |
| 17 | LARRANAGA OLANO Iker | 66 | SPA | 132 | Marchetti Racing Team KTM | KTM |
| 18 | HARRISON Mitchell | 35 | USA | 123 | BUD Racing Monster Energy Kawasaki | Kawasaki |
| 19 | ÖSTLUND Alvin | 161 | SWE | 109 | REVO Husqvarna UK | Husqvarna |
| 20 | WALSH Dylan | 53 | NZL | 101 | REVO Husqvarna UK | Husqvarna |
| 21 | SIKYNA Richard | 102 | SLK | 95 | JD Gunnex KTM Racing Team | KTM |
| 22 | STRUBHART MOREAU Brian | 225 | FRA | 81 | BUD Racing Monster Energy Kawasaki | Kawasaki |
| 23 | SANAYEI Darian | 57 | USA | 79 | Bike It DRT Kawasaki | Kawasaki |
| 24 | PICHON Zachary | 101 | FRA | 58 | Honda 114 Motorsports | Honda |
| 25 | LESIARDO Morgan | 44 | ITA | 52 | Marchetti Racing Team KTM | KTM |
| 26 | MEWSE Conrad | 426 | GBR | 40 | Hitachi KTM fuelled by Milwaukee | KTM |
| 27 | VAN DE MOOSDIJK Roan | 39 | NDL | 23 | F&H Racing Team | Kawasaki |
| 28 | FORATO Alberto | 303 | ITA | 23 | Wildcard Rider | Husqvarna |
| 29 | PESSOA Gustavo | 57 | BRA | 20 | Bike It DRT Kawasaki | Kawasaki |
| 30 | HORGMO Kevin | 240 | NOR | 19 | Wildcard Rider | KTM |
Courtesy Honda