Lawrence Takes Open Pro Sport Moto Two Win
HURRICANE MILLS, Tenn. (August 2, 2019) – Day three of racing at the 2019 Rocky Mountain ATV/MC AMA Amateur National Motocross Championship, presented by Lucas Oil, took place Thursday, August 1, 2019 in Hurricane Mills, Tennessee. The day would start off with the 250 C moto two where Dylan Cunha would add another win to his quest for a National title.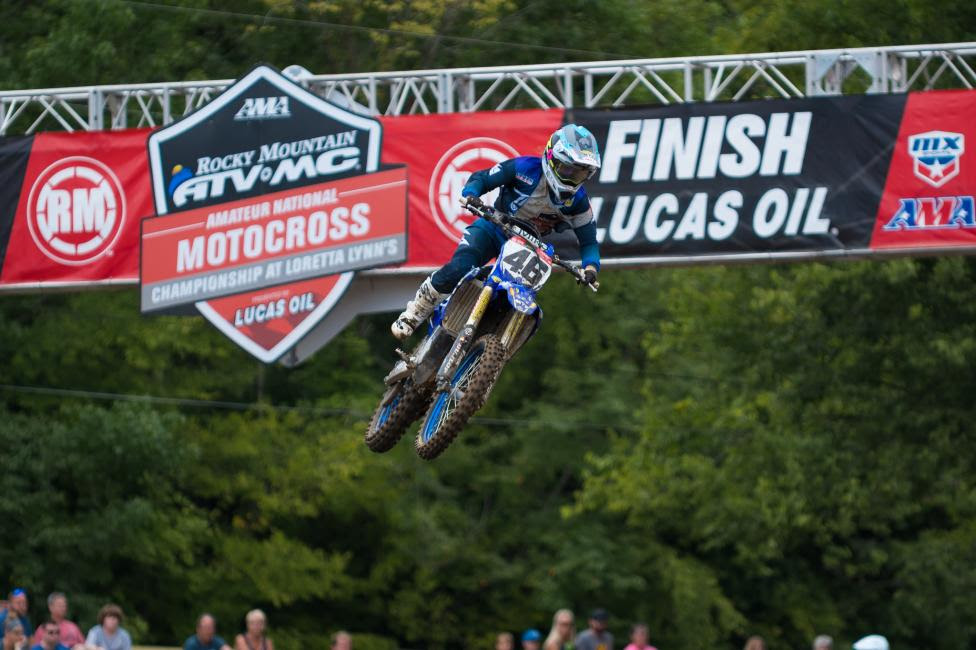 The Women's class took the track around 9 a.m. yesterday morning. Hannah Hodges grabbed the early lead with Jazzmyn Canfield coming through in second and Jamie Astudillo running up front early on. Hodges would hold onto the lead for six laps, but Canfield would put her head down and push. Canfield made the pass stick on Hodges, and Jordan Jarvis worked her way back to third after a 12th place start. Jarvis would set her sights on Hodges and make the pass for second on the eighth lap. Tayler Allred would also run at the front of the group, and battle with Hodges during the last couple of laps for the final podium spot. Canfield earned another moto win and now sits first overall with Jarvis and Allred, who was able to get around Hodges and hold her off until the checkered flag came out, sitting second and third overall. Hodges sits fourth overall with a moto score of 3-4, and Katelyn Clauss is in fifth with 5-5 moto finishes.
Grabbing the early lead in the 250 B class was Dilan Schwartz, while Stilez Robertson also made his way to the front early on. Schwartz would work on trying to place a gap over the field, but Robertson was just seconds behind him for majority of the second moto. Schwartz would come through 2.216 seconds ahead of Robertson to take the win, and now holds first overall. The battle will be on as they top two are tied heading into the third moto. Jarrett Fyre would hold onto third in the moto, and currently remains third in the overall standings.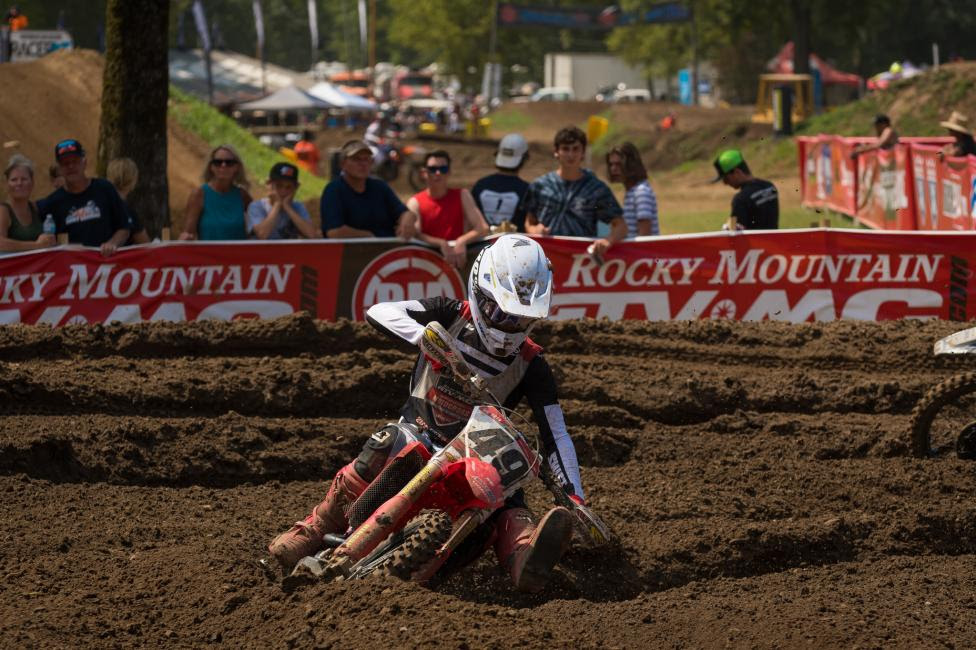 As the Open Pro Sport moto two took off it was Vincent Luhovey Jr. grabbing the Bell Helmets Holeshot Award. However, Jalek Swoll and Jett Lawrence would be right there to take the lead away. Lawrence was wasting no time trying to get around Swoll, but was shut out through the ten commandments. Swoll was riding very defensively, and not letting any doors open for Lawrence. But just like that Lawrence grabs the inside line and makes the pass on Swoll.
By this time Jo Shimoda was making his way through the pack and sat eighth after two laps. Halpain and Luhovey Jr. were running third and fourth with Halpain working on Swoll. Halpain makes the pass, but Swoll is fighting back. Halpain would ultimately fall back to 10th. Shimoda found himself battling for the top two positions, and makes the pass for second to look ahead at teammate Lawrence in first. Lawrence would hold onto first, with Shimoda coming through second and Swoll holding onto a podium finish with third. Parker Mashburn had a consistent race making two passes from his 6th place start to get up to fourth in moto two. Lance Kobusch rounded out the top five after a 9th place start to the moto.
Kayden Palmer had his work cut out for him in the second moto of the College (18-24) class. Palmer would be coming through 16th on the opening lap, and would steadily work his way to the front. By lap four, Palmer had made his way to second and then into the number one spot after eight laps. Palmer goes 2-1 to hold first overall as they head into the third moto. McClellan Hile earned the moto one win, and finished second in moto two. This will put Hile in a great position to try and earn the College (18-24) National Championship when moto three comes around. Michael Hicks came through third with Brayden Lessler and Dawson Ryker rounding out the top five.
The battle was on in the Junior (25+) class with Michael Brown and Darryn Durham. Brown would lead early on, with Durham working his way from third to second and then pushing forward to work on getting around Brown. As the duo came around on the eighth lap, Durham would make the pass and hold his line as Brown would try to fight back. Durham would hold on for three more laps, and take the moto two win, with Brown coming through 2.2 seconds behind him. The two are tied as we wait for their third moto, with Durham holding the overall position with a better second moto finish. Preston Mull once again earned a podium finish and is looking good for a third in the class with a 3-3 already.
In the 85cc (10-12) class, Haiden Deegan and Daxton Bennick had a great battle going on. It was Logan Best getting the jump off the gate though, and leading the first lap. However, it would not take Bennick long to make the pass for first and try to place a gap over the rest of the field. Bennick would hold onto the lead, but Deegan was now running in second and gaining on him. Deegan get close enough and make a pass as they came around on the eighth lap. With only three laps remaining, Deegan would not look back as he would cross the finish line first. Bennick would come in second with Casey Cochran earning another third place finish.
The 2019 Rocky Mountain ATV/MC AMA Amateur National Motocross Championship presented by Lucas Oil is taking place now through August 3 at the Loretta Lynn Ranch in Hurricane Mills, Tennessee.
Thursday Class Winners:
250 C – Dylan Cunha
65cc (7-9) Limited – Seth Dennis
Mini Sr. 1 (12-14) – Nicholas Romano
Women (12+) – Jazzmyn Canfield
Senior (40+) – Michael Brown
125cc (12-17) B/C – Gage Linville
*250 B – Dilan Schwartz
*Open Pro Sport – Jett Lawrence
51cc (7-8) Limited – Ryder Ellis
51cc (4-6) Limited – Bode Bradford
51cc (4-6) Special Limited – Kade Nightingale
51cc (4-6) Shaft Drive Ltd – Braxton Baldock
250 C Limited – Hunter Nitsch
College (18-24) – Kayden Palmer
Girls (11-16) – Katie Benson
Junior (25+) – Darryn Durham
Supermini 2 (13-16) – Maximus Vohland
250 C Jr. (12-17) Limited – Cameron Harrison
450 B Limited – Hunter Yoder
85cc (10-12) – Haiden Deegan
Schoolboy 1 (12-17) B/C – Levi Kitchen
65cc (7-9) – Landon Gibson
450 C – Tyler Foster
For more information on the AMA Amateur National, visit the series official website at www.mxsports.com or call (304) 284-0101. Join the conversation on the event's social media channels, along with receiving the most up-to-date news and exclusive content.
About the Rocky Mountain ATV/MC AMA Amateur National Motocross Championship
The Rocky Mountain ATV/MC AMA Amateur National Motocross Championship presented by Lucas Oil is the world's largest and most prestigious amateur motocross racing program. The national qualifying program consists of 54 Area Qualifiers (February through May) and 13 Regional Championships (May through June), hosted at select motocross facilities across the country. The qualifying system culminates in the National Final (first week in August) hosted annually since 1982 at the home of country music star Loretta Lynn in Hurricane Mills, Tenn. Nearly 20,000 racers attempt to qualify in 36 classes for the 1,512 available positions at the National. Christened "The World's Greatest Motocross Vacation", the National event serves as a launch pad for some of the biggest names in professional motocross and supercross, including Ricky Carmichael, James Stewart, Ryan Villopoto, and Ryan Dungey. The national program is produced by MX Sports, Inc., a West Virginia-based race production company and sanctioned by AMA. For more information, please visit www.mxsports.com.
About the American Motorcyclist Association
Founded in 1924, the AMA is a not-for-profit member-based association whose mission is to promote the motorcycle lifestyle and protect the future of motorcycling. As the world's largest motorcycling rights and event sanctioning organization, the AMA advocates for riders' interests at all levels of government and sanctions thousands of competition and recreational events every year. The AMA also provides money-saving discounts on products and services for its members. Through the AMA Motorcycle Hall of Fame in Pickerington, Ohio, the AMA honors the heroes and heritage of motorcycling. For more information, visit www.americanmotorcyclist.com. Not a member? Join the AMA today: www.americanmotorcyclist.com/membership/join.