Pickens and Sheets Come Out on Top
WASHINGTON, Ga. (March 21, 2019) – Round two of the 2019 AMSOIL Grand National Cross Country (GNCC) Series presented by Specialized, an AMA National Championship, took place on March 16 and 17 with The Specialized General GNCC at Aonia Pass MX in Washington, Georgia. The General GNCC is known for their motocross track and a mulch pile that always seems to make an appearance on the course, however the most notable feature of The General is the red clay. When wet it becomes insanely slippery, and when dry it gets hard-packed and rough.
Keeping up your momentum and staying smooth is always critical for a good finish here, and with temperatures in the high 50s and low 60s conditions were almost ideal for racing. A total of 73 women in a variety of classes lined up to compete in Georgia, with Becca Sheets and Traci Pickens winning the premier WXC bike and ATV classes.
On Saturday, Katelyn Osburn, Sadie Welch, and Morgan Solesbee made up the lead pack off the line at the 11 a.m. start. Although she didn't have a great start, Traci Pickens began picking off people around the four-mile marker, and by the end of the first lap had taken the lead, though neither second-place Osburn nor third-place rider Sadiee Gorrell was far behind. Meanwhile, Solesbee was experiencing bike problems, and ultimately able to complete one lap after a battery replacement before her machine quit entirely.
That was not all of the machine problems that would occur this race – Kara Short only made it six miles before having to be towed in, while a mechanical issue forced Gorrell's race to end prematurely. Alicia McCormick, having recovered from a bad start, had a gnarly crash while attempting to make a on Megan Shepherd, who had passed Gorrell to take over the third place position. McCormick was unhurt, but her ATV was too mangled to continue the race.
For the riders still remaining in the race following lap two, Pickens and Osburn were the riders to beat. While less than a second separated the two of them they had over two minutes on the rest of the field by the end of lap three. Hannah Hunter, in her debut WXC race, was able to pass Shepherd during her pit stop after having some issues with a lapper.
Hunter went on to have a tremendously successful race. She was able to gain over forty seconds during the last lap to successfully fend off Shepherd, who suffered from a small crash while attempting to pass her. When asked about her race Hunter said, "On the second lap I got a pit board telling me that I was reeling third in, and I knew that I had to give a final push. With that push, I pulled off a third in class and 12th overall!" At sixteen years old, Hunter is the youngest rider to ever earn a spot on a WXC podium, and to do so in her very first pro race is unprecedented.
Almost everyone congratulated her on her achievement. For example: "I want to give a huge shout-out to Hannah Hunter, who not only made her debut in WXC, but also made her first pro podium appearance – she has a great future in racing ahead of her!" (Traci Pickens). "I'm pumped for Hurricane Hannah on getting her first WXC podium!" (Katelyn Osburn) "I cannot tell her enough how proud of her I am" (Alicia McCormick). Although WXC riders leave everything out on the track and are brutally competitive, it's nice to see such positivity and solidarity amongst the racers off the bike.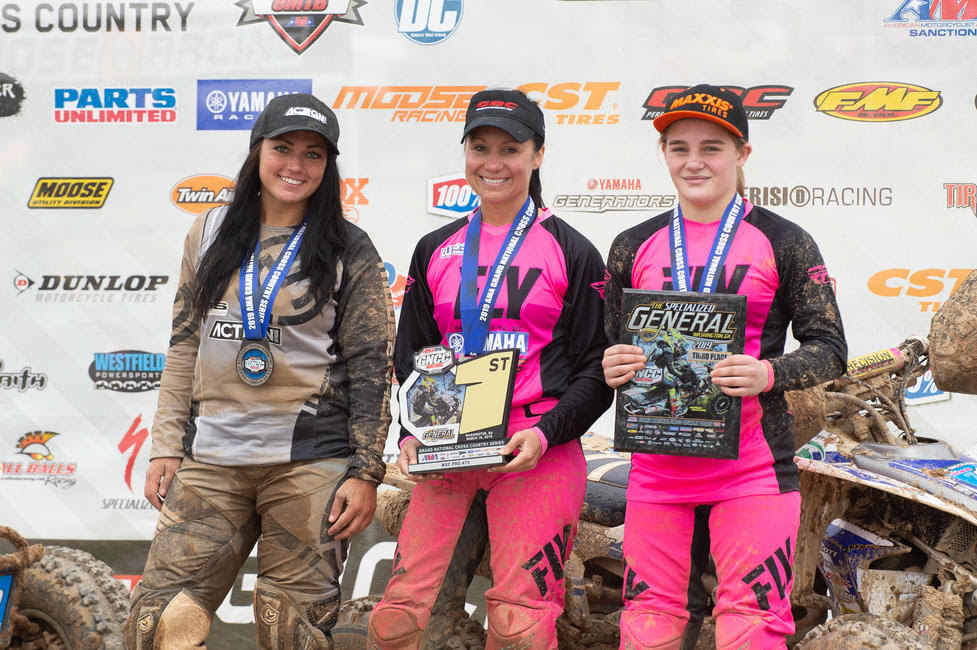 Osburn and Pickens continued to duke it out for the remainder of the race. As Osburn put it "the battle was on" and they swapped the lead several times throughout the last lap. It would be Pickens who took the checkered flag, while Osburn holds onto the points lead going into round three next weekend.
In the Girl's ATV class, the podium was identical to the previous weeks at the Wild Boar GNCC in Florida – Andrea Rodgers took the top spot, with Alexis Keys in second and Hannah Moore in third. The battle between Rodgers and Keys was a close one, with only three seconds separating the riders at the end of the race. In the Women's ATV class, Claire Wilkin from Hillsboro, Ohio took the class win.
On Sunday, Tayla Jones was the first one into the woods during the bike WXC race at 10 a.m., though Mackenzie Tricker, Becca Sheets and Rachel Gutish were all right behind her. About a mile into the race, Jones went down, getting passed by all three riders. After Jones crashed, Tricker led the majority of the first lap, though Jones was able to re-take the lead by the time the women came through the scoring.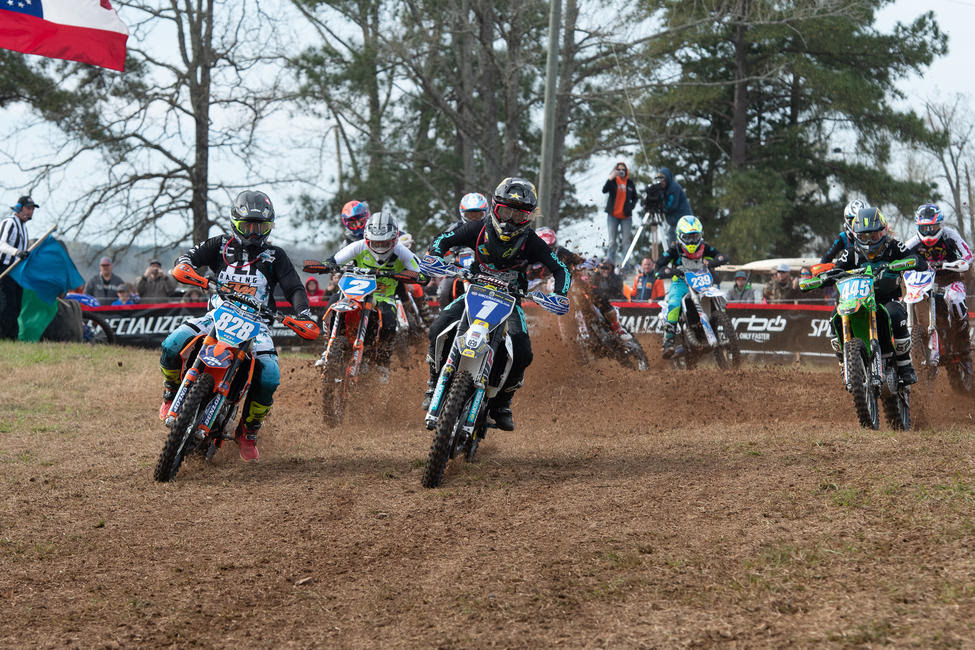 Meanwhile, Shelby Rolen was in fifth place and holding a decent pace, until a bad line in a mudhole sent her back to seventh, where she would ride by herself for the majority of the race. Brooke Cosner took over fifth place, with Rachael Archer less than a second behind. Both riders were down just under a minute from the lead pack. On the second lap, Archer was able to pass Cosner and put a decent gap on her, although she was still losing time to the lead pack.
On the second lap, once Jones and Sheets hit the lappers, they were able to break away from Tricker and Gutish. Jones and Sheets continued to battle back and forth, with Jones still holding onto the lead position heading into lap three. A couple miles into the third lap, Gutish was able to briefly pass Tricker to take third, before going down while attempting to pass a lapper. At this point, Tricker caught back up to the leaders and the three began to swap positions. Jones went down just before the scoring zone, losing over a minute to Sheets and Tricker.
Meanwhile, Gutish had gone down again and was experiencing electrical issues, costing her valuable time as she attempted to restart her machine. During her pit stop, both Archer and Cosner were able to pass her, moving up into fourth and fifth, respectively. Not long after, Archer, Cosner and Gutish would find themselves intertwined with one another. Gutish was the first to escape the pile-up and would hold that position the remainder of the race, though Archer was close behind. Cosner was also in the hunt for fourth until she experienced bike failure due to a battery problem.
Though Tricker was initially close behind Sheets and battled with her early on in the final lap, a combination of several mistakes by Tricker and a clean last lap by Sheets was enough to allow her to come out on top. Tricker stated, "This was much better weekend than Florida." While Sheets told us, "It was so much fun! The first lap where the four of us were shredding together was awesome. On the last lap everybody in the lead pack was fighting hard for that win, but I put my head down and made a push for a smooth last lap and was able to come out on top!"
Jocelyn Barnes came out on top in the Women's class once again, though this round it was much closer – she finished just shy of a minute ahead of Alli Phillips. Ashley Hudson from Flower Branch, Georgia was the winner in Women C class. In the Girls class, newcomer and hard enduro rider Nikki Russell overcame the rest of the class, putting a full 18 minutes on second place by the fifth lap, and completing one lap more than the rest of the field. Last round's winner, Gracie Gooch, placed second; ultimately finishing one lap ahead of third-place finisher Paige Berryman.
In the Micro ATV division, Raelynn Dickerson placed fifth in 50cc Sr. and 11th overall, while Khyler Davis placed second in MXC2 and 18th overall. On the bike side Paisley Harris placed 19th in 50cc Sr. and 38th overall, while Paisley Wooley placed 25th in 50cc Sr. and 49th overall.
The General GNCC was also the first round for new Specialized Turbo eMTB National Championship Series. In the Women's class, WXC riders Tayla Jones (Fantic) and Alicia McCormick (Specialized) finished first and third, while Hannah Crawford (Specialized) placed second.
The next round of the 2019 AMSOIL Grand National Cross Country Series presented by Specialized will take place on March 30 and 31 in Morganton, North Carolina with the FMF Steele Creek GNCC. ATV, Micro (50cc) and eMTB racing will take place on Saturday while motorcycle racing will take place on Sunday.
For more information on the GNCC series, visit the official website at www.gnccracing.com or call (304) 284-0084. Join the conversation on the series Facebook page, follow us on Twitter and Instagram, and be sure to always hashtag #GNCC.
The Specialized General GNCC
Washington, GA
Round 2 of 13
March 16th and 17th
ATV WXC Pro Event Results:
Traci Pickens (YAM) GBC/Fly/Yamaha
Kate Osburn (HON) Action Off-Road/Moose Racing/GBC
Hannah Hunter (HON) Ye Olde Cycle Barn/Texiera Tech/Maxxis
Megan Shepherd (HON) Stewart Boys Racing/LS4/Rage ATV/DeRisi Racing
Jaida Phillips (YAM) Rekluse/Tirespine/Estes Motorsports
Sadie Welch (HON) Demaree Motorsprots/Nine2 Goggles/Boosted
Sadiee Gorrell (YAM) Maxxis /Fivesixo Graphics/Custom Axis/Pierce Performance
Alicia McCormick (YAM) Ye Olde Cycle Barn/Pierce Performance/Hammer Nutrition/Maxxis
Morgan Solesbee (YAM) Kenda Tire/Fly Racing/Fowler Motorsports
Kara Short (HON) Veterans Family Racing
ATV WXC National Championship Standings:
Kate Osburn (30)
Traci Pickens (48)
Megan Shepherd (43)
Alicia McCormick (34)
Jaida Phillips (31)
Sadiee Gorrell (30)
Hannah Hunter (21)
Sadie Welch (15)
Kara Short (14)
Morgan Solesbee (12)
Bike WXC Pro Event Results:
Becca Sheets (KTM) FLY/Maxxis/Go-Ko Trucking/KTM
Mackenzie Tricker (KTM) KTM/Mepmx/Fly/Grizzly Peak/Traveler's Rest Speedway
Tayla Jones (HQV) Rockstar Energy/Husqvarna/Moose
Rachel Gutish (BET) Beta USA/Moose Racing/Arai Helmets/Mobius/Kenda Tire
Rachael Archer (YAM) Ampro Yamaha/Moose/PWR
Shelby Rolen (KAW) Kawasaki Team Green/Gateway Cycles/FMF/Fox/Dunlop
Shyann Phelps (KTM) Mike Beeler/Racer's Edge
Annalisa Davis (KTM) Ride Free Ministries/Martin Motorsports/Joseph W. Davis
Brooke Cosner (KTM) Tely Energy/MPS/JDP Suspension/Moose/Parts Unlimited/Kenda
Natasha Lachapelle (YAM)
Bike WXC Pro National Championship Standings:
Becca Sheets (55)
Tayla Jones (51)
Mackenzie Tricker (46)
Rachael Archer (29)
Brooke Cosner (28)
Shyann Phelps (28)
Annelisa Davis (25)
Elizabeth Perez (21)
Korie Steede (18)
Rachel Gutish (18)
About GNCC Racing
The AMSOIL Grand National Cross Country Series presented by Specialized is America's premier off-road racing series. Founded in 1975, the 13-round championship is produced exclusively by Racer Productions. Cross-country racing is one of the most physically demanding sports in the world. The grueling three-hour GNCC races lead as many as 2,400 riders through tracks ranging in length from eight to 12 miles. With varied terrain, including hills, woods, mud, dirt, rocks and motocross sections, GNCC events are tests of both survival and speed. The series draws talent from all over the U.S., Central America, South America, Europe, Japan, Australia and New Zealand. GNCC Racing is televised weekly on NBC Sports and RacerTV.com. For more information, please visit www.gnccracing.com.
About eMTB Racing
The Specialized Turbo eMTB GNCC National Championship brings off-road racing and pedal-assist or electric bicycles together for an eight-round championship produced by Racer Productions. Much like a typical cross-country racing event, these races feature varied terrain featuring hills, rocks, roots, and more but are limited to electric, or pedal assist model mountain bikes only. For more information, please visit www.gnccracing.com.
How to Watch
Racer TV and NBC Sports Network (NBCSN) are the official homes for coverage of the AMSOIL Grand National Cross Country (GNCC) events. All 13 rounds, from the season opening Big Buck GNCC in South Carolina to the finale at Ironman Raceway in Indiana, will air in 30-minue; taped-delayed telecasts on NBCSN, while Racer TV provides live streaming coverage of the 1 p.m. ATV and motorcycle races from each event. Catch all the action at http://www.nbcsports.com/ and http://www.racertv.com/.
About the American Motorcyclist Association
Founded in 1924, the AMA is a not-for-profit member-based association whose mission is to promote the motorcycle lifestyle and protect the future of motorcycling. As the world's largest motorcycling rights and event sanctioning organization, the AMA advocates for riders' interests at all levels of government and sanctions thousands of competition and recreational events every year. The AMA also provides money-saving discounts on products and services for its members. Through the AMA Motorcycle Hall of Fame in Pickerington, Ohio, the AMA honors the heroes and heritage of motorcycling. For more information, visit www.americanmotorcyclist.com. Not a member? Join the AMA today: www.americanmotorcyclist.com/membership/join.