After missing the previous five MX2 races, Team HRC's Calvin Vlaanderen returned to action and scored a solid seventh overall in hot, tough conditions of Palembang, Indonesia which hosted the 11th round of the 2019 world motocross championship.
The day started really well for Vlaanderen with a good start in race one that left him in fourth place after the first lap. Riding a consistent speed and keeping up with those in front, Vlaanderen remained in fourth until the chequered flag, which was a really good comeback considering his lengthy layoff. Unfortunately he wasn't able to replicate this in race two as he got pushed down the field in the first few bends. Then, as he set about charging through the pack, a crash on lap five left him right at the back of the field and with a lot of work ahead of him. Knowing that any chance of a podium has gone, Vlaanderen put his head down and worked his way up the leader board, picking off riders who were struggling around him, eventually finishing in 13th place. Despite the second race, he knows that his fitness is still improving and that he gets better every time the gate drops.
Vlaanderen now has a few days to get ready for the 12th round of the MX2 series which takes place in Semarang, Indonesia where he was third overall last year, narrowly missing out on a second moto victory.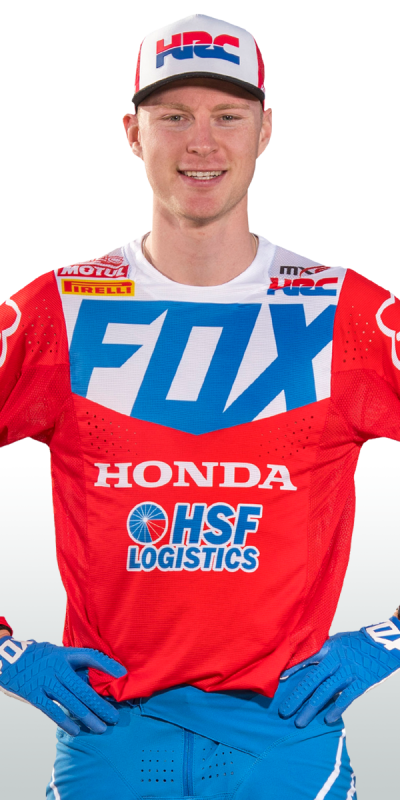 Calvin Vlaanderen 10
It's really good to be back at the GPs and I've missed it a lot to be honest. I'm still physically not 100% and it shows in my racing but I'm really happy to be back racing and to be here with the whole team. Today I had quite a positive day and even though I wasn't able to end on a good note, I'm still taking it as a good overall performance. In the first race I got off to a good start and was immediately in fourth place, I found my own groove, riding good laptimes the whole race and I finished fourth which was very good. In the second race I also got a good jump but I was pushed wide in the first corner and was way back in the pack. I made some good passes the first couple of laps and was coming through well but then I made a mistake at the end of the pitlane and hit my ribs with the handlebars as I went off the track. After that I couldn't even see the guys in front so I just wanted to put in some consistent laps for my own fitness, and I ended up in 13th.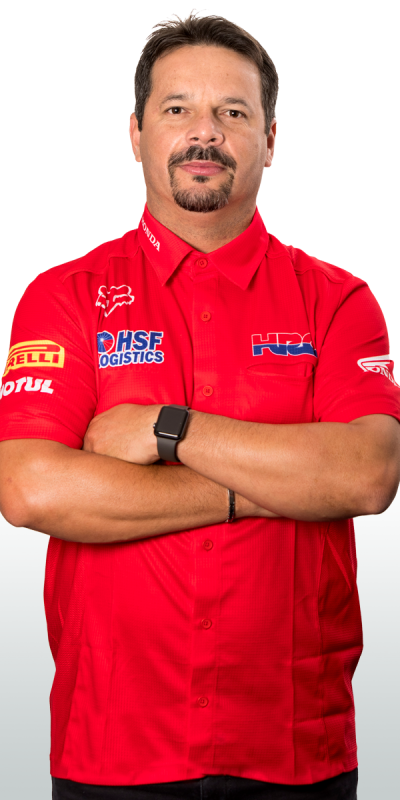 Marcus Pereira de Freitas
HRC General Manager – MXGP
As I said before the weekend, we weren't really putting any expectations on Calvin for this weekend. We knew it had been a long layoff and we knew conditions would be tough with the heat and humidity. However we were really impressed to see him running in fourth for the whole of the first race, making no mistakes and just riding a solid pace. Things didn't quite go as well in race two but overall we are happy with his comeback and we know he has much more to give in the coming few rounds.
MX2 2019 Sunday, July 7th 2019RaceRound 11 MX2 of Indonesia
Race 1
SUNNYAir Temp34°CTrack CondRutted
| Pos. | Rider | Num | Nation | Points | Team | Constructor | Time/Gap |
| --- | --- | --- | --- | --- | --- | --- | --- |
| 1 | PRADO GARCIA Jorge | 61 | SPA | 25 | Red Bull KTM Factory Racing | KTM | 6.767 |
| 2 | VIALLE Tom | 28 | FRA | 22 | Red Bull KTM Factory Racing | KTM | 33:40.277 |
| 3 | RENAUX Maxime | 959 | FRA | 20 | Yamaha SM Action – M.C. Migliori | Yamaha | 14.306 |
| 4 | VLAANDEREN Calvin | 10 | NDL | 18 | Team HRC – MX2 | Honda | 20.497 |
| 5 | BEATON Jed | 14 | AUS | 16 | Rockstar Energy Husqvarna Factory Racing | Husqvarna | 25.275 |
| 6 | KJER OLSEN Thomas | 19 | DEN | 15 | Rockstar Energy Husqvarna Factory Racing | Husqvarna | 35.933 |
| 7 | VAESSEN Bas | 98 | NDL | 14 | Hitachi KTM fuelled by Milwaukee | KTM | 43.472 |
| 8 | VAN DONINCK Brent | 32 | BEL | 13 | Team Honda Red Moto Assomotor | Honda | 48.482 |
| 9 | BOISRAME Mathys | 172 | FRA | 12 | Team Honda Red Moto Assomotor | Honda | 50.722 |
| 10 | JACOBI Henry | 29 | GER | 11 | F&H Racing Team | Kawasaki | 50.761 |
| 11 | STRUBHART MOREAU Brian | 225 | FRA | 10 | BUD Racing Monster Energy Kawasaki | Kawasaki | 55.709 |
| 12 | LARRANAGA OLANO Iker | 66 | SPA | 9 | Marchetti Racing Team KTM | KTM | 58.658 |
| 13 | STERRY Adam | 811 | GBR | 8 | F&H Racing Team | Kawasaki | 1:06.360 |
| 14 | PICHON Zachary | 101 | FRA | 7 | Honda 114 Motorsports | Honda | 1:12.611 |
| 15 | SIKYNA Richard | 102 | SLK | 6 | JD Gunnex KTM Racing Team | KTM | 1:18.671 |
| 16 | HARRISON Mitchell | 35 | USA | 5 | BUD Racing Monster Energy Kawasaki | Kawasaki | 1 Lap |
| 17 | DELVINTOR ALFARIZI Muhammad | 325 | IDN | 4 | Wildcard Rider | Husqvarna | 1 Lap |
| 18 | GEERTS Jago | 193 | BEL | 3 | Kemea Yamaha Yamalube Racing Team | Yamaha | 12 Laps |
| 19 | HARRISON Mitchell | 35 | USA | 2 | BUD Racing Monster Energy Kawasaki | Kawasaki | 13 Laps |
MX2 2019 Sunday, July 7th 2019RaceRound 11 MX2 of Indonesia
Race 2
SUNNYAir Temp31°CTrack CondRutted
| Pos. | Rider | Num | Nation | Points | Team | Constructor | Time/Gap |
| --- | --- | --- | --- | --- | --- | --- | --- |
| 1 | KJER OLSEN Thomas | 19 | DEN | 25 | Rockstar Energy Husqvarna Factory Racing | Husqvarna | 33:51.534 |
| 2 | PRADO GARCIA Jorge | 61 | SPA | 22 | Red Bull KTM Factory Racing | KTM | 3.587 |
| 3 | VIALLE Tom | 28 | FRA | 20 | Red Bull KTM Factory Racing | KTM | 7.156 |
| 4 | GEERTS Jago | 193 | BEL | 18 | Kemea Yamaha Yamalube Racing Team | Yamaha | 13.464 |
| 5 | BEATON Jed | 14 | AUS | 16 | Rockstar Energy Husqvarna Factory Racing | Husqvarna | 16.017 |
| 6 | VAN DONINCK Brent | 32 | BEL | 15 | Team Honda Red Moto Assomotor | Honda | 21.456 |
| 7 | RENAUX Maxime | 959 | FRA | 14 | Yamaha SM Action – M.C. Migliori | Yamaha | 25.820 |
| 8 | JACOBI Henry | 29 | GER | 13 | F&H Racing Team | Kawasaki | 35.899 |
| 9 | STERRY Adam | 811 | GBR | 12 | F&H Racing Team | Kawasaki | 37.093 |
| 10 | HARRISON Mitchell | 35 | USA | 11 | BUD Racing Monster Energy Kawasaki | Kawasaki | 38.253 |
| 11 | VAESSEN Bas | 98 | NDL | 10 | Hitachi KTM fuelled by Milwaukee | KTM | 44.589 |
| 12 | LARRANAGA OLANO Iker | 66 | SPA | 9 | Marchetti Racing Team KTM | KTM | 51.847 |
| 13 | VLAANDEREN Calvin | 10 | NDL | 8 | Team HRC – MX2 | Honda | 59.231 |
| 14 | SIKYNA Richard | 102 | SLK | 7 | JD Gunnex KTM Racing Team | KTM | 1:11.743 |
| 15 | BOISRAME Mathys | 172 | FRA | 6 | Team Honda Red Moto Assomotor | Honda | 1 Lap |
| 16 | STRUBHART MOREAU Brian | 225 | FRA | 5 | BUD Racing Monster Energy Kawasaki | Kawasaki | 1 Lap |
| 17 | DELVINTOR ALFARIZI Muhammad | 325 | IDN | 4 | Wildcard Rider | Husqvarna | 2 Laps |
| 18 | PICHON Zachary | 101 | FRA | 3 | Honda 114 Motorsports | Honda | 18 Laps |
MX2 2019 Sunday, July 7th 2019
Rider Standings
Limited to top 30 results
| Pos. | Rider | Num | Nation | Points | Team | Constructor |
| --- | --- | --- | --- | --- | --- | --- |
| 1 | PRADO GARCIA Jorge | 61 | SPA | 494 | Red Bull KTM Factory Racing | KTM |
| 2 | KJER OLSEN Thomas | 19 | DEN | 443 | Rockstar Energy Husqvarna Factory Racing | Husqvarna |
| 3 | GEERTS Jago | 193 | BEL | 334 | Kemea Yamaha Yamalube Racing Team | Yamaha |
| 4 | VIALLE Tom | 28 | FRA | 326 | Red Bull KTM Factory Racing | KTM |
| 5 | JACOBI Henry | 29 | GER | 307 | F&H Racing Team | Kawasaki |
| 6 | WATSON Ben | 919 | GBR | 246 | Kemea Yamaha Yamalube Racing Team | Yamaha |
| 7 | EVANS Mitchell | 43 | AUS | 226 | Honda 114 Motorsports | Honda |
| 8 | STERRY Adam | 811 | GBR | 224 | F&H Racing Team | Kawasaki |
| 9 | VAESSEN Bas | 98 | NDL | 209 | Hitachi KTM fuelled by Milwaukee | KTM |
| 10 | RENAUX Maxime | 959 | FRA | 193 | Yamaha SM Action – M.C. Migliori | Yamaha |
| 11 | BEATON Jed | 14 | AUS | 192 | Rockstar Energy Husqvarna Factory Racing | Husqvarna |
| 12 | CERVELLIN Michele | 747 | ITA | 179 | Yamaha SM Action – M.C. Migliori | Yamaha |
| 13 | BOISRAME Mathys | 172 | FRA | 169 | Team Honda Red Moto Assomotor | Honda |
| 14 | POOTJES Davy | 46 | NDL | 157 | Team Diga-Procross | Husqvarna |
| 15 | VLAANDEREN Calvin | 10 | NDL | 148 | Team HRC – MX2 | Honda |
| 16 | VAN DONINCK Brent | 32 | BEL | 120 | Team Honda Red Moto Assomotor | Honda |
| 17 | ÖSTLUND Alvin | 161 | SWE | 104 | REVO Husqvarna UK | Husqvarna |
| 18 | LARRANAGA OLANO Iker | 66 | SPA | 95 | Marchetti Racing Team KTM | KTM |
| 19 | WALSH Dylan | 53 | NZL | 95 | REVO Husqvarna UK | Husqvarna |
| 20 | HARRISON Mitchell | 35 | USA | 94 | BUD Racing Monster Energy Kawasaki | Kawasaki |
| 21 | SANAYEI Darian | 57 | USA | 79 | Bike It DRT Kawasaki | Kawasaki |
| 22 | SIKYNA Richard | 102 | SLK | 68 | JD Gunnex KTM Racing Team | KTM |
| 23 | STRUBHART MOREAU Brian | 225 | FRA | 58 | BUD Racing Monster Energy Kawasaki | Kawasaki |
| 24 | LESIARDO Morgan | 44 | ITA | 52 | Marchetti Racing Team KTM | KTM |
| 25 | PICHON Zachary | 101 | FRA | 41 | Honda 114 Motorsports | Honda |
| 26 | MEWSE Conrad | 426 | GBR | 40 | Hitachi KTM fuelled by Milwaukee | KTM |
| 27 | VAN DE MOOSDIJK Roan | 39 | NDL | 23 | F&H Racing Team | Kawasaki |
| 28 | FORATO Alberto | 303 | ITA | 23 | Wildcard Rider | Husqvarna |
| 29 | PESSOA Gustavo | 57 | BRA | 20 | Bike It DRT Kawasaki | Kawasaki |
| 30 | SANDNER Michael | 766 | AUT | 18 | Wildcard Rider | KTM |