Calvin Vlaanderen won his first moto of the season to make it three podium overalls in six GPs as the Team HRC rider showed his speed once again at the MXGP of Sweden. After returning from injury in Palembang, Indonesia, Vlaanderen has since showed everyone what he is truly capable of by getting podiums at the Semarang, Lommel and Uddevalla in a wide variety of conditions and track surfaces.
This weekend in Sweden marked the best result of his year so far, as the Dutch rider backed up a fourth place in race one with an impressive race two victory, moving through the field and capitalising on other's mistakes on the stony Uddevalla circuit. In both races, he powered his Honda CRF250RW to top five starts but while he was fighting the track in race one, he found a much better flow in the second moto. Rounding the first lap in fifth, he quickly moved into third on lap two and then it was a case of applying pressure on the riders in front to force them into mistakes which then allowed him to sweep into the lead with six laps remaining. As he proved last year when he won races in Indonesia and the Czech Republic, leading the MX2 class holds no fear for him and he took the chequered flag with ease.
With a weekend off, Vlaanderen will have to wait until September 7-8 and the MXGP of Turkey before he gets another chance to get on the podium, but with confidence sky high, there is no reason he can't reproduce the result from this weekend.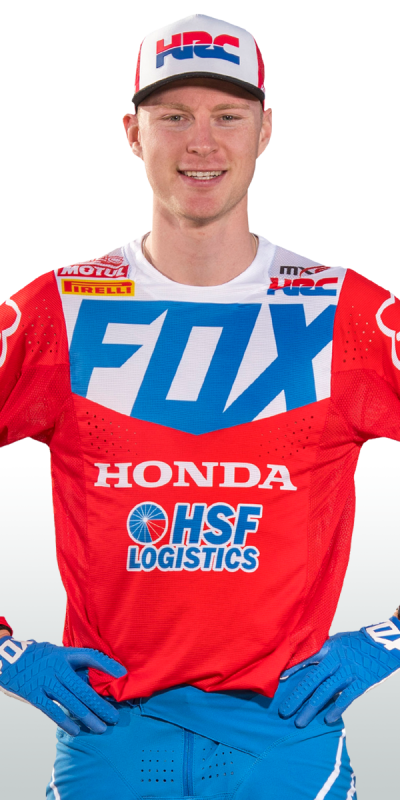 Calvin Vlaanderen 10
It's definitely a good weekend for me again and since my injury I think I've been top five in every single overall so that's quite cool too. Also at the beginning of the season I was tied-third a couple of times so I think I've had a really consistent season, if not for the injury. Today was good day though, even if I was struggling a bit in the first moto. I felt much more comfortable yesterday in the qualification race whereas today in race one I was fighting the track. The second moto I felt better and I passed a couple of guys in the first lap to move into third which made things easier. Then the two guys in front made mistakes which I was able to capitalise upon and take another moto win. Now I want to keep this form going and finish off these last two rounds at the same high standard.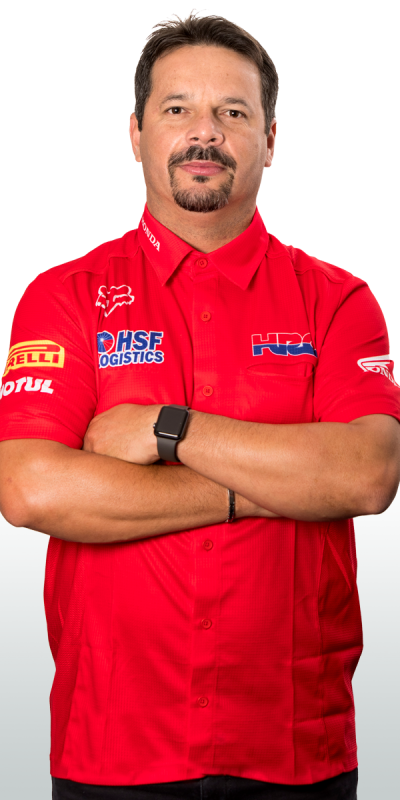 Marcus Pereira de Freitas
HRC General Manager – MXGP
It was great to see Calvin win a moto here in Sweden. Since his return from injury he has performed at a very high level and this result is fully deserved for him and for the team. He always moves forward in races and you can see now that the confidence is there for him to challenge the guys for wins in these last two rounds of the series.
MX2 2019 Sunday, August 25th 2019RaceRound 16 MX2 of Sweden
Race 1
SUNNYAir Temp23°CTrack CondStony
| Pos. | Rider | Num | Nation | Points | Team | Constructor | Time/Gap |
| --- | --- | --- | --- | --- | --- | --- | --- |
| 1 | PRADO GARCIA Jorge | 61 | SPA | 25 | Red Bull KTM Factory Racing | KTM | 35:11.359 |
| 2 | VIALLE Tom | 28 | FRA | 22 | Red Bull KTM Factory Racing | KTM | 1.186 |
| 3 | JACOBI Henry | 29 | GER | 20 | F&H Racing Team | Kawasaki | 23.385 |
| 4 | VLAANDEREN Calvin | 10 | NDL | 18 | Team HRC – MX2 | Honda | 24.875 |
| 5 | STERRY Adam | 811 | GBR | 16 | F&H Racing Team | Kawasaki | 29.699 |
| 6 | RENAUX Maxime | 959 | FRA | 15 | Yamaha SM Action – M.C. Migliori | Yamaha | 33.210 |
| 7 | BOISRAME Mathys | 172 | FRA | 14 | Team Honda Red Moto Assomotor | Honda | 52.064 |
| 8 | KJER OLSEN Thomas | 19 | DEN | 13 | Rockstar Energy Husqvarna Factory Racing | Husqvarna | 54.003 |
| 9 | SANAYEI Darian | 57 | USA | 12 | Bike It DRT Kawasaki | Kawasaki | 55.838 |
| 10 | WALSH Dylan | 53 | NZL | 11 | REVO Husqvarna UK | Husqvarna | 57.109 |
| 11 | EVANS Mitchell | 43 | AUS | 10 | Honda 114 Motorsports | Honda | 57.653 |
| 12 | STRUBHART MOREAU Brian | 225 | FRA | 9 | BUD Racing Monster Energy Kawasaki | Kawasaki | 59.121 |
| 13 | LARRANAGA OLANO Iker | 66 | SPA | 8 | Marchetti Racing Team KTM | KTM | 1:00.113 |
| 14 | GEERTS Jago | 193 | BEL | 7 | Kemea Yamaha Yamalube Racing Team | Yamaha | 1:00.884 |
| 15 | HARRISON Mitchell | 35 | USA | 6 | BUD Racing Monster Energy Kawasaki | Kawasaki | 1:02.516 |
| 16 | PICHON Zachary | 101 | FRA | 5 | Honda 114 Motorsports | Honda | 1:15.581 |
| 17 | VAN DONINCK Brent | 32 | BEL | 4 | Team Honda Red Moto Assomotor | Honda | 1:16.659 |
| 18 | HORGMO Kevin | 240 | NOR | 3 | Wildcard Rider | KTM | 1:24.870 |
| 19 | PANCAR Jan | 253 | SLO | 2 | Wildcard Rider | Yamaha | 1:29.778 |
| 20 | ÖSTLUND Alvin | 161 | SWE | 1 | REVO Husqvarna UK | Husqvarna | 1:17.049 |
MX2 2019 Sunday, August 25th 2019RaceRound 16 MX2 of Sweden
Race 2
SUNNYAir Temp23°CTrack CondStony
| Pos. | Rider | Num | Nation | Points | Team | Constructor | Time/Gap |
| --- | --- | --- | --- | --- | --- | --- | --- |
| 1 | VLAANDEREN Calvin | 10 | NDL | 25 | Team HRC – MX2 | Honda | 35:22.115 |
| 2 | VIALLE Tom | 28 | FRA | 22 | Red Bull KTM Factory Racing | KTM | 7.499 |
| 3 | STERRY Adam | 811 | GBR | 20 | F&H Racing Team | Kawasaki | 14.043 |
| 4 | PRADO GARCIA Jorge | 61 | SPA | 18 | Red Bull KTM Factory Racing | KTM | 14.377 |
| 5 | RENAUX Maxime | 959 | FRA | 16 | Yamaha SM Action – M.C. Migliori | Yamaha | 22.345 |
| 6 | KJER OLSEN Thomas | 19 | DEN | 15 | Rockstar Energy Husqvarna Factory Racing | Husqvarna | 25.838 |
| 7 | EVANS Mitchell | 43 | AUS | 14 | Honda 114 Motorsports | Honda | 28.000 |
| 8 | GEERTS Jago | 193 | BEL | 13 | Kemea Yamaha Yamalube Racing Team | Yamaha | 29.524 |
| 9 | WALSH Dylan | 53 | NZL | 12 | REVO Husqvarna UK | Husqvarna | 39.088 |
| 10 | HARRISON Mitchell | 35 | USA | 11 | BUD Racing Monster Energy Kawasaki | Kawasaki | 39.938 |
| 11 | SANAYEI Darian | 57 | USA | 10 | Bike It DRT Kawasaki | Kawasaki | 49.048 |
| 12 | BOISRAME Mathys | 172 | FRA | 9 | Team Honda Red Moto Assomotor | Honda | 50.594 |
| 13 | PICHON Zachary | 101 | FRA | 8 | Honda 114 Motorsports | Honda | 51.094 |
| 14 | PANCAR Jan | 253 | SLO | 7 | Wildcard Rider | Yamaha | 52.108 |
| 15 | SIKYNA Richard | 102 | SLK | 6 | JD Gunnex KTM Racing Team | KTM | 1:01.074 |
| 16 | ÖSTLUND Alvin | 161 | SWE | 5 | REVO Husqvarna UK | Husqvarna | 1:05.008 |
| 17 | LAPUCCI Nicholas | 211 | ITA | 4 | Italian Factory | KTM | 1:06.747 |
| 18 | VAN DONINCK Brent | 32 | BEL | 3 | Team Honda Red Moto Assomotor | Honda | 1:26.646 |
| 19 | POLAK Petr | 313 | CZE | 2 | JD 191 KTM Racing Team | KTM | 1:30.286 |
| 20 | TORIANI Enzo | 783 | FRA | 1 | E2T Racing Team | Husqvarna | 1:34.312 |
MX2 2019 Sunday, August 25th 2019
Rider Standings
Limited to top 30 results
| Pos. | Rider | Num | Nation | Points | Team | Constructor |
| --- | --- | --- | --- | --- | --- | --- |
| 1 | PRADO GARCIA Jorge | 61 | SPA | 737 | Red Bull KTM Factory Racing | KTM |
| 2 | KJER OLSEN Thomas | 19 | DEN | 592 | Rockstar Energy Husqvarna Factory Racing | Husqvarna |
| 3 | GEERTS Jago | 193 | BEL | 467 | Kemea Yamaha Yamalube Racing Team | Yamaha |
| 4 | VIALLE Tom | 28 | FRA | 460 | Red Bull KTM Factory Racing | KTM |
| 5 | JACOBI Henry | 29 | GER | 442 | F&H Racing Team | Kawasaki |
| 6 | STERRY Adam | 811 | GBR | 357 | F&H Racing Team | Kawasaki |
| 7 | RENAUX Maxime | 959 | FRA | 341 | Yamaha SM Action – M.C. Migliori | Yamaha |
| 8 | VLAANDEREN Calvin | 10 | NDL | 324 | Team HRC – MX2 | Honda |
| 9 | WATSON Ben | 919 | GBR | 282 | Kemea Yamaha Yamalube Racing Team | Yamaha |
| 10 | BOISRAME Mathys | 172 | FRA | 278 | Team Honda Red Moto Assomotor | Honda |
| 11 | EVANS Mitchell | 43 | AUS | 250 | Honda 114 Motorsports | Honda |
| 12 | BEATON Jed | 14 | AUS | 250 | Rockstar Energy Husqvarna Factory Racing | Husqvarna |
| 13 | VAESSEN Bas | 98 | NDL | 219 | Hitachi KTM fuelled by Milwaukee | KTM |
| 14 | LARRANAGA OLANO Iker | 66 | SPA | 180 | Marchetti Racing Team KTM | KTM |
| 15 | CERVELLIN Michele | 747 | ITA | 179 | Yamaha SM Action – M.C. Migliori | Yamaha |
| 16 | VAN DONINCK Brent | 32 | BEL | 172 | Team Honda Red Moto Assomotor | Honda |
| 17 | HARRISON Mitchell | 35 | USA | 163 | BUD Racing Monster Energy Kawasaki | Kawasaki |
| 18 | ÖSTLUND Alvin | 161 | SWE | 158 | REVO Husqvarna UK | Husqvarna |
| 19 | POOTJES Davy | 46 | NDL | 157 | Team Diga-Procross | Husqvarna |
| 20 | WALSH Dylan | 53 | NZL | 138 | REVO Husqvarna UK | Husqvarna |
| 21 | SANAYEI Darian | 57 | USA | 129 | Bike It DRT Kawasaki | Kawasaki |
| 22 | SIKYNA Richard | 102 | SLK | 112 | JD Gunnex KTM Racing Team | KTM |
| 23 | STRUBHART MOREAU Brian | 225 | FRA | 103 | BUD Racing Monster Energy Kawasaki | Kawasaki |
| 24 | LESIARDO Morgan | 44 | ITA | 91 | Marchetti Racing Team KTM | KTM |
| 25 | PICHON Zachary | 101 | FRA | 77 | Honda 114 Motorsports | Honda |
| 26 | PANCAR Jan | 253 | SLO | 43 | Wildcard Rider | Yamaha |
| 27 | HOFER Rene | 711 | AUT | 42 | Wildcard Rider | KTM |
| 28 | MEWSE Conrad | 426 | GBR | 40 | Hitachi KTM fuelled by Milwaukee | KTM |
| 29 | SANDNER Michael | 766 | AUT | 32 | Wildcard Rider | KTM |
| 30 | PESSOA Gustavo | 57 | BRA | 24 | Bike It DRT Kawasaki | Kawasaki |