On a special day for Team HRC's Tim Gajser, the #243 powered his Honda CRF450RW around the Matterley Basin track to a second moto victory, just narrowly missing out on his first overall of 2019. Showing great speed all weekend, the Slovenian rider was fastest in almost every session and if it wasn't for a mistake in the first moto when he was leading, he could easily have walked away from the MXGP of Great Britain with a 1-1 performance and a share of the championship lead. Instead, he ended up in third place in race one, second overall on the day, and still happy to have won the second race at a track that he likes so much.
After winning the qualification race yesterday, first gate pick enabled Gajser to round the first turn in good position in both races, soon moving to the front of the field with a nice display of passing. Unfortunately in race one, a crash left him remounting in third place and although he was still the fastest rider on the track, he wasn't quite able to close the gap to the top two and make the pass that would have left the overall victory within his control. The second race followed much the same pattern, except this time Gajser was able to pull out a five second lead in the middle of the moto, before holding off a late charge by Antonio Cairoli to notch up his first race win in 2019. This now leaves him eight points off the top of the championship as the schedule now heads to Valkenswaard in the Netherlands for round three.
Unfortunately Brian Bogers was unable to make much of an impact at the British GP, suffering from arm-pump in race one, and then crashing while well-place in race two. It was a disappointing meeting for the Dutch rider, but he'll be hoping to rebound next weekend at his home GP, in what should be much softer conditions at the sandy Valkenswaard circuit.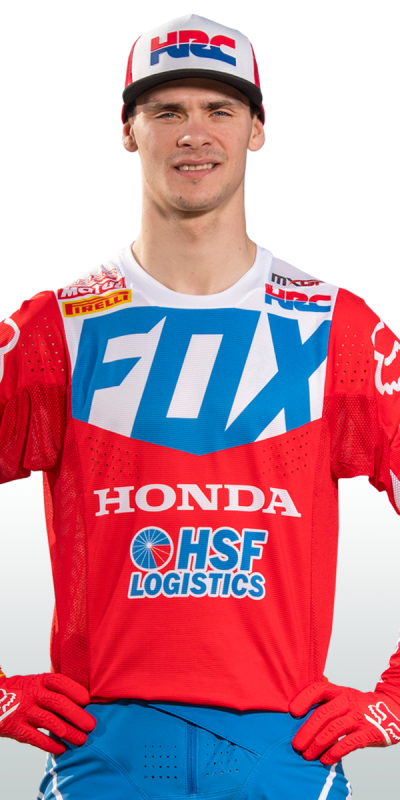 Tim Gajser 243
We had a great weekend! I was feeling great on the bike and the track both yesterday and today. I'm really happy to finish on the podium on this special day for me. The first race we started well and the beginning was good, but then I made a mistake and I fell down and finished third. The second race was better as I took the same start and worked my way to the front and I'm just so happy to win my first race in more than a year, after all my injury problems so I'm thankful and happy. A huge thanks to all the team because they all put in huge amounts of work and it's paying off. We will continue working hard and to keep pushing!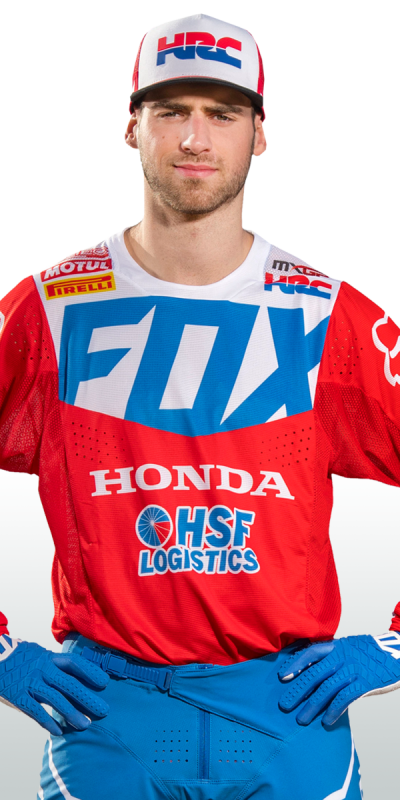 Brian Bogers 189
My first race was not good, it was one to forget. I didn't have a good start but in the beginning I could push for quite a few places and I was around 16th. Then I got arm-pump and I couldn't push anymore and I finished 21st. The second race, it was a little bit a better. In the beginning I was around 12-13 and I felt quite good, but then I had a small crash and I dropped back to 22nd and I just couldn't find my rhythm again and that's where I finished. Overall it's definitely one to forget, but I need to learn from my mistakes and make sure the next one is better.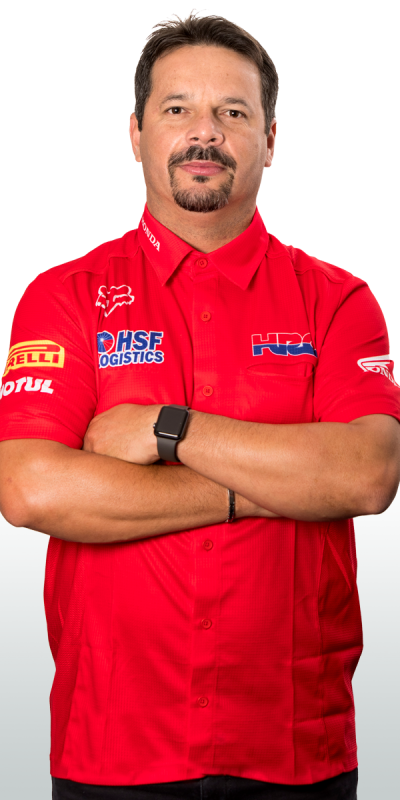 Marcus Pereira de Freitas
HRC General Manager – MXGP
It was so good to see Tim riding with such speed and style all weekend long. He came into this race feeling confident and you can see just how much he was enjoying himself out on the track. It was a shame to see him crash in the first race, when he was pulling away from the field, but he showed in the second race that he a great competitor and that he can withstand the pressure and raise his speed when needed. The whole team has been working hard and Tim winning that second moto is a great reward for everyone. Unfortunately Brian didn't have his best weekend but we hope that he can work hard this week and get himself in a good place for his home GP at Valkenswaard next weekend.
MXGP 2019 Sunday, March 24th 2019RaceRound 2 MXGP of Great Britain
Race 1
SUNNYAir Temp14°CTrack CondHard Pack
| Pos. | Rider | Num | Nation | Points | Team | Constructor | Time/Gap |
| --- | --- | --- | --- | --- | --- | --- | --- |
| 1 | CAIROLI Antonio | 222 | ITA | 25 | Red Bull KTM Factory Racing | KTM | 36:37.831 |
| 2 | PAULIN Gautier | 21 | FRA | 22 | Wilvo Yamaha MXGP | Yamaha | 1.956 |
| 3 | GAJSER Tim | 243 | SLO | 20 | Team HRC – MXGP | Honda | 4.473 |
| 4 | DESALLE Clement | 25 | BEL | 18 | Monster Energy Kawasaki Racing | Kawasaki | 24.293 |
| 5 | VAN HOREBEEK Jeremy | 89 | BEL | 16 | Honda SR Motoblouz | Honda | 26.271 |
| 6 | TONUS Arnaud | 4 | SWI | 15 | Wilvo Yamaha MXGP | Yamaha | 27.618 |
| 7 | ANSTIE Max | 99 | GBR | 14 | Standing Construct KTM | KTM | 45.107 |
| 8 | SEEWER Jeremy | 91 | SWI | 13 | Monster Energy Yamaha Factory MXGP Team | Yamaha | 46.683 |
| 9 | JASIKONIS Arminas | 27 | LTU | 12 | Rockstar Energy Husqvarna Factory Racing | Husqvarna | 49.675 |
| 10 | LIEBER Julien | 33 | BEL | 11 | Monster Energy Kawasaki Racing | Kawasaki | 56.271 |
| 11 | SEARLE Tommy | 100 | GBR | 10 | Bike It DRT Kawasaki | Kawasaki | 1:06.762 |
| 12 | COLDENHOFF Glenn | 259 | NDL | 9 | Standing Construct KTM | KTM | 1:08.543 |
| 13 | LEOK Tanel | 7 | EST | 8 | A1M Husqvarna | Husqvarna | 1:09.921 |
| 14 | JONASS Pauls | 41 | LAT | 7 | Rockstar Energy Husqvarna Factory Racing | Husqvarna | 1:11.013 |
| 15 | FERRIS Dean | 111 | AUS | 6 | Wilvo Nestaan Husqvarna Factory Racing | Husqvarna | 1:11.353 |
| 16 | SIMPSON Shaun | 24 | GBR | 5 | RFX KTM Racing | KTM | 1:24.434 |
| 17 | GOLE Anton | 297 | SWE | 4 | iFly JK Racing | Yamaha | 1:26.104 |
| 18 | TIXIER Jordi | 911 | FRA | 3 | Team VHR KTM Racing | KTM | 1:31.026 |
| 19 | JONASS Pauls | 41 | LAT | 2 | Rockstar Energy Husqvarna Factory Racing | Husqvarna | 1:36.221 |
| 20 | PETROV Petar | 152 | BUL | 1 | Team Honda Red Moto | Honda | 1:41.904 |
| 21 | BOGERS Brian | 189 | NDL | 0 | Team HRC – MXGP | Honda | 1:47.114 |
MXGP 2019 Sunday, March 24th 2019RaceRound 2 MXGP of Great Britain
Race 2
SUNNYAir Temp14°CTrack CondHard Pack
| Pos. | Rider | Num | Nation | Points | Team | Constructor | Time/Gap |
| --- | --- | --- | --- | --- | --- | --- | --- |
| 1 | GAJSER Tim | 243 | SLO | 25 | Team HRC – MXGP | Honda | 36:01.717 |
| 2 | CAIROLI Antonio | 222 | ITA | 22 | Red Bull KTM Factory Racing | KTM | 1.709 |
| 3 | PAULIN Gautier | 21 | FRA | 20 | Wilvo Yamaha MXGP | Yamaha | 54.204 |
| 4 | JASIKONIS Arminas | 27 | LTU | 18 | Rockstar Energy Husqvarna Factory Racing | Husqvarna | 57.637 |
| 5 | SEEWER Jeremy | 91 | SWI | 16 | Monster Energy Yamaha Factory MXGP Team | Yamaha | 1:00.564 |
| 6 | VAN HOREBEEK Jeremy | 89 | BEL | 15 | Honda SR Motoblouz | Honda | 1:05.984 |
| 7 | DESALLE Clement | 25 | BEL | 14 | Monster Energy Kawasaki Racing | Kawasaki | 1:20.385 |
| 8 | COLDENHOFF Glenn | 259 | NDL | 13 | Standing Construct KTM | KTM | 1:22.071 |
| 9 | SIMPSON Shaun | 24 | GBR | 12 | RFX KTM Racing | KTM | 1:26.697 |
| 10 | MONTICELLI Ivo | 128 | ITA | 11 | iFly JK Racing | Yamaha | 1:28.257 |
| 11 | JONASS Pauls | 41 | LAT | 10 | Rockstar Energy Husqvarna Factory Racing | Husqvarna | 1:29.087 |
| 12 | TIXIER Jordi | 911 | FRA | 9 | Team VHR KTM Racing | KTM | 1:30.297 |
| 13 | LUPINO Alessandro | 77 | ITA | 8 | Gebben V Venrooy Kawasaki | Kawasaki | 1:41.114 |
| 14 | ANSTIE Max | 99 | GBR | 7 | Standing Construct KTM | KTM | 1:42.804 |
| 15 | SEARLE Tommy | 100 | GBR | 6 | Bike It DRT Kawasaki | Kawasaki | 1:51.621 |
| 16 | LEOK Tanel | 7 | EST | 5 | A1M Husqvarna | Husqvarna | 1:54.062 |
| 17 | KULLAS Harri | 151 | FIN | 4 | Wildcard Rider | Husqvarna | 1:56.215 |
| 18 | GOLE Anton | 297 | SWE | 3 | iFly JK Racing | Yamaha | 1:59.266 |
| 19 | BUTRON Jose | 17 | SPA | 2 | JD Gunnex KTM Racing Team | KTM | 2:01.623 |
| 20 | LIEBER Julien | 33 | BEL | 1 | Monster Energy Kawasaki Racing | Kawasaki | 2:19.562 |
| 21 | PETROV Petar | 152 | BUL | 0 | Team Honda Red Moto | Honda | 2:21.425 |
| 22 | BOGERS Brian | 189 | NDL | 0 | Team HRC – MXGP | Honda | 2:21.953 |
MXGP 2019 Sunday, March 24th 2019
Rider Standings
Limited to top 30 results
| Pos. | Rider | Num | Nation | Points | Team | Constructor |
| --- | --- | --- | --- | --- | --- | --- |
| 1 | CAIROLI Antonio | 222 | ITA | 97 | Red Bull KTM Factory Racing | KTM |
| 2 | GAJSER Tim | 243 | SLO | 89 | Team HRC – MXGP | Honda |
| 3 | PAULIN Gautier | 21 | FRA | 74 | Wilvo Yamaha MXGP | Yamaha |
| 4 | VAN HOREBEEK Jeremy | 89 | BEL | 66 | Honda SR Motoblouz | Honda |
| 5 | DESALLE Clement | 25 | BEL | 65 | Monster Energy Kawasaki Racing | Kawasaki |
| 6 | JASIKONIS Arminas | 27 | LTU | 56 | Rockstar Energy Husqvarna Factory Racing | Husqvarna |
| 7 | SEEWER Jeremy | 91 | SWI | 50 | Monster Energy Yamaha Factory MXGP Team | Yamaha |
| 8 | JONASS Pauls | 41 | LAT | 40 | Rockstar Energy Husqvarna Factory Racing | Husqvarna |
| 9 | SIMPSON Shaun | 24 | GBR | 39 | RFX KTM Racing | KTM |
| 10 | ANSTIE Max | 99 | GBR | 39 | Standing Construct KTM | KTM |
| 11 | SEARLE Tommy | 100 | GBR | 38 | Bike It DRT Kawasaki | Kawasaki |
| 12 | LIEBER Julien | 33 | BEL | 33 | Monster Energy Kawasaki Racing | Kawasaki |
| 13 | COLDENHOFF Glenn | 259 | NDL | 29 | Standing Construct KTM | KTM |
| 14 | TONUS Arnaud | 4 | SWI | 26 | Wilvo Yamaha MXGP | Yamaha |
| 15 | TIXIER Jordi | 911 | FRA | 25 | Team VHR KTM Racing | KTM |
| 16 | LUPINO Alessandro | 77 | ITA | 25 | Gebben V Venrooy Kawasaki | Kawasaki |
| 17 | MONTICELLI Ivo | 128 | ITA | 22 | iFly JK Racing | Yamaha |
| 18 | FEBVRE Romain | 461 | FRA | 20 | Monster Energy Yamaha Factory MXGP Team | Yamaha |
| 19 | LEOK Tanel | 7 | EST | 13 | A1M Husqvarna | Husqvarna |
| 20 | BOGERS Brian | 189 | NDL | 9 | Team HRC – MXGP | Honda |
| 21 | GOLE Anton | 297 | SWE | 7 | iFly JK Racing | Yamaha |
| 22 | BUTRON Jose | 17 | SPA | 6 | JD Gunnex KTM Racing Team | KTM |
| 23 | FERRIS Dean | 111 | AUS | 6 | Wilvo Nestaan Husqvarna Factory Racing | Husqvarna |
| 24 | KULLAS Harri | 151 | FIN | 4 | Wildcard Rider | Husqvarna |
| 25 | POLI Joaquin | 179 | ARG | 3 | Wildcard Rider | Honda |
| 26 | LUZZARDI Juan Pablo | 171 | ARG | 1 | Wildcard Rider | KTM |
| 27 | PETROV Petar | 152 | BUL | 1 | Team Honda Red Moto | Honda |
| 28 | SALAZAR Jetro | 220 | ECU | 1 | Wildcard Rider | Honda |
Courtesy HRC Honda