MORGANTOWN, W.Va. (May 10, 2022) – MX Sports Pro Racing has announced that online industry retail giant MotoSport.com will return as a key partner for the 50th Anniversary of the Lucas Oil Pro Motocross Championship, sanctioned by AMA Pro Racing, signifying the ninth season of support from the company. The Pacific Northwest-based seller of parts, apparel, and accessories for the powersports marketplace will continue its role as "Official Online Retailer" of the world's most prestigious off-road motorcycle racing series, while also serving as title sponsor of both the MotoSport.com Holeshot and the legendary MotoSport.com Washougal National, on July 23, in the Pacific Northwest.

"At its core, MotoSport.com is a company rooted with an unwavering passion for this incredible sport, providing a one-stop shop for any motorcycle enthusiast to fulfill their needs and satiate their appetite for riding," said Davey Coombs, President, MX Sports Pro Racing. "The very individuals who started the company are weekend warriors just like so many members of our passionate fanbase and their connections to the foundation of American motocross creates a personal connection to the business that sets it apart within the e-commerce space. This makes them invaluable partners as we embark on the landmark 50th anniversary season of Pro Motocross."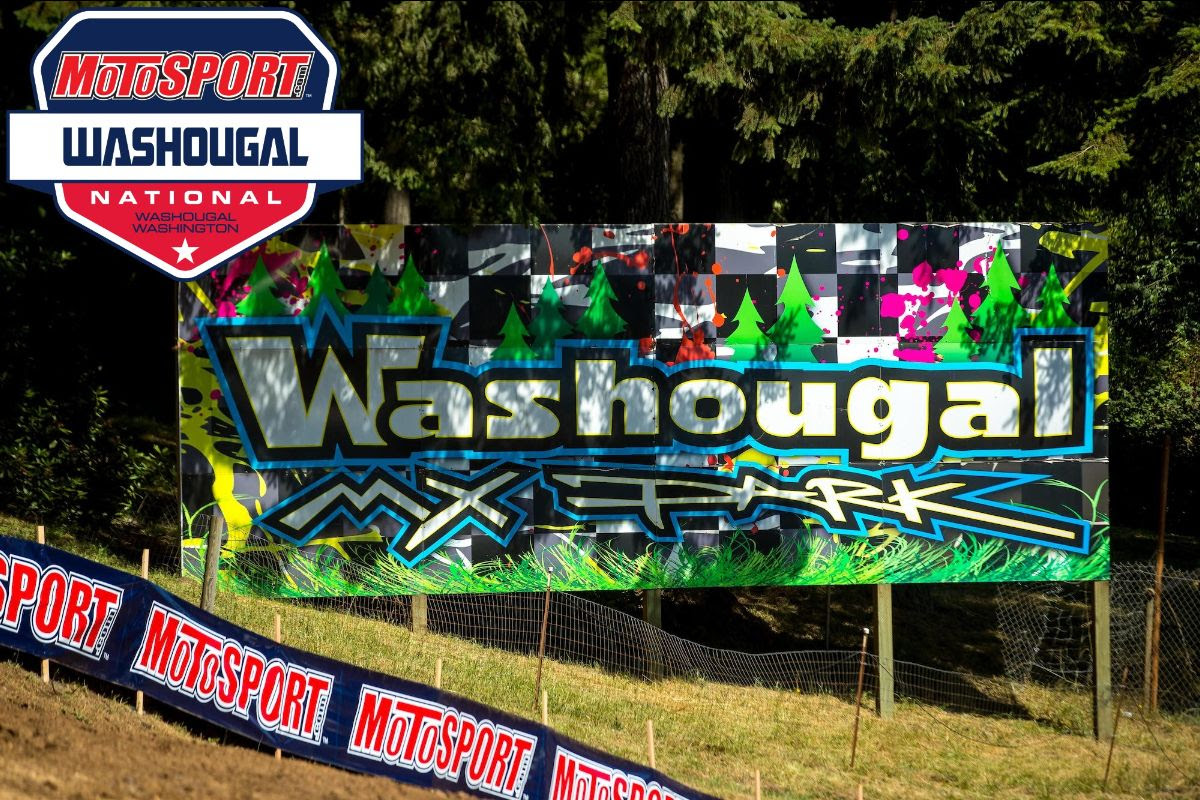 The 41st running of the MotoSport.com Washougal National will take place from Washington's legendary Washougal MX Park on July 23.
Photo: Align Media
Founded in 1999, MotoSport.com has been a pioneer within the online retail space thanks to its numerous connections with influential figures in the industry, notably within the off-road hotbed of the Pacific Northwest. For more than two decades MotoSport has remained steadfast in its commitment to give back to the industry and has continued to lend its support to motorcycle events, initiatives, and causes of all kinds. Its legacy and impact on the industry is undeniable, which makes it a natural fit as one of the championship's most prominent corporate partners.

"MotoSport was founded by a racing enthusiast and now employs former pros, everyday riders, and weekend warriors, all of whom are diehard fans of the Lucas Oil Pro Motocross Championship, so we're thrilled to continue our longstanding partnership with the series and play an important role in its 50th anniversary," said Scott Huddleston, Senior Vice President and General Manager of MotoSport.com. "Our team of knowledgeable gearheads work tirelessly to make your next ride your best ride, which has allowed us to remain at the forefront of the e-commerce marketplace while staying connected to the grassroots level of motorcycling, both on and off road."
The holeshot remains one of the most exciting and most important elements of any moto and will set the stage in the battle for victory across all 48 motos this summer.
Photo: Align Media
The 50th Anniversary of the Lucas Oil Pro Motocross Championship will be bookended by the holiday weekends that serve as the proverbial starting point and finishing point of the summer, with the season-opening round over Memorial Day Weekend on May 28 and the season finale over Labor Day Weekend on September 3. The 12-round season will visit 10 different states, visiting iconic venues with decades of history like the Hangtown Classic (June 4), High Point Raceway (June 18), RedBud MX (July 2), The Wick 338 (July 9), Spring Creek MX Park (July 16), Washougal MX Park (July 23), Unadilla MX (August 13), and Budds Creek Motocross Park (August 20), as well as additional world-class venues in Fox Raceway (May 28 & September 3), Thunder Valley Motocross Park (June 11), and Ironman Raceway (August 27).

Tickets to each round of the 2022 season are now available and can be purchased by visiting the official website of the Lucas Oil Pro Motocross Championship, ProMotocross.com.
For information about the Lucas Oil Pro Motocross Championship, please visit ProMotocross.com and be sure to follow all of the Pro Motocross social media channels for exclusive content and additional information on the latest news:Facebook: @americanmotocrossInstagram: @promotocrossTwitter: @ProMotocrossYouTube: AmericanMotocrossStream the 50th Anniversary of the Lucas Oil Pro Motocross Championship in its entirety live and on-demand. MAVTVPlus will provide worldwide LIVE streaming coverage for all Lucas Oil Pro Motocross Championship events for a subscription fee of $99 USD Annually or $6.99 USD Monthly.

Use discount code PROMX10 for $10 USD off your Annual subscription: BUY NOW!

Now available for download for both Apple and Android devices is the official Pro Motocross App. Fans of American motocross can have access to the world's most prestigious off-road motorcycle racing series right at their fingertips on their mobile devices. Developed by AMA Pro Racing, the Pro Motocross App provides users with the most important information surrounding the Lucas Oil Pro Motocross Championship, from series news to schedule and ticket information, as well as broadcast schedule details and live timing & scoring. Download it now via the App Store or Google Play.