Osburn and Jones Win Round One
Palatka, Fla. (March 14, 2019) – The Moose Racing Wild Boar, round one of the 2019 AMSOIL Grand National Cross Country (GNCC) Series presented by Specialized, an AMA National Championship, took place on March 9th and 10th. The event takes place at Hog Waller Mud Bog, on the edge of Rodman Plantation in Palatka, Florida. Many years ago, Rodman Plantation was the site of The Hurricane GNCC, and since 2015 GNCC has been returning for the Wild Boar.
The course for the 11am ATV race was 10 miles, while the course for the 10am bike race was 11.5 miles thanks to a bike-only single track section near the 10 mile marker. The course is pretty typical for a Florida race – lots of sand! Between the sand, the mud, and the exposed palmetto roots in some sections, this is a physically demanding race. The heat plays an additional role, as it was sunny and in the 80s during both of the WXC races this weekend. A total of 57 women in a variety of classes lined up to compete in Florida, with Tayla Jones and Katelyn Osburn winning the premier WXC bike and ATV classes.
On Saturday, Megan Shepherd pulled the holeshot for the ATV WXC class, with Sadiee Gorrell and Osburn right behind. Osburn was able to cut to the inside of Gorrell on a water crossing, when Gorrell took an overly cautious line to the outside. Though Osburn made the pass, caution might have been warranted – on the second lap, Kara Short would end up damaging her battery in a waterhole, bringing her race to a premature end.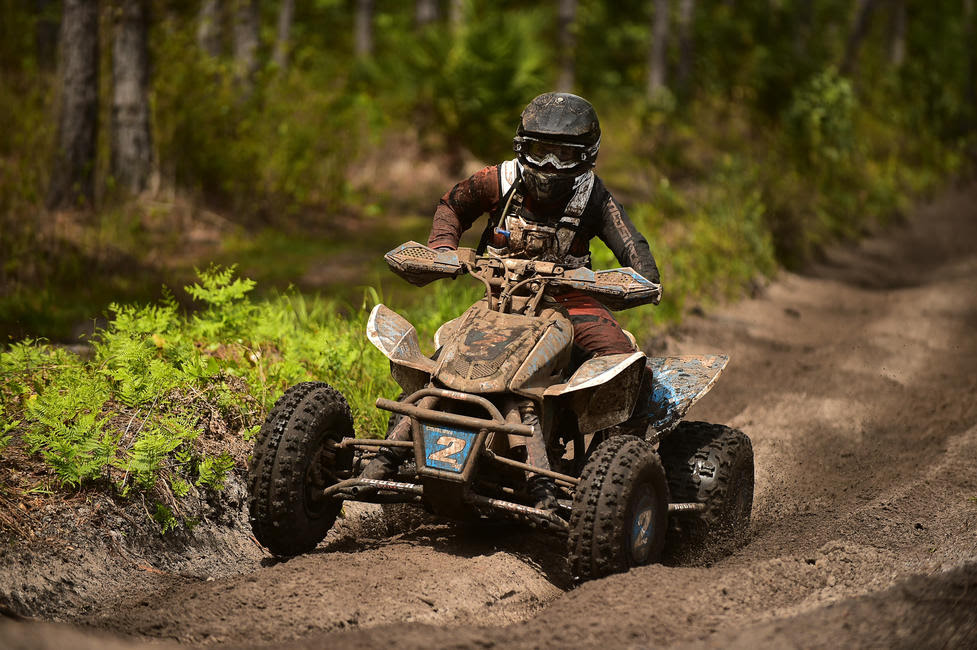 Coming through the finish at the end of the first lap, Shepherd had built up a lead of almost 30 seconds, with the next four riders – Osburn, Gorrell, Jaida Phillips and Traci Pickens – in a tight pack behind her. However, due to a few mistakes, that lead was quickly eroded, and when Shepherd missed a turn in the palmettos, Osburn was ready and waiting. For the rest of the race, she held a pretty consistent gap over the rest of the field, and towards the end was able to extend it to over a minute and a half. When asked about the race, she told us "I felt great and my shock was on point. I'm pretty pumped on starting the season with a win!
It appears that Gorrell had some kind of issue on lap two, as she turned a lap time three minutes slower than the rest of her laps. Jaida Phillips slowly faded back to fifth place during the second lap, which is not surprising given that she was racing with the flu. Making matters worse, she ran out of gas on lap four. This left her in sixth place, with Gorrell in fifth, both of them finishing a lap down from the top five. Both Pickens and Alicia McCormick, who had struggled with problems early on in the race (bike not starting on the line and a disconnected tether, respectively) were able to capitalize on these issues, moving into third and fourth place. Pickens was close to Shepherd by the start of the third lap, and the two riders battled back and forth for the next two laps.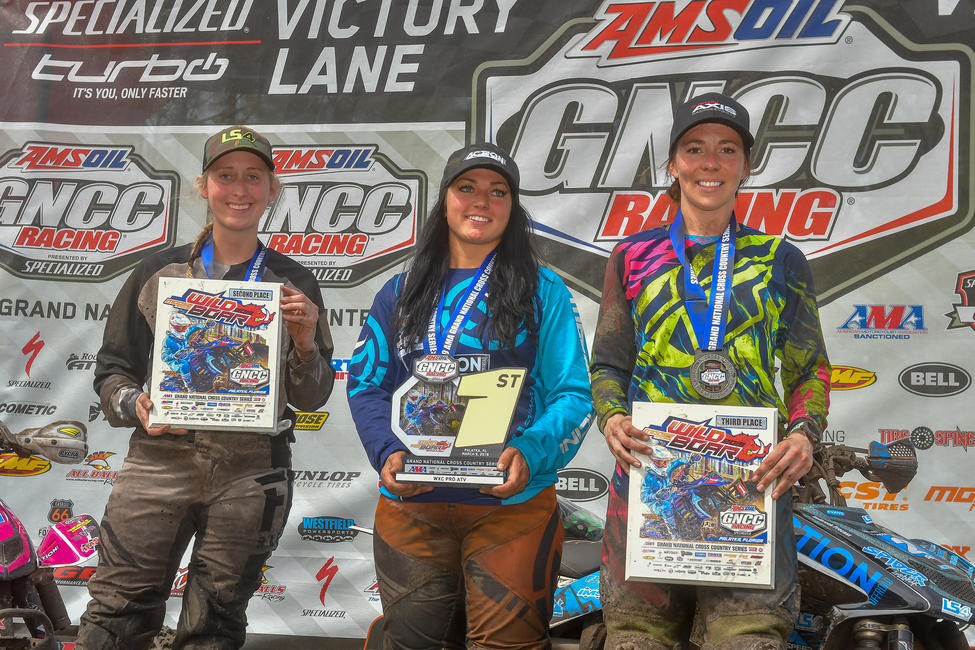 Not long after Pickens had passed Shepherd to take over the second-place position, Pickens took a bad line through the swamp, right into a hole so deep that there was water up to her chest. With the help of two spectators she was able to pull the quad out relatively quickly, but admits that she was "mentally and physically depleted" from the effort. This left Shepherd free to take home second, and gave McCormick just enough time to catch up from her earlier misfortunes. She was able to pass Pickens for the final podium spot in the last mile of the race.
McCormick said, "I'm pretty happy with my finish given the circumstances!" This was also McCormick's first race switching to Yamaha this year, and after this race she believes that the switch is going to work out well for her. Shepherd is not only pleased with her second place finish at a "race that normally kicks my butt," she was also excited to post her best-ever overall finish of 10th place at the Wild Boar.
In the Girls ATV class, Andrea Rodgers (third place in 2018) won, followed by Alexis Keys (second place in 2018), with Hannah Moore rounding out the podium. Rodgers and Keys dueled back and forth plenty in the series points last year, and it will be interesting to watch how that battle shapes up in 2019. In the Women's ATV class, it was hometown rider Mikayla Haynes (St. Petersburg, Florida) who took home the win.
On Sunday, Factory GasGas rider Korie Steede nailed the start in the WXC class, leading up until the riders hit the palmetto section about a mile in, where she was passed by 2018 champion Tayla Jones. Shortly after, Mackenzie Tricker and Becca Sheets found an inside line, passing Steede as well. By the end of the first lap, Jones had gapped the rest of the pack considerably. Tricker and Sheets battled back and forth, while a third pack was made up of Brooke Cosner, Korie Steede and Rachael Archer.
Archer had a great second lap, working her way up to fourth place past Cosner and Steede, and continuing to pull on them through the third lap. Unfortunately, the New Zealander would get stuck in a mudhole on lap four then run out of gas on lap five. This unpleasant combo pushed Archer back to a disappointing eighth place finish after a much more promising start. Annalisa Davis would come in ninth place behind Archer, with Elizabeth Perez placing tenth in her WXC debut.
Meanwhile, the lead pack had separated considerably – Jones still out front, with Sheets dropping back almost a minute due to dehydration, and Tricker in turn falling back over a minute from Sheets after stopping for gas and struggling to regain her flow. Making matters worse, on her final lap Tricker collided with a tree, breaking off her clutch perch and having to ride the final lap without a clutch lever. Despite bloodied and blistered hands, after her pit stop Steede kept charging, and came very close to catching the clutch-less Tricker, but fell about a minute short of that final podium position. She was able to successfully hold off Cosner though, who rounded out the top five.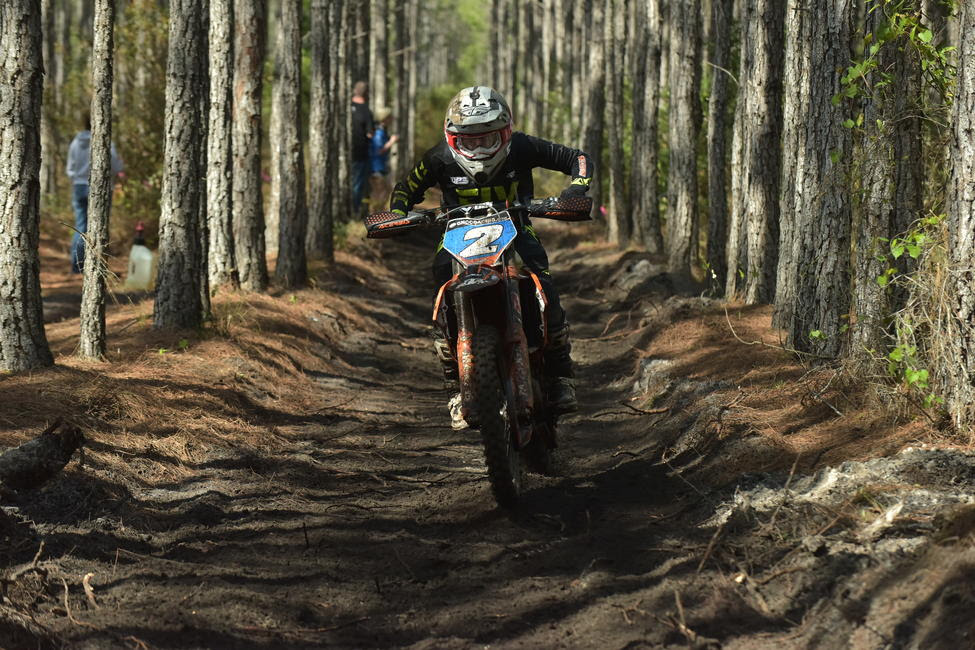 When asked about her race, Tricker said "It was kind of an up and down day and I'm happy to come out on the podium, but expect more next weekend in Georgia!" Despite coming in second to Jones and dealing with her dehydration issue, Sheets stated that "Overall I am very happy with how the race went. I usually struggle with Florida sand, but I put in a lot of work this year to make sure that it wasn't an issue."
Jocelyn Barnes moved up from the Girls class this year, and took home a dominating win in her debut Women's class race, finishing one full lap ahead of the competition. Meanwhile Evelina Peroni from Groveland, Florida, won the Women's C class. With Barnes moving up to big bikes and Prestin Raines trying her hand in YXC1 this year, the podium of the Girls (8-15) class was filled with new faces. Gracie Gooch dominated the class, winning by a lap, while Paige Berryman finished second and Ellie Winland placed third.
In the Micro divisions, Khyler Davis took the ATV Micro overall win and the MXC2 class win. Raelyn Dickerson placed fifth in Micro Senior class and twelfth overall in the race, while in the bike division, Isabel Boorom placed fifth in MXC2 and twenty-first overall.
The next round of the 2019 AMSOIL Grand National Cross Country Series will take place on March 16 and 17 in Washington, Georgia with the General GNCC. ATV and Micro racing will take place on Saturday while Bike racing will take place on Sunday.
For more information on the GNCC series, visit the official website at www.gnccracing.com or call (304) 284-0084. Join the conversation on the series Facebook page, follow us on Twitter and Instagram, and be sure to always hashtag #GNCC.
Moose Racing Wild Boar GNCC
Palatka, Florida
Round 1 of 13
March 9th and 10th
ATV WXC Pro Event Results:
Kate Osburn (HON) Action Off-Road/Moose Racing/GBC
Megan Shepherd (HON) Stewart Boys Racing/LS4/Rage ATV/DeRisi Racing
Alicia McCormick (YAM) Ye Olde Cycle Barn/Pierce Performance/Hammer Nutrition/Maxxis
Traci Pickens (YAM) GBC/Fly/Yamaha
Sadiee Gorrell (YAM) Maxxis /Fivesixo Graphics/Custom Axis/Pierce Performance
Jaida Phillips (YAM) Rekluse/Tirespine/Estes Motorsports
Kara Short (HON) Veterans Family Racing
ATV WXC National Championship Standings:
Kate Osburn (30)
Megan Shepherd (25)
Alicia McCormick (21)
Traci Pickens (18)
Sadiee Gorrell (16)
Jaida Phillips (15)
Kara Short (14)
Bike WXC Pro Event Results:
Tayla Jones (HQV) Rockstar Energy/Husqvarna/Moose
Becca Sheets (KTM) FLY/Maxxis/Go-Ko Trucking/KTM
Mackenzie Tricker (KTM) KTM/Mepmx/Fly/Grizzly Peak/Traveler's Rest Speedway
Korie Steede (GAS) GASGAS/Fly/Mitas/Spectro/FMF/Rekluse
Brooke Cosner (KTM) Tely Energy/MPS/JDP Suspension/Moose/Parts Unlimited/Kenda
Eden Netelkos (YAM) Garden of Eden Racing
Shyann Phelps (KTM) Mike Beeler/Racer's Edge
Rachael Archer (YAM) Ampro Yamaha/Moose/PWR
Annalisa Davis (KTM) Ride Free Ministries/Martin Motorsports/Joseph W. Davis
Elizabeth Perez (KTM) Y&S Designs/Factory Connection/Fly
Bike WXC Pro National Championship Standings:
Tayla Jones (30)
Becca Sheets (25)
Mackenzie Tricker (21)
Korie Steede (18)
Brooke Cosner (16)
Eden Netelkos (15)
Shyann Phelps (14)
Rachael Archer (13)
Annalisa Davis (12)
Elizabeth Perez (11)
About GNCC Racing
The AMSOIL Grand National Cross Country Series presented by Specialized is America's premier off-road racing series. Founded in 1975, the 13-round championship is produced exclusively by Racer Productions. Cross-country racing is one of the most physically demanding sports in the world. The grueling three-hour GNCC races lead as many as 2,400 riders through tracks ranging in length from eight to 12 miles. With varied terrain, including hills, woods, mud, dirt, rocks, and motocross sections, GNCC events are tests of both survival and speed. The series draws talent from all over the U.S., Central America, South America, Europe, Japan, Australia, and New Zealand. GNCC Racing is televised weekly on NBC Sports and RacerTV.com. For more information, please visit www.gnccracing.com.
About eMTB Racing
The Specialized Turbo eMTB GNCC National Championship brings off-road racing and pedal-assist or electric bicycles together for an eight-round championship produced by Racer Productions. Much like a typical cross-country racing event, these races feature varied terrain featuring hills, rocks, roots, and more but are limited to electric, or pedal assist model mountain bikes only. For more information, please visit www.gnccracing.com.
How to Watch
Racer TV and NBC Sports Network (NBCSN) are the official homes for coverage of the AMSOIL Grand National Cross Country (GNCC) events. All 13 rounds, from the season opening Big Buck GNCC in South Carolina to the finale at Ironman Raceway in Indiana, will air in 30-minute, taped-delayed telecasts on NBCSN, while Racer TV provides live streaming coverage of the 1 p.m. ATV and motorcycle races from each event. Catch all the action at http://www.nbcsports.com/ and http://www.racertv.com/.
About the American Motorcyclist Association
Founded in 1924, the AMA is a not-for-profit member-based association whose mission is to promote the motorcycle lifestyle and protect the future of motorcycling. As the world's largest motorcycling rights and event sanctioning organization, the AMA advocates for riders' interests at all levels of government and sanctions thousands of competition and recreational events every year. The AMA also provides money-saving discounts on products and services for its members. Through the AMA Motorcycle Hall of Fame in Pickerington, Ohio, the AMA honors the heroes and heritage of motorcycling. For more information, visit www.americanmotorcyclist.com. Not a member? Join the AMA today: www.americanmotorcyclist.com/membership/join. 
Courtesy GNCC