Foothill Ranch, Calif. (March 20, 2021) Round 12 of the Monster Energy® AMA Supercross, an FIM World Championship completed its third and final stop in Arlington, Texas on Saturday night where Monster Energy/Pro Circuit/Kawasaki riders Cameron McAdoo and Seth Hammaker both put their KX™250 motorcycles on the podium with second and third place finishes respectively. In the 450SX class, Monster Energy Kawasaki rider Eli Tomac raced to his sixth podium of the season with a third-place finish.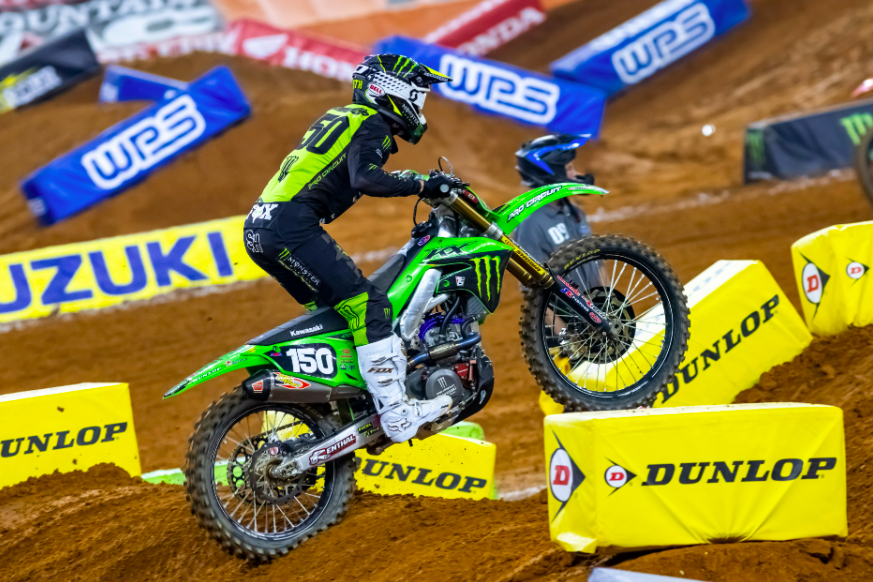 The Monster Energy/Pro Circuit/Kawasaki trio of McAdoo, Hammaker, and Smith picked up where they left off from the first two races in Arlington on Saturday as they once again placed their KX250 machines inside of the top-5 qualifying second, third, and fourth respectively heading into the night show.
As the gate dropped for the first 250SX heat race of the night, both McAdoo and Smith launched their KX250 machines into a top-5 position around the first corner, however, disaster struck for the No. 80 machine of Smith as they entered the first rhythm lane where he tangled with another rider mid-air, resulting in a hard crash and ending his night of racing. Meanwhile, his teammate McAdoo found himself in second place at the end of Lap 1 and made quick work to pass the leader, where he went on to win the first heat race of the night. In the second 250SX heat race, the No. 150 machine of Hammaker battled the entire race to finish fourth.
As the 250SX Main Event began, McAdoo again shot out of the gate in second place, where he found himself battling his championship rivals for the entire race and eventually finished in second place. His teammate, Hammaker found himself in sixth place position at the end of Lap 1 and began making quick work to advance into fourth place where he would be for the vast majority of the race. The rookie capitalized on a mistake to move up to third and earn his second career 250SX podium.
The Monster Energy/Pro Circuit/Kawasaki trio will take a two week break from racing before the series reignites on Saturday, April 10th at Atlanta Motor Speedway in Atlanta, Georgia for the first of its next three-race residency. McAdoo sits just two points out of the lead in the 250SX West Regional Championship.  
"This podium feels good, but obviously we fell short of the goal and that was to win. My KX250 was a rocket out of the gate and helped me move into second place at the end of Turn 2. Justin (Cooper) rode solid tonight, I kept trying to put in as many clean laps as possible to try and show him a wheel, but I just didn't have enough time to make a pass stick. We've got the next two weeks off, so we will take some time to regroup and make sure we come out swinging in Atlanta. We are only down by two points and I want that red plate back, so we've got to make these races in Atlanta count."– Cameron McAdoo
"Today was pretty good overall. I think my goals have somewhat shifted now that we are halfway through our races, and for me being on the podium or at the very least a top-5 finish is all that I expect from myself. I am happy with my performance and glad we were able to get onto the podium tonight. At the beginning of the race, I actually made a mistake and the rider behind me smashed into the back of my bike and mangled it up pretty good, so I was just pumped to finish the way I did.  Every time we line up it's a learning experience for me, so I just want to keep learning and pushing to be up front running the pace of these guys like Cameron (McAdoo) and Justin (Cooper)."– Seth Hammaker
"I felt really good on the bike today and was pumped on how I was feeling going into the night show. When we came around that first corner, the guy next to me squeezed me as we took off on the jump and it made me cross jump and that's when I collided with the other rider. I am going to get everything checked out and come up with the best game plan with the team for my return to racing. We've got two weeks off, so I am going to do all the rehabbing I can do to get back out there with my Monster Energy/Pro Circuit/Kawasaki team."– Jordon Smith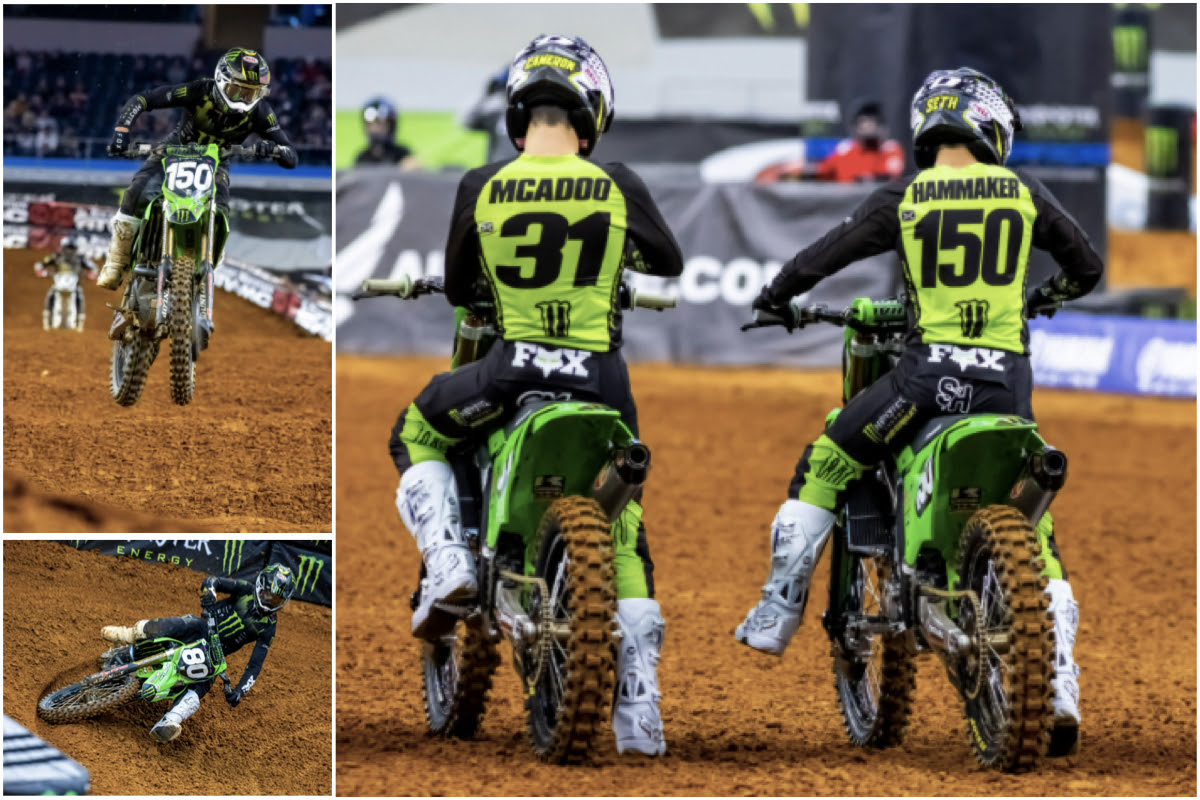 For Tomac and his Monster Energy Kawasaki, Saturday began on a positive note in qualifying as the No. 1 KX™450 rider clocked a 48.218 lap time, good enough for second fastest in combined qualifying.
In the first 450SX heat race of the night, Tomac rocketed his KX450 race machine to a top-2 start. Sitting in second, Tomac began creeping his way closer to the leader to within less than one second, and on Lap 5 he was able to make a pass stick for the lead and never looked back.
As the gate dropped for the final 450SX Main Event in Arlington, it was Tomac who launched off the gate to a third place start as they rounded Turn 2. Tomac followed behind the championship points leader for nearly the entire race waiting for the right opportunity to pass, before a slight mishap over the finish line jump shuffled him back one position. Determined to right his wrong, Tomac found the right opportunity to regain his podium position in third place and although he set the fastest lap of the race, he ran out of time to catch the leaders and finished third as the checkered flag waved.
"My KX450 was hooking up great all day. I know my speed is there and the bike is working great, I just need to work on cleaning up a few little things and making some passes stick earlier on in the race. I kept getting close to Cooper (Webb)'s rear wheel and just needed to make something happen. I am looking forward to having this two week break and get ready for Atlanta's three races."– Eli Tomac