TRAVELERS REST, S.C. (October 16, 2018) – For those who have followed Women's Motocross in the past, the name Jessica Patterson should be a familiar one. Though the seven-time WMX champion retired from motocross racing in 2013 and off-road racing in 2015, she is still involved in the racing industry. Currently, she owns and operates Traveler's Rest Speedway, which hosted the inaugural Jessica Patterson Classic (JP Classic) – the final Women's Professional Motocross Championship (WMX) round of the 2018 season, named after the motocross legend putting on the race. Partly sunny skies were welcomed after this round's rain-out earlier this season, however, it was very hot and humid for an October weekend in South Carolina.
For the fifth time this season, Jordan Jarvis had a perfect round, going 1-1-1. With this final overall win, she has now been crowned the 2018 WMX Champion. She tells us that "the last round went awesome," but the same could be said of her season more generally. Jarvis won 12 of the 15 individual motos this season – in other words, she had a win rate of 80%. Making it even more impressive is the fact that this is the 17-year old's first season racing at the professional level.
Averie Berry, a Washington State native who has been living in Belgium and racing the MXGP WMX series in Europe made the trip to Traveler's Rest to compete against the riders in the American WMX series. Though her best finish in MXGP was a 9th place in the Netherlands, she put up a great showing against the riders here. Her 2-4-2 moto finishes gave her a second place overall at the JP Classic.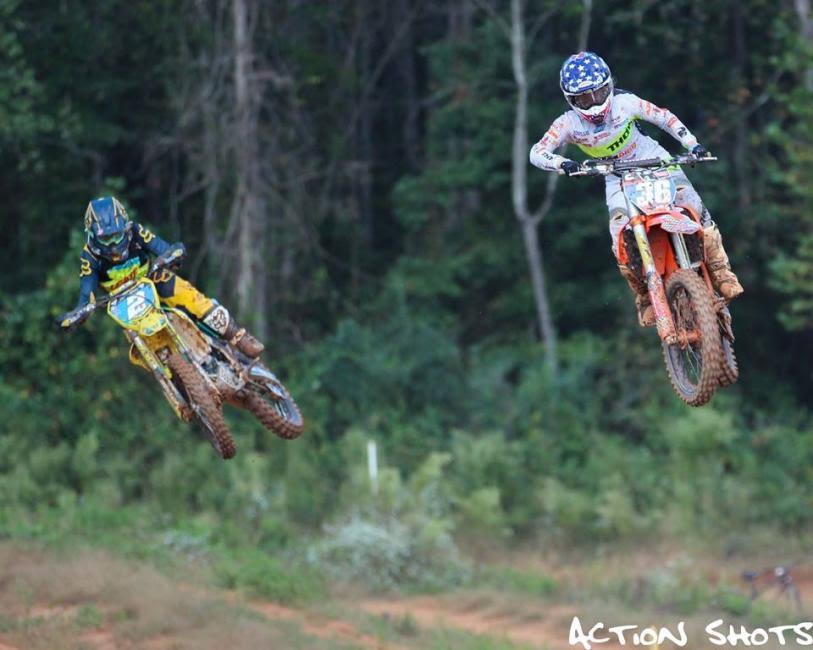 WMX veteran Shelby Rolen took third for the weekend, but she earned second in the 2018 WMX series standings after 3-3-3 moto finishes. She has been racing WMX (as well as GNCC) off and on since 2011. In her first full season (2014) she placed fourth in series points and has continued to improve from there. Though she finished second in series points last season as well, this year was her best yet; she took home both her first-ever moto win and first-ever overall win at High Point Raceway back in June. Meanwhile, Cheyenne McGuin took a sixth overall here at the JP classic, however, the finish was enough to move her up into third place in the 2018 series points. She says, "I came into my rookie season with the goal of trying to earn a top-10 plate. To finish off the year third overall is absolutely amazing and wasn't at all what I or my team expected!"
Though not first off the gate, Jordan Jarvis quickly took the lead and began to pull a gap on the other racers in moto one. Averie Berry rode in second for the majority of the race, while Mackenzie Tricker was keeping up well in third despite not having ridden motocross in over a year. Still, she began to struggle with arm pump and Shelby Rolen took advantage of the opportunity. Rolen was also able to catch up to Berry but ultimately was unable to make a pass stick as she held onto her third place position. Tricker maintained fourth place, while Cheyenne McGuin rounded out the top five after riding a smooth and uneventful moto. Natasha Horton, Cassie Belcher, and Morgan Johnson took sixth, seventh and eighth, respectively.
In moto two, Tricker took an early lead over Rolen before both were passed by Jarvis. Jarvis again pulled a solid lead, as did Tricker after Rolen cross-rutted on the face of a step-up and ended up completely off the course. This allowed Berry to move into third. By the time Rolen made it back on the course, she was in a distant fourth. Nonetheless, Rolen pushed throughout the moto and after a late moto crash by Berry, Rolen made her move into third. McGuin and Horton had a hot battle for fifth place, with McGuin just barely edging out Horton. Johnson took seventh and Belcher took eighth.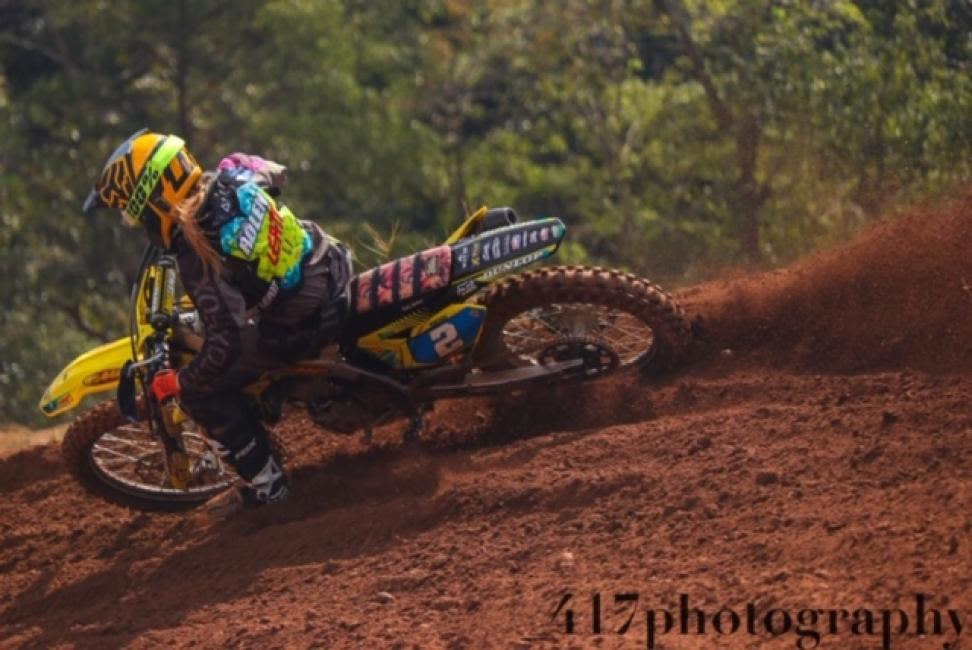 In the final moto of the season, Rolen pulled the holeshot and was leading before getting kicked off a jump and ending up off the track once again. She managed to get back on the track, while only losing one position to Jarvis. Not long after her mishap Berry successfully made the move around her. Despite the two of them riding fender to fender the rest of the moto, Rolen was unable to make any serious attempt at a pass. Tricker took fourth place, which put her in fourth overall. She says, "It's hard to have expectations when I haven't been training for it [motocross] but at the same time I wasn't that stoked on my result."
Johnson took sixth and Belcher took seventh. With third in the series wrapped up so long as she merely finished the moto, McGuin took it easy on her bike and body, riding a "celebration moto" of sorts, popping wheelies and generally enjoying herself and finishing eighth in the moto.
For more information about WMX racing, please visit the official website at ww.racewmx.com or call (304) 284-0101. Also, follow the official Facebook, Twitter and Instagram account for exclusive content and to catch the latest news.
WMX (JP Classic) Overall Results
Jordan Jarvis (1-1-1) Yamaha-Triangle Cycles/Fox/Monster Energy
Averie Berry (2-4-2) KTM
Shelby Rolen (3-3-3) Suzuki RM Army/Iron Pony Motorsports/FMF
Mackenzie Tricker (4-2-4) Trail Jesters / Bonanza Plumbing / KTM
Natasha Horton (6-6-5) Honda
Cheyenne McGuin (5-5-8) Yamaha
Morgan Johnson (8-7-6) Yamaha
Cassie Belcher (7-8-7) KTM
WMX 2018 Series Top-Five
Jordan Jarvis (320)
Shelby Rolen (263)
Cheyenne McGuin (158)
Morgan Johnson (154)
Cassie Belcher (116)
About The Women's Professional Motocross Championship:
The Women's Professional Motocross Championship (WMX), an AMA National Championship, features the world's fastest female outdoor motocross racers. The 8-round series begins with the Ricky Carmichael Amateur Supercross at Daytona International Speedway in March and concludes at the Ironman National on August 24. It includes stops at premier motorsport facilities across America, with events in Florida, Texas, West Virginia, Pennsylvania, South Carolina, Tennessee, and Indiana. These top female pro racers compete in a two-moto format on machines ranging from 125cc to 250cc. The WMX series is managed by MX Sports Pro Racing, a West Virginia-based company and industry leader in power sports event production. For more information, please visit www.racewmx.com or call (304) 284-0101.
About the American Motorcyclist Association:
Founded in 1924, the AMA is a not-for-profit member-based association whose mission is to promote the motorcycle lifestyle and protect the future of motorcycling. As the world's largest motorcycling rights and event sanctioning organization, the AMA advocates for riders' interests at all levels of government and sanctions thousands of competition and recreational events every year. The AMA also provides money-saving discounts on products and services for its members. Through the AMA Motorcycle Hall of Fame in Pickerington, Ohio, the AMA honors the heroes and heritage of motorcycling. For more information, visit www.americanmotorcyclist.com. Not a member? Join the AMA today: www.americanmotorcyclist.com/membership/join.