WASHINGTON, Ga. (May 27, 2020) – The 2020 ATV Motocross National Championship Series, an AMA National Championship, returned to competition in Georgia this past weekend with the Bulldog ATVMX National at Aonia Pass MX. This was the first round of racing for amateur riders, but the second round for the AMA Pro ATV riders, after their race at Daytona ATVSX kicked off the season.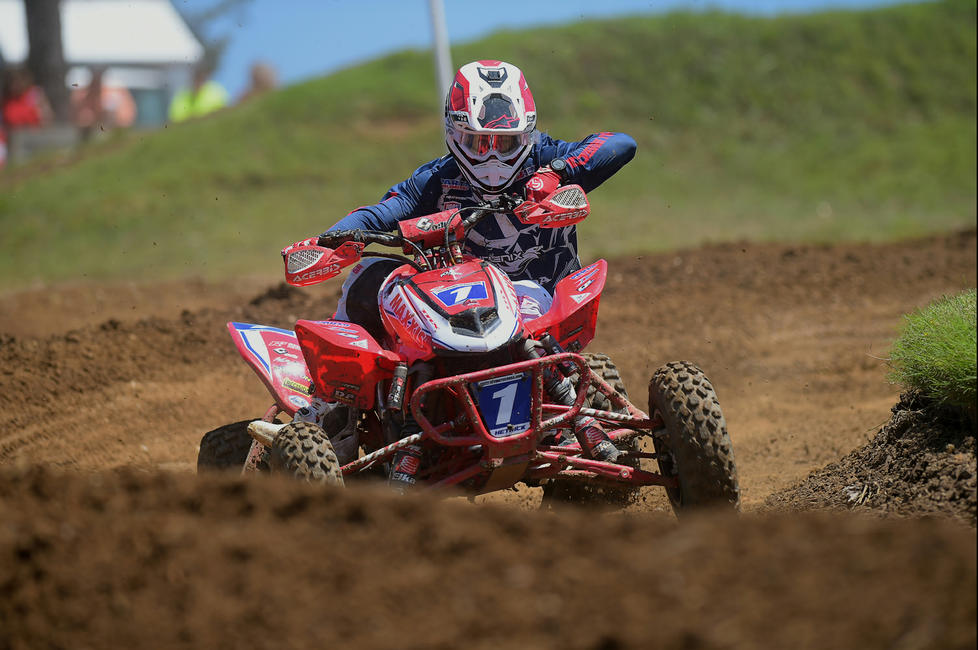 The nearly three month hiatus from racing had left the ranks of racers decimated as the ability to practice was very limited. Phoenix Honda Racing/Maxxis/Elka's Joel Hetrick was clearly staying ahead of the curve as videos kept popping up of the current champion that showed he was staying dialed and that spelled trouble for the rest of the class. With a couple of weeks' notice, the season resumed as teams got re-prepared for a venue they had not raced at in many years.
Wienen Motorsports/Yamaha/Maxxis' Chad Wienen has had a stellar record at Aonia Pass, winning every race since he turned pro. Arriving at the track instantly showed some major overhaul of the motocross track, which offered a clean slate for a new history to be written. With an unusual start that featured a downhill leading into an uphill section added some new elements that would need to be tackled if a good start was going to be had. The soil was mostly hard packed, however that start section was giving quite a few riders a real challenge as soft tilled loam would give way to stretches of underlying hard ground forcing many to come off the gate in a position that had them working from mid pack or further back in an already talent laden field of riders.
Hetrick quickly showed his hand by taking the fastest qualifier award and set the stage for two intense motos as changes to set up and discussion in the pits about forming a strategy to help keep Hetrick in check. The playing field was indeed leveled however the track and differing soils looked to play into Hetrick's style of riding like a glove. The gate would drop in moto one and it was indeed Hetrick streaking to the front claiming the holeshot and looking to keep the Honda mounted rider in check. This is the close racing we have become to expect between these two and they were giving the fans a real battle until Hetrick would blow a berm handing the lead to Wienen. Although it appeared the mistake would cost Hetrick a moto win, he was soon back on the hunt and would reclaim the lead and take the moto one win. Moto two would not be as chaotic as Hetrick powered his way to another holeshot and would run out front virtually unchallenged to climb the overall win here at the Bulldog.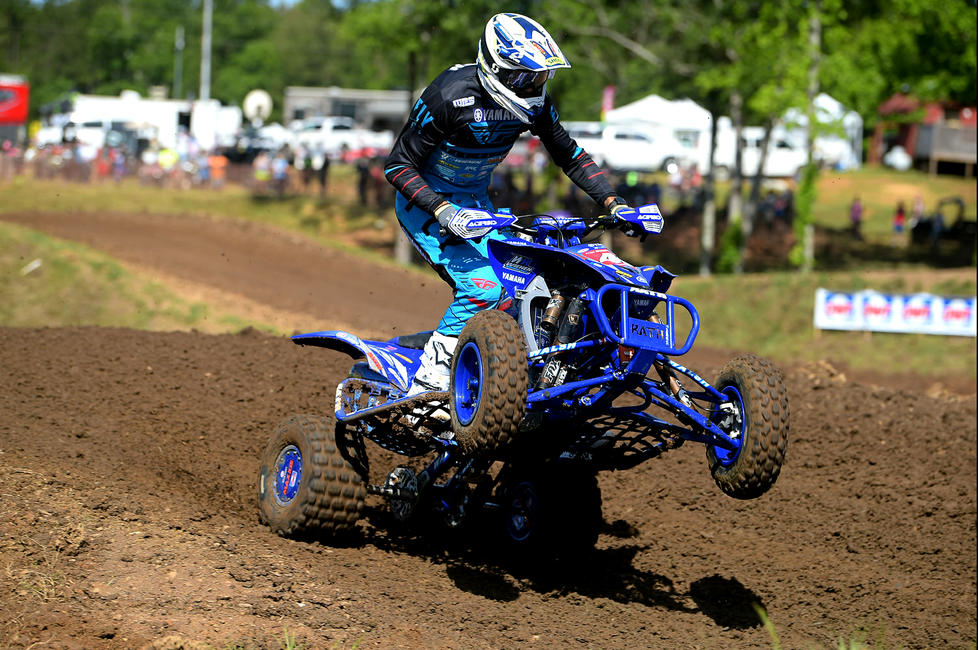 Starting off in Hetrick's shadow is not where Wienen wanted to be although he has been keeping the chase for the championship points so close that neither him or Hetrick can afford a mistake. Wienen looked to have spent the off time training hard as well and showed he still has incredible speed and endurance as he tries to find the missing piece of this Joel Hetrick puzzle. He wouldn't find it here at round two however he would go 2-2 on the weekend with a season of racing left to make things happen.
Clinching the final podium position was TBrown84 Training/CST Tires' Thomas Brown who admitted he was not as ready as he should have been. Entering the opening round, Brown stated he was in really good condition and was looking forward to running up front and throwing down with the leaders to make them earn their position in every turn and over every jump. With the schedule up in the air, Brown slipped just enough that he couldn't fulfill his promise at this round however he stated he would be in a much better position for round three. If he had any short comings in his training or program it was not apparent to the fans who cheered nonstop as Brown put down an honest effort.
When the 2019 season ended, Corrosion Specialities/Londerville Steel/Maxxis Tires' Brandon Hoag's name was the talk of the series. This young rookie pro had really shown promise in the closing rounds and here at round two he was back at it going 4-4 in a class dominated by those with many more years of racing at the pro level.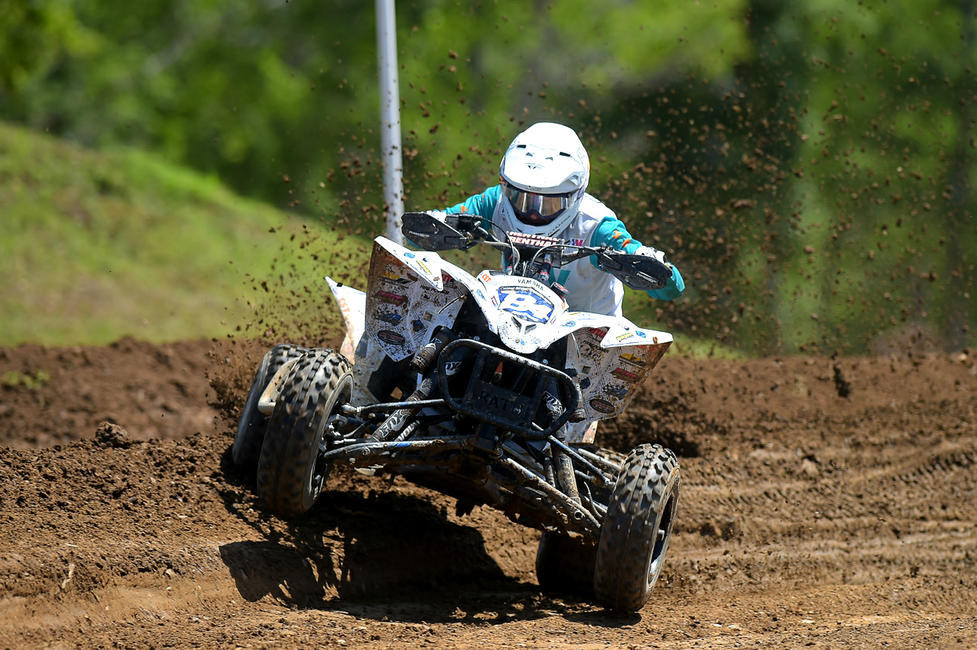 For GennUSA Racing/CST Tires/Corrosion Specialties' Nick Gennusa, this race was going to test not only his speed but also his ability to make things happen. Two bad starts had him racing from behind as he worked his way through the pack earning 5th in both motos.
This season may go down as one of the most confusing schedules ever faced as the series works through huge hurdles to find venues in states that are open for competition. As it stands right now, round three will be held at the Muddy Creek Raceway in eastern Tennessee. Muddy Creek gets its share of followers who love it as well as those who can't find their game and would rather race elsewhere. The track is challenging and should prove to be another intense battle in the war for the championship!
The Bulldog ATVMX National Results and Points Standings
Washington, Georgia
Round 2 of 10
May 26, 2020
2020 AMA Pro Class Event Results:
Joel Hetrick (1-1)
Chad Wienen (2-2)
Thomas Brown (3-3)
Brandon Hoag (4-4)
Nicholas Gennusa (5-5)
Westley Wolfe (8-7)
Alan Myers (7-8)
Bryce Ford (6-9)
Wes Lewis (10-10)
Logan Stanfield (9-11)
Overall National Championship Standings:
Joel Hetrick (72)
Chad Wienen (69)
Thomas Brown (53)
Brandon Hoag (52)
Alan Myers (47)
Bryce Ford (45)
Westley Wolfe (42)
Wes Lewis (36)
Nick Gennusa (36)
Logan Stanfield (33)
For more information on the 2020 ATV Motocross National Championship, visit the series official website at www.atvmotocross.com or call (304) 284-0101. Join the conversation on the series social media channels, along with receiving the most up-to-date news and exclusive content.
To get the latest ATV Motocross clothing and merchandise visit https://www.mototees.com/atvmx/.
About the ATV Motocross National Championship:
The ATV Motocross National Championship, an AMA National Championship, is the nation's premier amateur and professional ATV motocross series, hosted at top motocross facilities nationwide. The 10-round AMA Pro and 8-round amateur series features the Nation's best racers, teams and sponsors, and is America's largest and longest-running ATV national motocross program. Since 1985, the series continues to expand and produce top talent from the amateur ranks, while premiering the professional class. For more information, please visit www.atvmotocross.com.
About the American Motorcyclist Association:
Founded in 1924, the AMA is a not-for-profit member-based association whose mission is to promote the motorcycle lifestyle and protect the future of motorcycling. As the world's largest motorcycling rights and event sanctioning organization, the AMA advocates for riders' interests at all levels of government and sanctions thousands of competition and recreational events every year. The AMA also provides money-saving discounts on products and services for its members. Through the AMA Motorcycle Hall of Fame in Pickerington, Ohio, the AMA honors the heroes and heritage of motorcycling. For more information, visit www.americanmotorcyclist.com. Not a member? Join the AMA today: www.americanmotorcyclist.com/membership/join.