BUCHANAN, Mich. (July 22, 2019) – In another incredibly close points battle, the 2019 ATV Motocross National Championship (ATVMX) Series, an AMA National Championship, has once again taken an amazing turn. Now the top two riders are within one point of each other with just four motos remaining in the 2019 season. Defending Champion, Wienen Motorsports/Yamaha/Maxxis' Chad Wienen suffered a mechanic issue in moto two that took him out of the race, and finishing sixth overall, which allowed Phoenix Racing Honda's Joel Hetrick to grab another overall win and more importantly the valuable points he desperately needed to regain the title.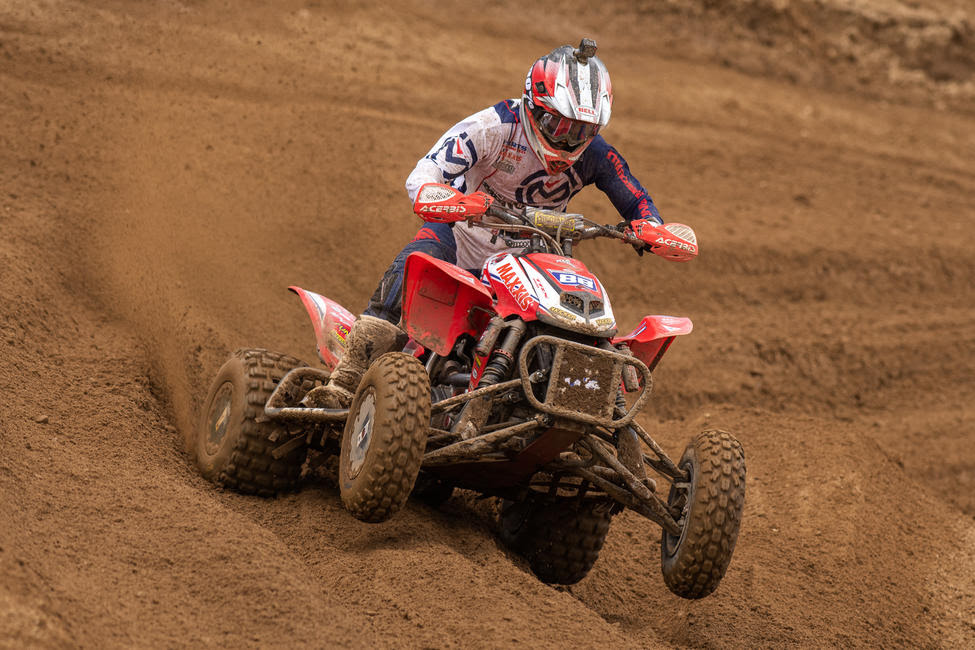 The conditions leading into this past weekend's eighth round of competition would see the Redbud MX facility in near perfect shape Friday evening as soaring temperatures and humidity had everyone making the best out of it. Redbud is well-known for being one of the roughest tracks of the year, and even in moderate years it takes its toll on both rider and machine. However, everything quickly changed in the early hours of Saturday morning as a thunderstorm tore into the region. The track was ready for storms that were due that evening, but out of nowhere came torrential downpours that forced delays as dawn broke and the track crews began the task of trying to get things ready to race.
By the time the first moto was on the gate, the track was in decent shape, although it appeared it was not going to be the rough Redbud of years past. With a new starting layout and no pro sections, this was once again anyone's race as no one rider held an advantage over the other beyond sheer determination and flat out talent behind the bars. Wienen had claimed the DirtNation.com Fastest Qualifier Award during timed qualifying, but his times showed no huge advantage which left everyone along the fences eager to see another epic battle go down.
The gate dropped and Hetrick rocketed off the gate claiming the SSi Decals Holeshot Award as he quickly maneuvered out front and through the first few turns. Wienen did not get the start he was looking for and once again found himself having to fight his way to the front as GennUSA Racing/CST Tires/Corrosion Specialties' Nick Gennusa and Corrosion Specialties/Londerville Steel/Maxxis Tires Brandon Hoag separated him and Hetrick. Their fight ended during the first lap as Hetrick continued to place a gap over the field. Tbrown84 Training/CST Tires' Thomas Brown and Wienen gave chase, but to no avail as the checkered flag flew drawing a close to the first moto. Hetrick had done exactly what he set out to do and clicked off another moto win with no challenge.
Wienen and Brown had their battle and the two Yamaha mounted riders would swap positions near the end of the moto giving Wienen second with Brown rounding out the top three. It was easy to see there was no joy as a win would have helped add to the points cushion Wienen had going into this round, however his second kept things on par, but now he faced a second moto where he was going to once again have to battle Hetrick who seemingly had been able to conserve energy in the later parts of the moto. Brown had another exceptional moto and may be at a point in his career where his speed is where it needs to be if he can just manage to find a bit of racing luck to add to it.
Moto two was scheduled for 4 p.m. and the heat and humidity were indeed at their peak. As the pro class gated up you could feel the tension as the stress of making things happen was apparent. Hetrick had stated from the podium after his moto one win that he was taking things one race at a time and his job was just to win as many as he could. He also made the comment regarding anything could happen at any time, which could change things and it was reminiscent of his issue at the final round last year that cost him the number one plate. For his closest competitor, all he had to do was ride smart and finish second and he could roll to another championship which sounds easy enough as Wienen hasn't been off the podium since 2012. Racing for second isn't in a competitors nature and Wienen wanted to make a statement here at Redbud, so all eyes were glued to the gate as things were about to throw everyone into a haze.
The gate dropped on moto two and the riders were off. Once again, the #88 of Hetrick was out front looking to earn another holeshot with Brown and Wienen both getting better starts and desperately trying to get after the leader. The first turn turned into a battle zone as Brown powered out of the corner and overtook Hetrick to claim the moto two SSI Decals Holeshot Award. Brown, Hetrick and Wienen were now in a three-way battle as things intensified through every turn and over every jump. Brown was setting the pace as Wienen pulled up closer to Hetrick, and you could tell Hetrick knew he needed to get past Brown and put distance between himself and one very hungry Wienen. The pass came on Brown and now Hetrick had clear track in front of him and started by putting distance between himself and Brown. One bobble and he could be back in command as the next few laps were scored.
As the leaders dropped down into the lower portion of the track the big moment came, which one no one saw coming. There, motioning for other racers to go around him stood Wienen, out of the race with a mechanical issue. The crowd cheered on Hetrick and Brown as everyone tried to soak up what they were hearing and seeing. The race would come to a conclusion with Hetrick taking the win and sweeping the day. Hetrick's win combined with Wienen's misfortune had the points battle now at a mere one-point difference heading into the penultimate round.
Talk at the podium was Hetrick and his success, plus Wienen's shocking moto two issue. However, there was soon to be another round of emotions as Gennusa pulled his Yamaha onto the Overall Pro podium for the first-time in his career as he came in third overall. When Gennusa pulled off the track he was surprised to learn he had earned a place on the box, his first-ever in the overall standings, and the joyous smiles vanquished the heat and effort that he had just put in. Gennusa had finished 4-4 after battling in both motos, and his family and fans were eager to show him how happy the day would end for the young New Jersey racer.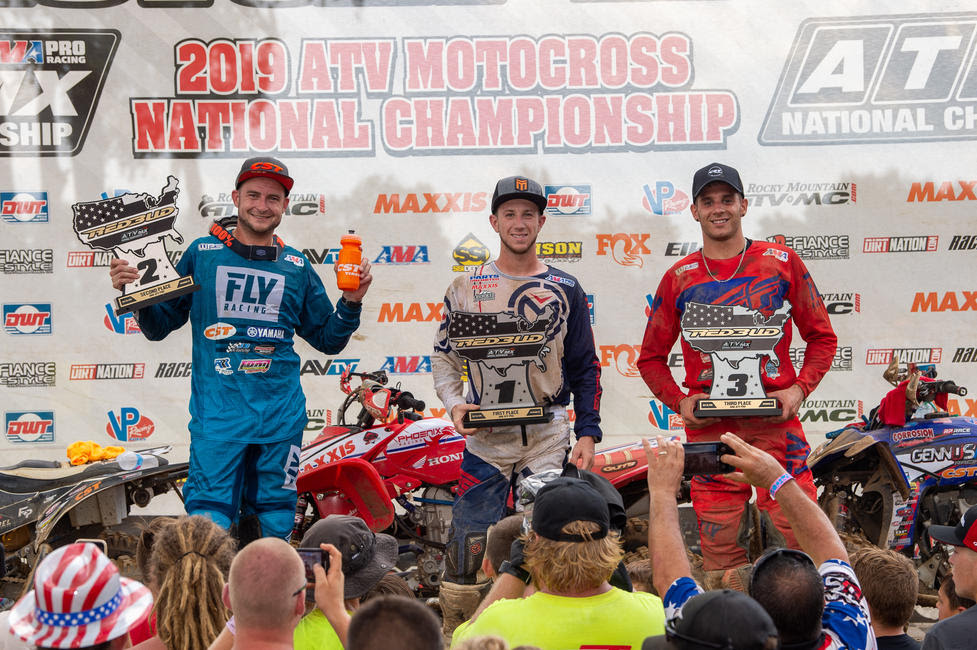 Brown came into this season with less direction than the past couple of years. Brown has been pushing forward all season, and thus far in the season he has had a stellar year. With the recent announcement of his engagement and finding success in a season where he thought he may not be competitive; Brown would roll out of Redbud with a hard fought second. For one elated Hetrick, his composure remained professional as he knows all too well how one thing can change your season.
Ryland Johnson Racing/GBC Motorsports/Ye Olde Cycle Barn's Westley Wolfe would have a great weekend here at Redbud earning his best AMA Pro ATVMX finish of his career after going 5-5 on the weekend for a fourth overall. Wolfe looked exceptionally strong in both motos and keeps finding speed as the season continues on. Nine6Nine/Barker's Exhaust/Walsh Race Craft's Alan Myers would handle the Redbud MX track, and like Wolfe, would see his highest finish of his young pro career here with his fifth place overall finish.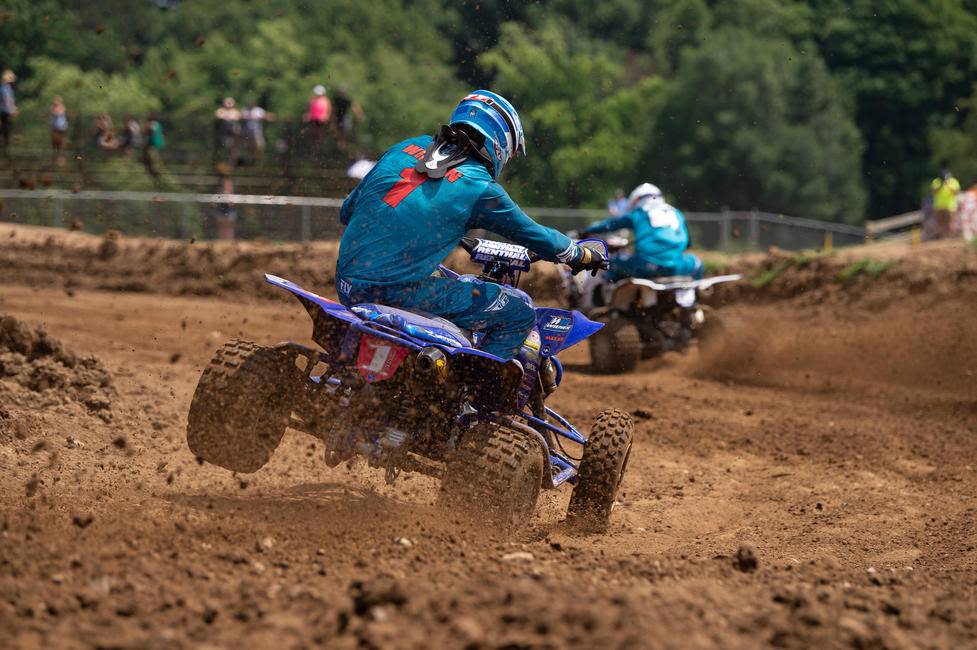 The series next heads to Loretta Lynn's Ranch for what has traditionally been the final round, but for the AMA Pro class will now be the penultimate round. With only 1 point separation the gloves are about to come off as the fight for the championship now takes on new life as the slugfest comes down to the wire!
For more information on the 2019 ATV Motocross National Championship, visit the series official website at www.atvmotocross.com or call (304) 284-0101. Join the conversation on the series social media channels, along with receiving the most up-to-date news and exclusive content.
RedBud ATVMX National
Buchanan, Michigan
Round 8 of 10
Saturday, July 20
2019 AMA Pro Class Event Results:
Joel Hetrick (1-1)
Thomas Brown (2-3)
Nicholas Gennusa (4-4)
Westley Wolfe (5-5)
Alan Myers (7-6)
Chad Wienen (2-14)
Cody Ford (8-7)
Jeffrey Rastrelli (16-3)
Dylan Tremellen (9-9)
Jaron Cochran (11-8)
Overall National Championship Standings:
Chad Wienen (320)
Joel Hetrick (319)
Thomas Brown (279)
Jeffrey Rastrelli (258)
Nicholas Gennusa (237)
Westley Wolfe (216)
Brandon Hoag (196)
Alan Myers (194)
Cody Ford (182)
Samuel Rowe (162)
SSi Decals Holeshot Award Standings:
Joel Hetrick (9)
Thomas Brown (5)
Dylan Tremellen (4)
Chad Wienen (4)
Jeffrey Rastrelli (1)
DirtNation.com Top Qualifier Award Standings:
Joel Hetrick (6)
Chad Wienen (2)
About the ATV Motocross National Championship:
The ATV Motocross National Championship, an AMA National Championship, is the nation's premier amateur and professional ATV motocross series, hosted at top motocross facilities nationwide. The 10-round AMA Pro and 8-round amateur series features the Nation's best racers, teams and sponsors, and is America's largest and longest-running ATV national motocross program. Since 1985, the series continues to expand and produce top talent from the amateur ranks, while premiering the professional class. For more information, please visit www.atvmotocross.com.
About the American Motorcyclist Association:
Founded in 1924, the AMA is a not-for-profit member-based association whose mission is to promote the motorcycle lifestyle and protect the future of motorcycling. As the world's largest motorcycling rights and event sanctioning organization, the AMA advocates for riders' interests at all levels of government and sanctions thousands of competition and recreational events every year. The AMA also provides money-saving discounts on products and services for its members. Through the AMA Motorcycle Hall of Fame in Pickerington, Ohio, the AMA honors the heroes and heritage of motorcycling. For more information, visit www.americanmotorcyclist.com. Not a member? Join the AMA today: www.americanmotorcyclist.com/membership/join.