MORGANTOWN, W.Va (December 13, 2019) – Racer Productions, producer of the Grand National Cross Country (GNCC) Series presented by Specialized, an AMA National Championship, is pleased to announce the 2020 series schedule.
The GNCC series will kick off with the Big Buck GNCC on February 22 and 23 in Union, South Carolina. From there the series will head southbound for the Wild Boar GNCC in Palatka, Florida, held in conjunction with the 2020 Daytona Beach "Bike Week" festivities on March 8 and 9. After Florida, the series continues the next weekend in Washington, Georgia for a back-to-back round with The General GNCC at Aonia Pass Motocross.
Kailub Russell will be aiming for his eighth-straight GNCC National Championship in 2020.— Ken Hill
Moving onto the fourth round of the season, GNCC will continue to celebrate racing at Steele Creek in Morganton, North Carolina on April 4 and 5. Steele Creek is always a fan-favorite for families, friends and local residents. Steele Creek is one of the classic cross-country tracks with plenty of steep terrain and challenging trail, while also having a flowing and fun layout. However, due to waterway and land restrictions, we will not be able to race near the creek and the traditional weekend schedule will be altered such that the Youth Bikes will compete Saturday afternoon and the Bike Amateurs will be split into two groups in the morning. Unfortunately, we will not be able to race micros at this event. Keep an eye out for the upcoming 2020 GNCC Amateur Rules for more information on Micro racing, which will be held at 11 events in 2020.
Making a comeback to the series schedule for the first time since 2015 will be the Windmill Park or Mountain Ridge GNCC located in Somerset, Pennsylvania. This venue offers a traditional off-road track interlaced with majestic wind turbines. With a solid base, the weather will not be a factor at this event. The series is excited to head back to Mountain Ridge for 2020 as it looks to feature micro and eMTB racing throughout the weekend.
The series also returns to the Bluegrass State of Kentucky for the first time since 2013. The all-new Gladiator GNCC promises to be a welcomed addition with a broad range of rolling hills and virgin trails, opened for the first time to motorized vehicles. Located 4 miles from Bowling Green, the community support for this event is already booming, and we look forward to bringing our GNCC Racing family to the Home of the National Corvette Museum.
"The 2020 GNCC Racing season promises to bring even more of the great racing action you've come to expect," said GNCC Trail Boss, Jeff Russell. "We're continuing with some of our favorite facilities that always produce great tracks, and we're really excited for the addition of Bowling Green's Gladiator GNCC in May."
Walker Fowler will set out to try and capture his sixth-straight GNCC ATV National Championship.— Ken Hill
A rain date has been set for the 2020 season on the weekend of July 11 and 12, with the location to be announced at a later date, if needed.
After the summer break, the series will return to Summit Bechtel Reserve for round 10 on September 26 and 27. The Mountaineer GNCC proved to be a popular addition to the series last year. Located in the heart of southern West Virginia, the race is hosted at the spectacular 11,000-acre home of the National Scout Jamboree. Tough and rocky, racers loved the challenging terrain of The Mountaineer and we hope to bring them even more exciting trail.
The 2020 schedule welcomes back many of its most seasoned venues, including Big Buck in Union, South Carolina; The General in Washington, Georgia; Tomahawk in Odessa, New York; The John Penton in Millfield, Ohio; West Virginia's popular Snowshoe GNCC in Snowshoe, West Virginia; and the Ironman finale in Crawfordsville, Indiana.
Returning to the schedule on Saturday afternoons will be the eight-round Specialized Turbo eMTB GNCC National Championship. The first round will be held at The General GNCC on March 14. Mountain Ridge at Somerset in Pennsylvania will host round two, followed by the newly added Gladiator GNCC in Kentucky and Snowshoe in West Virginia. Round 5 will be hosted at Loretta Lynn Ranch in Hurricane Mills, Tennessee on Saturday, August 1 as a one-off event held in conjunction with the AMA Amateur National Motocross Championship.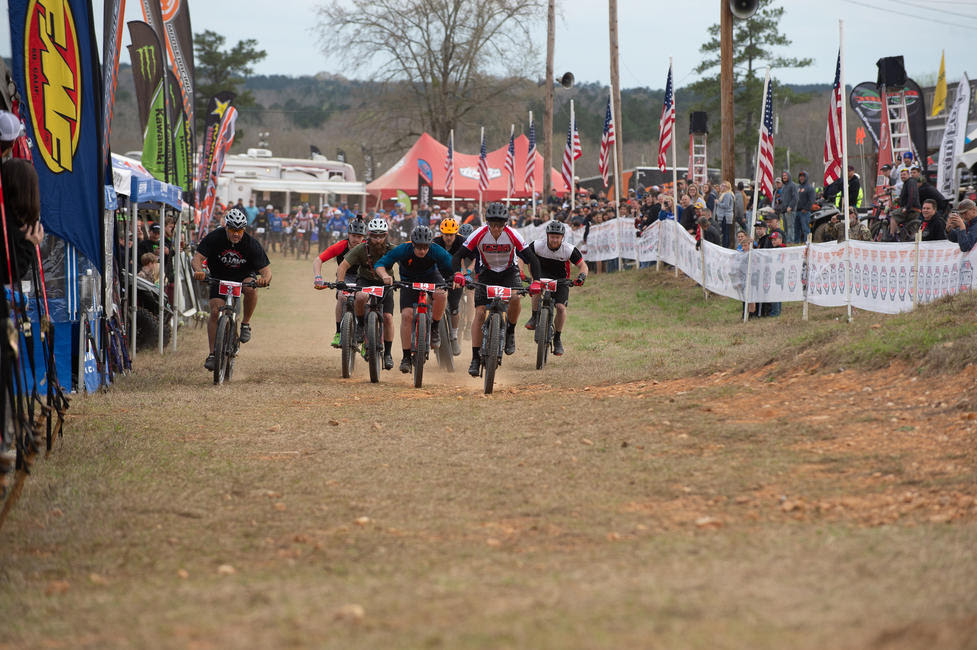 eMTB racing returns for an eight-round series in 2020.— Ken Hill
The eMTB schedule will pick back up after summer break on Saturday, September 12 at the Mountaineer GNCC in West Virginia, with round 7 taking place on September 26 in New York at the Tomahawk GNCC. The eMTB series finale will be held in Mt. Morris, Pennsylvania at the Mason-Dixon GNCC on October 10. The Ironman GNCC will serve as a rain date round for eMTB racers in the event an eMTB race should be cancelled earlier in the season. If no rescheduled race is required, the Ironman GNCC event will hold a one-off fun and free eMTB event for anyone who owns an electric mountain bike and just wants to giving racing a spin, courtesy of Specialized.
The GNCC Series will then celebrate the year and the top-10 finishers of each class on December 12 and 13 in Morgantown, West Virginia at the Morgantown Marriott. ATV, ATV micro and eMTB riders will be recognized on Friday night, while Bike and Bike micro competitors will be recognized Saturday evening.
RND
DATE
EVENT
LOCATION
MICRO / eMTB
Rnd 1
Feb. 22/23
Big Buck
Union, SC
Micro
Rnd 2
Mar. 7/8
Wild Boar
Palatka, FL
Micro
Rnd 3
Mar. 14/15
The General
Washington, GA
Micro & eMTB
Rnd 4
Apr. 4/5
Steele Creek*
Morganton, NC
–
Rnd 5
Apr. 18/19
Camp Coker Bullet
Society Hill, SC
Micro
Rnd 6
May 2/3
Mountain Ridge
Somerset, PA
Micro & eMTB
Rnd 7
May 16/17
Gladiator
Bowling Green, KY
Micro & eMTB
Rnd 8
May 30/31
The John Penton
Millfield, OH
Micro
Rnd 9
Jun. 27/28
Snowshoe*
Snowshoe, WV
eMTB
Rain Date: July 11-12
–
Aug 1
Loretta Lynn
Hurricane Mills, TN
eMTB ONLY
Rnd 10
Sep. 12/13
Mountaineer
Beckley, WV
Micro & eMTB
Rnd 11
Sep. 26/27
Tomahawk
Odessa, NY
Micro & eMTB
Rnd 12
Oct. 10/11
Mason-Dixon
Mt. Morris, PA
Micro & eMTB
Rnd 13
Oct. 24/25
Ironman
Crawfordsville, IN
Micro
Rain Date: Oct. 24 Ironman eMTB
Banquet
Dec. 12/13
Banquets
Morgantown, WV
*All rounds except Steele Creek & Snowshoe feature Micro Racing
Click HERE for the downloadable PDF Version
For more information on the GNCC series, visit the official website at www.gnccracing.com or call (304) 284-0084. Join the conversation on the series Facebook page, follow us on Twitter and Instagram, and be sure to always hashtag #GNCC.
About GNCC Racing
The Grand National Cross Country Series presented by Specialized is the World's premier off-road racing series. Founded in 1975, the 13-round championship is produced exclusively by Racer Productions. Cross-country racing is one of the most physically demanding sports in the world. The grueling two and three-hour GNCC races lead as many as 2,400 riders through racetracks ranging in length from eight to 12 miles. With varied terrain, including hills, woods, mud, dirt, rocks, and motocross sections, GNCC events are tests of both survival and speed. The series draws talent from all over the U.S., Central America, South America, Europe, Japan, Australia and New Zealand. GNCC Racing is televised live on RacerTV.com. For more information, please visit www.gnccracing.com.
About eMTB Racing
The Specialized Turbo eMTB GNCC National Championship brings off-road racing and pedal-assist or electric bicycles together for an eight-round championship produced by Racer Productions. Much like a typical cross-country racing event, these races feature varied terrain featuring hills, rocks, roots, and more but are limited to electric, or pedal assist model mountain bikes only. For more information, please visit www.gnccracing.com.
How to Watch
Racer TV is the official home for coverage of the Grand National Cross Country (GNCC) events. Racer TV provides live streaming coverage of the 2 p.m. pro ATV and 1 p.m. pro motorcycle races from each event. Catch all the action at http://www.racertv.com/.
About the American Motorcyclist Association
Founded in 1924, the AMA is a not-for-profit member-based association whose mission is to promote the motorcycle lifestyle and protect the future of motorcycling. As the world's largest motorcycling rights and event sanctioning organization, the AMA advocates for riders' interests at all levels of government and sanctions thousands of competition and recreational events every year. The AMA also provides money-saving discounts on products and services for its members. Through the AMA Motorcycle Hall of Fame in Pickerington, Ohio, the AMA honors the heroes and heritage of motorcycling. For more information, visit www.americanmotorcyclist.com. Not a member? Join the AMA today: www.americanmotorcyclist.com/membership/join.