MORGANTOWN, W.Va. (March 7, 2019) – The AMSOIL Grand National Cross Country (GNCC) Series presented by Specialized, an AMA National Championship, is excited to announce the return of AMSOIL for their seventh-consecutive year as the title partner.
AMSOIL INC. has grown into a company that is now recognized as a world leader in synthetic lubricant technology. They provide top of the line synthetic lubricants for cars, trucks, motorcycles, four-wheelers, boats, lawnmowers and anything else with an engine. They have designed these lubricants to help your equipment run at the highest efficiency and last longer. At each event AMSOIL will be setup on vendor row with a local dealer ready to help any customers that are looking for AMSOIL product.
"GNCC continues to be a great series for AMSOIL to demonstrate its commitment to the dirt bike community while proving the performance of our products, both on and off the track," said Kevin Kastner, AMSOIL Racing and Events Manager. "The addition of AMSOIL Moto Hero is a great way for us to work together with GNCC to show our support for those who have served. Their dedication to protecting our rights is a value we want to celebrate. Join us as we kick off another great year of racing – and remember to support the people and brands who share your passion for motorsports. We are all in this together!"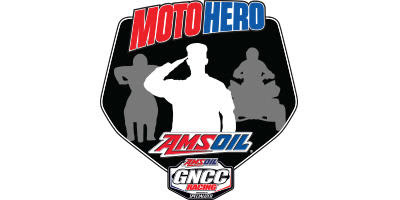 The newest addition to the 2019 AMSOIL GNCC series will be the AMSOIL Moto Hero Program. This program will award one to two people per round who are currently serving in the military, retired from the military, are a first responder or former first responder. Racers, fans and industry personnel are encouraged to nominate themselves or a family member by filling out the form online HERE.
The AMSOIL Snowshoe and Ironman GNCC rounds are two of the most highly-attended events on the circuit. Snowshoe is held in West Virginia at the Snowshoe Mountain Ski Resort, while Ironman is held in Indiana at Ironman Raceway. This season additional hospitality as well as appearances from the AMSOIL Girls will be added to multiple events.
The series kicks off this weekend, March 9 and 10, in Palatka, Florida with the Moose Racing Wild Boar GNCC. The series continues along the east coast before concluding in Crawfordsville, Indiana with the AMSOIL Ironman GNCC on October 26 and 27.
For more information on the GNCC series, visit the official website at www.gnccracing.com or call (304) 284-0084. Join the conversation on the series Facebook page, follow us on Twitter and Instagram, and be sure to always hashtag #GNCC.
About GNCC Racing
The AMSOIL Grand National Cross Country Series presented by Specialized is America's premier off-road racing series. Founded in 1975, the 13-round championship is produced exclusively by Racer Productions. Cross-country racing is one of the most physically demanding sports in the world. The grueling three-hour GNCC races lead as many as 2,400 riders through tracks ranging in length from eight to 12 miles. With varied terrain, including hills, woods, mud, dirt, rocks, and motocross sections, GNCC events are tests of both survival and speed. The series draws talent from all over the U.S., Central America, South America, Europe, Japan, Australia, and New Zealand. GNCC Racing is televised weekly on NBC Sports and RacerTV.com. For more information, please visit www.gnccracing.com.
About eMTB Racing
The Specialized Turbo eMTB GNCC National Championship brings off-road racing and pedal-assist or electric bicycles together for an eight-round championship produced by Racer Productions. Much like a typical cross-country racing event, these races feature varied terrain featuring hills, rocks, roots, and more but are limited to electric, or pedal assist model mountain bikes only. For more information, please visit www.gnccracing.com.
How to Watch
Racer TV and NBC Sports Network (NBCSN) are the official homes for coverage of the AMSOIL Grand National Cross Country (GNCC) events. All 13 rounds, from the season opening Big Buck GNCC in South Carolina to the finale at Ironman Raceway in Indiana, will air in 30-minute, taped-delayed telecasts on NBCSN, while Racer TV provides live streaming coverage of the 1 p.m. ATV and motorcycle races from each event. Catch all the action at http://www.nbcsports.com/ and http://www.racertv.com/.
About the American Motorcyclist Association
Founded in 1924, the AMA is a not-for-profit member-based association whose mission is to promote the motorcycle lifestyle and protect the future of motorcycling. As the world's largest motorcycling rights and event sanctioning organization, the AMA advocates for riders' interests at all levels of government and sanctions thousands of competition and recreational events every year. The AMA also provides money-saving discounts on products and services for its members. Through the AMA Motorcycle Hall of Fame in Pickerington, Ohio, the AMA honors the heroes and heritage of motorcycling. For more information, visit www.americanmotorcyclist.com. Not a member? Join the AMA today: www.americanmotorcyclist.com/membership/join.