MORGANTOWN, W.Va.—As the 25th Annual AMSOIL Ironman Grand National Cross Country (GNCC) race draws nearer, Crawfordsville, Indiana is set to host the final round of the 2019 AMSOIL GNCC Series presented by Specialized, an AMA National Championship. The season finale has been deemed a "pink race" in honor of October's Breast Cancer Awareness Month and will take place the weekend of October 26 and 27.
The purpose of Ironman's "pink race" is to raise awareness and funds locally for breast cancer care and research, while also bringing the GNCC Racing community together for a cause that exceeds racing. The pink attire will make a compelling distinction throughout the woods, hills and dirt of Ironman Raceway.
GNCC Racing will relax number-plate background codes for the race and encourages riders to run pink backgrounds, available via HBD MotoGrafx. To continue the fundraising efforts, a pink front number plate background will result in a $5 donation. A full set of front and side backgrounds will include a $10 donation. In addition, each order will include one free mini plate. Email sales@hbdmotografx.com or call 386.308.2225 to order yours.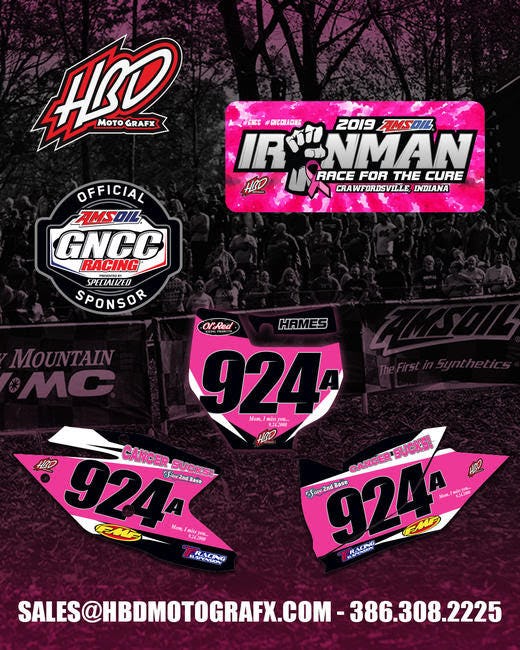 HBD MotoGrafx is also providing the exclusive GNCC breast cancer awareness race stickers for a minimum $1 donation. Stickers will be available at rider registration throughout the weekend. All donations from background sales and stickers will once again go to the Montgomery County Free Clinic (MCFC), a non-profit organization dedicated to providing free mammogram examinations across the Crawfordsville and Montgomery County region. Last year GNCC made a group donation from all of the event's efforts of over $10,981 to the MCFC.
The race facility will be adorned in pink, including a special pink podium backdrop. The backdrop will be autographed by each podium finisher during the weekend and auctioned off on Saturday evening before the Craig Morgan concert, with proceeds going to the MCFC.
Yamaha Motor Corporation will once again be contributing to the Ironman GNCC fundraising efforts, and will donate $50 for each class win at the Ironman GNCC by a Yamaha rider, and $50 for each 2019 National Championship clinched on a Yamaha.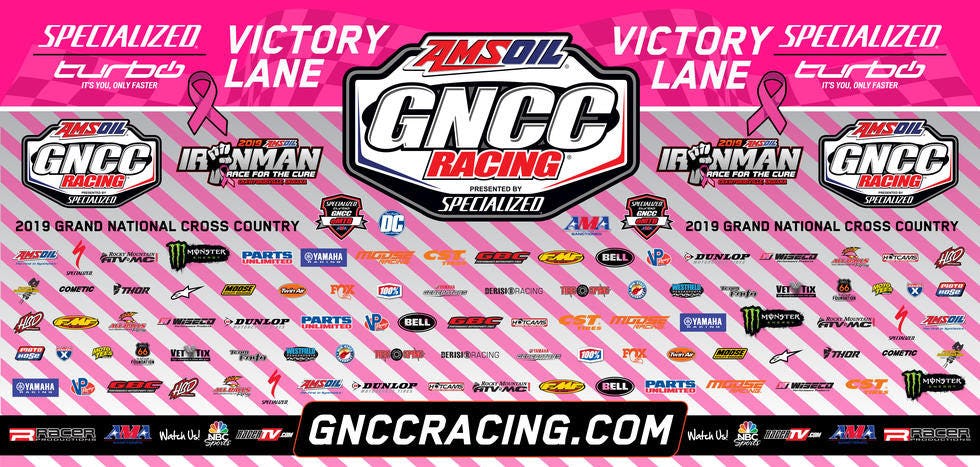 Zakowski Motorsports will not be in attendance at this year's Ironman GNCC, but they will have their annual breast cancer awareness campaign in full swing online. Their popular $10 t-shirt line will be available to purchase on their website, along with hoodies, beanies, hats, koozies and more. For anyone wanting to make a cash donation, like a lot of you have done onsite all these years, you are still able to by contacting Zac Zakowski at (920) 475-9013 or champcaz@gmail.com. Zakowski Motorsports will also be doing online photo contests this weekend for everyone to showcase their PINK machines! Find them on Facebook at facebook.com/zakowskimotorsports.
After a 10 year run of coming to the Ironman GNCC, Zac and Linda Zakowski wanted to send a special message to their friends and the series: "We would like to thank every single person from our GNCC family who has supported or purchased from our fundraiser in some way, shape or form over all these years. GNCC was a part of our life for over a decade and where this fundraiser started. We can still remember coming to the Ironman in 2008 and deciding that we wanted to make an impact in this community and make "pink" bigger. We went from raising $300 in 2009 to over $20,000 every year in a short amount of time. We cannot thank the GNCC Racing Nation enough for this. It is because of all of YOU that this fundraiser took off and why we are still doing it to this day! We are sad to not be a part of the Ironman this year but hope that there is still a sea of pink in all the photos. This fundraiser keeps growing and we are currently looking at expanding it to more events for 2020 and getting it to the next level. You may see us back at the Ironman GNCC soon enough though! We hope that all of you continue to support the fundraiser through the online store this year. Please share with all your friends and thank you for all the wonderful years!"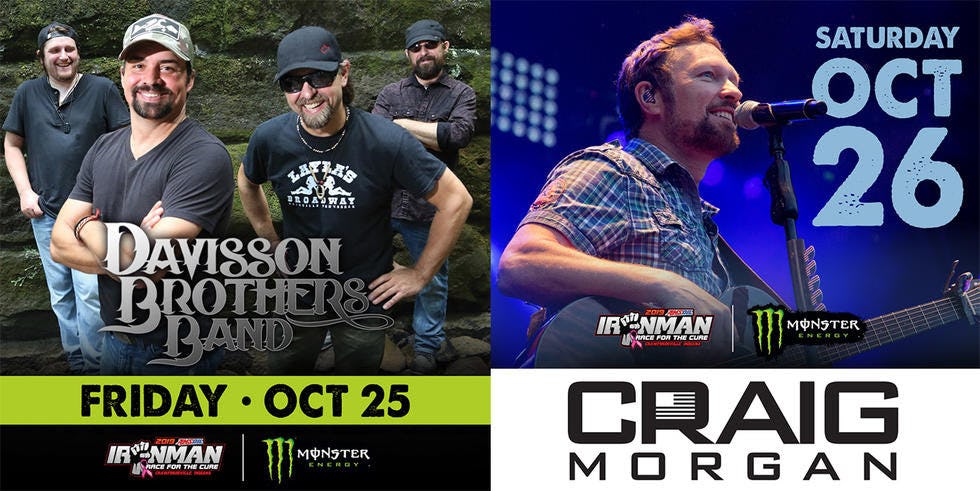 An exciting lineup of live musical entertainment presented by Monster Energy will take place on Friday, October 25 and Saturday, October 26. The Davisson Brothers Band will kick off the weekend on Friday at 9:00 p.m. The Davisson Brothers Band have performed at many different GNCC Racing events throughout the years, and have proven time and time again that they are a fan favorite. They are hailed as Rolling Stone Country and have that classic musical foundation as they carry on their West Virginia roots. Check out The Davisson Brothers Band's other music "Po' Boyz," "Jesse James" and "Get Down South" on their YouTube Channel.
After releasing his first new music in over three years, country music star and outdoor enthusiast, Craig Morgan will take to the Monster Energy Stage at 9:30 p.m. on Saturday at Ironman Raceway. Craig Morgan's new song "The Father, My Son and the Holy Ghost" was written in memory of his late son, Jerri, who died in 2016 at the age of 19 in a tubing accident in Tennessee. Morgan's new song quickly caught the attention of fellow country music icons, and with the help from the country community rose to the top of the iTunes charts. Morgan's multi-week number one songs included "That's What I love About Sunday," "International Harvester," "Bonfire," "This Ole Boy," and "Wake Up Lovin' You." Check out more music from Craig Morgan on his YouTube Channel.
Racers and spectators can get in on the fun by bringing and wearing pink clothes, riding gear, graphics and other decorations in addition to the planned Halloween festivities. The GNCC Trick-or-Treat for the kids makes its return for the Ironman GNCC on Saturday evening, October 26, from 5:30-6:30 p.m. Following Trick-or-Treating will be a costume contest presented by Team Faith at 6 p.m. at their location in Sponsor Village. To view a full schedule of this weekend's Ironman GNCC festivities, click HERE.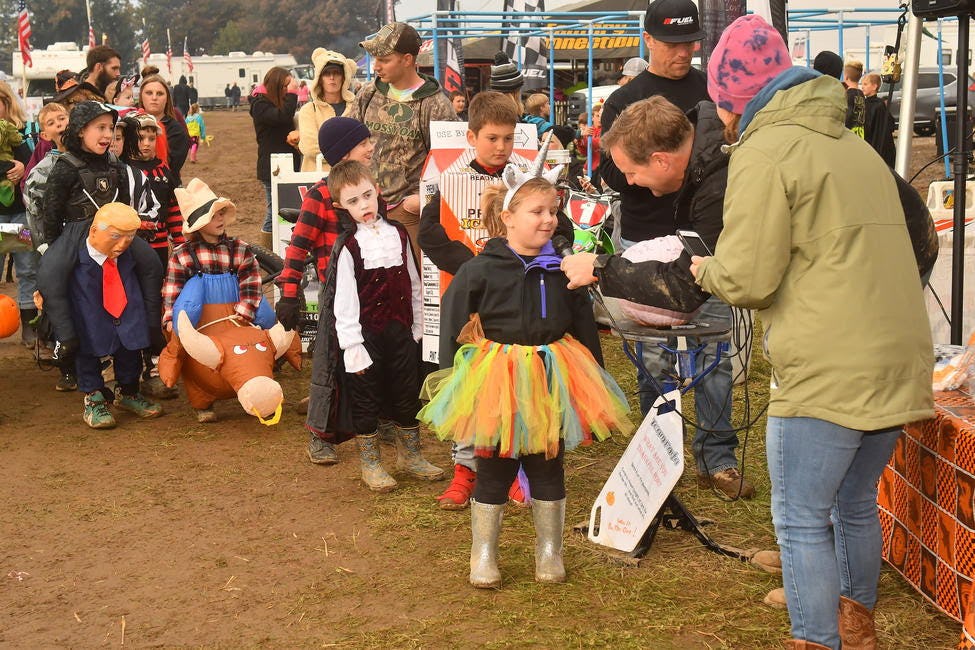 Adult (12+) gate admission is $20 for the full weekend and $10 for kids ages 6-11. Children five and under are free. All admission includes pro pit access, and concert admission. Four-wheeled ATVs will compete throughout the day on Saturday, October 26. Youth ATV racing begins at 8 a.m., followed by Micro ATVs at 9:15 a.m. and Micro bike racing at 10 a.m., then the amateurs, 4×4 pro and women at 10:30 a.m., and the pros and top amateurs' race at 1:30 p.m. On Sunday, October 27, the motorcycles will take to the woods of Indiana following the race schedule of youth racing action starting the day off at 8 a.m., women and amateur riders race at 10 a.m. and the pros and top amateurs will start at 1 p.m. IRONMAN® is a registered trademark of World Triathlon Corporation, used by permission.
For more information on the GNCC series, visit the official website at www.gnccracing.com or call (304) 284-0084. Join the conversation on the series Facebook page, follow us on Twitter and Instagram, and be sure to always hashtag #GNCC.