Team HRC's Tim Gajser clinched his second MXGP title and the third world title of his Honda career, taking the crown three rounds early after a season filled with multiple moto wins and GP overalls. Needing just 13 points from the first race, Gajser looked to challenge for the win before settling for fifth place on the tricky Imola track, which hosted this MXGP of Italy. As he crossed the line, he knew that the championship was won and he then enjoyed the moment with the rest of Team HRC as they all celebrated another MXGP success, to follow on from the 2016 victory which marked Gajser's rookie season on the Honda CRF450RW.
With the pressure of the championship off his shoulders for race two, the Slovenian rider was able to rider a bit freer and after a great battle with the rider currently in second in the championship, he was able to get the upper hand and come home in second place and finish third on the day. While he would have loved to have won the overall, the bigger picture was the championship and large number of travelling Slovenian fans made sure he fully enjoyed the moment as he took the gold plate on the podium. Numerous buses of fans made the trip across the border to cheer on their hero and as always Gajser returned the favour by celebrating with as many of them as possible, showing once again that he is a champion on and off the track.
In a season filled with records, Gajser continued his podium streak which now stands at 10 and with three rounds left, he can still become the joint most successful Honda rider in world championship history if were to win those remaining rounds.
Next up is Sweden at the beautiful Uddevalla facility in one week's time where the Gajser will once again try to put his Honda on the top step of the podium and as he confirms his status as the 2019 MXGP world champion.
Unfortunately Brian Bogers' weekend came to an early finish as a crash on lap one of the second moto left the Dutch rider with a damaged shoulder. He will now get it assessed by doctors back in Belgium in order to see what the situation will be for Sweden, when qualifying action gets underway on August 31st.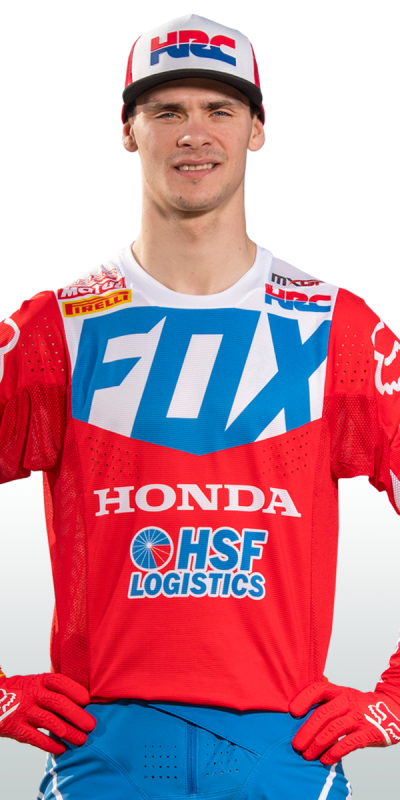 Tim Gajser 243
It is just an amazing feeling to have won this third world championship. To fight back after two really tough years and to even overcome a difficult round earlier in the year, it is just really, really great to have become champion. A big thanks to all of Team HRC, both here at the races and back in Japan who have supported me throughout this period, during the good and the bad. It is a real family I have under this awning and I am truly thankful to be riding with them for so long. We have all worked extremely hard this year to improve myself and the Honda CRF450RW but it has worked amazingly well. We have had great starts, zero issues, and I just feel really comfortable each time I get on the track, whatever the conditions.
I am struggling to say much more but it really has been an incredible experience and I'm so glad that a lot of fans from Slovenia could come out and witness this moment too. My previous wins have been in the USA, but now to have so much support here at Imola, and just throughout this year is something I am really appreciative of. Thank you to everyone who has been with me on this journey, fans team members, everyone, it means so much to me.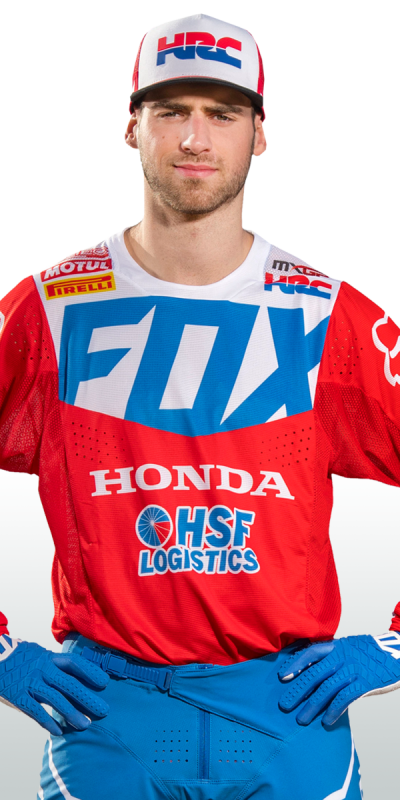 Brian Bogers 189
Unfortunately the day didn't go very well as I got 14th in race one. I just couldn't find a good rhythm and struggled on this tight and technical Imola track. Then in the second moto I had a crash right at the beginning and hit my shoulder pretty hard. I tried to ride for a couple of laps but had to pull off and now I will get back to Belgium in order to get it checked out, to see if I can ride in Sweden or not next weekend.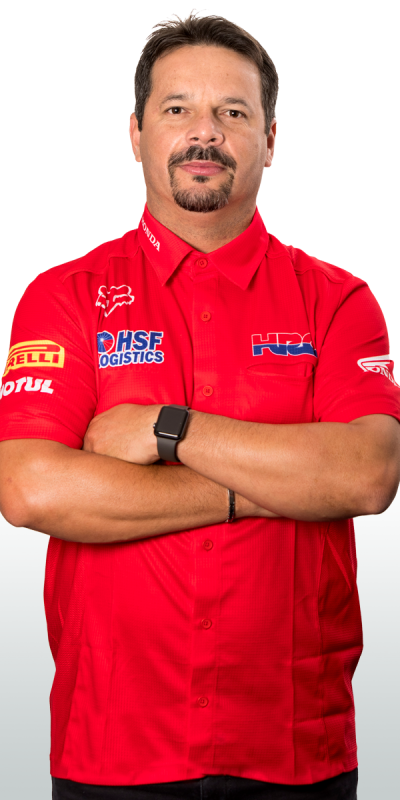 Marcus Pereira de Freitas
HRC General Manager – MXGP
I am so proud and happy for Tim to have won this MXGP championship. It certainly hasn't been easy these past couple of years but he never gave up and this title is a reward for all the effort he has put in. From his first victory at Trentino, we knew it was going to be a special year and he just kept up that level of riding which allowed him to win this title with so many rounds left to race. He has now joined an extremely special group of riders in Honda history, winning his third championship with the brand and he fully deserves it. He is a very special talent.
Unfortunately Brian wasn't able to finish the second moto and he will get checked out as quickly as possible in order to determine the next course of action.
MXGP 2019 Sunday, August 18th 2019RaceRound 15 MXGP of Italy
Race 1
SUNNYAir Temp32°CTrack CondHard Pack
| Pos. | Rider | Num | Nation | Points | Team | Constructor | Time/Gap |
| --- | --- | --- | --- | --- | --- | --- | --- |
| 1 | COLDENHOFF Glenn | 259 | NDL | 25 | Standing Construct KTM | KTM | 34:54.225 |
| 2 | SEEWER Jeremy | 91 | SWI | 22 | Monster Energy Yamaha Factory MXGP Team | Yamaha | 2.337 |
| 3 | PAULIN Gautier | 21 | FRA | 20 | Wilvo Yamaha MXGP | Yamaha | 6.973 |
| 4 | TONUS Arnaud | 4 | SWI | 18 | Wilvo Yamaha MXGP | Yamaha | 9.459 |
| 5 | GAJSER Tim | 243 | SLO | 16 | Team HRC – MXGP | Honda | 19.461 |
| 6 | JONASS Pauls | 41 | LAT | 15 | Rockstar Energy Husqvarna Factory Racing | Husqvarna | 24.446 |
| 7 | JASIKONIS Arminas | 27 | LTU | 14 | Rockstar Energy Husqvarna Factory Racing | Husqvarna | 27.533 |
| 8 | SEARLE Tommy | 100 | GBR | 13 | Bike It DRT Kawasaki | Kawasaki | 29.647 |
| 9 | LUPINO Alessandro | 77 | ITA | 12 | Gebben V Venrooy Kawasaki | Kawasaki | 30.804 |
| 10 | FEBVRE Romain | 461 | FRA | 11 | Monster Energy Yamaha Factory MXGP Team | Yamaha | 45.766 |
| 11 | STRIJBOS Kevin | 22 | BEL | 10 | JWR Yamaha Racing | Yamaha | 47.230 |
| 12 | TIXIER Jordi | 911 | FRA | 9 | Team VHR KTM Racing | KTM | 49.962 |
| 13 | VAN HOREBEEK Jeremy | 89 | BEL | 8 | Honda SR Motoblouz | Honda | 53.672 |
| 14 | BOGERS Brian | 189 | NDL | 7 | Team HRC – MXGP | Honda | 57.708 |
| 15 | LEOK Tanel | 7 | EST | 6 | A1M Husqvarna | Husqvarna | 1:00.999 |
| 16 | BRYLYAKOV Vsevolod | 18 | RUS | 5 | JWR Yamaha Racing | Yamaha | 1:02.825 |
| 17 | DE WAAL Micha-Boy | 34 | NDL | 4 | Jumbo No Fear Vamo Honda Team | Honda | 1:06.241 |
| 18 | RODRIGUEZ Anthony | 127 | VEN | 3 | Kemea Yamaha Yamalube Racing Team | Yamaha | 1:14.686 |
| 19 | KOCH Tom | 226 | GER | 2 | KTM Sarholz | KTM | 1:17.177 |
| 20 | GOLE Anton | 297 | SWE | 1 | iFly JK Racing | Yamaha | 1:43.712 |
MXGP 2019 Sunday, August 18th 2019RaceRound 15 MXGP of Italy
Results Session 2
SUNNYAir Temp32°CTrack CondHard Pack
| Pos. | Rider | Num | Nation | Points | Team | Constructor | Time/Gap |
| --- | --- | --- | --- | --- | --- | --- | --- |
| 1 | COLDENHOFF Glenn | 259 | NDL | 25 | Standing Construct KTM | KTM | 34:36.332 |
| 2 | GAJSER Tim | 243 | SLO | 22 | Team HRC – MXGP | Honda | 2.769 |
| 3 | SEEWER Jeremy | 91 | SWI | 20 | Monster Energy Yamaha Factory MXGP Team | Yamaha | 4.480 |
| 4 | PAULIN Gautier | 21 | FRA | 18 | Wilvo Yamaha MXGP | Yamaha | 10.850 |
| 5 | JONASS Pauls | 41 | LAT | 16 | Rockstar Energy Husqvarna Factory Racing | Husqvarna | 17.500 |
| 6 | FEBVRE Romain | 461 | FRA | 15 | Monster Energy Yamaha Factory MXGP Team | Yamaha | 24.930 |
| 7 | SEARLE Tommy | 100 | GBR | 14 | Bike It DRT Kawasaki | Kawasaki | 27.542 |
| 8 | TIXIER Jordi | 911 | FRA | 13 | Team VHR KTM Racing | KTM | 29.951 |
| 9 | LUPINO Alessandro | 77 | ITA | 12 | Gebben V Venrooy Kawasaki | Kawasaki | 34.606 |
| 10 | LEOK Tanel | 7 | EST | 11 | A1M Husqvarna | Husqvarna | 42.619 |
| 11 | VAN HOREBEEK Jeremy | 89 | BEL | 10 | Honda SR Motoblouz | Honda | 45.953 |
| 12 | STRIJBOS Kevin | 22 | BEL | 9 | JWR Yamaha Racing | Yamaha | 50.138 |
| 13 | JASIKONIS Arminas | 27 | LTU | 8 | Rockstar Energy Husqvarna Factory Racing | Husqvarna | 51.750 |
| 14 | BERNARDINI Samuele | 321 | ITA | 7 | Ghidinelli Racing Team | Yamaha | 1:10.313 |
| 15 | KOCH Tom | 226 | GER | 6 | KTM Sarholz | KTM | 1:11.753 |
| 16 | TONUS Arnaud | 4 | SWI | 5 | Wilvo Yamaha MXGP | Yamaha | 54.039 |
| 17 | PETROV Petar | 152 | BUL | 4 | Team Honda Red Moto | Honda | 1:23.894 |
| 18 | BRYLYAKOV Vsevolod | 18 | RUS | 3 | JWR Yamaha Racing | Yamaha | 1:36.929 |
| 19 | RODRIGUEZ Anthony | 127 | VEN | 2 | Kemea Yamaha Yamalube Racing Team | Yamaha | 1 Lap |
| 20 | GERCAR Klemen | 62 | SLO | 1 | 62 MotoSport | Husqvarna | 1 Lap |
MXGP 2019 Sunday, August 18th 2019
Rider Standings
Limited to top 30 results
| Pos. | Rider | Num | Nation | Points | Team | Constructor |
| --- | --- | --- | --- | --- | --- | --- |
| 1 | GAJSER Tim | 243 | SLO | 689 | Team HRC – MXGP | Honda |
| 2 | SEEWER Jeremy | 91 | SWI | 497 | Monster Energy Yamaha Factory MXGP Team | Yamaha |
| 3 | PAULIN Gautier | 21 | FRA | 455 | Wilvo Yamaha MXGP | Yamaha |
| 4 | TONUS Arnaud | 4 | SWI | 429 | Wilvo Yamaha MXGP | Yamaha |
| 5 | COLDENHOFF Glenn | 259 | NDL | 421 | Standing Construct KTM | KTM |
| 6 | FEBVRE Romain | 461 | FRA | 380 | Monster Energy Yamaha Factory MXGP Team | Yamaha |
| 7 | JASIKONIS Arminas | 27 | LTU | 377 | Rockstar Energy Husqvarna Factory Racing | Husqvarna |
| 8 | JONASS Pauls | 41 | LAT | 365 | Rockstar Energy Husqvarna Factory Racing | Husqvarna |
| 9 | VAN HOREBEEK Jeremy | 89 | BEL | 358 | Honda SR Motoblouz | Honda |
| 10 | CAIROLI Antonio | 222 | ITA | 358 | Red Bull KTM Factory Racing | KTM |
| 11 | ANSTIE Max | 99 | GBR | 276 | Standing Construct KTM | KTM |
| 12 | MONTICELLI Ivo | 128 | ITA | 232 | iFly JK Racing | Yamaha |
| 13 | DESALLE Clement | 25 | BEL | 208 | Monster Energy Kawasaki Racing | Kawasaki |
| 14 | BOGERS Brian | 189 | NDL | 198 | Team HRC – MXGP | Honda |
| 15 | LIEBER Julien | 33 | BEL | 184 | Monster Energy Kawasaki Racing | Kawasaki |
| 16 | LEOK Tanel | 7 | EST | 177 | A1M Husqvarna | Husqvarna |
| 17 | SIMPSON Shaun | 24 | GBR | 162 | RFX KTM Racing | KTM |
| 18 | SEARLE Tommy | 100 | GBR | 151 | Bike It DRT Kawasaki | Kawasaki |
| 19 | TIXIER Jordi | 911 | FRA | 136 | Team VHR KTM Racing | KTM |
| 20 | LUPINO Alessandro | 77 | ITA | 131 | Gebben V Venrooy Kawasaki | Kawasaki |
| 21 | STRIJBOS Kevin | 22 | BEL | 89 | JWR Yamaha Racing | Yamaha |
| 22 | BRYLYAKOV Vsevolod | 18 | RUS | 77 | JWR Yamaha Racing | Yamaha |
| 23 | PATUREL Benoit | 6 | FRA | 65 | Gebben V Venrooy Kawasaki | Kawasaki |
| 24 | HERLINGS Jeffrey | 84 | NDL | 57 | Red Bull KTM Factory Racing | KTM |
| 25 | GOLE Anton | 297 | SWE | 33 | iFly JK Racing | Yamaha |
| 26 | PETROV Petar | 152 | BUL | 31 | Team Honda Red Moto | Honda |
| 27 | LUSBO Andero | 621 | EST | 29 | Wildcard Rider | Yamaha |
| 28 | STEWART Lewis | 336 | AUS | 29 | Wildcard Rider | KTM |
| 29 | BERNARDINI Samuele | 321 | ITA | 25 | Ghidinelli Racing Team | Yamaha |
| 30 | DE WAAL Micha-Boy | 34 | NDL | 23 | Jumbo No Fear Vamo Honda Team | Honda |