Team HRC's Tim Gajser wasn't quite able to maintain his podium streak at the Turkish GP after a couple of mistakes cost him the chance of battling at the front of the field. Teammate Brian Bogers also wasn't able to capitalise on two good starts, narrowly missing out on 10th overall by just two points.
In both races, the two Honda CRF450RWs were at the sharp end of the field, with Gajser and Bogers both getting good jumps out of the gate and rounding the first few turns inside the top five. However just as Gajser was looking to put pressure on the leaders, he made a mistake in both races which meant that he lost touch and was instead battling for the podium spots. In race one, he dropped all the way to 14th spot on an Afyonkarahisar track that was difficult to pass on, but he fought his way through to sixth place by the time the chequered flag was waved. Knowing that he'd have to perform really well to get on the podium, he rounded the first lap in third place, just a couple of seconds off the lead. Learning the lines of those in front, he was poised to make a move, when a small tip-over cost him time and a couple of spots. He did eventually make his way back to third but his six-three scores were a couple of points short of third place on the podium. Despite the disappointment, he did still climb the steps to receive the golden plate once again that marks his achievement of winning the 2019 world motocross championship.
For Bogers, he spent almost half of both MXGP motos inside the top five, running good laptimes and holding his own in this competitive class. Unfortunately as the races wore on, he slipped down the field with the hot temperatures playing a part as he ended up with 13-11 results. While the end results weren't what he was hoping, it was definitely a positive sight to see the #189 showing top five speed for a good portion of the racing.
The riders now get to head home for a couple of days before getting on a flight to Shanghai, China which is where the final round of the MXGP championship will take place on September 14-15.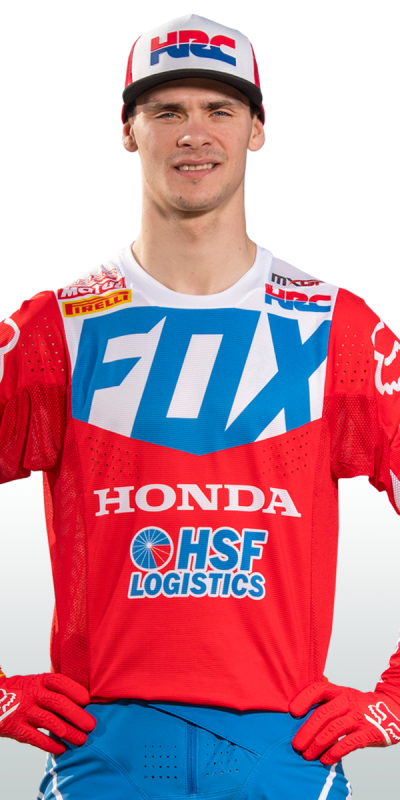 Tim Gajser 243
It was a tough weekend, but yesterday I felt okay. My speed was good, I just had that crash in the qualification race which meant I wasn't completely 100% today. I got a good start in the first race, but crashed in the wave section and managed to climb back to sixth place after remounting in around 15th. I still knew I could better and I wanted to prove that in race two and again I got a good start, in the top three where again I felt I could I run with the leaders. However I made a small mistake in a corner, tipped over and dropped to fifth. By the time I got back to third they were gone so that's where I finished. I am disappointed but I will try to take some positive things from this GP and do better next weekend in China. A big thanks to the whole team for their work again and helping me feel comfortable out on the track, and thanks for all the birthday wishes from everyone.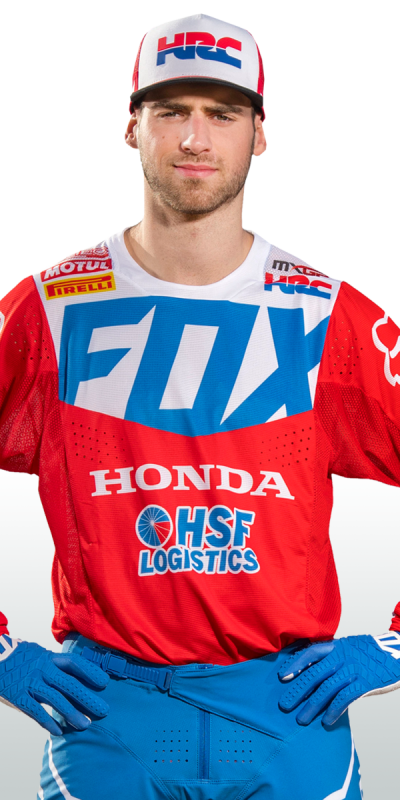 Brian Bogers 189
There were both positives and negatives from today's racing. I'm quite happy with my speed and I got two good starts which allowed me to race for 15-20 minutes with the top five guys. That is definitely something I'm happy with and it felt good when I was out there. Unfortunately the negative thing is the conditioning because it is still not on the level that it needs to be on and I wasn't able to stay in the top five. I think when it gets like this, I am still feeling the effects of missing the whole 2018 campaign because to lose all that time off the bike in my rookie 450 season is quite a big loss. I now that is something I can work on though and I do think it is improving all the time so that is something I will continue to work on. However I will definitely take the positive things into China and hope to get two more good starts because that really was a good feeling.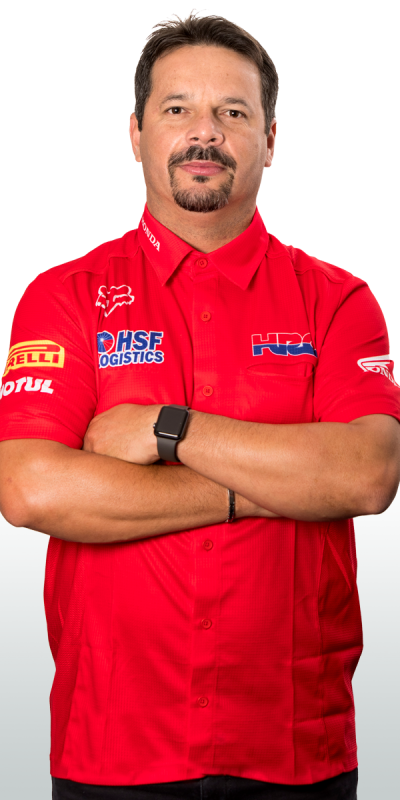 Marcus Pereira de Freitas
HRC General Manager – MXGP
Weekend's like this prove just how impressive Tim's seven-round win streak earlier in the season was, because it is so easy not to win races and GPs. Just two small mistakes cost him that opportunity and that is just how motocross can be sometimes. Tim is obviously disappointed that it happened but it really does highlight how well he has ridden in the rest of this championship winning season and we're sure he can bounce back in China.
It was also great to see Brian up the front of the field in the first half of both races. He got two good starts and rode with a fast pace and hopefully that will give him confidence for the final round in China next weekend.
MXGP 2019 Sunday, September 8th 2019
RaceRound 17 MXGP of Turkey
Race 1
SUNNYAir Temp30°CTrack CondHard Pack
| Pos. | Rider | Num | Nation | Points | Team | Constructor | Time/Gap |
| --- | --- | --- | --- | --- | --- | --- | --- |
| 1 | HERLINGS Jeffrey | 84 | NDL | 25 | Red Bull KTM Factory Racing | KTM | 35:00.462 |
| 2 | JONASS Pauls | 41 | LAT | 22 | Rockstar Energy Husqvarna Factory Racing | Husqvarna | 5.289 |
| 3 | COLDENHOFF Glenn | 259 | NDL | 20 | Standing Construct KTM | KTM | 14.900 |
| 4 | SEEWER Jeremy | 91 | SWI | 18 | Monster Energy Yamaha Factory MXGP Team | Yamaha | 16.700 |
| 5 | PAULIN Gautier | 21 | FRA | 16 | Wilvo Yamaha MXGP | Yamaha | 19.149 |
| 6 | GAJSER Tim | 243 | SLO | 15 | Team HRC – MXGP | Honda | 20.070 |
| 7 | TONUS Arnaud | 4 | SWI | 14 | Wilvo Yamaha MXGP | Yamaha | 21.909 |
| 8 | MONTICELLI Ivo | 128 | ITA | 13 | iFly JK Racing | Yamaha | 23.649 |
| 9 | VAN HOREBEEK Jeremy | 89 | BEL | 12 | Honda SR Motoblouz | Honda | 25.023 |
| 10 | JASIKONIS Arminas | 27 | LTU | 11 | Rockstar Energy Husqvarna Factory Racing | Husqvarna | 26.621 |
| 11 | STRIJBOS Kevin | 22 | BEL | 10 | JWR Yamaha Racing | Yamaha | 27.911 |
| 12 | TIXIER Jordi | 911 | FRA | 9 | Team VHR KTM Racing | KTM | 57.701 |
| 13 | BOGERS Brian | 189 | NDL | 8 | Team HRC – MXGP | Honda | 1:07.082 |
| 14 | RODRIGUEZ Anthony | 127 | VEN | 7 | Kemea Yamaha Yamalube Racing Team | Yamaha | 1:22.847 |
| 15 | LUPINO Alessandro | 77 | ITA | 6 | Gebben V Venrooy Kawasaki | Kawasaki | 1:26.674 |
| 16 | SIMPSON Shaun | 24 | GBR | 5 | RFX KTM Racing | KTM | 1:34.385 |
| 17 | PETROV Petar | 152 | BUL | 4 | Team Honda Red Moto | Honda | 1:38.796 |
| 18 | LEOK Tanel | 7 | EST | 3 | A1M Husqvarna | Husqvarna | 1:41.033 |
| 19 | RENKENS Nathan | 83 | BEL | 2 | KMP-Honda Repsol Racing | Honda | 1 Lap |
| 20 | GURYEV Artem | 555 | RUS | 1 | Wildcard Rider | KTM | 1 Lap |
MXGP 2019 Sunday, September 8th 2019RaceRound 17 MXGP of Turkey
Race 2
SUNNYAir Temp30°CTrack CondHard Pack
| Pos. | Rider | Num | Nation | Points | Team | Constructor | Time/Gap |
| --- | --- | --- | --- | --- | --- | --- | --- |
| 1 | HERLINGS Jeffrey | 84 | NDL | 25 | Red Bull KTM Factory Racing | KTM | 35:07.079 |
| 2 | COLDENHOFF Glenn | 259 | NDL | 22 | Standing Construct KTM | KTM | 2.297 |
| 3 | GAJSER Tim | 243 | SLO | 20 | Team HRC – MXGP | Honda | 33.532 |
| 4 | MONTICELLI Ivo | 128 | ITA | 18 | iFly JK Racing | Yamaha | 37.616 |
| 5 | JONASS Pauls | 41 | LAT | 16 | Rockstar Energy Husqvarna Factory Racing | Husqvarna | 39.820 |
| 6 | PAULIN Gautier | 21 | FRA | 15 | Wilvo Yamaha MXGP | Yamaha | 41.352 |
| 7 | VAN HOREBEEK Jeremy | 89 | BEL | 14 | Honda SR Motoblouz | Honda | 43.332 |
| 8 | SEEWER Jeremy | 91 | SWI | 13 | Monster Energy Yamaha Factory MXGP Team | Yamaha | 49.145 |
| 9 | STRIJBOS Kevin | 22 | BEL | 12 | JWR Yamaha Racing | Yamaha | 53.575 |
| 10 | TIXIER Jordi | 911 | FRA | 11 | Team VHR KTM Racing | KTM | 1:03.479 |
| 11 | BOGERS Brian | 189 | NDL | 10 | Team HRC – MXGP | Honda | 1:09.513 |
| 12 | LUPINO Alessandro | 77 | ITA | 9 | Gebben V Venrooy Kawasaki | Kawasaki | 1:11.077 |
| 13 | JASIKONIS Arminas | 27 | LTU | 8 | Rockstar Energy Husqvarna Factory Racing | Husqvarna | 1:15.108 |
| 14 | RODRIGUEZ Anthony | 127 | VEN | 7 | Kemea Yamaha Yamalube Racing Team | Yamaha | 1:17.088 |
| 15 | SIMPSON Shaun | 24 | GBR | 6 | RFX KTM Racing | KTM | 1:20.873 |
| 16 | TONUS Arnaud | 4 | SWI | 5 | Wilvo Yamaha MXGP | Yamaha | 1:25.369 |
| 17 | DE WAAL Micha-Boy | 34 | NDL | 4 | Jumbo No Fear Vamo Honda Team | Honda | 1:25.626 |
| 18 | LEOK Tanel | 7 | EST | 3 | A1M Husqvarna | Husqvarna | 1 Lap |
| 19 | PETROV Petar | 152 | BUL | 2 | Team Honda Red Moto | Honda | 1 Lap |
| 20 | RENKENS Nathan | 83 | BEL | 1 | KMP-Honda Repsol Racing | Honda | 1 Lap |
MXGP 2019 Sunday, September 8th 2019
Rider Standings
Limited to top 30 results
| Pos. | Rider | Num | Nation | Points | Team | Constructor |
| --- | --- | --- | --- | --- | --- | --- |
| 1 | GAJSER Tim | 243 | SLO | 769 | Team HRC – MXGP | Honda |
| 2 | SEEWER Jeremy | 91 | SWI | 558 | Monster Energy Yamaha Factory MXGP Team | Yamaha |
| 3 | PAULIN Gautier | 21 | FRA | 514 | Wilvo Yamaha MXGP | Yamaha |
| 4 | COLDENHOFF Glenn | 259 | NDL | 510 | Standing Construct KTM | KTM |
| 5 | TONUS Arnaud | 4 | SWI | 472 | Wilvo Yamaha MXGP | Yamaha |
| 6 | JONASS Pauls | 41 | LAT | 441 | Rockstar Energy Husqvarna Factory Racing | Husqvarna |
| 7 | JASIKONIS Arminas | 27 | LTU | 416 | Rockstar Energy Husqvarna Factory Racing | Husqvarna |
| 8 | VAN HOREBEEK Jeremy | 89 | BEL | 414 | Honda SR Motoblouz | Honda |
| 9 | FEBVRE Romain | 461 | FRA | 402 | Monster Energy Yamaha Factory MXGP Team | Yamaha |
| 10 | CAIROLI Antonio | 222 | ITA | 358 | Red Bull KTM Factory Racing | KTM |
| 11 | ANSTIE Max | 99 | GBR | 276 | Standing Construct KTM | KTM |
| 12 | MONTICELLI Ivo | 128 | ITA | 263 | iFly JK Racing | Yamaha |
| 13 | BOGERS Brian | 189 | NDL | 216 | Team HRC – MXGP | Honda |
| 14 | DESALLE Clement | 25 | BEL | 208 | Monster Energy Kawasaki Racing | Kawasaki |
| 15 | LEOK Tanel | 7 | EST | 186 | A1M Husqvarna | Husqvarna |
| 16 | LIEBER Julien | 33 | BEL | 184 | Monster Energy Kawasaki Racing | Kawasaki |
| 17 | SIMPSON Shaun | 24 | GBR | 181 | RFX KTM Racing | KTM |
| 18 | SEARLE Tommy | 100 | GBR | 175 | Bike It DRT Kawasaki | Kawasaki |
| 19 | TIXIER Jordi | 911 | FRA | 170 | Team VHR KTM Racing | KTM |
| 20 | LUPINO Alessandro | 77 | ITA | 156 | Gebben V Venrooy Kawasaki | Kawasaki |
| 21 | STRIJBOS Kevin | 22 | BEL | 135 | JWR Yamaha Racing | Yamaha |
| 22 | HERLINGS Jeffrey | 84 | NDL | 125 | Red Bull KTM Factory Racing | KTM |
| 23 | BRYLYAKOV Vsevolod | 18 | RUS | 90 | JWR Yamaha Racing | Yamaha |
| 24 | PATUREL Benoit | 6 | FRA | 65 | Gebben V Venrooy Kawasaki | Kawasaki |
| 25 | GOLE Anton | 297 | SWE | 46 | iFly JK Racing | Yamaha |
| 26 | PETROV Petar | 152 | BUL | 43 | Team Honda Red Moto | Honda |
| 27 | DE WAAL Micha-Boy | 34 | NDL | 40 | Jumbo No Fear Vamo Honda Team | Honda |
| 28 | RODRIGUEZ Anthony | 127 | VEN | 32 | Kemea Yamaha Yamalube Racing Team | Yamaha |
| 29 | LUSBO Andero | 621 | EST | 29 | Wildcard Rider | Yamaha |
| 30 | STEWART Lewis | 336 | AUS | 29 | Wildcard Rider | KTM |