Team HRC's Tim Gajser recorded his seventh MXGP overall of the season, and the sixth in succession after posting one-two results at the Palembang track in Indonesia. With high temperatures and brutal humidity affecting other riders, Gajser continued his hot streak of form, reeling off two holeshots on his way to his 10th moto victory in 12 gate drops. This meant he extended his lead at the top of the MXGP championship to 130 points with just seven rounds still to race. Fellow Honda CRF450RW rider Brian Bogers also put in two good rides to get his best result of the season, going twelve-eight for eighth overall at this 11th round of the world motocross championship.
After winning the qualification race yesterday, Gajser used first gate pick to great effect, ripping off holeshots in both races and leading the field for the first few laps. In the first moto, the Slovenian rider was able to then pull out a good gap quickly which allowed him to control the race and cross the line six seconds ahead of his nearest challenger. As he attempted to do the same in race two, a small mistake forced him off the track and he ended up on the ground. Remounting in third, he quickly moved into second place but with the rutted terrain proving quite treacherous, he decided to settle for second, knowing that he still had the overall wrapped up. And with the 47 points from today's motos, his MXGP championship lead increased to 130 points, and more importantly to 161 points over the next active rider in the series.
For team mate Bogers, a strong second moto finish of eighth allowed him secure eighth overall and his best overall placing of the season. After having difficulties with the heat and humidity in the first race, dropping from 8th to 12thposition, the Dutch rider regrouped in the break and set about trying to break into the top 10 for race two. After getting a good start and rounding the first lap in sixth place, he was able to achieve his aim with a strong, resilient performance, something he'll be looking to show again in Semarang next weekend.
As the series moves east to the neighbouring island of Java, the high temperatures are likely to follow them but with a week to acclimatise to the weather, both Gajser and Bogers will be hoping to continue their form at a Semarang track that hosted a round in the 2018 series too.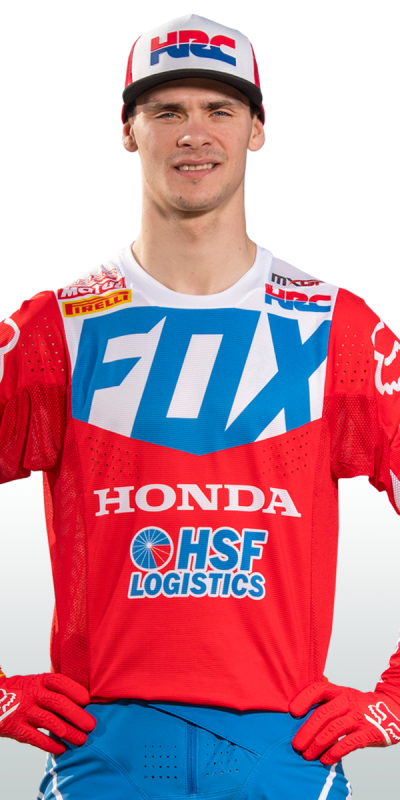 Tim Gajser 243
All day I really enjoyed riding the track. In the first moto I grabbed the holeshot and made a little gap and controlled the race. I had a lot of fun out there and managed to win the first moto. In the second race I didn't have the best jump out of the gate so I got closed off on the straight, but as they ran wide, I was able to cut inside and take another holeshot. On the fourth lap and went off the track, and my rear tyre spun on the dusty ground and I had a little crash. I re-joined the race in third place, but managed to pass Jeremy immediately. I saw that Romain was riding a really good pace out front so I decided to settle for second place and to win another overall. Obviously I'm still happy with how the day went and my standing in the championship.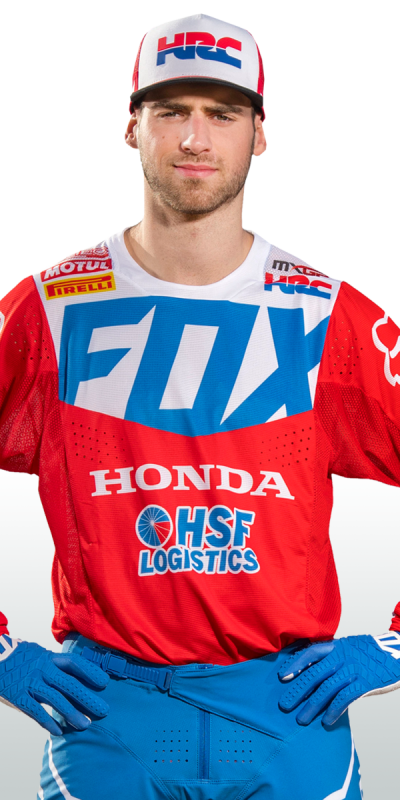 Brian Bogers 189
The day didn't really go as I wanted, especially the first moto. The first five or six laps felt okay and I was riding with the fast guys but then the heat hit me really bad and I couldn't push anymore. I felt pretty bad about that so I really wanted to try harder for race two. I got out of the gate really well and from the beginning I was pushing even harder than the first moto. I didn't want to save myself because that isn't a good mindset and it seemed to work because even when I got a little tired with the heat, I could still keep pushing. I ended up with a twelfth and an eighth for eighth overall so that's not too bad but I still want to do better.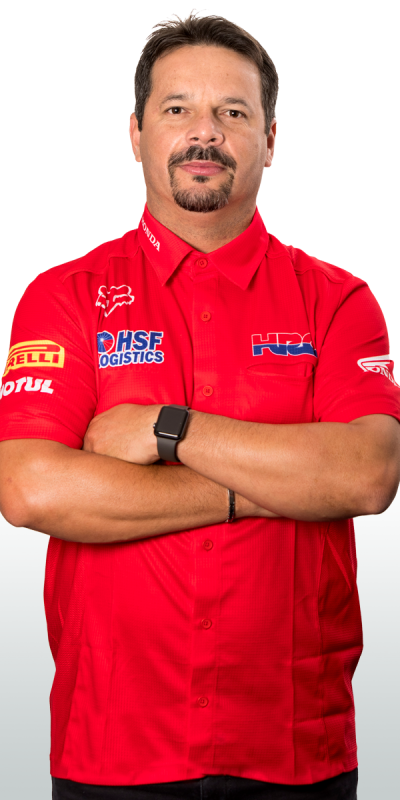 Marcus Pereira de Freitas
HRC General Manager – MXGP
With the heat and humidity making conditions really tough, it was great to see Tim once again riding so well and taking the overall. He got the holeshot in both races which was very important and although he wasn't able to win the second race, he still won his sixth overall in a row and increased his lead in the championship battle. He is doing everything we want from him and it is just great to see him riding with this much confidence.
It was also good to see Brian get his best overall placing of the season, despite not riding to his full capabilities. The heat was tough for everyone and he did much better in the second moto so we are happy with his recovery. He now has a week to adapt to these conditions a bit more and to come out swinging in Semarang.
MXGP 2019 Sunday, July 7th 2019RaceRound 12 MXGP of Asia (Indonesia)
Race 1
SUNNY WITH SHOWERSAir Temp34°CTrack CondRutted
| Pos. | Rider | Num | Nation | Points | Team | Constructor | Time/Gap |
| --- | --- | --- | --- | --- | --- | --- | --- |
| 1 | GAJSER Tim | 243 | SLO | 25 | Team HRC – MXGP | Honda | 34:36.177 |
| 2 | ANSTIE Max | 99 | GBR | 22 | Standing Construct KTM | KTM | 6.132 |
| 3 | SEEWER Jeremy | 91 | SWI | 20 | Monster Energy Yamaha Factory MXGP Team | Yamaha | 9.421 |
| 4 | FEBVRE Romain | 461 | FRA | 18 | Monster Energy Yamaha Factory MXGP Team | Yamaha | 12.671 |
| 5 | COLDENHOFF Glenn | 259 | NDL | 16 | Standing Construct KTM | KTM | 14.553 |
| 6 | TONUS Arnaud | 4 | SWI | 15 | Wilvo Yamaha MXGP | Yamaha | 17.147 |
| 7 | PAULIN Gautier | 21 | FRA | 14 | Wilvo Yamaha MXGP | Yamaha | 41.127 |
| 8 | JONASS Pauls | 41 | LAT | 13 | Rockstar Energy Husqvarna Factory Racing | Husqvarna | 58.936 |
| 9 | MONTICELLI Ivo | 128 | ITA | 12 | iFly JK Racing | Yamaha | 1:14.559 |
| 10 | JASIKONIS Arminas | 27 | LTU | 11 | Rockstar Energy Husqvarna Factory Racing | Husqvarna | 1:21.810 |
| 11 | VAN HOREBEEK Jeremy | 89 | BEL | 10 | Honda SR Motoblouz | Honda | 1:26.721 |
| 12 | BOGERS Brian | 189 | NDL | 9 | Team HRC – MXGP | Honda | 1 Lap |
| 13 | LEOK Tanel | 7 | EST | 8 | A1M Husqvarna | Husqvarna | 1 Lap |
| 14 | LUSBO Andero | 621 | EST | 7 | Wildcard Rider | Yamaha | 1 Lap |
| 15 | STEWART Lewis | 336 | AUS | 6 | Wildcard Rider | KTM | 1 Lap |
| 16 | COLES Adam | 227 | AUS | 5 | Wildcard Rider | Husqvarna | 3 Laps |
| 17 | VAN NOBELEN Jordi | 131 | NDL | 4 | Wildcard Rider | Husqvarna | 4 Laps |
| 18 | HENDRO Farhan | 162 | IDN | 3 | Wildcard Rider | Husqvarna | 4 Laps |
| 19 | LAZARONI Aldi | 288 | IDN | 2 | Wildcard Rider | Husqvarna | 4 Laps |
| 20 | DARIAS VAPANEN Bruno | 251 | SPA | 1 | Wildcard Rider | KTM | 15 Laps |
MXGP 2019 Sunday, July 7th 2019RaceRound 12 MXGP of Asia (Indonesia)
Race 2
SUNNYAir Temp31°CTrack CondRutted
| Pos. | Rider | Num | Nation | Points | Team | Constructor | Time/Gap |
| --- | --- | --- | --- | --- | --- | --- | --- |
| 1 | FEBVRE Romain | 461 | FRA | 25 | Monster Energy Yamaha Factory MXGP Team | Yamaha | 33:26.578 |
| 2 | GAJSER Tim | 243 | SLO | 22 | Team HRC – MXGP | Honda | 3.256 |
| 3 | COLDENHOFF Glenn | 259 | NDL | 20 | Standing Construct KTM | KTM | 18.172 |
| 4 | SEEWER Jeremy | 91 | SWI | 18 | Monster Energy Yamaha Factory MXGP Team | Yamaha | 19.389 |
| 5 | PAULIN Gautier | 21 | FRA | 16 | Wilvo Yamaha MXGP | Yamaha | 20.854 |
| 6 | ANSTIE Max | 99 | GBR | 15 | Standing Construct KTM | KTM | 23.871 |
| 7 | JONASS Pauls | 41 | LAT | 14 | Rockstar Energy Husqvarna Factory Racing | Husqvarna | 42.166 |
| 8 | BOGERS Brian | 189 | NDL | 13 | Team HRC – MXGP | Honda | 1:10.690 |
| 9 | LEOK Tanel | 7 | EST | 12 | A1M Husqvarna | Husqvarna | 1:15.096 |
| 10 | JASIKONIS Arminas | 27 | LTU | 11 | Rockstar Energy Husqvarna Factory Racing | Husqvarna | 1:33.943 |
| 11 | VAN HOREBEEK Jeremy | 89 | BEL | 10 | Honda SR Motoblouz | Honda | 1 Lap |
| 12 | MONTICELLI Ivo | 128 | ITA | 9 | iFly JK Racing | Yamaha | 1 Lap |
| 13 | LUSBO Andero | 621 | EST | 8 | Wildcard Rider | Yamaha | 1 Lap |
| 14 | STEWART Lewis | 336 | AUS | 7 | Wildcard Rider | KTM | 1 Lap |
| 15 | COLES Adam | 227 | AUS | 6 | Wildcard Rider | Husqvarna | 2 Laps |
| 16 | DARIAS VAPANEN Bruno | 251 | SPA | 5 | Wildcard Rider | KTM | 3 Laps |
| 17 | LAZARONI Aldi | 288 | IDN | 4 | Wildcard Rider | Husqvarna | 3 Laps |
| 18 | VAN NOBELEN Jordi | 131 | NDL | 3 | Wildcard Rider | Husqvarna | 3 Laps |
| 19 | HENDRO Farhan | 162 | IDN | 2 | Wildcard Rider | Husqvarna | 3 Laps |
| 20 | TONUS Arnaud | 4 | SWI | 1 | Wilvo Yamaha MXGP | Yamaha | 21 Laps |
MXGP 2019 Sunday, July 7th 2019
Rider Standings
Limited to top 30 results
| Pos. | Rider | Num | Nation | Points | Team | Constructor |
| --- | --- | --- | --- | --- | --- | --- |
| 1 | GAJSER Tim | 243 | SLO | 488 | Team HRC – MXGP | Honda |
| 2 | CAIROLI Antonio | 222 | ITA | 358 | Red Bull KTM Factory Racing | KTM |
| 3 | SEEWER Jeremy | 91 | SWI | 327 | Monster Energy Yamaha Factory MXGP Team | Yamaha |
| 4 | PAULIN Gautier | 21 | FRA | 318 | Wilvo Yamaha MXGP | Yamaha |
| 5 | TONUS Arnaud | 4 | SWI | 304 | Wilvo Yamaha MXGP | Yamaha |
| 6 | JASIKONIS Arminas | 27 | LTU | 271 | Rockstar Energy Husqvarna Factory Racing | Husqvarna |
| 7 | COLDENHOFF Glenn | 259 | NDL | 256 | Standing Construct KTM | KTM |
| 8 | JONASS Pauls | 41 | LAT | 246 | Rockstar Energy Husqvarna Factory Racing | Husqvarna |
| 9 | VAN HOREBEEK Jeremy | 89 | BEL | 245 | Honda SR Motoblouz | Honda |
| 10 | FEBVRE Romain | 461 | FRA | 227 | Monster Energy Yamaha Factory MXGP Team | Yamaha |
| 11 | DESALLE Clement | 25 | BEL | 208 | Monster Energy Kawasaki Racing | Kawasaki |
| 12 | ANSTIE Max | 99 | GBR | 184 | Standing Construct KTM | KTM |
| 13 | LIEBER Julien | 33 | BEL | 184 | Monster Energy Kawasaki Racing | Kawasaki |
| 14 | MONTICELLI Ivo | 128 | ITA | 161 | iFly JK Racing | Yamaha |
| 15 | SIMPSON Shaun | 24 | GBR | 129 | RFX KTM Racing | KTM |
| 16 | BOGERS Brian | 189 | NDL | 126 | Team HRC – MXGP | Honda |
| 17 | LEOK Tanel | 7 | EST | 112 | A1M Husqvarna | Husqvarna |
| 18 | SEARLE Tommy | 100 | GBR | 103 | Bike It DRT Kawasaki | Kawasaki |
| 19 | LUPINO Alessandro | 77 | ITA | 103 | Gebben V Venrooy Kawasaki | Kawasaki |
| 20 | TIXIER Jordi | 911 | FRA | 81 | Team VHR KTM Racing | KTM |
| 21 | PATUREL Benoit | 6 | FRA | 65 | Gebben V Venrooy Kawasaki | Kawasaki |
| 22 | HERLINGS Jeffrey | 84 | NDL | 57 | Red Bull KTM Factory Racing | KTM |
| 23 | BRYLYAKOV Vsevolod | 18 | RUS | 44 | JWR Yamaha Racing | Yamaha |
| 24 | STRIJBOS Kevin | 22 | BEL | 43 | JWR Yamaha Racing | Yamaha |
| 25 | GOLE Anton | 297 | SWE | 30 | iFly JK Racing | Yamaha |
| 26 | PETROV Petar | 152 | BUL | 24 | Team Honda Red Moto | Honda |
| 27 | BUTRON Jose | 17 | SPA | 18 | JD Gunnex KTM Racing Team | KTM |
| 28 | LUSBO Andero | 621 | EST | 15 | Wildcard Rider | Yamaha |
| 29 | BERNARDINI Samuele | 321 | ITA | 15 | Ghidinelli Racing Team | Yamaha |
| 30 | GUILLOD Valentin | 92 | SWI | 14 | Standing Construct KTM | KTM |