Team HRC's Tim Gajser increased his lead at the top of the 2019 world motocross championship table to 177 points after finishing second overall at the MXGP of the Czech Republic. Watched on by a record number of Slovenian fans who made the journey north to watch their Honda CRF450RW-riding hero, the #243 rode solidly throughout both races to secure his podium position, his eighth in a row. Team mate Brian Bogers also had a good day, placing ninth in race one, before finishing just outside the top 10 in race two.
On the hard pack Loket track, Gajser made two good starts, placing inside the top three in both races and with passing opportunities limited due to the lack of line options, he settled for two second places to score 44 points on the day. This was good enough for second overall and more importantly, four points more than his nearest championship rival which left the gap at 177 with just 250 points left to race for. Unfortunately it does mean his winning streak ended at a record-breaking seven, but the vast number of Slovenian fans didn't care one bit as the double world champion took another massive step towards title number three.
Taking a risky outside gate pick in both motos, Bogers stormed around the first corner in race one in fifth position. Holding a good speed early on, he eventually succumbed to arm pump on a track that was really tricky to go fast on. By the end of the race, he crossed the line in ninth place which was still inside the top 10, his goal at the beginning of the moto. Unfortunately the outside gate pick didn't pay off in race two and he rounded the first bend outside the top 20. Making a lot of quick passes early on, he managed to work his way up to 13th by the midpoint of the race and although his pace was good, he could only finish in 12th, which was enough for 11th overall.
Next weekend the MXGPs head to Lommel for one of the toughest tests of the year as the riders have to deal with the deep sand in the north of Belgium. It is certainly a much different surface than the hard pack surface they found this weekend in Loket, but as Gajser has proved over the last 13 rounds, he is capable on every type of terrain. He also knows that with a couple more good results, his dream of a third world championship title becomes ever nearer. Bogers is also looking forward to racing at a track that he grew up riding on and will once again set his sights on the MXGP top 10 when the gate drops in Lommel on Sunday 4th August.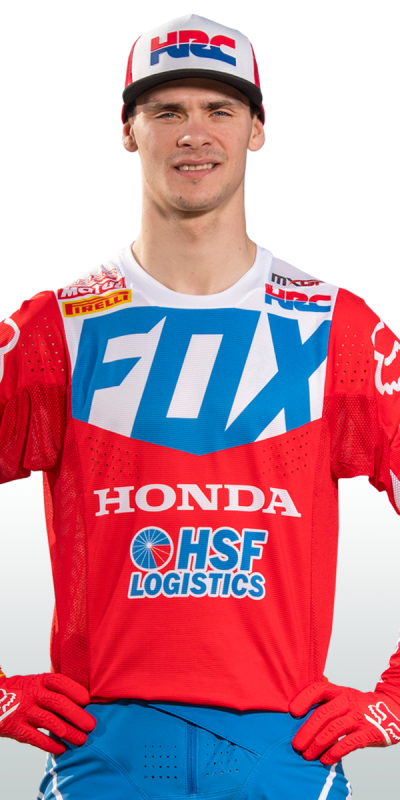 Tim Gajser 243
The track was really tough, it was hard and slick so I didn't feel so comfortable on the track, but I'm quite happy with how the motos turned out. I took two good starts and I was riding smart and I didn't want to push too much because it was easy to make a mistake. Overall it was a good weekend and I'm happy I could give all the Slovenian fans something to cheer about. They support me so much on the track and I could really hear them around the start straight bend each lap. So many of them made the trip and I am just really thankful for every one of them and it is just an awesome feeling to be out there and celebrating with them.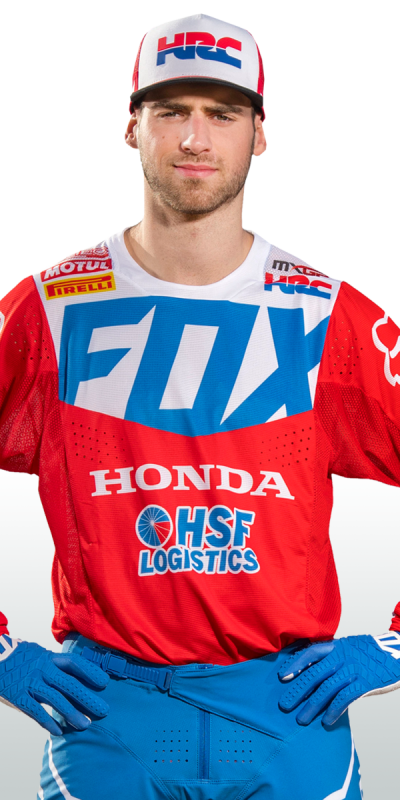 Brian Bogers 189
I'm quite happy with the results today. In the first moto I got a good start and was in fifth and I felt good there. I showed some good speed at the beginning of the race but then I got arm pump and had to slow down. Still, I finished ninth and that's good. Unfortunately the start didn't work in the second race and I had to start from around 20th. I fought back to 12th though and I'm happy with how I rode. It was much better than Indonesia and it was important to bounce back. I'm certainly looking forward to next weekend on a sand track that I enjoy riding on.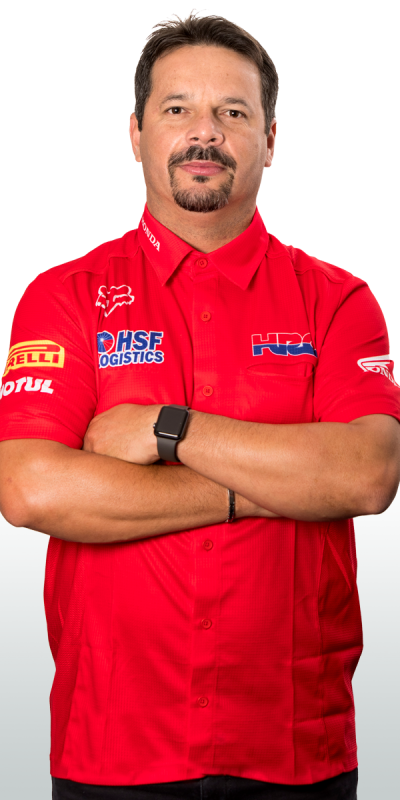 Marcus Pereira de Freitas
HRC General Manager – MXGP
It was a really professional performance from Tim this weekend, despite being under a lot of pressure with all his fans that came to visit. The track was difficult to ride, and he made sure that he finished in second place, rather than take risks in order to go for the win. Of course we would have loved to have seen him on top of the podium for the eighth race in a row, but the championship is the main focus and he did what he needed to do, and that was extend his lead at the top of the championship even further.
Brian also rode well in both races and can consider himself unlucky not to have finished inside the top 10 overall. It was great to see him and Tim up near the front in the early stages of race one and we hope that he can manage to do the same again in Lommel, on a track that should really suit him.
MXGP 2019 Sunday, July 28th 2019
RaceRound 13 MXGP of Czech Republic
Race 1
CLOUDYAir Temp28°CTrack CondHard Pack
| Pos. | Rider | Num | Nation | Points | Team | Constructor | Time/Gap |
| --- | --- | --- | --- | --- | --- | --- | --- |
| 1 | FEBVRE Romain | 461 | FRA | 25 | Monster Energy Yamaha Factory MXGP Team | Yamaha | 35:16.428 |
| 2 | GAJSER Tim | 243 | SLO | 22 | Team HRC – MXGP | Honda | 1.767 |
| 3 | SEEWER Jeremy | 91 | SWI | 20 | Monster Energy Yamaha Factory MXGP Team | Yamaha | 3.019 |
| 4 | PAULIN Gautier | 21 | FRA | 18 | Wilvo Yamaha MXGP | Yamaha | 4.994 |
| 5 | JASIKONIS Arminas | 27 | LTU | 16 | Rockstar Energy Husqvarna Factory Racing | Husqvarna | 6.234 |
| 6 | JONASS Pauls | 41 | LAT | 15 | Rockstar Energy Husqvarna Factory Racing | Husqvarna | 11.778 |
| 7 | VAN HOREBEEK Jeremy | 89 | BEL | 14 | Honda SR Motoblouz | Honda | 23.045 |
| 8 | ANSTIE Max | 99 | GBR | 13 | Standing Construct KTM | KTM | 29.981 |
| 9 | BOGERS Brian | 189 | NDL | 12 | Team HRC – MXGP | Honda | 36.277 |
| 10 | TONUS Arnaud | 4 | SWI | 11 | Wilvo Yamaha MXGP | Yamaha | 39.366 |
| 11 | SIMPSON Shaun | 24 | GBR | 10 | RFX KTM Racing | KTM | 40.663 |
| 12 | SEARLE Tommy | 100 | GBR | 9 | Bike It DRT Kawasaki | Kawasaki | 44.529 |
| 13 | COLDENHOFF Glenn | 259 | NDL | 8 | Standing Construct KTM | KTM | 55.289 |
| 14 | STRIJBOS Kevin | 22 | BEL | 7 | JWR Yamaha Racing | Yamaha | 56.989 |
| 15 | BRYLYAKOV Vsevolod | 18 | RUS | 6 | JWR Yamaha Racing | Yamaha | 58.186 |
| 16 | MONTICELLI Ivo | 128 | ITA | 5 | iFly JK Racing | Yamaha | 1:02.169 |
| 17 | LEOK Tanel | 7 | EST | 4 | A1M Husqvarna | Husqvarna | 1:03.587 |
| 18 | KOCH Tom | 226 | GER | 3 | KTM Sarholz | KTM | 1:23.691 |
| 19 | BERNARDINI Samuele | 321 | ITA | 2 | Ghidinelli Racing Team | Yamaha | 1:37.141 |
| 20 | RODRIGUEZ Anthony | 127 | VEN | 1 | Kemea Yamaha Yamalube Racing Team | Yamaha | 1:44.168 |
MXGP 2019 Sunday, July 28th 2019RaceRound 13 MXGP of Czech Republic
Race 2
CLOUDYAir Temp28°CTrack CondHard Pack
| Pos. | Rider | Num | Nation | Points | Team | Constructor | Time/Gap |
| --- | --- | --- | --- | --- | --- | --- | --- |
| 1 | FEBVRE Romain | 461 | FRA | 25 | Monster Energy Yamaha Factory MXGP Team | Yamaha | 35:24.868 |
| 2 | GAJSER Tim | 243 | SLO | 22 | Team HRC – MXGP | Honda | 2.779 |
| 3 | SEEWER Jeremy | 91 | SWI | 20 | Monster Energy Yamaha Factory MXGP Team | Yamaha | 7.399 |
| 4 | PAULIN Gautier | 21 | FRA | 18 | Wilvo Yamaha MXGP | Yamaha | 10.737 |
| 5 | TONUS Arnaud | 4 | SWI | 16 | Wilvo Yamaha MXGP | Yamaha | 12.992 |
| 6 | VAN HOREBEEK Jeremy | 89 | BEL | 15 | Honda SR Motoblouz | Honda | 14.782 |
| 7 | JONASS Pauls | 41 | LAT | 14 | Rockstar Energy Husqvarna Factory Racing | Husqvarna | 16.522 |
| 8 | COLDENHOFF Glenn | 259 | NDL | 13 | Standing Construct KTM | KTM | 26.870 |
| 9 | JASIKONIS Arminas | 27 | LTU | 12 | Rockstar Energy Husqvarna Factory Racing | Husqvarna | 29.205 |
| 10 | ANSTIE Max | 99 | GBR | 11 | Standing Construct KTM | KTM | 50.995 |
| 11 | STRIJBOS Kevin | 22 | BEL | 10 | JWR Yamaha Racing | Yamaha | 58.846 |
| 12 | BOGERS Brian | 189 | NDL | 9 | Team HRC – MXGP | Honda | 1:03.552 |
| 13 | BRYLYAKOV Vsevolod | 18 | RUS | 8 | JWR Yamaha Racing | Yamaha | 1:05.105 |
| 14 | SIMPSON Shaun | 24 | GBR | 7 | RFX KTM Racing | KTM | 1:06.014 |
| 15 | LEOK Tanel | 7 | EST | 6 | A1M Husqvarna | Husqvarna | 1:06.728 |
| 16 | TIXIER Jordi | 911 | FRA | 5 | Team VHR KTM Racing | KTM | 1:26.475 |
| 17 | LUPINO Alessandro | 77 | ITA | 4 | Gebben V Venrooy Kawasaki | Kawasaki | 1:35.512 |
| 18 | KOCH Tom | 226 | GER | 3 | KTM Sarholz | KTM | 1:38.222 |
| 19 | DE WAAL Micha-Boy | 34 | NDL | 2 | Jumbo No Fear Vamo Honda Team | Honda | 1:44.709 |
| 20 | BERNARDINI Samuele | 321 | ITA | 1 | Ghidinelli Racing Team | Yamaha | 1:54.349 |
MXGP 2019 Sunday, July 28th 2019
Rider Standings
Limited to top 30 results
| Pos. | Rider | Num | Nation | Points | Team | Constructor |
| --- | --- | --- | --- | --- | --- | --- |
| 1 | GAJSER Tim | 243 | SLO | 582 | Team HRC – MXGP | Honda |
| 2 | SEEWER Jeremy | 91 | SWI | 405 | Monster Energy Yamaha Factory MXGP Team | Yamaha |
| 3 | PAULIN Gautier | 21 | FRA | 379 | Wilvo Yamaha MXGP | Yamaha |
| 4 | TONUS Arnaud | 4 | SWI | 373 | Wilvo Yamaha MXGP | Yamaha |
| 5 | CAIROLI Antonio | 222 | ITA | 358 | Red Bull KTM Factory Racing | KTM |
| 6 | JASIKONIS Arminas | 27 | LTU | 327 | Rockstar Energy Husqvarna Factory Racing | Husqvarna |
| 7 | COLDENHOFF Glenn | 259 | NDL | 309 | Standing Construct KTM | KTM |
| 8 | VAN HOREBEEK Jeremy | 89 | BEL | 300 | Honda SR Motoblouz | Honda |
| 9 | JONASS Pauls | 41 | LAT | 297 | Rockstar Energy Husqvarna Factory Racing | Husqvarna |
| 10 | FEBVRE Romain | 461 | FRA | 293 | Monster Energy Yamaha Factory MXGP Team | Yamaha |
| 11 | ANSTIE Max | 99 | GBR | 237 | Standing Construct KTM | KTM |
| 12 | DESALLE Clement | 25 | BEL | 208 | Monster Energy Kawasaki Racing | Kawasaki |
| 13 | MONTICELLI Ivo | 128 | ITA | 189 | iFly JK Racing | Yamaha |
| 14 | LIEBER Julien | 33 | BEL | 184 | Monster Energy Kawasaki Racing | Kawasaki |
| 15 | BOGERS Brian | 189 | NDL | 165 | Team HRC – MXGP | Honda |
| 16 | SIMPSON Shaun | 24 | GBR | 146 | RFX KTM Racing | KTM |
| 17 | LEOK Tanel | 7 | EST | 142 | A1M Husqvarna | Husqvarna |
| 18 | SEARLE Tommy | 100 | GBR | 112 | Bike It DRT Kawasaki | Kawasaki |
| 19 | LUPINO Alessandro | 77 | ITA | 107 | Gebben V Venrooy Kawasaki | Kawasaki |
| 20 | TIXIER Jordi | 911 | FRA | 86 | Team VHR KTM Racing | KTM |
| 21 | PATUREL Benoit | 6 | FRA | 65 | Gebben V Venrooy Kawasaki | Kawasaki |
| 22 | STRIJBOS Kevin | 22 | BEL | 60 | JWR Yamaha Racing | Yamaha |
| 23 | BRYLYAKOV Vsevolod | 18 | RUS | 58 | JWR Yamaha Racing | Yamaha |
| 24 | HERLINGS Jeffrey | 84 | NDL | 57 | Red Bull KTM Factory Racing | KTM |
| 25 | GOLE Anton | 297 | SWE | 30 | iFly JK Racing | Yamaha |
| 26 | LUSBO Andero | 621 | EST | 29 | Wildcard Rider | Yamaha |
| 27 | STEWART Lewis | 336 | AUS | 29 | Wildcard Rider | KTM |
| 28 | PETROV Petar | 152 | BUL | 24 | Team Honda Red Moto | Honda |
| 29 | COLES Adam | 227 | AUS | 22 | Wildcard Rider | Husqvarna |
| 30 | BUTRON Jose | 17 | SPA | 18 | JD Gunnex KTM Racing Team | KTM |