Team HRC's Tim Gajser was denied a 10th MXGP overall victory as a last lap pass elsewhere on the track meant that the Slovenian's second moto victory wasn't quite enough for the win at the 2019 MXGP of Sweden.
While there was a little disappointment that his 16th race win didn't result in the top step of the podium, it was still an impressive performance from the Honda CRF450RW rider after wrapping up the MXGP world championship title last weekend in Italy. His three-one finishes were a perfect way to get over the potential title-winning hangover and the win in the second race proves once again he is the fastest rider in this highly competitive MXGP class.
Passing was most definitely at a premium on this Uddevalla track, as riders tried desperately to find different lines on the hard-packed stony surface. With two good starts, Gajser put himself in a strong position in both races, but he'll be left to rue a small mistake in race one when running in second place. This only dropped him down to fourth place, but it was enough to put him out of his rhythm and it forced him to try and make more passes on this technical circuit. In the end he was able to get up to third place, which would have been good enough if the second moto had finished one lap earlier.
In race two, he once again was in second place after lap one, but this time he rode in a smooth manner, keeping the pressure on and looking for passes for the duration. Eventually, after finding the right spot to make his move, he swept round the outside and into first place with just a few laps remaining. As it stood at that moment he would have won the overall, but as the laps ticked down, others riders made mistakes which moved the eventual overall winner up to the second place he needed on the very last lap.
With two events left to race, Gajser now has a weekend off, before back to back races in Turkey and China which will round out his highly successful 2019 campaign. Hopefully by then, teammate Brian Bogers will be fully recovered from his shoulder injury and he'll meet up with the rest of Team HRC at Afyonkarahisar on September 7-8.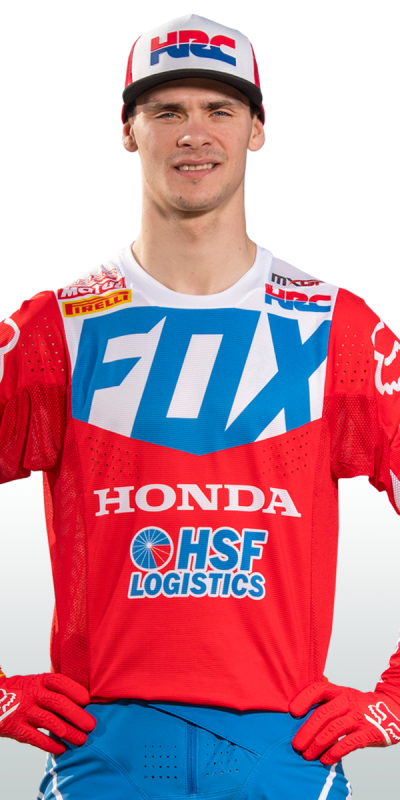 Tim Gajser 243
Overall I was quite happy with the weekend. In the first moto I had a solid start and was in second place, but then I made a mistake and two guys passed me. It was really difficult to pass them back but I was able to finish in third. The second moto went a lot better, with another good start putting me in second once again. My riding was good and I was feeling comfortable but I didn't want to pass him too early in the race because I saw that we had a good pace and I didn't want to give him any lines. Then with five laps from the end, I made a push to pass him and I made it happen, immediately pulling out a gap. I could then see the battle behind and I could see the battle for second, so I knew when Glenn passed Pauls that I would finish second overall. Still, it was a good performance and I'm happy with the day.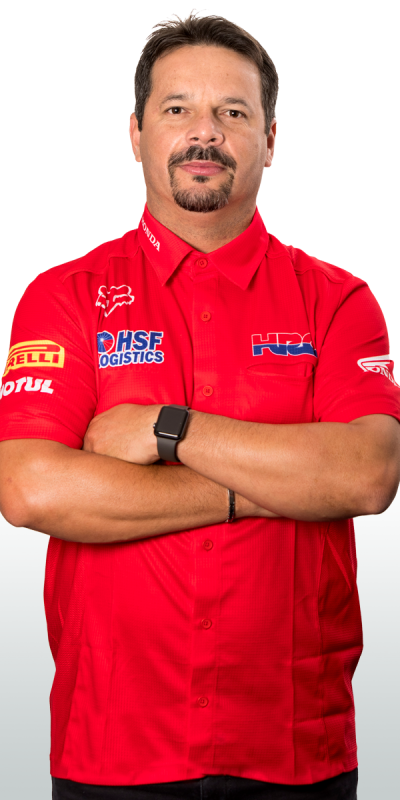 Marcus Pereira de Freitas
HRC General Manager – MXGP
It was definitely nice to see Tim back winning a race again, after all the pressure of having to win the championship these past few rounds. He showed good speed all weekend and if wasn't for one small mistake, he would have got the overall too. The track was very difficult to pass on though and that was critical because normally he would have been able to come back from that much better. However, three-one is a good result and now we can look forward to a weekend off after a couple of very intense events.
MXGP 2019 Sunday, August 25th 2019RaceRound 16 MXGP of Sweden
Race 1
SUNNYAir Temp23°CTrack CondStony
| Pos. | Rider | Num | Nation | Points | Team | Constructor | Time/Gap |
| --- | --- | --- | --- | --- | --- | --- | --- |
| 1 | COLDENHOFF Glenn | 259 | NDL | 25 | Standing Construct KTM | KTM | 34:53.626 |
| 2 | FEBVRE Romain | 461 | FRA | 22 | Monster Energy Yamaha Factory MXGP Team | Yamaha | 1.070 |
| 3 | GAJSER Tim | 243 | SLO | 20 | Team HRC – MXGP | Honda | 7.239 |
| 4 | JONASS Pauls | 41 | LAT | 18 | Rockstar Energy Husqvarna Factory Racing | Husqvarna | 17.369 |
| 5 | VAN HOREBEEK Jeremy | 89 | BEL | 16 | Honda SR Motoblouz | Honda | 36.305 |
| 6 | PAULIN Gautier | 21 | FRA | 15 | Wilvo Yamaha MXGP | Yamaha | 45.441 |
| 7 | SEEWER Jeremy | 91 | SWI | 14 | Monster Energy Yamaha Factory MXGP Team | Yamaha | 49.112 |
| 8 | SEARLE Tommy | 100 | GBR | 13 | Bike It DRT Kawasaki | Kawasaki | 53.522 |
| 9 | STRIJBOS Kevin | 22 | BEL | 12 | JWR Yamaha Racing | Yamaha | 55.459 |
| 10 | JASIKONIS Arminas | 27 | LTU | 11 | Rockstar Energy Husqvarna Factory Racing | Husqvarna | 58.189 |
| 11 | LUPINO Alessandro | 77 | ITA | 10 | Gebben V Venrooy Kawasaki | Kawasaki | 1:00.542 |
| 12 | TONUS Arnaud | 4 | SWI | 9 | Wilvo Yamaha MXGP | Yamaha | 1:07.498 |
| 13 | GOLE Anton | 297 | SWE | 8 | iFly JK Racing | Yamaha | 1:08.602 |
| 14 | SIMPSON Shaun | 24 | GBR | 7 | RFX KTM Racing | KTM | 1:10.220 |
| 15 | DE WAAL Micha-Boy | 34 | NDL | 6 | Jumbo No Fear Vamo Honda Team | Honda | 1:11.656 |
| 16 | BRYLYAKOV Vsevolod | 18 | RUS | 5 | JWR Yamaha Racing | Yamaha | 1:19.570 |
| 17 | TIXIER Jordi | 911 | FRA | 4 | Team VHR KTM Racing | KTM | 1:24.863 |
| 18 | PETROV Petar | 152 | BUL | 3 | Team Honda Red Moto | Honda | 1:33.539 |
| 19 | RODRIGUEZ Anthony | 127 | VEN | 2 | Kemea Yamaha Yamalube Racing Team | Yamaha | 1:40.384 |
| 20 | LEOK Tanel | 7 | EST | 1 | A1M Husqvarna | Husqvarna | 1:42.936 |
MXGP 2019 Sunday, August 25th 2019RaceRound 16 MXGP of Sweden
Race 2
SUNNYAir Temp23°CTrack CondStony
| Pos. | Rider | Num | Nation | Points | Team | Constructor | Time/Gap |
| --- | --- | --- | --- | --- | --- | --- | --- |
| 1 | GAJSER Tim | 243 | SLO | 25 | Team HRC – MXGP | Honda | 34:44.502 |
| 2 | COLDENHOFF Glenn | 259 | NDL | 22 | Standing Construct KTM | KTM | 4.820 |
| 3 | JONASS Pauls | 41 | LAT | 20 | Rockstar Energy Husqvarna Factory Racing | Husqvarna | 6.741 |
| 4 | HERLINGS Jeffrey | 84 | NDL | 18 | Red Bull KTM Factory Racing | KTM | 16.320 |
| 5 | SEEWER Jeremy | 91 | SWI | 16 | Monster Energy Yamaha Factory MXGP Team | Yamaha | 18.793 |
| 6 | TONUS Arnaud | 4 | SWI | 15 | Wilvo Yamaha MXGP | Yamaha | 29.379 |
| 7 | VAN HOREBEEK Jeremy | 89 | BEL | 14 | Honda SR Motoblouz | Honda | 33.891 |
| 8 | PAULIN Gautier | 21 | FRA | 13 | Wilvo Yamaha MXGP | Yamaha | 36.572 |
| 9 | STRIJBOS Kevin | 22 | BEL | 12 | JWR Yamaha Racing | Yamaha | 38.461 |
| 10 | SEARLE Tommy | 100 | GBR | 11 | Bike It DRT Kawasaki | Kawasaki | 42.154 |
| 11 | TIXIER Jordi | 911 | FRA | 10 | Team VHR KTM Racing | KTM | 52.484 |
| 12 | JASIKONIS Arminas | 27 | LTU | 9 | Rockstar Energy Husqvarna Factory Racing | Husqvarna | 57.614 |
| 13 | BRYLYAKOV Vsevolod | 18 | RUS | 8 | JWR Yamaha Racing | Yamaha | 58.629 |
| 14 | DE WAAL Micha-Boy | 34 | NDL | 7 | Jumbo No Fear Vamo Honda Team | Honda | 1:07.271 |
| 15 | RODRIGUEZ Anthony | 127 | VEN | 6 | Kemea Yamaha Yamalube Racing Team | Yamaha | 1:12.871 |
| 16 | GOLE Anton | 297 | SWE | 5 | iFly JK Racing | Yamaha | 1:15.341 |
| 17 | KOCH Tom | 226 | GER | 4 | KTM Sarholz | KTM | 1:20.097 |
| 18 | PETROV Petar | 152 | BUL | 3 | Team Honda Red Moto | Honda | 1:42.261 |
| 19 | LEOK Tanel | 7 | EST | 2 | A1M Husqvarna | Husqvarna | 1 Lap |
| 20 | SIMPSON Shaun | 24 | GBR | 1 | RFX KTM Racing | KTM | 1 Lap |
MXGP 2019 Sunday, August 25th 2019
Rider Standings
Limited to top 30 results
| Pos. | Rider | Num | Nation | Points | Team | Constructor |
| --- | --- | --- | --- | --- | --- | --- |
| 1 | GAJSER Tim | 243 | SLO | 734 | Team HRC – MXGP | Honda |
| 2 | SEEWER Jeremy | 91 | SWI | 527 | Monster Energy Yamaha Factory MXGP Team | Yamaha |
| 3 | PAULIN Gautier | 21 | FRA | 483 | Wilvo Yamaha MXGP | Yamaha |
| 4 | COLDENHOFF Glenn | 259 | NDL | 468 | Standing Construct KTM | KTM |
| 5 | TONUS Arnaud | 4 | SWI | 453 | Wilvo Yamaha MXGP | Yamaha |
| 6 | JONASS Pauls | 41 | LAT | 403 | Rockstar Energy Husqvarna Factory Racing | Husqvarna |
| 7 | FEBVRE Romain | 461 | FRA | 402 | Monster Energy Yamaha Factory MXGP Team | Yamaha |
| 8 | JASIKONIS Arminas | 27 | LTU | 397 | Rockstar Energy Husqvarna Factory Racing | Husqvarna |
| 9 | VAN HOREBEEK Jeremy | 89 | BEL | 388 | Honda SR Motoblouz | Honda |
| 10 | CAIROLI Antonio | 222 | ITA | 358 | Red Bull KTM Factory Racing | KTM |
| 11 | ANSTIE Max | 99 | GBR | 276 | Standing Construct KTM | KTM |
| 12 | MONTICELLI Ivo | 128 | ITA | 232 | iFly JK Racing | Yamaha |
| 13 | DESALLE Clement | 25 | BEL | 208 | Monster Energy Kawasaki Racing | Kawasaki |
| 14 | BOGERS Brian | 189 | NDL | 198 | Team HRC – MXGP | Honda |
| 15 | LIEBER Julien | 33 | BEL | 184 | Monster Energy Kawasaki Racing | Kawasaki |
| 16 | LEOK Tanel | 7 | EST | 180 | A1M Husqvarna | Husqvarna |
| 17 | SEARLE Tommy | 100 | GBR | 175 | Bike It DRT Kawasaki | Kawasaki |
| 18 | SIMPSON Shaun | 24 | GBR | 170 | RFX KTM Racing | KTM |
| 19 | TIXIER Jordi | 911 | FRA | 150 | Team VHR KTM Racing | KTM |
| 20 | LUPINO Alessandro | 77 | ITA | 141 | Gebben V Venrooy Kawasaki | Kawasaki |
| 21 | STRIJBOS Kevin | 22 | BEL | 113 | JWR Yamaha Racing | Yamaha |
| 22 | BRYLYAKOV Vsevolod | 18 | RUS | 90 | JWR Yamaha Racing | Yamaha |
| 23 | HERLINGS Jeffrey | 84 | NDL | 75 | Red Bull KTM Factory Racing | KTM |
| 24 | PATUREL Benoit | 6 | FRA | 65 | Gebben V Venrooy Kawasaki | Kawasaki |
| 25 | GOLE Anton | 297 | SWE | 46 | iFly JK Racing | Yamaha |
| 26 | PETROV Petar | 152 | BUL | 37 | Team Honda Red Moto | Honda |
| 27 | DE WAAL Micha-Boy | 34 | NDL | 36 | Jumbo No Fear Vamo Honda Team | Honda |
| 28 | LUSBO Andero | 621 | EST | 29 | Wildcard Rider | Yamaha |
| 29 | STEWART Lewis | 336 | AUS | 29 | Wildcard Rider | KTM |
| 30 | BERNARDINI Samuele | 321 | ITA | 25 | Ghidinelli Racing Team | Yamaha |