Munoz and Swoll Earn 250 And Open Pro Sport Championships
HURRICANE MILLS, Tenn. (August 3, 2019) – Day four of racing at the 2019 Rocky Mountain ATV/MC AMA Amateur National Motocross Championship, presented by Lucas Oil, took place Friday, August 2, at Loretta Lynn Ranch in Hurricane Mills, Tennessee. As the second motos finished up, higher temperatures and humidity greeted the start of the third and final motos.
Starting out the day was the Supermini 1 (12-15) class with Maximus Vohland grabbing the second moto win. Vohland earned the moto on win as well and now sits first overall heading into the third moto this afternoon. Caden Braswell finished second after a rough moto one where he finished 10th. Gavin Towers rounded out the second moto top three, with Marcello Leodorico and Talon Hawkins completing the top five.
The 250 Pro Sport classes third and final moto would be one of the most dramatic motos of the 2019 AMA Amateur National. With Honda's Jett Lawrence winning the first moto and taking second in moto two, he looked to be a title favorite. Lawrence's teammate, Jo Shimoda, earned the second moto win, and would be a contender as well heading into the moto. As the gate dropped and the riders took off, Lawrence would find himself out front racing towards the Loretta's title. However, things would change drastically as a mechanical issue would force him to push his bike to the mechanics area and ultimately be unable to finish the third moto.
Moving into the lead would be KTM's Jesse Flock with Honda's Carson Mumford in second and Husqvarna's Hardy Munoz in third. As the trio came through the final scores were tallied and Munoz would capture the 250 Pro Sport National Title with 3-4-3 moto finishes. Mumford take second overall with 2-8-2k, and Flock in third with 5-11-1.
The same fate would await Shimoda as he fell off the live timing and scoring feed, and would be scored as a DNF for the final moto. KTM's Pierce Brown was having a good run and moving forward, but would suffer a crash. As he waved medics off you could see the pain and frustration, but Brown would not be able to compete much long and would also suffer a DNF.
In the 450 B class Austin Black and Matthew LeBlanc would battle it out early. Black continued to lead the race with LeBlanc behind him trying to stay consistent to win the championship. Black would win the third moto, but after a DNF in the first moto he would finish 11th overall this year. LeBlanc came through second in the final moto, and with 1-1-2 moto finishes would clinch the 2019 450 B National Championship. Levi Newby would earn second overall with 2-2-3 moto scores and Wesley Allen earns third overall.
It was a battle of consistency in the 125 C class this year as KTM's Hunter Nitsch takes home the 125 C National Championship with moto score finishes of 7-4-2. Cameron Harrison takes second overall with 2-11-1 finishes throughout the week. Sebastian Balbuena would come through to round out the top three after going 6-1-8 in his motos this year. KTM's Chase Stuckey earned the moto one win with a third in the second moto, and was a title favorite heading into the last moto. Along with Stuckey, Memphis Coffman would be another favorite after his 3-2 start to the week. Stuckey would come through 20th in the last moto, earning a fourth overall in 2019. Coffman would unfortunately suffer a DNF, and be pushed back to 15th overall.
The 51cc machines took to the track one last year, and in the 51cc (7-8) Limited it would be Cobra's Ryder Ellis taking a 1-1-1 sweep and the 2019 title. Darren Pine clinched second place overall with a 2-2-2 and Gage Dunham came through with a 3-3-5 to take home third overall. In the 4-6 Limited class it was Jaydin Smart earning the third moto win, with Bode Bradford coming in second and Eidan Steinbrecher rounding out the final moto podium in third. Bradford took home the Championship with Smart and Steinbrecher earning second and third overall.
In the 51cc (4-6) Special Limited, Kayky De Pinho brought home the third moto win along with Kade Nightingale and Jett Capps making up the final moto podium. Nightingale would come out first overall after 1-1-2 moto finishes, De Pinho takes second with 2-4-1 and Capps goes home with a third overall. As the 4-6 Shaft Dr Ltd. Completed their final moto, it was Braxton Baldock going 1-1-3, Bryson Howell with a 2-4-2 and Storm Kelly with a 3-2-4 to make up the top three overall.
Husqvarna's Nicholas Romano came away with the Mini Sr. 2 (13-15) class moto three win, clinching the overall title with 1-4-1 moto finishes. KTM's Mark Fineis comes through second in moto three, and second overall. Kawasaki's Ryder DiFrancesco rounds out the overall podium with 2-1-5 moto scores. Preston Boespflug came through third in the final moto, earning him a podium spot and bronze medal.
The final moto of Open Pro Sport loaded the gate, and took off with Husqvarna's Jalek Swoll coming through in the number one position. After going 1-3-1, Swoll would capture the AMA Amateur National Open Pro Sport title. Jo Shimoda would come back to finish second in the final moto, but would take third overall with 4-2-2 moto scores. Shimoda's teammate, Jett Lawrence, battled back to take third in the last moto, but would be capture second overall with 2-1-3 moto finishes throughout the week. KTM's Parker Mashburn finished out the week with 3-4-4 finishes and a fourth overall. Carson Mumford rounds out the Open Pro Sport top five overall with 7-7-8 finishes.
The 250 B class National Championship was clinched by Kawasaki's Stilez Robertson after going 1-2-2 during the National week. Yamaha's Jarrett Frye earned the final moto win, and finishes second overall with 3-3-1 moto scores. Suzuki's Dilan Schwartz earns third overall after going 2-1-7, while Mason Gonzales earned a bronze medal by finishing third in the final 250 B moto.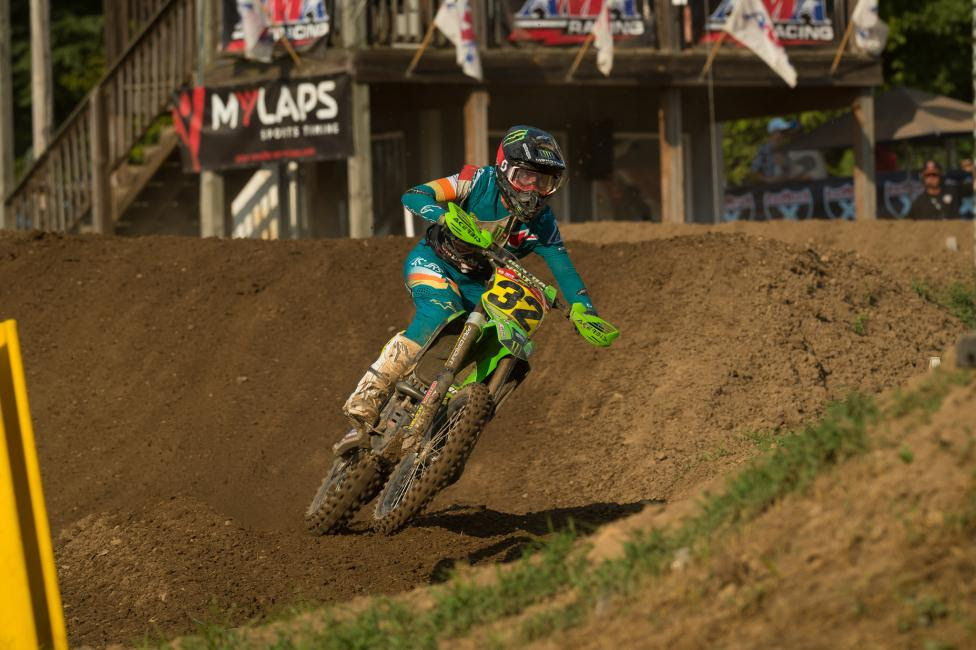 In the final Women's moto, it would be Yamaha's Jordan Jarvis battling back for her first moto win of the week, but Jazzmyn Canfield would be right behind her in second. With 1-1-2 moto scores Canfield would clinch the Women National Championship, Jarvis would be second overall. Katelyn Clauss earned the bronze medal in the final moto, but Tayler Allred would hold on to take third overall with 4-3-5 moto finishes. Husqvarna's Hannah Hodges finished third and fourth in the first two motos, and was battling for a win during the final moto when disaster struck and she was left on the side of the track and a 12th place finish in the final moto. Hodges comes through sixth overall in the Women's class.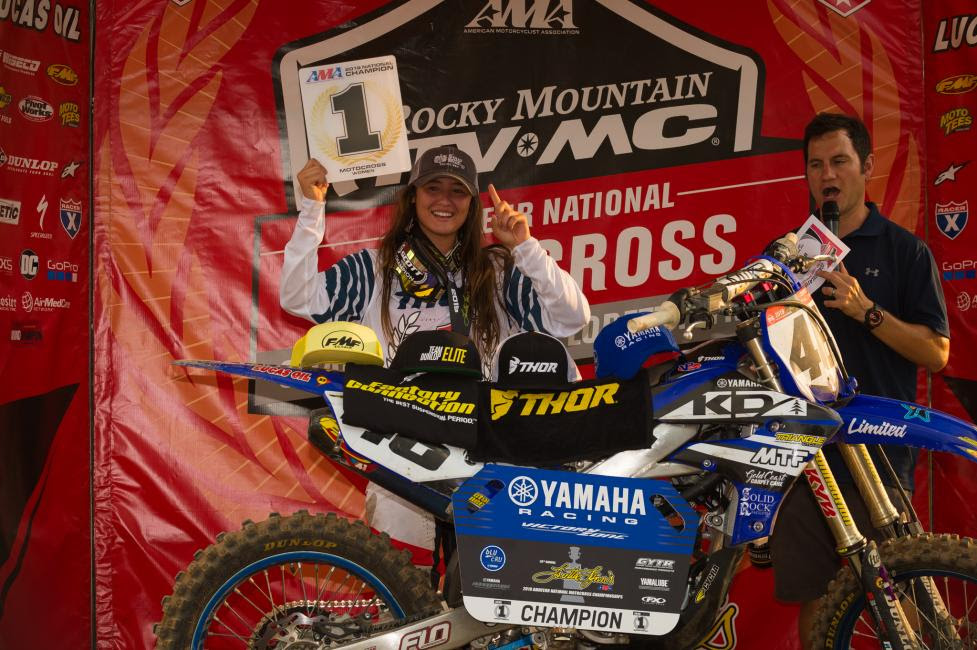 RacerTV continued their live coverage of racing on Friday with over 82,980 live views across Livestream and Facebook Live. Watch RacerTV with live coverage from the last day of racing at the 2019 Rocky Mountain ATV/MC AMA Amateur National Motocross Championship presented by Lucas Oil.
The 2019 Rocky Mountain ATV/MC AMA Amateur National Motocross Championship presented by Lucas Oil is taking place now through August 3 at the Loretta Lynn Ranch in Hurricane Mills, Tennessee.
Friday Class Winners:
Supermini 1 (12-15) – Maximus Vohland
Schoolboy 2 (12-17) B/C – Jarrett Frye
Senior (45+) – John Bowlin
65cc (10-11) – Luke Fauser
*250 Pro Sport – Jesse Flock
Vet (30+) – Nicholas Hayes
450 B – Austin Black
125 C – Cameron Harrison
51cc (7-8) Limited – Ryder Ellis
51cc (4-6) Limited – Jaydin Smart
51cc (4-6) Special Limited – Kayky De Pinho
51cc (4-6) Shaft Drive – Axle Ward
85cc (10-12) Limited – Daxton Bennick
Mini Sr. 2 (13-15) – Nicholas Romano
Masters (50+) – John Grewe
250 B Limited – Mason Gonzales
65cc (10-11) Limited – Alvin Hillan
250 C – Dylan Cunha
65cc (7-9) Limited – Caden Dudney
*Open Pro Sport – Jalek Swoll
*250 B – Jarrett Frye
Mini Sr. 1 (12-14) – Ryder DiFrancesco
Women – Jordan Jarvis
For more information on the AMA Amateur National, visit the series official website at www.mxsports.com or call (304) 284-0101. Join the conversation on the event's social media channels, along with receiving the most up-to-date news and exclusive content.
About the Rocky Mountain ATV/MC AMA Amateur National Motocross Championship
The Rocky Mountain ATV/MC AMA Amateur National Motocross Championship presented by Lucas Oil is the world's largest and most prestigious amateur motocross racing program. The national qualifying program consists of 54 Area Qualifiers (February through May) and 13 Regional Championships (May through June), hosted at select motocross facilities across the country. The qualifying system culminates in the National Final (first week in August) hosted annually since 1982 at the home of country music star Loretta Lynn in Hurricane Mills, Tenn. Nearly 20,000 racers attempt to qualify in 36 classes for the 1,512 available positions at the National. Christened "The World's Greatest Motocross Vacation", the National event serves as a launch pad for some of the biggest names in professional motocross and supercross, including Ricky Carmichael, James Stewart, Ryan Villopoto, and Ryan Dungey. The national program is produced by MX Sports, Inc., a West Virginia-based race production company and sanctioned by AMA. For more information, please visit www.mxsports.com.
About the American Motorcyclist Association
Founded in 1924, the AMA is a not-for-profit member-based association whose mission is to promote the motorcycle lifestyle and protect the future of motorcycling. As the world's largest motorcycling rights and event sanctioning organization, the AMA advocates for riders' interests at all levels of government and sanctions thousands of competition and recreational events every year. The AMA also provides money-saving discounts on products and services for its members. Through the AMA Motorcycle Hall of Fame in Pickerington, Ohio, the AMA honors the heroes and heritage of motorcycling. For more information, visit www.americanmotorcyclist.com. Not a member? Join the AMA today: www.americanmotorcyclist.com/membership/join.
Courtesy MX Sports