Team HRC's Tim Gajser made it five GP overalls in a row after sweeping the MXGP of Germany with a superb one-one performance. His two moto victories here at the rutted Teutschenthal track made it nine wins in the last ten races and 12 now for the season. It also means he extends his lead at the top of the MXGP championship to 83 points over his nearest rival with eight rounds still left to ride. Fellow HRC rider Brian Bogers had his joint second-best moto score of the season with a ninth in a race one, backing that up with an 11th in race two to just miss out on his pre-race aim of a top 10 overall.
For Gajser though, everything is going really well right now and his confidence is sky high after yet another impressive double moto victory. Getting the holeshot in both races on his Honda CRF450RW, he then kept control from start to finish, pulling out to a comfortable lead before settling into a pace that meant he won by over five seconds in each moto. As others around him struggled to adapt to the deeply-rutted Teutschenthal surface, Gajser showed good speed every time he hit the track, posting the fastest laptimes in every session, and usually by more than a second to the next fastest. As he received the chequered flag the second time around, his lead stretched out to 83 points in the MXGP championship, which has come about after a run of results that has seen him take 240 out of a possible 250 points available. While the next round in Palembang, Indonesia is an unknown quantity, the following events in Semarang and then Loket, Czech Republic should suit his style and give him the opportunity to really stamp his authority even more on this title chase.
Despite just missing out on a top 10 overall, Bogers was still pleased to be in the mix for that target, especially after posting a ninth place finish in race one. A solid qualification result of 12th gave him the opportunity to join that battle and that's exactly what he was able to do in the first race, eventually crossing the line in ninth place for his joint second-best finish of the season. Hoping for a repeat in race two, Bogers just slipped outside the top 10, finishing 11th overall and missing out on his first top 10 GP finish by just one single point. However with eight rounds still left, his confidence is growing and he is excited to line up in Palembang for the next gate drop.
Both riders now have a weekend to recover, relax and prepare for round 11th of the 2019 world motocross championship which takes place in Indonesia on July 6-7. The series then stays in that country for round 12 the following weekend at the impressive Semarang circuit where Gajser will be hoping to improve upon the second place his achieved at the 2018 edition.Share to Facebook39Share to TwitterShare to PinterestShare to LinkedInShare to More2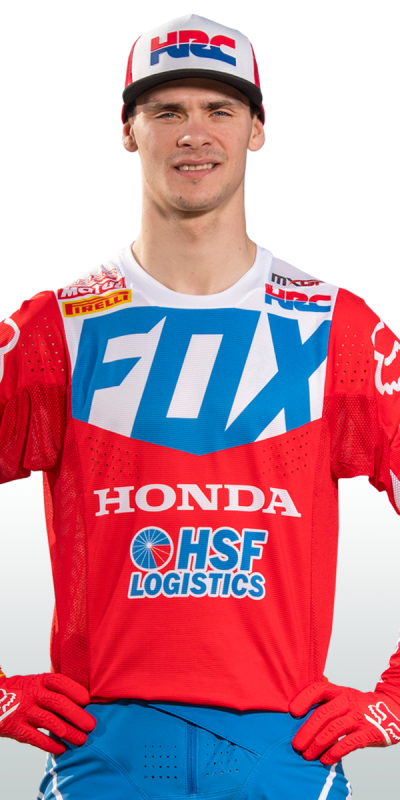 Tim Gajser 243
I was enjoying riding on the track this weekend. It was a really technical circuit with deep ruts which made line selection really important. I'm also really happy to take the holeshot in both races, as well as the qualifier yesterday, because we weren't able to do that in the early part of the season but now we are getting the perfect jump out of the gate. In the first moto I did make a little mistake but I was still able to pick up the bike and remount as the leader, so that went okay. Then in the second race, I didn't want to push too hard. I pulled out a lead of about five seconds and then kept it smooth because the track was a little sketchy in that second moto. The shadows and the sun was quite low which caused problems on certain parts of the track. However overall I'm very happy to win another overall and to extend my lead in the MXGP championship. I'm feeling really happy with how I rode and how the whole of Team HRC is working together.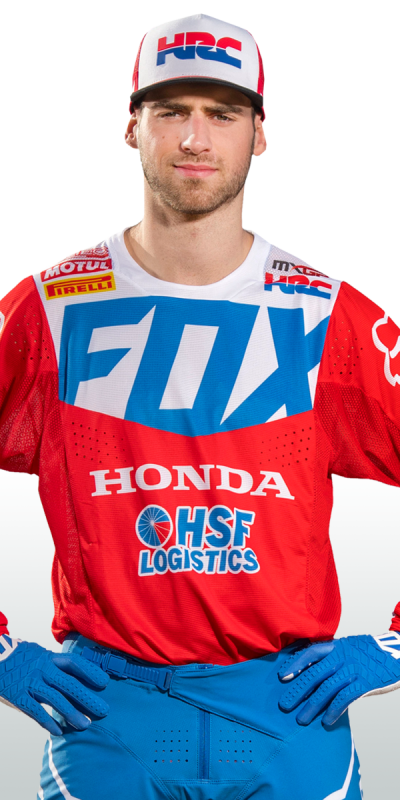 Brian Bogers 189
It actually went pretty good today, I felt comfortable most of the day and even the starts went not too bad. In the first race I started around 15th and was able to move directly into around 10th place. I made a couple of passes and I was in eighth for most of the race before a small mistake near the end of the race dropped me to ninth. It's in the top 10 and that's where I want to be so I'm happy with that. The second moto I never felt happy and I couldn't find a good rhythm. I was around 10th in the start and then dropped a couple of spots but I ended up 11th, which wasn't too bad but still, I felt I could have done better. Unfortunately that meant I was 11th overall which is still just outside where I want to be, but overall it was a decent weekend.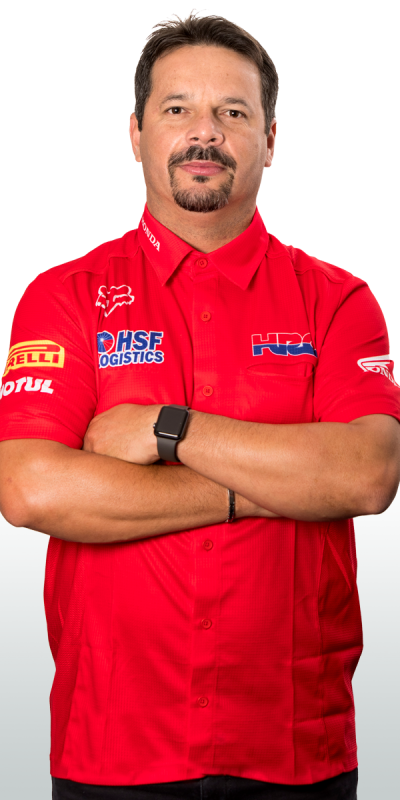 Marcus Pereira de Freitas
HRC General Manager – MXGP
After the events of Latvia, it was a completely different feeling coming into this weekend in Germany, but once again Tim handled everything like the professional he is. He was fastest in every session on both days and then he grabbed the holeshot in both races and that meant he could stay out of any trouble. It was exactly what he needed to do, and I think he could've gone faster if he needed too. The lead is now 83 points in the championship but it is still too early to think about that too much so we want him to keep approaching the races the same and to enjoy his riding.
It was also good to see Brian fighting inside the top 10 in race one, and just outside the top 10 in race two. To have both riders finishing that well is further proof of just how well the whole of Team HRC is performing and we now head to Indonesia filled with confidence and hopeful that this run can continue. A big thanks to all the members of staff who continue to work hard both during the week and on the race weekends!
MXGP 2019 Sunday, June 23rd 2019RaceRound 10 MXGP of Germany
Race 1
SUNNYAir Temp29°CTrack CondRutted
| Pos. | Rider | Num | Nation | Points | Team | Constructor | Time/Gap |
| --- | --- | --- | --- | --- | --- | --- | --- |
| 1 | GAJSER Tim | 243 | SLO | 25 | Team HRC – MXGP | Honda | 34:25.465 |
| 2 | TONUS Arnaud | 4 | SWI | 22 | Wilvo Yamaha MXGP | Yamaha | 5.845 |
| 3 | SEEWER Jeremy | 91 | SWI | 20 | Monster Energy Yamaha Factory MXGP Team | Yamaha | 6.889 |
| 4 | FEBVRE Romain | 461 | FRA | 18 | Monster Energy Yamaha Factory MXGP Team | Yamaha | 21.269 |
| 5 | PAULIN Gautier | 21 | FRA | 16 | Wilvo Yamaha MXGP | Yamaha | 22.489 |
| 6 | COLDENHOFF Glenn | 259 | NDL | 15 | Standing Construct KTM | KTM | 25.637 |
| 7 | ANSTIE Max | 99 | GBR | 14 | Standing Construct KTM | KTM | 27.890 |
| 8 | VAN HOREBEEK Jeremy | 89 | BEL | 13 | Honda SR Motoblouz | Honda | 31.613 |
| 9 | BOGERS Brian | 189 | NDL | 12 | Team HRC – MXGP | Honda | 34.051 |
| 10 | JONASS Pauls | 41 | LAT | 11 | Rockstar Energy Husqvarna Factory Racing | Husqvarna | 34.352 |
| 11 | TIXIER Jordi | 911 | FRA | 10 | Team VHR KTM Racing | KTM | 38.222 |
| 12 | JASIKONIS Arminas | 27 | LTU | 9 | Rockstar Energy Husqvarna Factory Racing | Husqvarna | 46.522 |
| 13 | GUILLOD Valentin | 92 | SWI | 8 | Standing Construct KTM | KTM | 55.294 |
| 14 | MONTICELLI Ivo | 128 | ITA | 7 | iFly JK Racing | Yamaha | 1:00.073 |
| 15 | GOLE Anton | 297 | SWE | 6 | iFly JK Racing | Yamaha | 1:01.774 |
| 16 | LEOK Tanel | 7 | EST | 5 | A1M Husqvarna | Husqvarna | 1:05.608 |
| 17 | RAUCHENECKER Pascal | 281 | AUT | 4 | Red Bull IceOne Husqvarna Factory Racing | Husqvarna | 1:30.254 |
| 18 | DE WAAL Micha-Boy | 34 | NDL | 3 | Jumbo No Fear Vamo Honda Team | Honda | 1:32.506 |
| 19 | BRYLYAKOV Vsevolod | 18 | RUS | 2 | JWR Yamaha Racing | Yamaha | 1:38.202 |
| 20 | DEWULF Jeffrey | 212 | BEL | 1 | Wildcard Rider | KTM | 1:48.901 |
MXGP 2019 Sunday, June 23rd 2019RaceRound 10 MXGP of Germany
Race 2
SUNNYAir Temp29°CTrack CondRutted
| Pos. | Rider | Num | Nation | Points | Team | Constructor | Time/Gap |
| --- | --- | --- | --- | --- | --- | --- | --- |
| 1 | GAJSER Tim | 243 | SLO | 25 | Team HRC – MXGP | Honda | 34:20.466 |
| 2 | JONASS Pauls | 41 | LAT | 22 | Rockstar Energy Husqvarna Factory Racing | Husqvarna | 7.093 |
| 3 | TONUS Arnaud | 4 | SWI | 20 | Wilvo Yamaha MXGP | Yamaha | 10.539 |
| 4 | PAULIN Gautier | 21 | FRA | 18 | Wilvo Yamaha MXGP | Yamaha | 12.221 |
| 5 | ANSTIE Max | 99 | GBR | 16 | Standing Construct KTM | KTM | 12.981 |
| 6 | COLDENHOFF Glenn | 259 | NDL | 15 | Standing Construct KTM | KTM | 13.279 |
| 7 | JASIKONIS Arminas | 27 | LTU | 14 | Rockstar Energy Husqvarna Factory Racing | Husqvarna | 20.071 |
| 8 | SEEWER Jeremy | 91 | SWI | 13 | Monster Energy Yamaha Factory MXGP Team | Yamaha | 29.198 |
| 9 | VAN HOREBEEK Jeremy | 89 | BEL | 12 | Honda SR Motoblouz | Honda | 36.100 |
| 10 | MONTICELLI Ivo | 128 | ITA | 11 | iFly JK Racing | Yamaha | 45.649 |
| 11 | BOGERS Brian | 189 | NDL | 10 | Team HRC – MXGP | Honda | 53.956 |
| 12 | FEBVRE Romain | 461 | FRA | 9 | Monster Energy Yamaha Factory MXGP Team | Yamaha | 1:01.690 |
| 13 | GOLE Anton | 297 | SWE | 8 | iFly JK Racing | Yamaha | 1:02.746 |
| 14 | SEARLE Tommy | 100 | GBR | 7 | Bike It DRT Kawasaki | Kawasaki | 1:03.607 |
| 15 | GUILLOD Valentin | 92 | SWI | 6 | Standing Construct KTM | KTM | 1:04.618 |
| 16 | LEOK Tanel | 7 | EST | 5 | A1M Husqvarna | Husqvarna | 1:07.621 |
| 17 | BRYLYAKOV Vsevolod | 18 | RUS | 4 | JWR Yamaha Racing | Yamaha | 1:26.756 |
| 18 | DEWULF Jeffrey | 212 | BEL | 3 | Wildcard Rider | KTM | 1:32.027 |
| 19 | DE WAAL Micha-Boy | 34 | NDL | 2 | Jumbo No Fear Vamo Honda Team | Honda | 1:39.438 |
| 20 | BERNARDINI Samuele | 321 | ITA | 1 | Ghidinelli Racing Team | Yamaha | 1:45.761 |
MXGP 2019 Sunday, June 23rd 2019
Rider Standings
Limited to top 30 results
| Pos. | Rider | Num | Nation | Points | Team | Constructor |
| --- | --- | --- | --- | --- | --- | --- |
| 1 | GAJSER Tim | 243 | SLO | 441 | Team HRC – MXGP | Honda |
| 2 | CAIROLI Antonio | 222 | ITA | 358 | Red Bull KTM Factory Racing | KTM |
| 3 | SEEWER Jeremy | 91 | SWI | 289 | Monster Energy Yamaha Factory MXGP Team | Yamaha |
| 4 | TONUS Arnaud | 4 | SWI | 288 | Wilvo Yamaha MXGP | Yamaha |
| 5 | PAULIN Gautier | 21 | FRA | 288 | Wilvo Yamaha MXGP | Yamaha |
| 6 | JASIKONIS Arminas | 27 | LTU | 249 | Rockstar Energy Husqvarna Factory Racing | Husqvarna |
| 7 | VAN HOREBEEK Jeremy | 89 | BEL | 225 | Honda SR Motoblouz | Honda |
| 8 | COLDENHOFF Glenn | 259 | NDL | 220 | Standing Construct KTM | KTM |
| 9 | JONASS Pauls | 41 | LAT | 219 | Rockstar Energy Husqvarna Factory Racing | Husqvarna |
| 10 | DESALLE Clement | 25 | BEL | 208 | Monster Energy Kawasaki Racing | Kawasaki |
| 11 | LIEBER Julien | 33 | BEL | 184 | Monster Energy Kawasaki Racing | Kawasaki |
| 12 | FEBVRE Romain | 461 | FRA | 184 | Monster Energy Yamaha Factory MXGP Team | Yamaha |
| 13 | ANSTIE Max | 99 | GBR | 147 | Standing Construct KTM | KTM |
| 14 | MONTICELLI Ivo | 128 | ITA | 140 | iFly JK Racing | Yamaha |
| 15 | SIMPSON Shaun | 24 | GBR | 129 | RFX KTM Racing | KTM |
| 16 | BOGERS Brian | 189 | NDL | 104 | Team HRC – MXGP | Honda |
| 17 | SEARLE Tommy | 100 | GBR | 103 | Bike It DRT Kawasaki | Kawasaki |
| 18 | LUPINO Alessandro | 77 | ITA | 103 | Gebben V Venrooy Kawasaki | Kawasaki |
| 19 | LEOK Tanel | 7 | EST | 92 | A1M Husqvarna | Husqvarna |
| 20 | TIXIER Jordi | 911 | FRA | 81 | Team VHR KTM Racing | KTM |
| 21 | PATUREL Benoit | 6 | FRA | 65 | Gebben V Venrooy Kawasaki | Kawasaki |
| 22 | HERLINGS Jeffrey | 84 | NDL | 57 | Red Bull KTM Factory Racing | KTM |
| 23 | BRYLYAKOV Vsevolod | 18 | RUS | 44 | JWR Yamaha Racing | Yamaha |
| 24 | STRIJBOS Kevin | 22 | BEL | 43 | JWR Yamaha Racing | Yamaha |
| 25 | GOLE Anton | 297 | SWE | 30 | iFly JK Racing | Yamaha |
| 26 | PETROV Petar | 152 | BUL | 24 | Team Honda Red Moto | Honda |
| 27 | BUTRON Jose | 17 | SPA | 18 | JD Gunnex KTM Racing Team | KTM |
| 28 | BERNARDINI Samuele | 321 | ITA | 15 | Ghidinelli Racing Team | Yamaha |
| 29 | GUILLOD Valentin | 92 | SWI | 14 | Standing Construct KTM | KTM |
| 30 | VAN DER MIERDEN Sven | 94 | NDL | 13 | Wildcard Rider | Yamaha |