Team HRC's Calvin Vlaanderen took a solid fifth place overall at Imola circuit after eight-three results weren't quite good enough to see him finish on the podium for the second consecutive race.
Unfortunately his chances of backing up his second place in Lommel at the last round where thwarted almost straight away when another rider crashed right in front of the Honda CRF250RW rider in the second turn. By the time Vlaanderen had freed himself from the carnage, he was well outside the top 20 and in damage limitation mode. Once he found his rhythm, he quickly passed a number of riders and was inside the top 10 after just six laps. He made a couple more passes before the end of the moto but was unable to get close to the top five, which would have given him that outside shot of a podium.
Race two went a lot better as he started around the top five, quickly moving into third place where he remained for the rest of the moto, despite a late tip-over with a couple of laps left. This left him with eight-three results which were five shy of third place, which would have been a fairer reflection of the speed he showed over the weekend.
Next weekend gives Vlaanderen the perfect chance to get back on the box as the series heads to Sweden for what will be round 16 of the 2019 world motocross championship.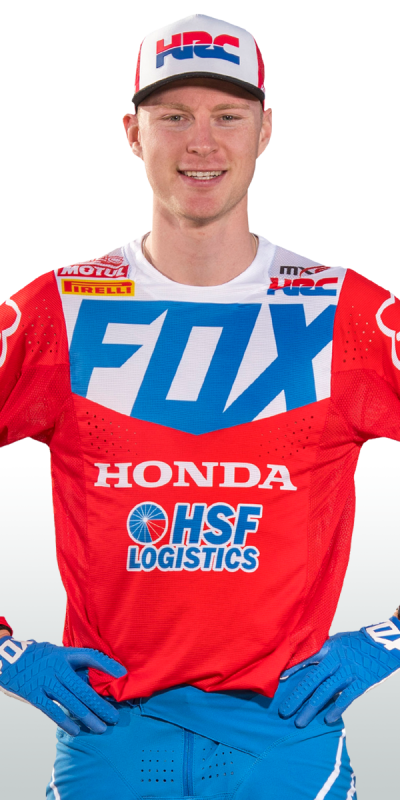 Calvin Vlaanderen 10
It wasn't my best day today. I got a decent start in the first moto but got stuck behind a crashed rider in the second turn and that put me outside the top 20. I think I came from around 22nd to 8th which took a lot of effort on this hot day and I was quite tired after the race with all the energy I expended passing those guys. The second race went a lot better and I was around fourth, quickly passed into third and then I rode there the rest of the race. Unfortunately I crashed in the last two last laps but I was still able to finish third. So I went eight-three for fifth overall which is solid, but not what I'm after as I hope to be on the podium.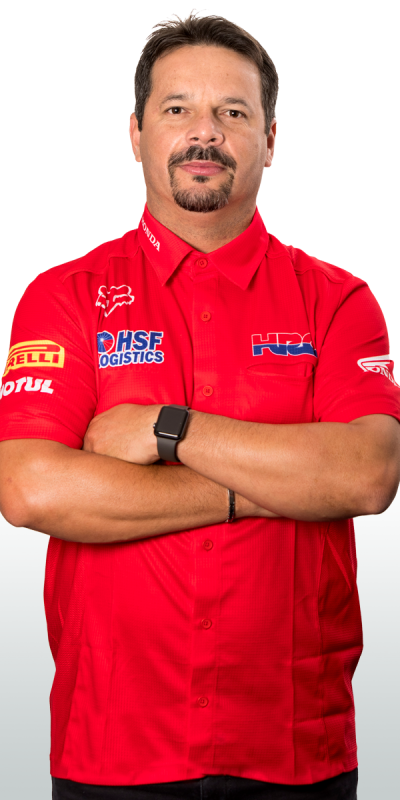 Marcus Pereira de Freitas
HRC General Manager – MXGP
After his podium in Lommel, we were really hoping that Calvin could get up on the box again here in Imola. Unfortunately another rider crashing really ruined his chances on the very first lap because he wasn't able to get back to a high enough position after that. He still rode well though and in the second moto he showed his true position with a third and that is a real reflection on how he was riding this weekend.
MX2 2019 Sunday, August 18th 2019RaceRound 15 MX2 of Italy
Race 1
SUNNYAir Temp32°CTrack CondHard Pack
| Pos. | Rider | Num | Nation | Points | Team | Constructor | Time/Gap |
| --- | --- | --- | --- | --- | --- | --- | --- |
| 1 | PRADO GARCIA Jorge | 61 | SPA | 25 | Red Bull KTM Factory Racing | KTM | 34:05.826 |
| 2 | KJER OLSEN Thomas | 19 | DEN | 22 | Rockstar Energy Husqvarna Factory Racing | Husqvarna | 8.238 |
| 3 | RENAUX Maxime | 959 | FRA | 20 | Yamaha SM Action – M.C. Migliori | Yamaha | 20.216 |
| 4 | GEERTS Jago | 193 | BEL | 18 | Kemea Yamaha Yamalube Racing Team | Yamaha | 26.794 |
| 5 | BOISRAME Mathys | 172 | FRA | 16 | Team Honda Red Moto Assomotor | Honda | 40.810 |
| 6 | HOFER Rene | 711 | AUT | 15 | Wildcard Rider | KTM | 42.678 |
| 7 | LARRANAGA OLANO Iker | 66 | SPA | 14 | Marchetti Racing Team KTM | KTM | 44.149 |
| 8 | VLAANDEREN Calvin | 10 | NDL | 13 | Team HRC – MX2 | Honda | 44.985 |
| 9 | LESIARDO Morgan | 44 | ITA | 12 | Marchetti Racing Team KTM | KTM | 1:01.497 |
| 10 | PANCAR Jan | 253 | SLO | 11 | Wildcard Rider | Yamaha | 1:06.519 |
| 11 | LAPUCCI Nicholas | 211 | ITA | 10 | Italian Factory | KTM | 1:09.408 |
| 12 | ÖSTLUND Alvin | 161 | SWE | 9 | REVO Husqvarna UK | Husqvarna | 1:11.216 |
| 13 | JACOBI Henry | 29 | GER | 8 | F&H Racing Team | Kawasaki | 1:18.825 |
| 14 | STERRY Adam | 811 | GBR | 7 | F&H Racing Team | Kawasaki | 1:29.828 |
| 15 | PICHON Zachary | 101 | FRA | 6 | Honda 114 Motorsports | Honda | 1:36.622 |
| 16 | WALSH Dylan | 53 | NZL | 5 | REVO Husqvarna UK | Husqvarna | 1:42.801 |
| 17 | SYDOW Jeremy | 104 | ARG | 4 | Wildcard Rider | Husqvarna | 1 Lap |
| 18 | SANDNER Michael | 766 | AUT | 3 | Wildcard Rider | KTM | 1 Lap |
| 19 | HARRISON Mitchell | 35 | USA | 2 | BUD Racing Monster Energy Kawasaki | Kawasaki | 1 Lap |
MX2 2019 Sunday, August 18th 2019RaceRound 15 MX2 of Italy
Race 2
SUNNYAir Temp32°CTrack CondHard Pack
| Pos. | Rider | Num | Nation | Points | Team | Constructor | Time/Gap |
| --- | --- | --- | --- | --- | --- | --- | --- |
| 1 | PRADO GARCIA Jorge | 61 | SPA | 25 | Red Bull KTM Factory Racing | KTM | 33:33.346 |
| 2 | KJER OLSEN Thomas | 19 | DEN | 22 | Rockstar Energy Husqvarna Factory Racing | Husqvarna | 5.383 |
| 3 | VLAANDEREN Calvin | 10 | NDL | 20 | Team HRC – MX2 | Honda | 9.582 |
| 4 | RENAUX Maxime | 959 | FRA | 18 | Yamaha SM Action – M.C. Migliori | Yamaha | 11.834 |
| 5 | GEERTS Jago | 193 | BEL | 16 | Kemea Yamaha Yamalube Racing Team | Yamaha | 15.620 |
| 6 | JACOBI Henry | 29 | GER | 15 | F&H Racing Team | Kawasaki | 43.287 |
| 7 | LARRANAGA OLANO Iker | 66 | SPA | 14 | Marchetti Racing Team KTM | KTM | 49.076 |
| 8 | SANAYEI Darian | 57 | USA | 13 | Bike It DRT Kawasaki | Kawasaki | 53.416 |
| 9 | ÖSTLUND Alvin | 161 | SWE | 12 | REVO Husqvarna UK | Husqvarna | 58.749 |
| 10 | SYDOW Jeremy | 104 | ARG | 11 | Wildcard Rider | Husqvarna | 1:02.282 |
| 11 | HOFER Rene | 711 | AUT | 10 | Wildcard Rider | KTM | 1:06.101 |
| 12 | WALSH Dylan | 53 | NZL | 9 | REVO Husqvarna UK | Husqvarna | 1:08.450 |
| 13 | LESIARDO Morgan | 44 | ITA | 8 | Marchetti Racing Team KTM | KTM | 1:11.765 |
| 14 | SIKYNA Richard | 102 | SLK | 7 | JD Gunnex KTM Racing Team | KTM | 1:14.703 |
| 15 | BOISRAME Mathys | 172 | FRA | 6 | Team Honda Red Moto Assomotor | Honda | 1:20.061 |
| 16 | LAPUCCI Nicholas | 211 | ITA | 5 | Italian Factory | KTM | 1:20.815 |
| 17 | HARRISON Mitchell | 35 | USA | 4 | BUD Racing Monster Energy Kawasaki | Kawasaki | 1:22.569 |
| 18 | POLAK Petr | 313 | CZE | 3 | JD 191 KTM Racing Team | KTM | 1:39.175 |
| 19 | PESSOA Gustavo | 57 | BRA | 2 | Bike It DRT Kawasaki | Kawasaki | 1:42.235 |
| 20 | PANCAR Jan | 253 | SLO | 1 | Wildcard Rider | Yamaha | 1 Lap |
MX2 2019 Sunday, August 18th 2019
Rider Standings
Limited to top 30 results
| Pos. | Rider | Num | Nation | Points | Team | Constructor |
| --- | --- | --- | --- | --- | --- | --- |
| 1 | PRADO GARCIA Jorge | 61 | SPA | 694 | Red Bull KTM Factory Racing | KTM |
| 2 | KJER OLSEN Thomas | 19 | DEN | 564 | Rockstar Energy Husqvarna Factory Racing | Husqvarna |
| 3 | GEERTS Jago | 193 | BEL | 447 | Kemea Yamaha Yamalube Racing Team | Yamaha |
| 4 | JACOBI Henry | 29 | GER | 422 | F&H Racing Team | Kawasaki |
| 5 | VIALLE Tom | 28 | FRA | 416 | Red Bull KTM Factory Racing | KTM |
| 6 | STERRY Adam | 811 | GBR | 321 | F&H Racing Team | Kawasaki |
| 7 | RENAUX Maxime | 959 | FRA | 310 | Yamaha SM Action – M.C. Migliori | Yamaha |
| 8 | WATSON Ben | 919 | GBR | 282 | Kemea Yamaha Yamalube Racing Team | Yamaha |
| 9 | VLAANDEREN Calvin | 10 | NDL | 281 | Team HRC – MX2 | Honda |
| 10 | BOISRAME Mathys | 172 | FRA | 255 | Team Honda Red Moto Assomotor | Honda |
| 11 | BEATON Jed | 14 | AUS | 250 | Rockstar Energy Husqvarna Factory Racing | Husqvarna |
| 12 | EVANS Mitchell | 43 | AUS | 226 | Honda 114 Motorsports | Honda |
| 13 | VAESSEN Bas | 98 | NDL | 219 | Hitachi KTM fuelled by Milwaukee | KTM |
| 14 | CERVELLIN Michele | 747 | ITA | 179 | Yamaha SM Action – M.C. Migliori | Yamaha |
| 15 | LARRANAGA OLANO Iker | 66 | SPA | 172 | Marchetti Racing Team KTM | KTM |
| 16 | VAN DONINCK Brent | 32 | BEL | 165 | Team Honda Red Moto Assomotor | Honda |
| 17 | POOTJES Davy | 46 | NDL | 157 | Team Diga-Procross | Husqvarna |
| 18 | ÖSTLUND Alvin | 161 | SWE | 152 | REVO Husqvarna UK | Husqvarna |
| 19 | HARRISON Mitchell | 35 | USA | 146 | BUD Racing Monster Energy Kawasaki | Kawasaki |
| 20 | WALSH Dylan | 53 | NZL | 115 | REVO Husqvarna UK | Husqvarna |
| 21 | SANAYEI Darian | 57 | USA | 107 | Bike It DRT Kawasaki | Kawasaki |
| 22 | SIKYNA Richard | 102 | SLK | 106 | JD Gunnex KTM Racing Team | KTM |
| 23 | STRUBHART MOREAU Brian | 225 | FRA | 94 | BUD Racing Monster Energy Kawasaki | Kawasaki |
| 24 | LESIARDO Morgan | 44 | ITA | 91 | Marchetti Racing Team KTM | KTM |
| 25 | PICHON Zachary | 101 | FRA | 64 | Honda 114 Motorsports | Honda |
| 26 | HOFER Rene | 711 | AUT | 42 | Wildcard Rider | KTM |
| 27 | MEWSE Conrad | 426 | GBR | 40 | Hitachi KTM fuelled by Milwaukee | KTM |
| 28 | PANCAR Jan | 253 | SLO | 34 | Wildcard Rider | Yamaha |
| 29 | SANDNER Michael | 766 | AUT | 32 | Wildcard Rider | KTM |
| 30 | PESSOA Gustavo | 57 | BRA | 24 | Bike It DRT Kawasaki | Kawasaki |