Calvin Vlaanderen put in an impressive second moto to spring an unexpected podium result that was just reward for all the speed he has shown since his return from injury. Placing seventh in race one, he knew that he had an outside shot, but a strong second place in race two gave the tie-breaker in his favour and he recorded his best overall placing of the season with second overall.
Once again the Honda CRF250RW rider showed good speed all weekend, placing second in the qualification race on Saturday, as well as positing fast laptimes in the timed sessions. However after a small crash early on in race one, it seemed like it would be a repeat of the Czech Republic last weekend where it looked like he wouldn't get the results his speed deserved. He did manage to get up to seventh but was frustrated that another round had potentially slipped through his fingers.
However, he didn't let that affect him for race two and he stormed out of the gate and was quickly into third place. He stayed there for the majority of the moto which would have been good enough for third place, but when a rider in front had to retire, that bumped him up a place and into a thoroughly deserved best result of an injury-hit campaign.
With a weekend off before the next round in Imola, Italy, Vlaanderen has a chance to recover a bit more from his shoulder injury and put in some good testing sessions that will hopefully allow him to once again challenge at the front of the MX2 class on August 24-25.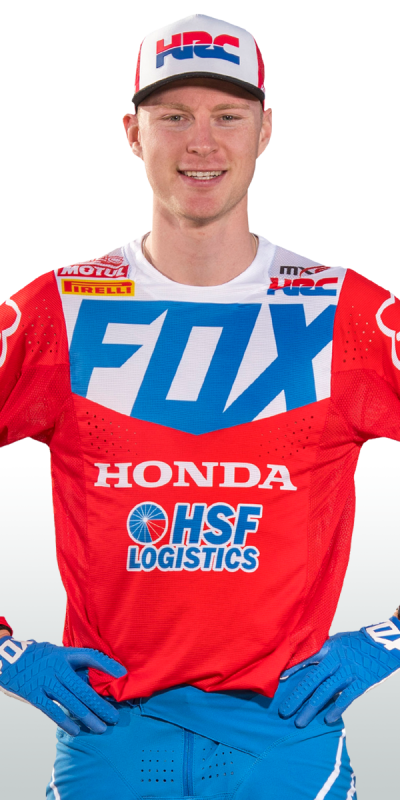 Calvin Vlaanderen 10
It was a pretty good day today, although I was definitely disappointed after my first moto when I finished seventh. I had a small crash which dropped me down a few spots and that was frustrating. In the second moto I actually had some fun on the track, even with the tough conditions. My plan is to always have fun and the first moto I really didn't enjoy it, but in race two things went a lot better. I flowed around the track with a good rhythm and even though I finished second, I didn't expect to be on the podium. Only when they wrote on my pitboard near the end did I realise and obviously I'm really happy to finish second and have my best overall of the season.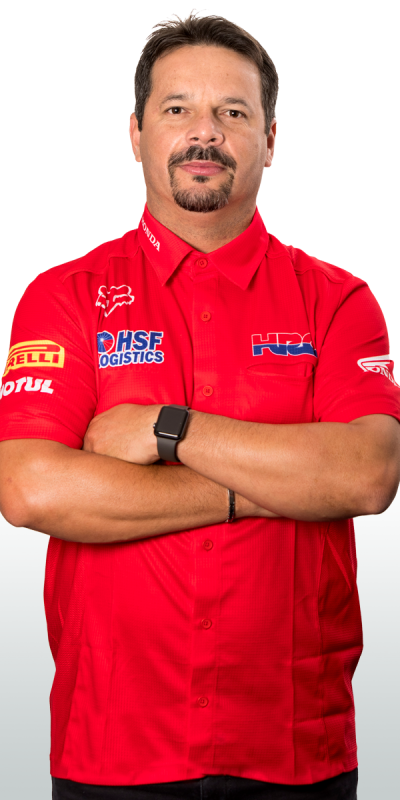 Marcus Pereira de Freitas
HRC General Manager – MXGP
It was a crazy second moto for Calvin because after race one we thought a podium would be very difficult to achieve. However, he did everything he could to put himself in that position and he was rewarded for his efforts. Just like in the Czech Republic last weekend, he showed he had the speed but this time out he was able to show he could put in the results too and that was really impressive on this deep sand track. Since his injury he has comeback and ridden really well and it is just great to see his determination out there.
MX2 2019 Sunday, August 4th 2019RaceRound 14 MX2 of Belgium
Race 1
SUNNYAir Temp27°CTrack CondSandy
| Pos. | Rider | Num | Nation | Points | Team | Constructor | Time/Gap |
| --- | --- | --- | --- | --- | --- | --- | --- |
| 1 | PRADO GARCIA Jorge | 61 | SPA | 25 | Red Bull KTM Factory Racing | KTM | 34:54.715 |
| 2 | GEERTS Jago | 193 | BEL | 22 | Kemea Yamaha Yamalube Racing Team | Yamaha | 20.055 |
| 3 | STERRY Adam | 811 | GBR | 20 | F&H Racing Team | Kawasaki | 27.807 |
| 4 | VIALLE Tom | 28 | FRA | 18 | Red Bull KTM Factory Racing | KTM | 34.538 |
| 5 | WATSON Ben | 919 | GBR | 16 | Kemea Yamaha Yamalube Racing Team | Yamaha | 37.015 |
| 6 | RENAUX Maxime | 959 | FRA | 15 | Yamaha SM Action – M.C. Migliori | Yamaha | 50.010 |
| 7 | VLAANDEREN Calvin | 10 | NDL | 14 | Team HRC – MX2 | Honda | 1:03.456 |
| 8 | JACOBI Henry | 29 | GER | 13 | F&H Racing Team | Kawasaki | 1:29.529 |
| 9 | ÖSTLUND Alvin | 161 | SWE | 12 | REVO Husqvarna UK | Husqvarna | 1:41.119 |
| 10 | SANAYEI Darian | 57 | USA | 11 | Bike It DRT Kawasaki | Kawasaki | 1:53.843 |
| 11 | GENOT Cyril | | BEL | 10 | Wildcard Rider | KTM | 1:56.369 |
| 12 | HARRISON Mitchell | 35 | USA | 9 | BUD Racing Monster Energy Kawasaki | Kawasaki | 1:58.329 |
| 13 | LESIARDO Morgan | 44 | ITA | 8 | Marchetti Racing Team KTM | KTM | 2:03.821 |
| 14 | BOISRAME Mathys | 172 | FRA | 7 | Team Honda Red Moto Assomotor | Honda | 1 Lap |
| 15 | SANDNER Michael | 766 | AUT | 6 | Wildcard Rider | KTM | 1 Lap |
| 16 | LARRANAGA OLANO Iker | 66 | SPA | 5 | Marchetti Racing Team KTM | KTM | 1 Lap |
| 17 | SIKYNA Richard | 102 | SLK | 4 | JD Gunnex KTM Racing Team | KTM | 1 Lap |
| 18 | POLAK Petr | 313 | CZE | 3 | JD 191 KTM Racing Team | KTM | 1 Lap |
| 19 | CONIJN Marcel | 85 | NDL | 2 | Gebben V Venrooy Kawasaki | Kawasaki | 1 Lap |
| 20 | GRIEKSPOOR Lars | 299 | NDL | 1 | Wildcard Rider | KTM | 1 Lap |
MX2 2019 Sunday, August 4th 2019RaceRound 14 MX2 of Belgium
Race 2
SUNNYAir Temp26°CTrack CondSandy
| Pos. | Rider | Num | Nation | Points | Team | Constructor | Time/Gap |
| --- | --- | --- | --- | --- | --- | --- | --- |
| 1 | PRADO GARCIA Jorge | 61 | SPA | 25 | Red Bull KTM Factory Racing | KTM | 34:57.670 |
| 2 | VLAANDEREN Calvin | 10 | NDL | 22 | Team HRC – MX2 | Honda | 17.551 |
| 3 | WATSON Ben | 919 | GBR | 20 | Kemea Yamaha Yamalube Racing Team | Yamaha | 35.258 |
| 4 | VIALLE Tom | 28 | FRA | 18 | Red Bull KTM Factory Racing | KTM | 43.489 |
| 5 | KJER OLSEN Thomas | 19 | DEN | 16 | Rockstar Energy Husqvarna Factory Racing | Husqvarna | 58.086 |
| 6 | STERRY Adam | 811 | GBR | 15 | F&H Racing Team | Kawasaki | 1:19.186 |
| 7 | RENAUX Maxime | 959 | FRA | 14 | Yamaha SM Action – M.C. Migliori | Yamaha | 1:31.085 |
| 8 | STRUBHART MOREAU Brian | 225 | FRA | 13 | BUD Racing Monster Energy Kawasaki | Kawasaki | 1:34.925 |
| 9 | GENOT Cyril | | BEL | 12 | Wildcard Rider | KTM | 1:40.207 |
| 10 | LESIARDO Morgan | 44 | ITA | 11 | Marchetti Racing Team KTM | KTM | 1:53.087 |
| 11 | ÖSTLUND Alvin | 161 | SWE | 10 | REVO Husqvarna UK | Husqvarna | 1:06.436 |
| 12 | JACOBI Henry | 29 | GER | 9 | F&H Racing Team | Kawasaki | 2:05.593 |
| 13 | HARRISON Mitchell | 35 | USA | 8 | BUD Racing Monster Energy Kawasaki | Kawasaki | 2:21.677 |
| 14 | LARRANAGA OLANO Iker | 66 | SPA | 7 | Marchetti Racing Team KTM | KTM | 1 Lap |
| 15 | BOISRAME Mathys | 172 | FRA | 6 | Team Honda Red Moto Assomotor | Honda | 1 Lap |
| 16 | SANDNER Michael | 766 | AUT | 5 | Wildcard Rider | KTM | 1 Lap |
| 17 | SANAYEI Darian | 57 | USA | 4 | Bike It DRT Kawasaki | Kawasaki | 1 Lap |
| 18 | PANCAR Jan | 253 | SLO | 3 | Wildcard Rider | Yamaha | 1 Lap |
| 19 | PESSOA Gustavo | 57 | BRA | 2 | Bike It DRT Kawasaki | Kawasaki | 1 Lap |
| 20 | CARPENTER James | 484 | GBR | 1 | Wildcard Rider | Husqvarna | 1 Lap |
MX2 2019 Sunday, August 4th 2019
Rider Standings
Limited to top 30 results
| Pos. | Rider | Num | Nation | Points | Team | Constructor |
| --- | --- | --- | --- | --- | --- | --- |
| 1 | PRADO GARCIA Jorge | 61 | SPA | 644 | Red Bull KTM Factory Racing | KTM |
| 2 | KJER OLSEN Thomas | 19 | DEN | 520 | Rockstar Energy Husqvarna Factory Racing | Husqvarna |
| 3 | VIALLE Tom | 28 | FRA | 416 | Red Bull KTM Factory Racing | KTM |
| 4 | GEERTS Jago | 193 | BEL | 413 | Kemea Yamaha Yamalube Racing Team | Yamaha |
| 5 | JACOBI Henry | 29 | GER | 399 | F&H Racing Team | Kawasaki |
| 6 | STERRY Adam | 811 | GBR | 314 | F&H Racing Team | Kawasaki |
| 7 | WATSON Ben | 919 | GBR | 282 | Kemea Yamaha Yamalube Racing Team | Yamaha |
| 8 | RENAUX Maxime | 959 | FRA | 272 | Yamaha SM Action – M.C. Migliori | Yamaha |
| 9 | BEATON Jed | 14 | AUS | 250 | Rockstar Energy Husqvarna Factory Racing | Husqvarna |
| 10 | VLAANDEREN Calvin | 10 | NDL | 248 | Team HRC – MX2 | Honda |
| 11 | BOISRAME Mathys | 172 | FRA | 233 | Team Honda Red Moto Assomotor | Honda |
| 12 | EVANS Mitchell | 43 | AUS | 226 | Honda 114 Motorsports | Honda |
| 13 | VAESSEN Bas | 98 | NDL | 219 | Hitachi KTM fuelled by Milwaukee | KTM |
| 14 | CERVELLIN Michele | 747 | ITA | 179 | Yamaha SM Action – M.C. Migliori | Yamaha |
| 15 | VAN DONINCK Brent | 32 | BEL | 165 | Team Honda Red Moto Assomotor | Honda |
| 16 | POOTJES Davy | 46 | NDL | 157 | Team Diga-Procross | Husqvarna |
| 17 | LARRANAGA OLANO Iker | 66 | SPA | 144 | Marchetti Racing Team KTM | KTM |
| 18 | HARRISON Mitchell | 35 | USA | 140 | BUD Racing Monster Energy Kawasaki | Kawasaki |
| 19 | ÖSTLUND Alvin | 161 | SWE | 131 | REVO Husqvarna UK | Husqvarna |
| 20 | WALSH Dylan | 53 | NZL | 101 | REVO Husqvarna UK | Husqvarna |
| 21 | SIKYNA Richard | 102 | SLK | 99 | JD Gunnex KTM Racing Team | KTM |
| 22 | STRUBHART MOREAU Brian | 225 | FRA | 94 | BUD Racing Monster Energy Kawasaki | Kawasaki |
| 23 | SANAYEI Darian | 57 | USA | 94 | Bike It DRT Kawasaki | Kawasaki |
| 24 | LESIARDO Morgan | 44 | ITA | 71 | Marchetti Racing Team KTM | KTM |
| 25 | PICHON Zachary | 101 | FRA | 58 | Honda 114 Motorsports | Honda |
| 26 | MEWSE Conrad | 426 | GBR | 40 | Hitachi KTM fuelled by Milwaukee | KTM |
| 27 | SANDNER Michael | 766 | AUT | 29 | Wildcard Rider | KTM |
| 28 | VAN DE MOOSDIJK Roan | 39 | NDL | 23 | F&H Racing Team | Kawasaki |
| 29 | FORATO Alberto | 303 | ITA | 23 | Wildcard Rider | Husqvarna |
| 30 | GENOT Cyril | | BEL | 23 | Wildcard Rider | KTM |
Courtesy HRC Honda