After a hot and humid MXGP of China, Team HRC's Tim Gajser climbed the podium steps once more as he was given the gold medal which symbolises an MXGP championship success. Although he wasn't able to add to his nine MXGP overalls, he did still display his speed and style, giving a great performance in front of the first ever Chinese GP audience.
With 11th gate pick after qualification yesterday, Gajser once again proved the power of the Honda CRF450RW by rounding the first corner inside the top three in both races, giving himself a great chance at podium success. In race one, despite immense pressure on the riders in front, he wasn't able to find a way to pass on this new Shanghai track and had to settle for third place. Then in race two, he was again in third place, looking to make a pass when his line off the finish jump took him slightly off course and he clipped a trackside banner. This then got wrapped up in his lever and as he tried to free himself he lost valuable time and positions. He was still able to get up to fourth, but he lost out on third overall due to the second moto tie-breaker.
While he would have liked to have finished off the season with a win, the main objective was achieved three rounds ago in Imola, Italy and he will certainly reflect on a 2019 campaign that is one of the most successful in Honda history. Nine overalls including a record-breaking seven in a row meant that he has dominated the championship table from the halfway point onwards and he fully deserved the third world title of his career.
For teammate Brian Bogers, he rounded off his season with an 11th overall after once again narrowly missing out on that the top 10 result that he has come close to achieving a number of times. The Dutch rider showed good speed early on but slipped down to 11th in both races, but his 20 points were enough to see him move up to 13th in the championship standings after missing the round in Sweden.
While the world championship season is over, Gajser will represent Slovenia at the Motocross of Nations which will take place at the famous Assen motor racing circuit in the Netherlands on September 28-29. This gives the champ a week to recover from all the recent travel before training for the sandy challenges that the MXoN track will provide.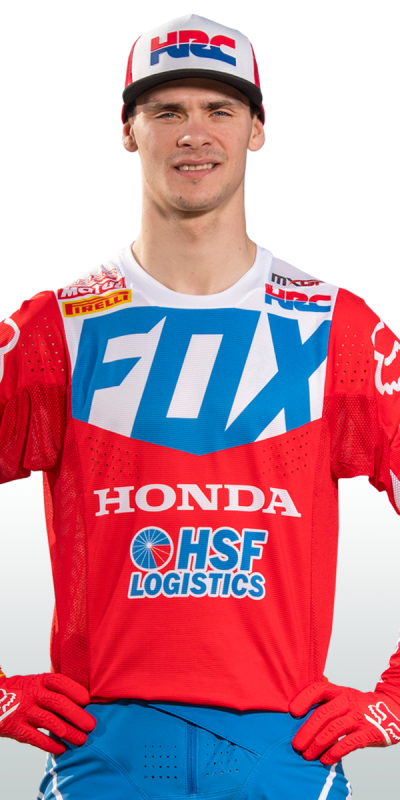 Tim Gajser 243
First of all, I am super happy to have my third world title this year, especially winning it in front of so many fans in Imola. It was really something special. Now, after that my level maybe hasn't been as high and I've struggled to find the flow but overall I'm super happy with the year and I must say a big thank you to the team for their part in that. They have been amazing this year, but they also stood behind me these past two years when things didn't go my way, and that is when you know you have a good team around you. I must also thank all the fans who have supported this season, they have followed me around the world and it is so great to have people at the track cheering you on. People from Slovenia even came all the way here to China and I am so thankful for that.
As for this Shanghai race, I really enjoyed the layout and the dirt and I really felt good out on the track. I was fast in practice and grabbed a holeshot yesterday but a mistake a couple of laps later cost me positions. This meant I had 11th gate pick but I was still able to get two good starts, inside the top three. In the first moto we were all close together and it was tight racing but it was difficult to find a place to pass so I finished third. Then in the second moto, I was running third again but I jumped off the track and got tangled in a banner and by the time I was free from that I had lost a lot of time and positions. I was still able to get back to fourth which was good enough for fourth overall. I would have loved to have been on the podium, but it was still amazing to get handed the gold medal as champion and overall it has been a great, great season.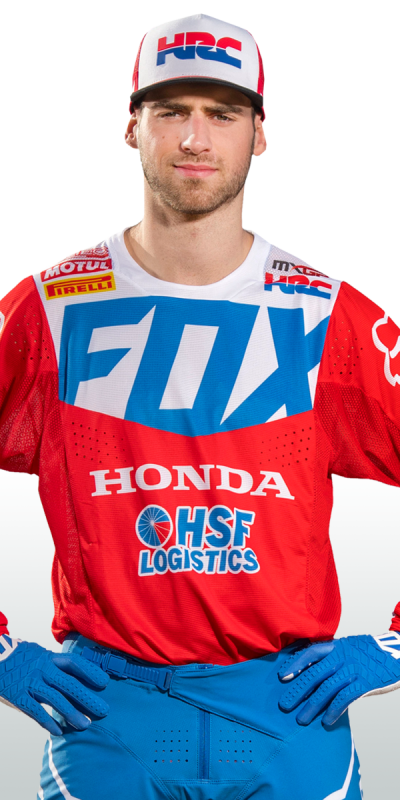 Brian Bogers 189
This was the final race of the year and also the final race for me with this team and I must say thanks to everyone. I had a really amazing year and I really liked working together as they are an amazing group of people. I really enjoyed it so a big thank you.
Now once again in the race, my speed was good, but I felt fatigued on the track and maybe that is because it has been such a long year. After returning from injury last year I haven't really had a break and I think that has caught up with me these past few rounds. I think that contributed to why I have slowed down in the second half of the races recently, but the positive side is that my speed was good before that. I was battling with the top five guys so I am happy with that and that means now my aim is to try and make that last for 30 minutes. I did enjoy my rides though and this track in China was a lot of fun.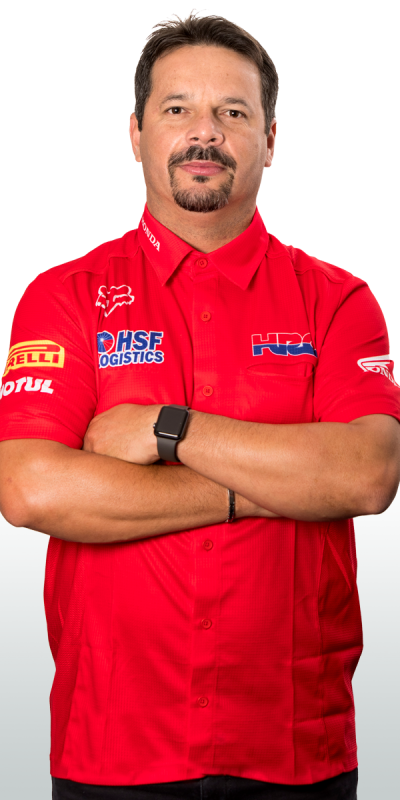 Marcus Pereira de Freitas
HRC General Manager – MXGP
Well what a season that was! Tim received his championship winning medal here in China and it was fully deserved after the amazing performances he has put in throughout this year. After Imola he has suffered a little bit of a championship hangover but he proved again this weekend in Shanghai that he can be the fastest rider on a motocross track when he feeling comfortable. Everyone in Team HRC enjoys working with him and are just so happy that he was able to win the title this year. Bravo Tim.
Brian also proved towards the end of this year that his speed is good and that he can battle with the top 10 in the early stages of the races. It hasn't always been easy for him, but he has never stopped trying to improve and although this was our final race with him, we are extremely happy with how he represented HRC these past couple of years and wish him all the best in the future.
MXGP 2019 Sunday, September 15th 2019RaceRound 18 MXGP of China
Race 1
CLOUDYAir Temp29°CTrack CondLoam
| Pos. | Rider | Num | Nation | Points | Team | Constructor | Time/Gap |
| --- | --- | --- | --- | --- | --- | --- | --- |
| 1 | COLDENHOFF Glenn | 259 | NDL | 25 | Standing Construct KTM | KTM | 35:20.563 |
| 2 | HERLINGS Jeffrey | 84 | NDL | 22 | Red Bull KTM Factory Racing | KTM | 0.841 |
| 3 | GAJSER Tim | 243 | SLO | 20 | Team HRC – MXGP | Honda | 2.268 |
| 4 | SEEWER Jeremy | 91 | SWI | 18 | Monster Energy Yamaha Factory MXGP Team | Yamaha | 23.103 |
| 5 | JONASS Pauls | 41 | LAT | 16 | Rockstar Energy Husqvarna Factory Racing | Husqvarna | 25.636 |
| 6 | JASIKONIS Arminas | 27 | LTU | 15 | Rockstar Energy Husqvarna Factory Racing | Husqvarna | 28.101 |
| 7 | VAN HOREBEEK Jeremy | 89 | BEL | 14 | Honda SR Motoblouz | Honda | 31.951 |
| 8 | PAULIN Gautier | 21 | FRA | 13 | Wilvo Yamaha MXGP | Yamaha | 40.088 |
| 9 | TIXIER Jordi | 911 | FRA | 12 | Team VHR KTM Racing | KTM | 59.916 |
| 10 | MONTICELLI Ivo | 128 | ITA | 11 | iFly JK Racing | Yamaha | 1:15.332 |
| 11 | BOGERS Brian | 189 | NDL | 10 | Team HRC – MXGP | Honda | 1:53.396 |
| 12 | LEOK Tanel | 7 | EST | 9 | A1M Husqvarna | Husqvarna | 1 Lap |
| 13 | PETROV Petar | 152 | BUL | 8 | Team Honda Red Moto | Honda | 1 Lap |
| 14 | RENKENS Nathan | 83 | BEL | 7 | KMP-Honda Repsol Racing | Honda | 1 Lap |
| 15 | ROMPHAN Chaiyan | 31 | THA | 6 | Wildcard Rider | Yamaha | 3 Laps |
| 16 | XU Jianhao | 618 | CHI | 5 | Wildcard Rider | Yamaha | 3 Laps |
| 17 | NAKPANE Madjade | 244 | TGO | 4 | Wildcard Rider | Husqvarna | 3 Laps |
| 18 | GALLIGARI Francesco | 531 | CHI | 3 | Wildcard Rider | Husqvarna | 4 Laps |
| 19 | DENG Liansong | 727 | CHI | 2 | Wildcard Rider | KTM | 5 Laps |
| 20 | PENG Tianwei | 59 | CHI | 1 | Wildcard Rider | KTM | 6 Laps |
MXGP 2019 Sunday, September 15th 2019RaceRound 18 MXGP of China
Race 2
CLOUDYAir Temp29°CTrack CondLoam
| Pos. | Rider | Num | Nation | Points | Team | Constructor | Time/Gap |
| --- | --- | --- | --- | --- | --- | --- | --- |
| 1 | HERLINGS Jeffrey | 84 | NDL | 25 | Red Bull KTM Factory Racing | KTM | 35:24.258 |
| 2 | COLDENHOFF Glenn | 259 | NDL | 22 | Standing Construct KTM | KTM | 8.514 |
| 3 | SEEWER Jeremy | 91 | SWI | 20 | Monster Energy Yamaha Factory MXGP Team | Yamaha | 25.810 |
| 4 | GAJSER Tim | 243 | SLO | 18 | Team HRC – MXGP | Honda | 33.249 |
| 5 | VAN HOREBEEK Jeremy | 89 | BEL | 16 | Honda SR Motoblouz | Honda | 40.121 |
| 6 | PAULIN Gautier | 21 | FRA | 15 | Wilvo Yamaha MXGP | Yamaha | 45.179 |
| 7 | JONASS Pauls | 41 | LAT | 14 | Rockstar Energy Husqvarna Factory Racing | Husqvarna | 49.883 |
| 8 | MONTICELLI Ivo | 128 | ITA | 13 | iFly JK Racing | Yamaha | 1:01.483 |
| 9 | TIXIER Jordi | 911 | FRA | 12 | Team VHR KTM Racing | KTM | 1:12.717 |
| 10 | JASIKONIS Arminas | 27 | LTU | 11 | Rockstar Energy Husqvarna Factory Racing | Husqvarna | 1:17.759 |
| 11 | BOGERS Brian | 189 | NDL | 10 | Team HRC – MXGP | Honda | 1:51.008 |
| 12 | PETROV Petar | 152 | BUL | 9 | Team Honda Red Moto | Honda | 1 Lap |
| 13 | LEOK Tanel | 7 | EST | 8 | A1M Husqvarna | Husqvarna | 1 Lap |
| 14 | RENKENS Nathan | 83 | BEL | 7 | KMP-Honda Repsol Racing | Honda | 2 Laps |
| 15 | ROMPHAN Chaiyan | 31 | THA | 6 | Wildcard Rider | Yamaha | 3 Laps |
| 16 | XU Jianhao | 618 | CHI | 5 | Wildcard Rider | Yamaha | 4 Laps |
| 17 | NAKPANE Madjade | 244 | TGO | 4 | Wildcard Rider | Husqvarna | 4 Laps |
| 18 | GALLIGARI Francesco | 531 | CHI | 3 | Wildcard Rider | Husqvarna | 5 Laps |
| 19 | DENG Liansong | 727 | CHI | 2 | Wildcard Rider | KTM | 6 Laps |
| 20 | PENG Tianwei | 59 | CHI | 1 | Wildcard Rider | KTM | 18 Laps |
MXGP 2019 Sunday, September 15th 2019
Rider Standings
Limited to top 30 results
| Pos. | Rider | Num | Nation | Points | Team | Constructor |
| --- | --- | --- | --- | --- | --- | --- |
| 1 | GAJSER Tim | 243 | SLO | 782 | Team HRC – MXGP | Honda |
| 2 | SEEWER Jeremy | 91 | SWI | 580 | Monster Energy Yamaha Factory MXGP Team | Yamaha |
| 3 | COLDENHOFF Glenn | 259 | NDL | 535 | Standing Construct KTM | KTM |
| 4 | PAULIN Gautier | 21 | FRA | 527 | Wilvo Yamaha MXGP | Yamaha |
| 5 | TONUS Arnaud | 4 | SWI | 462 | Wilvo Yamaha MXGP | Yamaha |
| 6 | JONASS Pauls | 41 | LAT | 458 | Rockstar Energy Husqvarna Factory Racing | Husqvarna |
| 7 | JASIKONIS Arminas | 27 | LTU | 442 | Rockstar Energy Husqvarna Factory Racing | Husqvarna |
| 8 | VAN HOREBEEK Jeremy | 89 | BEL | 433 | Honda SR Motoblouz | Honda |
| 9 | FEBVRE Romain | 461 | FRA | 384 | Monster Energy Yamaha Factory MXGP Team | Yamaha |
| 10 | CAIROLI Antonio | 222 | ITA | 358 | Red Bull KTM Factory Racing | KTM |
| 11 | MONTICELLI Ivo | 128 | ITA | 267 | iFly JK Racing | Yamaha |
| 12 | ANSTIE Max | 99 | GBR | 262 | Standing Construct KTM | KTM |
| 13 | BOGERS Brian | 189 | NDL | 228 | Team HRC – MXGP | Honda |
| 14 | DESALLE Clement | 25 | BEL | 208 | Monster Energy Kawasaki Racing | Kawasaki |
| 15 | LEOK Tanel | 7 | EST | 198 | A1M Husqvarna | Husqvarna |
| 16 | TIXIER Jordi | 911 | FRA | 185 | Team VHR KTM Racing | KTM |
| 17 | LIEBER Julien | 33 | BEL | 184 | Monster Energy Kawasaki Racing | Kawasaki |
| 18 | SIMPSON Shaun | 24 | GBR | 175 | RFX KTM Racing | KTM |
| 19 | HERLINGS Jeffrey | 84 | NDL | 172 | Red Bull KTM Factory Racing | KTM |
| 20 | SEARLE Tommy | 100 | GBR | 163 | Bike It DRT Kawasaki | Kawasaki |
| 21 | LUPINO Alessandro | 77 | ITA | 156 | Gebben V Venrooy Kawasaki | Kawasaki |
| 22 | STRIJBOS Kevin | 22 | BEL | 135 | JWR Yamaha Racing | Yamaha |
| 23 | BRYLYAKOV Vsevolod | 18 | RUS | 83 | JWR Yamaha Racing | Yamaha |
| 24 | PATUREL Benoit | 6 | FRA | 65 | Gebben V Venrooy Kawasaki | Kawasaki |
| 25 | PETROV Petar | 152 | BUL | 57 | Team Honda Red Moto | Honda |
| 26 | GOLE Anton | 297 | SWE | 44 | iFly JK Racing | Yamaha |
| 27 | DE WAAL Micha-Boy | 34 | NDL | 39 | Jumbo No Fear Vamo Honda Team | Honda |
| 28 | STEWART Lewis | 336 | AUS | 29 | Wildcard Rider | KTM |
| 29 | LUSBO Andero | 621 | EST | 29 | Wildcard Rider | Yamaha |
| 30 | RODRIGUEZ Anthony | 127 | VEN | 28 | Kemea Yamaha Yamalube Racing Team | Yamaha |