WALNUT, Ill. (June 18, 2019) – The 2019 ATV Motocross National Championship Series (ATVMX), an AMA National Championship, headed to Sunset Ridge MX in Walnut, Illinois for the sixth AMA Pro round and fifth amateur ATVMX round. Sunset Ridge is one of the most anticipated rounds, as the six-time Champion, Wienen Motorsports/Yamaha/Maxxis' Chad Wienen calls this his home track. This event also saw riders adorned in their pink attire and graphics as Sunset Ridge MX hosts their annual Breast Cancer Awareness event.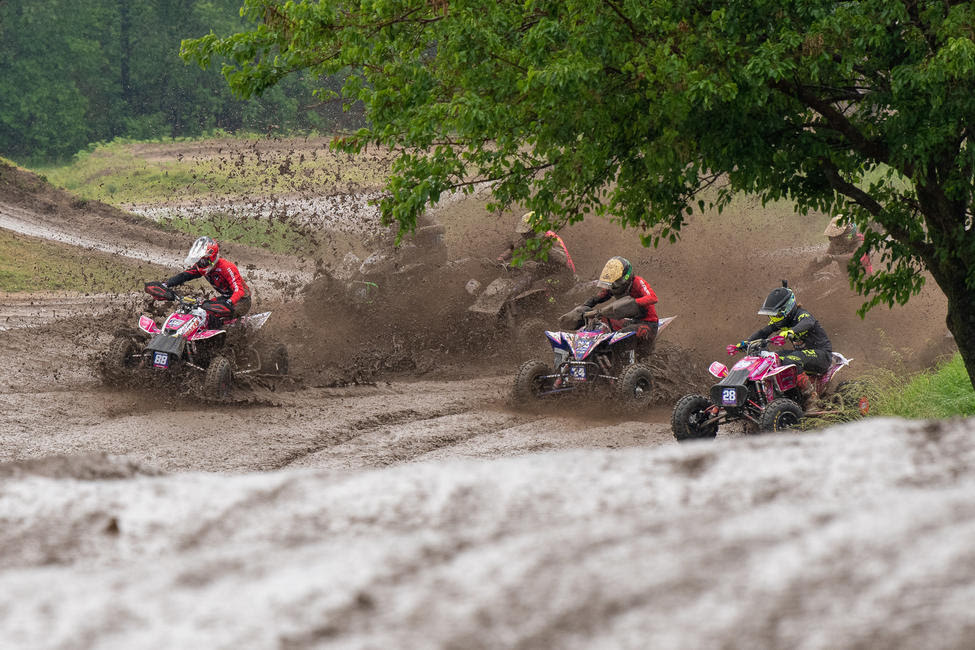 With Phoenix Racing Honda's Joel Hetrick's woes this season and his quest to dominate every remaining round, the stage was set for a true to life showdown. As the skies darkened, the rain started falling Saturday as the first qualifier came to an end. Hetrick would once again claim the DirtNation.com Fastest Qualifier Award, as majority of the riders would also opt out of running the second qualifier due to the downpours and track conditions.
Moto one would have the familiar #88 of Hetrick powering towards the first turn, however a quick inside move put the #28 of Jeff Rastrelli Land Grading/Baldwin's Jeffrey Rastrelli in the lead and taking the SSi Decals Holeshot Award. The mud made for a difficult first few seconds, where riders were tossing goggles and fighting for position on a track that was shaping up for a wild and intense moto.
Wienen would not get the start he was looking for, and found himself having to make things happen as he became the rider on the move clawing his way to the front and finally hunting down the race leader.
Tbrown84 Training/CST Tires' Thomas Brown was once again back in the mix and riding strong until a mechanical issue ultimately put him out of the race. The rain continued to fall opening the door to the other AMA Pro riders who were fighting to improve their positions. Back at the front of the pack, Hetrick continued to lead without any huge press from Wienen as the first moto came to an end. Hetrick earned the win, followed by Wienen and Ford Brothers Racing/Fly/Maxxis/Impact Solutions' Cody Ford claiming the third place position after an exceptional moto one effort.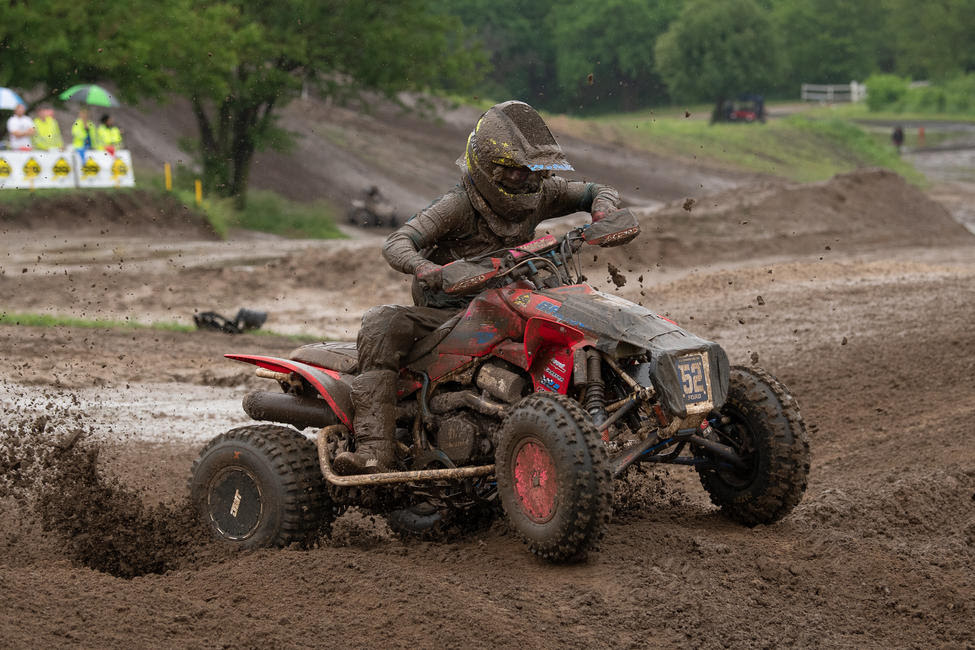 Frantic work began in the pits immediately as riders and teams took on the task of getting things cleaned and prepped for the second moto, which looked to be a repeat of the first as the relentless rain continued to hammer the region. With conditions looking more like a cross-country race, it was no surprise that Ryland Johnson Racing/GBC Motorsports/Ye Olde Cycle Barn's Westley Wolfe had a solid first moto coming through in fourth, and Phoenix Racing Honda's Haedyn Mickelson finished up fifth.
As race time neared, the pressure began to mount as several racers stood an honest chance of leaving their mark on this round of racing. A sea of umbrella's started lining the fences as the gate was being set for the second and final moto.
The gate dropped on the second moto and once again it was a mad dash to get out front as riders quickly turned unrecognizable, which made it difficult to keep track of who was who. Brown was pouring on the power as he grabbed the SSi Decals Holeshot Award, making the conditions work to his advantage after he was unable to finish the first moto earning a 13th place.
As the rain had recently subsided, the pre-moto track preparations allowed for a decent although muddy start as the laps started to be counted. Wienen quickly found himself behind the leader and riding smart knowing that any bad decision could cost him as he remained shadowing Brown lap-after-lap. Hetrick had troubles of his own, and it looked like he was going to be out of the race on several occasions as he dealt with some deep mud and then a mechanical issue.
For several laps all attention remained up front as everyone anticipated a push by Wienen to overtake Brown, which may have been the plan until a stuck rider in a corner forced Brown to go over the berm and allowed Wienen to make a clean pass and take over the lead. Brown was furious and you could see it in his eyes as he passed by one final time. Wienen would take the win, and an uproar of local family and friends would erupt as he had done what he set out to do. Brown would keep his composure and remain second followed by Rastrelli who had a solid moto finishing third. Hetrick would come in 10th the second moto, with Ford coming through sixth.
The podium was set as Wienen, Hetrick and Ford would stand tall here at Sunset Ridge after a very trying race. Wienen currently sits 28 points ahead of Hetrick, and there are still more rounds to run. Hetrick will have to regroup and look ahead to Unadilla for redemption as the AMA Pro class head into their final four races of the season.
For Ford finding the podium in his rookie year is a huge confidence boost, especially in a race where sheer grit and determination was needed just to finish. GennUSA Racing/CST Tires/Corrosion Specialties' had a solid day in the mud taking fifth overall with Wolfe coming through in sixth overall.
JH Racing/Lobo Transport/Root River Racing's Samuel Rowe and Nine6Nine/Barker's Exhaust/Walsh Race Craft's Alan Myers had solid battles in both motos and continue to push hard round after round. Root River Racing/FTR/Hoosier's Dylan Tremellen rounded out the top 10 overall from Illinois.
For more information on the 2019 ATV Motocross National Championship, visit the series official website at www.atvmotocross.com or call (304) 284-0101. Join the conversation on the series social media channels, along with receiving the most up-to-date news and exclusive content.
Sunset Ridge ATVMX National
Walnut, Illinois
Round 6 of 10
Saturday, June 15
2019 AMA Pro Class Event Results:
Chad Wienen (2-1)
Joel Hetrick (1-10)
Cody Ford (3-6)
Jeffrey Rastrelli (7-3)
Nicholas Gennusa (6-4)
Westley Wolfe (4-7)
Thomas Brown (13-2)
Samuel Rowe (11-5)
Alan Myers (9-8)
Dylan Tremellen (8-9)
Overall National Championship Standings:
Chad Wienen (247)
Joel Hetrick (219)
Thomas Brown (212)
Jeffrey Rastrelli (197)
Nicholas Gennusa (170)
Westley Wolfe (155)
Alan Myers (146)
Brandon Hoag (145)
Cody Ford (133)
Samuel Rowe (129)
SSi Decals Holeshot Award Standings:
Joel Hetrick (7)
Dylan Tremellen (4)
Thomas Brown (3)
Chad Wienen (2)
Jeffrey Rastrelli (1)
DirtNation.com Top Qualifier Award Standings:
Joel Hetrick (5)
Chad Wienen (1)
About the ATV Motocross National Championship:
The ATV Motocross National Championship, an AMA National Championship, is the nation's premier amateur and professional ATV motocross series, hosted at top motocross facilities nationwide. The 10-round AMA Pro and 8-round amateur series features the Nation's best racers, teams and sponsors, and is America's largest and longest-running ATV national motocross program. Since 1985, the series continues to expand and produce top talent from the amateur ranks, while premiering the professional class. For more information, please visit www.atvmotocross.com.
About the American Motorcyclist Association:
Founded in 1924, the AMA is a not-for-profit member-based association whose mission is to promote the motorcycle lifestyle and protect the future of motorcycling. As the world's largest motorcycling rights and event sanctioning organization, the AMA advocates for riders' interests at all levels of government and sanctions thousands of competition and recreational events every year. The AMA also provides money-saving discounts on products and services for its members. Through the AMA Motorcycle Hall of Fame in Pickerington, Ohio, the AMA honors the heroes and heritage of motorcycling. For more information, visit www.americanmotorcyclist.com. Not a member? Join the AMA today: www.americanmotorcyclist.com/membership/join.