Traci Pickens and Tayla Jones Victorious Once Again
SOCIETY HILL, S.C. (April 23, 2019) – The CST Tires Camp Coker Bullet took place on Saturday, April 14th and Sunday, April 15th, serving as the fourth round of the 2019 AMSOIL Grand National Cross Country (GNCC) Series presented by Specialized, an AMA National Championship. This race is held at the scenic Moree's Sportsman's Preserve in Society Hill, South Carolina with rolling hills, stocked ponds and a giant swimming hole complete with rope swings and zip lines.
The track map showed the course for the morning ATV race as 10 miles, and the course for the morning bike race just a shade longer at 10.9 miles long. For the quads, conditions were especially hot and humid, quite a bit more so than for the bikes on Sunday. Conditions were good with the exception of some dust and mudholes. At this round, around 68 women competitors were signed up, with Traci Pickens and Tayla Jones winning the premier WXC classes each day.
The high temperatures had an effect on both rider and machine, and only four of nine competitors actually finished the race on Saturday. Traci Pickens pulled the WXC ATV holeshot, and out of everyone had arguably the best race. On the second lap, Pickens would come in contact with a tree, forcing her to ride sitting down the rest of the race. Pickens did not have much to say after the race, however she did state, "I was happy to pull out a win, especially on a bad day!"
Kassidy Williams was second entering the woods, but before finishing out the opening lap she had been passed by both Katelyn Osburn and Meghan Shepherd. Williams was able to battle with them for a short time before starting to drop back – a wrist injury from a local race last weekend came into play. Sadiee Gorrell noticed her clutch beginning to slip on the first lap, and after a stop in the pits trying to adjust it she found the adjustment had failed once her ATV locked up on her second lap. On the fourth lap, Kara Short was struggling with a mechanical problem, ultimately ending her day early.
As the race continued on the fan would quit working on Osburn's ATV causing it to overheat and shut off, while Shepherd would find herself stuck trying to pass Pickens. Despite this the two of them still held podium positions through the third lap, with a two-minute lead over the third place position. Osburn was able to complete a fourth lap, even while her quad shut off in a tight section, which took her and a group of spectators nearly fifteen minutes to remove it. She decided to pull off after making it through the scoring zone, concerned that her very overheated ATV wouldn't make it another lap.
Like Pickens, Jaida Phillips also made it through the race relatively unscathed, aside from having to work her way up from a ninth-place start and getting hung up pretty badly on the fourth lap. She still finished off the podium, but her fourth place ride is the best of her season so far, and unlike many of her competitors, she did manage to survive the full five laps in the brutal conditions. Alicia McCormick and Hannah Hunter managed to finish second and third respectively, after starting near the back of the pack and spending most of the race struggling past other riders who didn't make it as far. Hunter, like Osburn, was having issues with her quad randomly dying, while McCormick made several costly mistakes but managed to maneuver throughout the race and place herself in podium contention.
Both were happy to end up on the podium after a long slog of a day. Hunter was mostly just bewildered that she finished third despite the rough day and stated, "I lost a lot of time ? I'm surprised I still got on the podium." McCormick was a little more philosophical and talkative, telling us, "attrition played a huge part in finishing second, I guess that's why you can
never give up! You never know how someone else's race is going." She also mentioned that she's glad to have a longer break before the next round so she can get some testing done. As she put it "I want to be up front battling – not battling through the back of the pack and almost making it to the front!"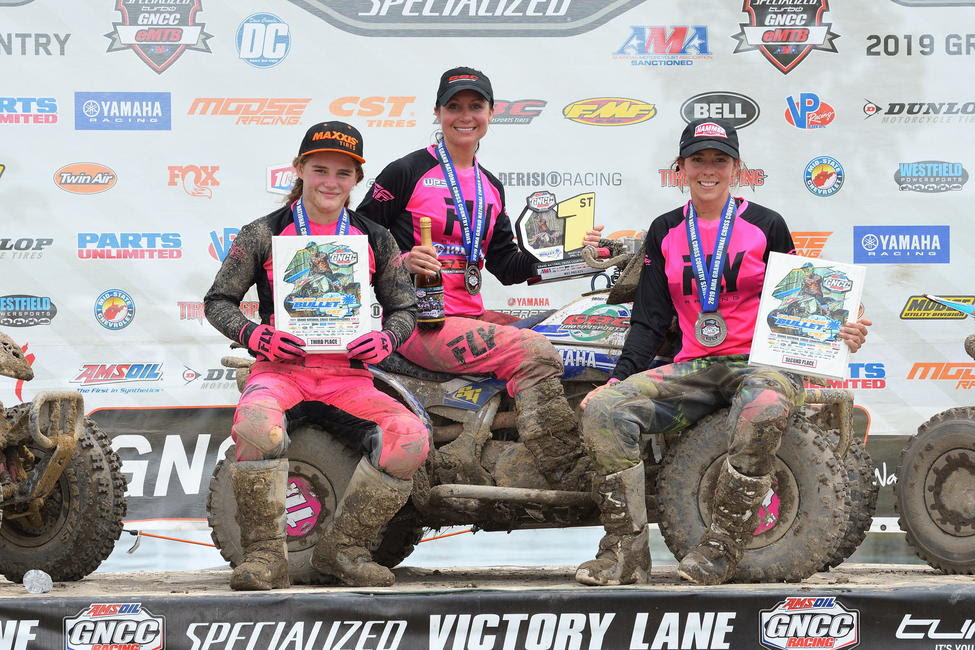 This is now the third round where Andrea Rodgers, Alexis Keys and Hannah Moore have finished first, second and third in the Girls ATV class. Rogers finished 13th overall and had a decent lead over Keys by the end of the race, but Keys and Moore had a very close battle. They traded places several times and finished just five seconds apart. Morgan Johnson placed 8th in YXC1 but was 23rd overall. Karlie Martin earned her first win this season in the Women's ATV class by nearly seven minutes. Her best finish previously was a third place at The General.
On Sunday, Tayla Jones earned another holeshot, and established a good lead by the time the riders entered the first high-speed field section. From there Jones placed a gap on the field, making her greatest gains on the final two laps and finishing three and a half minutes ahead of second place. Jones said, "Camp Coker was one of my best GNCC races to date. My training on and off the bike is really paying off and I felt great out there on the rough track. I am happy to grab another win and hopefully we can build on this momentum!"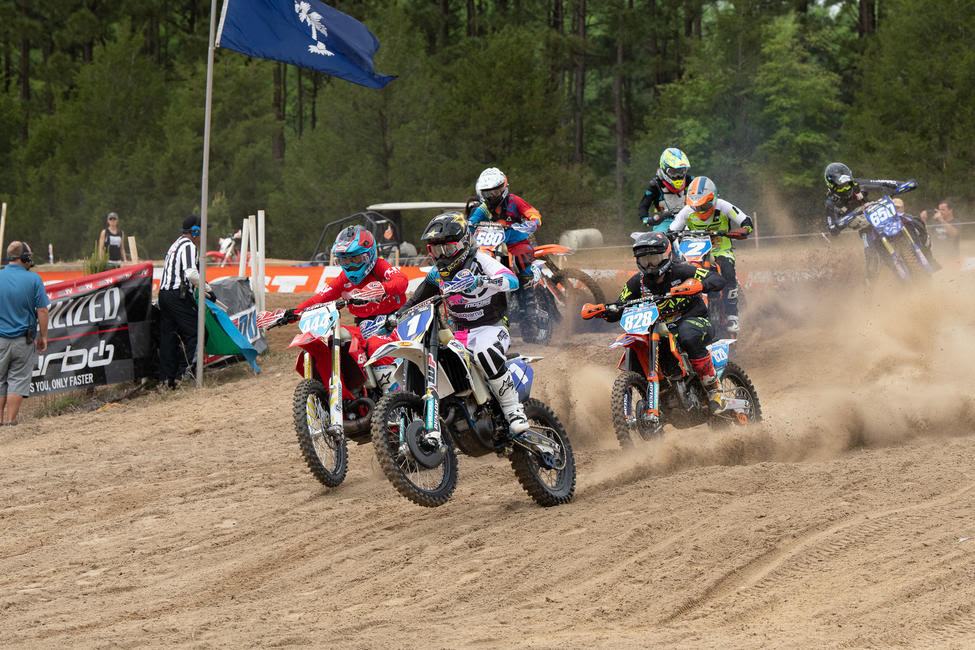 Becca Sheets and Mackenzie Tricker battled early on in the first lap. Sheets was able to make the pass right before the six-mile marker. Rachael Archer also passed Tricker on the third lap, though Tricker stayed close behind and was able to pass her again the following lap. Meanwhile Brooke Cosner was in a comfortable fifth ahead of Korie Steede and Shelby Rolen. Rolen was unable to make up time on Steede, placing 7th. For her part, Steede was suffering from intermittent numbness in her arm and hand due to a lingering small injury. She fell behind Cosner and placed 6th at the Camp Coker Bullet. Cosner was able to gain some time on Archer and Tricker toward the end of the race, but not enough to move her up out of 5th place.
Likewise, eighth though tenth place positions (Shyann Phelps, Annelisa Davis and Elizabeth Perez, respectively) were already settled by the end of the first lap, and the riders were spaced greater than seven minutes apart by the finish. An impressive last lap push allowed Archer to regain almost a minute and a half, but she still came up 22 seconds short of what would have been her first podium finish.
Tricker finished third behind Sheets by a sizeable chunk of time, and seemed dissatisfied with her ride stating, ""It was a pretty so-so day. Didn't feel good and was way off-pace. Lucky to end on the podium after the way I rode. I'm hoping for some better rounds soon – GNCC has really been a struggle for me this year." Sheets finished second in class and second overall after riding alone for much of the day. When asked about her race she said, "I felt good all day but I think I just struggled a bit more with the lappers and wasn't on point with my field speed which cost me in the end. I am still happy to have finished second overall and will keep working to improve!"
Nikki Russell again put in a dominating ride, lapping her competition. This is Nikki's third win out of three races, and best overall finish so far (30th). If she chooses to pursue the full series, based on her performance thus far she is the likely favorite for the title this season. Gracie Gooch placed second in class and Addison Elliot took home third at her first GNCC of the season. Prestin Raines, competing in YXC1 against the boys, took home an 11th in class and 26th overall. Jocelyn Barnes' win at Camp Coker makes it four wins out of four races for her in the Women's class. This was her best overall finish of the year also, as she placed 26th overall. Taylor Murray carried her momentum from Steele Creek into a second win of the year here at Camp Coker. She placed 209th overall.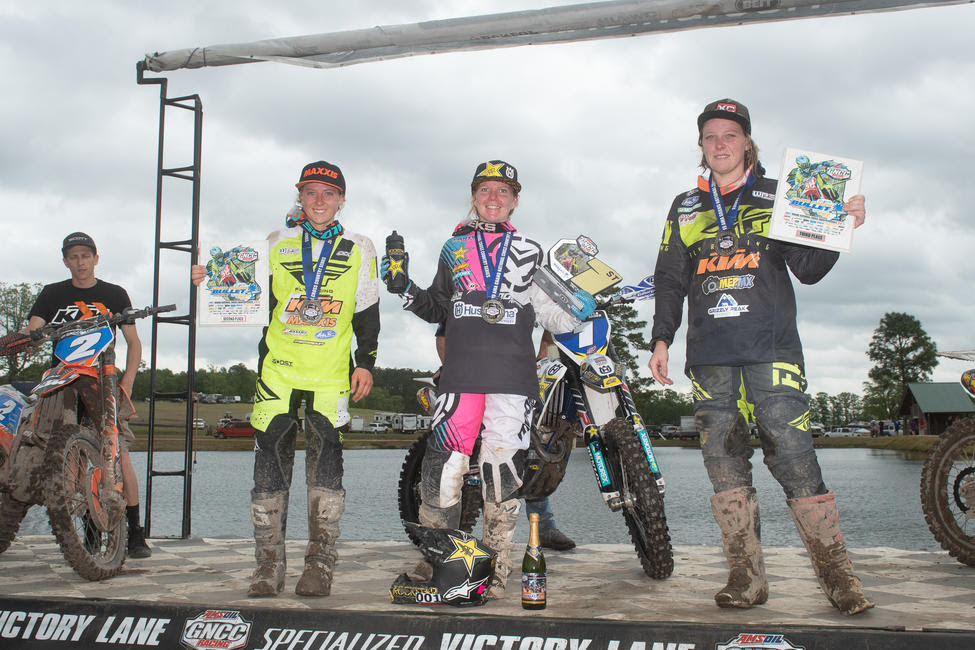 Once again there was a good turnout of girls in the micro races. ATV Micro race: Khyler Davis (3rd overall), Zoey Hawkinberry (11th overall), Raelynn Dickerson (17th overall), Jaecie Morek (18th overall), Falyn Holcomb (19th overall) and Adeline Nicely (21stoverall). In the bike Micro race: Paisley Harris (24th overall), Maci King (29th overall), Isabel Boorom (31st overall), Aubrey Tsakanikas (33rd overall) and Isabella Yoho (37th overall).
The next round of the 2019 AMSOIL Grand National Cross Country Series will take place on May 4 and 5 in Peru, Indiana with the X-Factor Whitetails GNCC. ATV and Micro racing will take place on Saturday while Bike racing will take place on Sunday.
For more information on the GNCC series, visit the official website at www.gnccracing.com or call (304) 284-0084. Join the conversation on the series Facebook page, follow us on Twitter and Instagram, and be sure to always hashtag #GNCC.
Camp Coker GNCC
Society Hill, SC
Round 4 of 13
April 13th and 14th
ATV WXC Pro Event Results:
Traci Pickens (YAM) GBC/Fly/Yamaha
Alicia McCormick (YAM) Ye Olde Cycle Barn/Pierce Performance/Hammer Nutrition/Maxxis
Hannah Hunter (HON) Ye Olde Cycle Barn/Texiera Tech/Maxxis
Jaida Phillips (YAM) Rekluse/Tirespine/Estes Motorsports
Kate Osburn (HON) Action Off-Road/Moose Racing/GBC
Kassidy Williams (HON) Turtle Race Engines/DeRisi Racing/Fly/GBC/Spyder Graphix
Megan Shepherd (HON) Stewart Boys Racing/LS4/Rage ATV/DeRisi Racing
Kara Short (HON) Veterans Family Racing
Sadiee Gorrell (YAM) Maxxis /Fivesixo Graphics/Custom Axis/Pierce Performance
Morgan Solesbee (YAM) Kenda Tire/Fly Racing/Fowler Motorsports
ATV WXC National Championship Standings:
Traci Pickens (106)
Kate Osburn (89)
Alicia McCormick (84)
Megan Shepherd (78)
Jaida Phillips (63)
Sadiee Gorrell (58)
Hannah Hunter (57)
Kara Short (27)
Kassidy Williams (27)
Sadie Welch (15)
Bike WXC Pro Event Results:
Tayla Jones (HQV) Rockstar Energy/Husqvarna/Moose
Becca Sheets (KTM) FLY/Maxxis/Go-Ko Trucking/KTM
Mackenzie Tricker (KTM) KTM/Mepmx/Fly/Grizzly Peak/Traveler's Rest Speedway
Rachael Archer (YAM) Ampro Yamaha/Moose/PWR
Brooke Cosner (KTM) Tely Energy/MPS/JDP Suspension/Moose/Parts Unlimited/Kenda
Korie Steede (GAS) GASGAS/Fly/Mitas/Spectro/FMF/Rekluse
Shelby Rolen (KAW) Kawasaki Team Green/Gateway Cycles/FMF/Fox/Dunlop
Shyann Phelps (KTM) Mike Beeler/Racer's Edge
Annalisa Davis (KTM) Ride Free Ministries/Martin Motorsports/Joseph W. Davis
Elizabeth Perez (KTM) Y&S Designs/Factory Connection/Fly
Bike WXC Pro National Championship Standings:
Tayla Jones (111)
Becca Sheets (105)
Mackenzie Tricker (88)
Rachael Archer (65)
Brooke Cosner (60)
Shyann Phelps (54)
Annelisa Davis (49)
Korie Steede (48)
Shelby Rolen (43)
Elizabeth Perez (42)
About GNCC Racing:
The AMSOIL Grand National Cross Country Series ("GNCC") is America's premier off-road racing series, featuring motorcycles, ATVs and Side-by-Sides, for men, women and children of all ages. Founded in 1975, the 13-round championship is produced exclusively by Racer Productions. Cross-country racing is one of the most physically demanding sports in the world. The grueling three-hour GNCC races lead as many as 2,400 riders through trails ranging in length from 8 to 12 miles. With varied terrain, including hills, woods, mud, dirt, rocks and motocross sections, GNCC events are tests of both survival and speed, drawing talent from all over the United States, Central America, South America, Europe, Japan, Australia and New Zealand. GNCC Racing is televised on NBC Sports and RacerTV.com. For more information, visit www.gnccracing.com.
About the American Motorcyclist Association:
Founded in 1924, the AMA is a not-for-profit member-based association whose mission is to promote the motorcycle lifestyle and protect the future of motorcycling. As the world's largest motorcycling rights and event sanctioning organization, the AMA advocates for riders' interests at all levels of government and sanctions thousands of competition and recreational events every year. The AMA also provides money-saving discounts on products and services for its members. Through the AMA Motorcycle Hall of Fame in Pickerington, Ohio, the AMA honors the heroes and heritage of motorcycling. For more information, visit www.americanmotorcyclist.com. Not a member? Join the AMA today: www.americanmotorcyclist.com/membership/join.
Courtesy GNCC