MORGANTOWN, W.Va. (January 7, 2020) – The 2019 AMSOIL Grand National Cross Country (GNCC) Series, an AMA National Championship, concluded, October 27 and 28, with the AMSOIL Ironman GNCC in Crawfordsville, Indiana. Since 2010, this event has been deemed a "pink race" in honor of October's Breast Cancer Awareness Month, with several partners participating to raise money for the cause.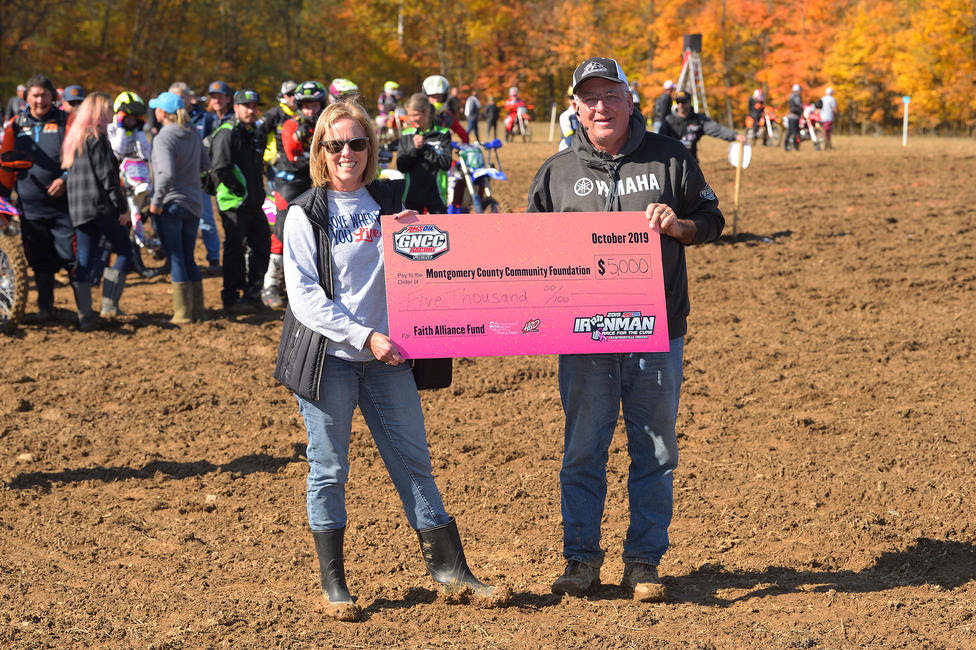 GNCC Racing along with Yamaha and HBD MotoGrafx, donated $5,000 to the Montgomery County Community Foundation.— Ken Hill
This year GNCC and its partners raised $5,000 for Breast Cancer Awareness at the Ironman GNCC. The proceeds raised will be donated to the Faith Alliance Fund at the Montgomery County Community Foundation (MCFC). The fund provides support to the Montgomery County Free Clinic, which offers free mammogram examinations, wigs, transportation and guidance to those affected across the Crawfordsville and Montgomery County region. The local community is full of moto-crazed enthusiasts that support Ironman Raceway, which has been a favorite stop for the GNCC circuit for the past 24 years.
Yamaha celebrated a successful 2019 season in the GNCC Series as Walker Fowler, Traci Pickens and 23 other racers officially claimed their championships while an additional 34 topped their classes in Indiana at the season finale. Donations were made by Yamaha per National Championship and race wins at the Ironman GNCC. With 25 National Championships and 34 race-day wins being captured in Indiana, $2,950 was donated by Yamaha to support local breast cancer care in Montgomery County.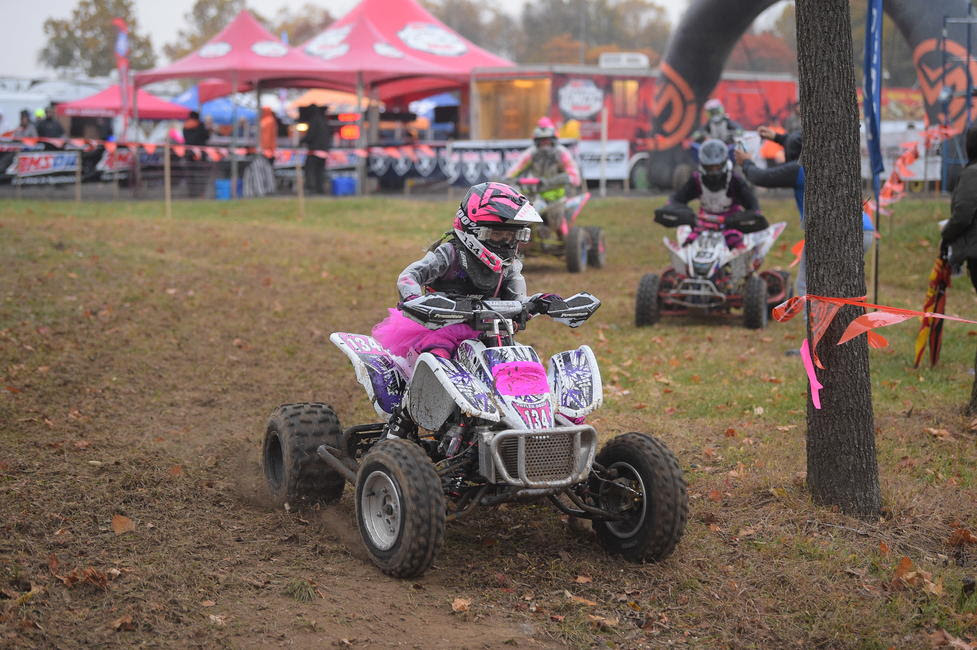 The Ironman GNCC was deemed a pink race where riders, fans and the facility were adorned in PINK.— Ken Hill
HBD MotoGrafx continued to help out with the series fundraising efforts by providing pink motorcycle backgrounds. Riders who purchased a front number plate background resulted in a $5 donation, while a full set of backgrounds included a $10 donation. HBD MotoGrafx also provided exclusive GNCC breast cancer awareness race stickers for a $1 donation. Their efforts raised $325 to go to MCFC.
With all 13 rounds of the 2019 AMSOIL Grand National Cross Country Series in the history books, the series looks ahead to the 2020 season beginning on February 22 and 23 in Union, South Carolina for the Big Buck GNCC.
For more information on the GNCC series, visit the official website at www.gnccracing.com or call (304) 284-0084. Join the conversation on the series Facebook page, follow us on Twitter and Instagram, and be sure to always hashtag #GNCC.
About GNCC Racing
The Grand National Cross Country Series presented by Specialized is the World's premier off-road racing series. Founded in 1975, the 13-round championship is produced exclusively by Racer Productions. Cross-country racing is one of the most physically demanding sports in the world. The grueling two and three-hour GNCC races lead as many as 2,400 riders through racetracks ranging in length from eight to 12 miles. With varied terrain, including hills, woods, mud, dirt, rocks, and motocross sections, GNCC events are tests of both survival and speed. The series draws talent from all over the U.S., Central America, South America, Europe, Japan, Australia and New Zealand. GNCC Racing is televised live on RacerTV.com. For more information, please visit www.gnccracing.com.
About eMTB Racing
The Specialized Turbo eMTB GNCC National Championship brings off-road racing and pedal-assist or electric bicycles together for an eight-round championship produced by Racer Productions. Much like a typical cross-country racing event, these races feature varied terrain featuring hills, rocks, roots, and more but are limited to electric, or pedal assist model mountain bikes only. For more information, please visit www.gnccracing.com.
How to Watch
Racer TV is the official home for coverage of the Grand National Cross Country (GNCC) events. Racer TV provides live streaming coverage of the 2 p.m. pro ATV and 1 p.m. pro motorcycle races from each event. Catch all the action at http://www.racertv.com/.
About the American Motorcyclist Association
Founded in 1924, the AMA is a not-for-profit member-based association whose mission is to promote the motorcycle lifestyle and protect the future of motorcycling. As the world's largest motorcycling rights and event sanctioning organization, the AMA advocates for riders' interests at all levels of government and sanctions thousands of competition and recreational events every year. The AMA also provides money-saving discounts on products and services for its members. Through the AMA Motorcycle Hall of Fame in Pickerington, Ohio, the AMA honors the heroes and heritage of motorcycling. For more information, visit www.americanmotorcyclist.com. Not a member? Join the AMA today: www.americanmotorcyclist.com/membership/join.