Micro Racing Expands to 12-Rounds while eMTB Racing Increases to Eight Rounds
MORGANTOWN, W.Va (December 7, 2018) – Racer Productions, producer of the AMSOIL Grand National Cross Country (GNCC) Series, an AMA National Championship, is pleased to announce the 2019 series schedule. New for the 2019 season will be the expanded Micro (50cc) Racing program, while the eMTB racing will take place at eight rounds including an eMTB only race held on July 27 at Loretta Lynn's Ranch in Hurricane Mills, Tennessee.
The GNCC series will once again kick off with the Big Buck GNCC on February 23 and 24 in Union, South Carolina, then continue southbound for the Wild Boar GNCC in Palatka, Florida, held in conjunction with the 2019 Daytona Beach "Bike Week" festivities on March 9 and 10. After Florida, the series continues to Washington, Georgia for The General GNCC at Aonia Pass Motocross, where the opening round of eMTB racing will take place.
Moving onto the fourth round of the season, GNCC will celebrate 20 years of racing at Steele Creek in Morganton, North Carolina on March 30 and 31. Steele Creek is always a fan-favorite for families, friends and local residents. They will also host the second round of eMTB racing on Friday, March 29.
"We're excited to get the 2019 season rolling," GNCC Trail Boss, Jeff Russell. "With a great schedule of events on some of the best off-road courses the country has to offer, the upcoming season is shaping up to be one of the best yet."
After summer break, the series will head north to what may still be considered a new facility in Harpursville, New York after tropical storm Gordon forced the series to cancel the event in 2018. Having hosted a few local off-road events before, the GNCC track crew is looking forward to developing a brand-new course.
The inaugural Mason-Dixon GNCC saw over 1,400 racers, and will be returning to the GNCC circuit for the 2019 season on the weekend of September 28 and 29. The Mason-Dixon proved to be a popular addition to the schedule amongst riders and fans alike.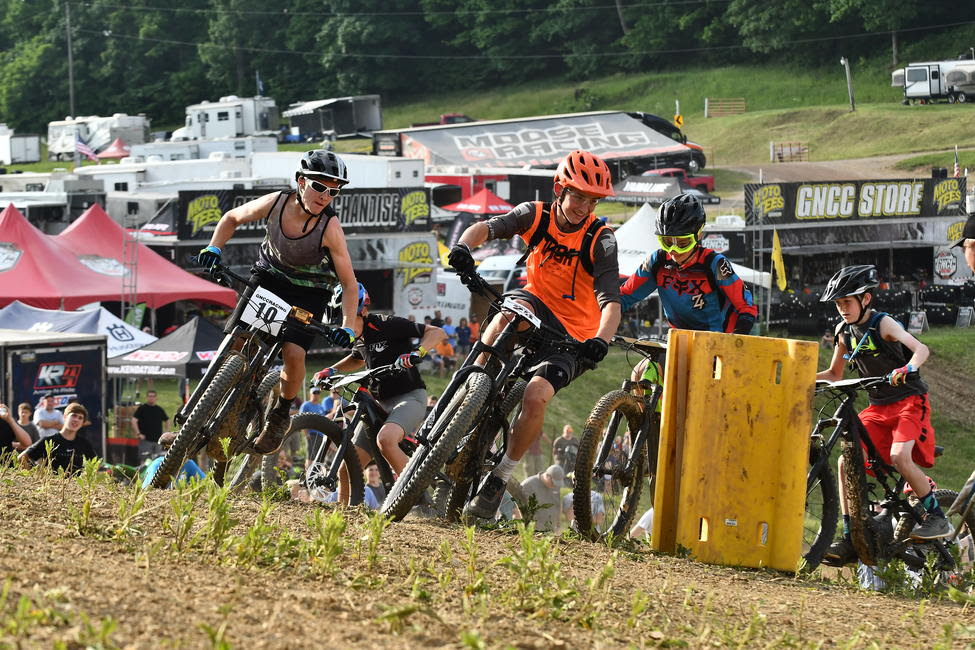 The 2019 schedule welcomes back many of its most seasoned venues, including Camp Coker Bullet in Society Hill, South Carolina; X-Factor in Peru, Indiana; The John Penton in Millfield, Ohio; Tomahawk in Alpine, New York; West Virginia's popular Snowshoe GNCC in Snowshoe, West Virginia; and the Ironman GNCC in Crawfordsville, Indiana.
"We have several facilities to consider for the fall TBA event," continued GNCC Trail Boss Jeff Russell. "A lot of factors go into finding a venue to host a GNCC event and we hope to have an announcement on that round as soon as possible."
Round twelve will take place on October 12 and 13, however the location is to yet be determined. We are actively looking to make a decision as soon as possible, and share the exciting news with the GNCC racing nation when it is confirmed.
Click the button below to add the 2019 AMSOIL GNCC schedule and all your favorite race series automatically to your phone, computer and tablet's calendar. Your calendar will always stay up-to-date with race dates, including special information, broadcast channels, and times.
RND
DATE
EVENT
LOCATION
FEATURE
CO-SANCTION
Rnd 1
Feb. 23/24
Big Buck
Union, SC
Micro
SETRA
Rnd 2
Mar. 9/10
Wild Boar
Palatka, FL
Micro
Rnd 3
Mar. 16/17
The General
Washington, GA
Micro / eMTB
SETRA
Rnd 4
Mar. 30/31
Steele Creek
Morganton, NC
Micro / eMTB
SETRA
Rnd 5
April 13/14
Camp Coker Bullet
Society Hill, SC
Micro
SETRA
Rnd 6
May 5/6
X-Factor
Peru, IN
Micro
IXCR
Rnd 7
May 18/19
The John Penton
Millfield, OH
Micro / eMTB
WEXCR
Rnd 8
June 1/2
Tomahawk
Alpine, NY
Micro / eMTB
Rnd 9
June 22/23
Snowshoe
Snowshoe, WV
eMTB
July 27
Loretta Lynn's
Hurricane Mills, TN
eMTB ONLY
Rnd 10
Sept. 14/15
Black Sky
Harpursville, NY
Micro
Rnd 11
Sept. 28/29
Mason-Dixon
Mt. Morris, PA
Micro / eMTB
Rnd 12
Oct. 12/13
TBA
TBA
Micro
Rnd 13
Oct. 26/27
Ironman
Crawfordsville, IN
Micro / eMTB
IXCR
For more information on the GNCC series, visit the official website at www.gnccracing.com or call (304) 284-0084. Join the conversation on the series Facebook page, follow us on Twitter and Instagram, and be sure to always hashtag #GNCC.
About GNCC Racing
The AMSOIL Grand National Cross Country Series is America's premier off-road racing series. Founded in 1975, the 13-round championship is produced exclusively by Racer Productions. Cross-country racing is one of the most physically demanding sports in the world. The grueling three-hour GNCC races lead as many as 2,400 riders through tracks ranging in length from eight to 12 miles. With varied terrain, including hills, woods, mud, dirt, rocks and motocross sections, GNCC events are tests of both survival and speed. The series draws talent from all over the U.S., Central America, South America, Europe, Japan, Australia and New Zealand. GNCC Racing is televised weekly on NBC Sports and RacerTV.com. For more information, please visit www.gnccracing.com.
How to Watch
Racer TV and NBC Sports Network (NBCSN) are the official homes for coverage of the AMSOIL Grand National Cross Country (GNCC) events. All 13 rounds, from the season opening Big Buck GNCC in South Carolina to the finale at Ironman Raceway in Indiana, will air in 30-minue; taped-delayed telecasts on NBCSN, while Racer TV provides live streaming coverage of the 1 p.m. ATV and motorcycle races from each event. Catch all the action at http://www.nbcsports.com/ and http://www.racertv.com/.
About the American Motorcyclist Association
Founded in 1924, the AMA is a not-for-profit member-based association whose mission is to promote the motorcycle lifestyle and protect the future of motorcycling. As the world's largest motorcycling rights and event sanctioning organization, the AMA advocates for riders' interests at all levels of government and sanctions thousands of competition and recreational events every year. The AMA also provides money-saving discounts on products and services for its members. Through the AMA Motorcycle Hall of Fame in Pickerington, Ohio, the AMA honors the heroes and heritage of motorcycling. For more information, visit www.americanmotorcyclist.com. Not a member? Join the AMA today: www.americanmotorcyclist.com/membership/join.