MECHANICSVILLE, MD (August 22, 2019) – Held in conjunction with the 31st running of the Budds Creek National, the 2019 Budds Creek Amateur Motocross Days took place on August 16-18 at Budds Creek Raceway in Mechanicsville, Maryland, as over 300 amateur entries making up 25 classes braved 100-degree temperatures to do battle for prizes and contingency.
MX Sports Pro Racing's expanded amateur racing program for the 2019 Lucas Oil Pro Motocross Championship allows competitors from all over the country to race during the National weekend at all 12 rounds on the schedule, which will undoubtedly help the continued growth of the amateur racing component of the world's most prestigious off-road motorcycle racing series.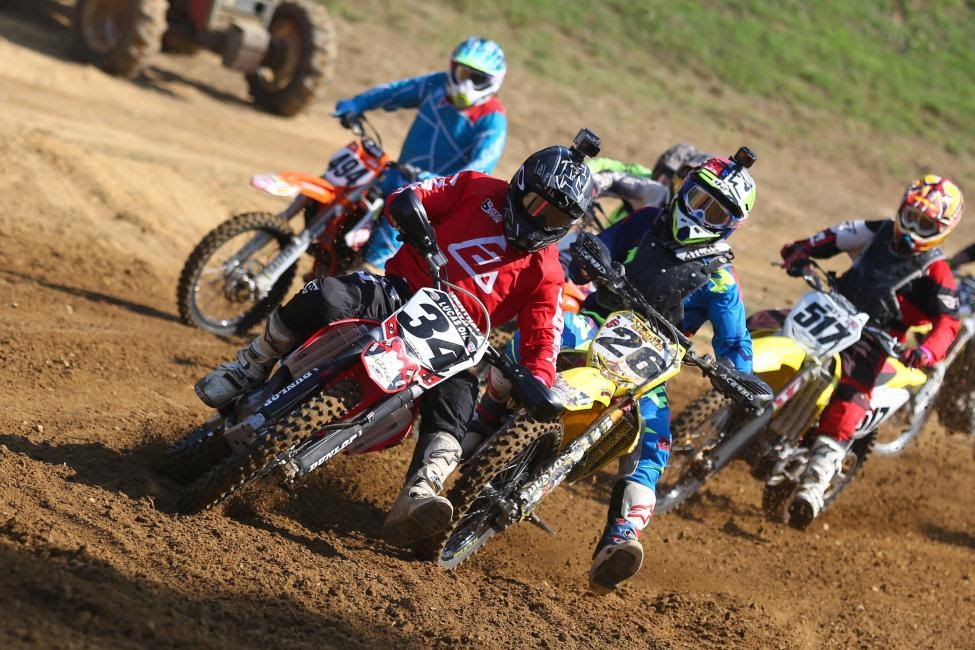 Kenny Blackwell (#34) and Brian Semder (26) battle for a line in the Masters 50+ class.— Ken Hovance
One of the highlights of the weekend was the 125 All-Star race, which took place on Saturday, in between the pro races. Forty riders filled the starting grid as Triangle Cycles Yamaha rider Mason Gonzalez took an impressive win ahead of Chase Zentzer (KTM) and Christopher Blackmer (YAM). The 125 All-Star race has been growing in popularity and is now one of the main features of weekend.
In 2019, every Pro National Motocross will feature the special 125 All Star class, which was created to provide an opportunity for the manufacturers that still make 125 two-strokes to showcase these bikes. The 125 class fills a huge gap between 85's and 250's, so MX Sports is helping to fill the void by making 125 two-strokes as part of the pro afternoons.
Vincent Luhovey Jr. (SUZ) was among a handful of riders to win more than one class, and the Pennsylvania rider came away with victories in the 250 A and Open A divisions, posting 1-1 moto scores in each class to earn the "W"s.
In the first 250 A moto, Luhovey demonstrated his intentions in the first turn when he made an aggressive pass on Yamaha-mounted Brandon Scharer.
"I was second off the start and then we came into the first corner and I kind of took the line away," said Luhovey. "After that, I just kept my head down. They were on me for about a lap or two and then I slowly just kept pulling away."
Once in the lead, Luhovey rode a consistent race to claim a relatively easy win on his 250 RM. Meanwhile, Matthew Burkeen (Yam) passed Scharer to take second.
Scharer grabbed the holeshot once again in the second moto, and led the way until Luhovey made a pass on lap two to take the lead.
"I made an inside pass on 'Henry Hill" to get around him," said Luhovey. "After that, I just pulled away and rode safe."
Scharer finished second this time with Burkeen in third. Luhovey took the overall win with a 1-1 moto tally, while Scharer finished second (2-1) and Burkeen third. (1-2).
Gabriel Goettler (37) leads Josh Moore (247) and Brenden Bacal (159) after the start of the 250 C race.— Ken Hovance
In the Open A division, Luhovey was fourth off the start and moved into second place halfway into the lap. Meanwhile, Yamaha-mounted Jason McConnell Jr. was out front with no intentions of giving up the lead.
"I was just trying to be patient," said Luhovey. "I was trying to find a place to pass and I was taking different lines and everything."
On the last lap, McConnell went wide after Henry Hill, giving Luhovey enough room to block him in the final turn and take the win.
"He kept taking the outside every lap, and I charged into the turn thinking that maybe I could make it, but he was a little bit too far ahead on that lap," said Luhovey. "The last lap was my last resort. Before Henry Hill I pinned it for everything I had. I made sure I was as close to him as possible. That way whenever I took this chance I had the best chance for being as close as I could. When we came down that ant hill I wasn't sure until I got over it. Then I realized I'm like beside him already and I didn't even take the line yet. So once I sunk in that line, it just happened so perfect. I just took the line away. I cut across. I was pumped on just getting that last turn pass."
Luhovey held on for the moto win ahead of McConnell.
In the second moto, Luhovey was second off the line behind Timmy Crosby (Yam), with McConnell just behind in third. Crosby crashed in the first moto and finished 14th, so Luhovey knew he could stay right where he was at and still take the overall win.
At the finish it was Crosby in first with Luhovey in second and McConnell in third, giving Luhovey the overall win with a 1-2 score. McConnell finished second overall with a 2-3 performance, and Kawasaki-mounted Jacob Rose was third overall with a 4-4 moto tally.
Another multi-class winner was Forsyth, Georgia rider Jackson Gray, who won the Open B and College B/C (14-24) class on a Husqvarna.
The 65cc 7-11 race gets underway.— Ken Hovance
Gray went 1-1 to win the College B/C (14-24) class ahead of Christopher Blackmon (3-2) and Alex Ballestero (5-3). In the Open B class, Gray won both motos, beating out a pair of second place moto finishes by Caleb Pruett (Hon) and two third place finishes by Yamaha-mounted Tyler Haines.
Michigan rider Cayden Switzer (HQV), took the win in the Supermini (12-16) class, going 1-1 to beat out Braden Hintenberger (3-2) and James Harrison (2-3).
Switzer also dominated the Schoolboy 1 (12-16) division with a 1-1 performance. Gabriel Goettler went 3-2 for second overall, with Garrett Bulmer finishing third overall with a consistent 4-4 finish.
Another Michigan rider Gatlin Combs parlayed a 2-1 performance into the overall win in the 250B division, beating out Caleb Pruett's 3-2 and Christopher Blackmon's 1-5.
Chase Yentzer (KTM) swept both motos of the Schoolboy 2 (14-16) 250cc MAX class to take the overall win ahead of Gatlin Comb's 2-2 and Nathan Murphy's 3-3.
Other winners included Travis Randanella (250 C and Open C); Christian Blackmon (125 B/C); Brandon Scharer (Junior 25+); Nathani3l Kronk (Vet 30+ B/C); Laina Randolph (Women); Leland Jones (51cc 4-6 Stock); and Braxtyn Mes (51cc 7-8 Stock).
For information about the Lucas Oil Pro Motocross Championship, please visit ProMotocross.com.
About AMA Pro Racing
The Lucas Oil Pro Motocross Championship, sanctioned by AMA Pro Racing, features the world's fastest outdoor motocross racers, competing aboard homologated bikes from one of six competing manufacturers on a collection of the roughest, toughest tracks on the planet. The 12-round series begins just outside California's famed Hangtown in May, and ends at Indiana's Ironman Raceway in August. The summer-long championship includes stops at America's premier motocross racing facilities, with events in California, Colorado, Pennsylvania, Florida, Michigan, Massachusetts, Maryland, Minnesota, Washington, New York and Indiana. Racing takes place each Saturday afternoon, with competition divided into two classes: one for 250cc machines, and one for 450cc machines. MX Sports Pro Racing, the industry leader in off-road powersports event production, manages the Lucas Oil Pro Motocross Championship. The series is televised on NBC, NBCSN and MAVTV, and streamed live on NBC Sports Gold. The title sponsor is Lucas Oil, a leading producer of premium oils, greases, and problem solving additives, all made in America. More information can be found at www.ProMotocross.com.
About the American Motorcyclist Association:
Founded in 1924, the AMA is a not-for-profit member-based association whose mission is to promote the motorcycle lifestyle and protect the future of motorcycling. As the world's largest motorcycling rights and event sanctioning organization, the AMA advocates for riders' interests at all levels of government and sanctions thousands of competition and recreational events every year. The AMA also provides money-saving discounts on products and services for its members. Through the AMA Motorcycle Hall of Fame in Pickerington, Ohio, the AMA honors the heroes and heritage of motorcycling. For more information, visit www.americanmotorcyclist.com. Not a member? Join the AMA today: www.americanmotorcyclist.com/membership/join.